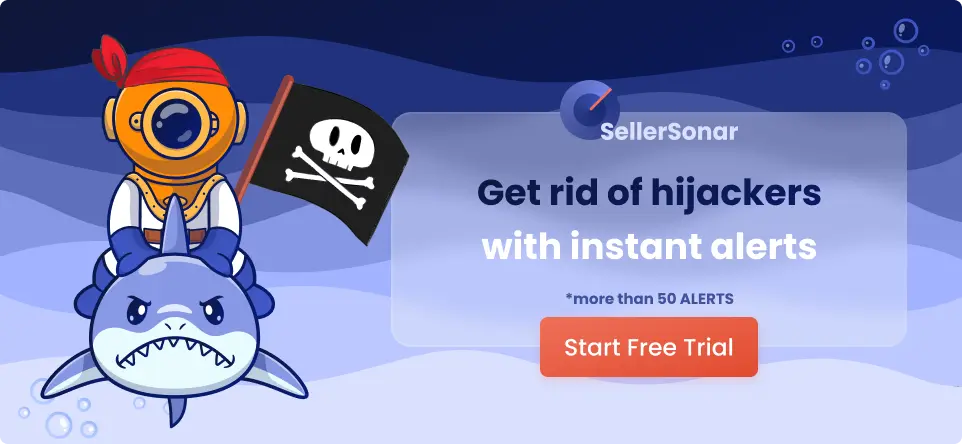 One of the possible ways to take your online Amazon brand to the next level is to broaden your inventory. However, it often requires an infusion of working capital. Unless you have hundreds of bucks sitting around in your bank account, it may be hard to get the cash to grow your Amazon brand unless you get a loan. Considering when to take the plunge and get funding for your company is a huge step. If you obtain working capital too early before your revenue potential is ready to take off, you may find yourself in debt and incapable of paying the loan back. Otherwise, if you wait too long, you might miss out on valuable chances to take advantage of seller specials or buy bulk inventory at a low price. Getting Amazon seller financing – in the proper amount and time – is the ideal answer to expanding your online business. 
In this guide, we will talk about the enticing Amazon Lending program. If you have never heard of it, you are not alone. But unfortunately, the platform Amazon does not even actually have a detailed landing page about this solution. So how do you know if an Amazon loan is a good choice for your business? Do you qualify for it? We're here to answer these questions —and even more. So keep reading.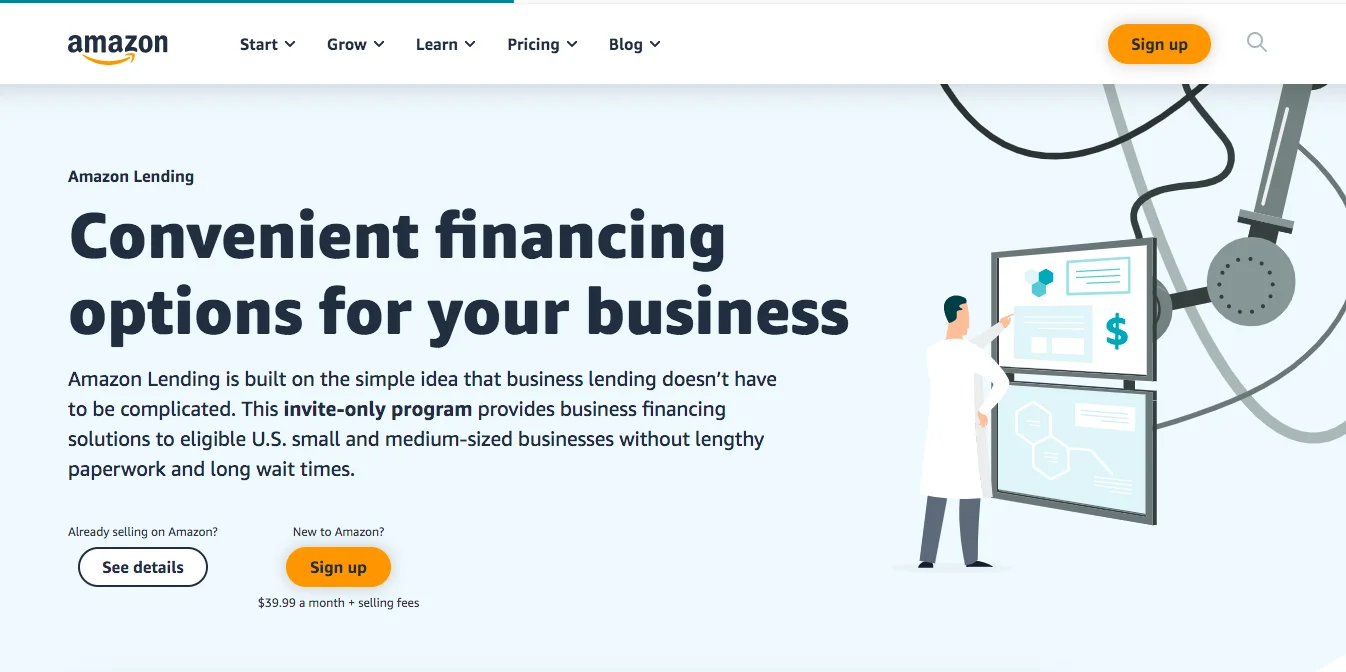 What Is Amazon Lending Program?
Amazon Lending is a solution that assists small businesses in the marketplace in obtaining loans. Since 2011, the platform has already provided loans; however, in 2018, it joined forces with Bank of America to broaden its reach and helps more merchants. 
Since the 2008 financial crisis, traditional banks in the US have been reluctant to lend to small business owners. It is partly due to government regulation and because of high risks. But even if the loan is approved, entrepreneurs are forced to overpay heavily due to high-interest rates. Bezos caught this pain of small traders – and he created the Amazon Lending program, which provides short-term (no more than 12 months) loans from $1,000 to $750,000. It allows merchants to increase sales on the platform and is intended solely to purchase goods. 
Nevertheless, not everyone can qualify for such an offer, but only those sellers who meet specific AMZ criteria. Although the marketplace sets these requirements and they are the same for all sellers, they are not publicly available and may change from time to time. For example, Amazon Lending is not available for wine sellers. So let's delve into the criteria a bit deeper.
Who Is Eligible for Amazon Lending?
Two fundamental factors determine a seller's eligibility for Amazon Lending:
Sales growth rate. To get the loan, the business account has to show a constant growth rate. The platform will check the seller's profile and let you know whether your sales growth is good enough to pay back the loan from the marketplace or not.
Sound account standing: The business account has to show proper customer service and satisfaction. If you do not meet such criteria, you will not obtain the loan.
After your invitation request for the loan, the AMZ representatives will get back to you within 4-5 working days. Amazon Lending is only provided to eligible merchants with up to $750,000. The actual amount can vary based on your account evaluation by the online giant. Once the loan is approved, you will receive money. 
Keep in mind that AMZ deducts monthly payments from your seller's account on the loan provided. Therefore, the interest that merchants can expect from their loans can vary between 6-16 percent. 
Why Use the Amazon Lending Program? 
There are several reasons why a merchant would want to try Amazon Lending:
To launch a new item. Expanding the line, assortment, or developing a completely new product needs the additional investment of free funds, which sellers do not always have.

To purchase a large consignment of goods. For example, prepare for the New Year holidays and active sales season (if the product is seasonal). Often, preparation for Q4 begins at the end of the Q2, and sellers cannot freeze large enough amounts to ensure the production and delivery of 2-3 batches of goods at once.

To expand the business. Launching a business in other countries or entering new platforms also requires additional investment from business owners, especially when entering other markets becomes successful.

To reduce cash gaps and avoid going out of stock in the phase of active sales. A cash gap is a temporary lack of funds necessary to finance the upcoming regular expenses, i.e., the product has not yet been sold, but you already need to purchase a new one.

To reduce shipping costs. It is often more profitable to pre-produce the goods and pay for shipping by the sea at the expense of borrowed funds than to receive a payment from Amazon and deliver the goods by expensive air transport in an emergency mode to not go out of stock.
How to Apply for Amazon FBA Loan?
When applying for this program, there is one big 'but .'Amazon Lending is by invitation only. 
However, here is the upside: 
A business owner can complete their online application in just a couple of steps.

Most loans approved and issued by Amazon Lending are securely paid within four or five business days. 

AMZ makes sure that the commissions are known in advance, so merchants know what to expect from the beginning.
If you are one of those marketplace users who receive an invitation for a loan, your next step is to follow a simple application process. It's absolutely clear and can be set up online. Just check out these steps below:
Sign in to the

Seller Central account

.

Find a message on the Amazon Lending homepage inviting you to submit an application for the loan.

Choose the term and amount you would like to register for.

Follow the rest of the guidelines for the selected financial option as stated in the form and send it for approval once completed.

You will get the funds deposited into your account within 1-5 business days when approved. 
What Are the Advantages and Disadvantages of an Amazon Loan?
Before going out and requesting Amazon Lending, you should weigh out the advantages and disadvantages first. So let's begin with the benefits.
Amazon Lending Program Pros
Simple entrance process
The greatest thing about Amazon Lending is that obtaining a loan from the marketplace is a convenient procedure. Sellers just need to showcase their eligibility, ask for an invitation, and wait until your application is approved! Unlike various bank credits, where you will need to meet the relevant requirements, AMZ will check your seller profile and decide if you are eligible for its loan. In addition, as the solution relies on account performance, you won't need to show your financial profile, tax returns, or credit score.
Fewer commissions to handle
With this lending feature, you may feel assured of paying the loan early without incurring extra charges. As a result, you will be able to save cash in the long run and expand your company to new heights!
Low-interest rates
Short-term loans and cash advances are famous for their high-interest rates. Such an added interest might become off-putting for merchants who wish to make the most out of their loans. Although the platform has yet to provide its interest rates to the full extent, the maximum interest that users have faced is 16% for a yearly term.
Now let's explore the downsides of getting a loan from the famous marketplace.
Amazon Lending Program: Cons
Fixed deductions every month
The greatest disadvantage to Amazon Lending is that the monthly deductions will stay constant regardless of whether you are making sales. That is why it is vital to have a plan before registering for the loan.
Limited diversification of money
When sellers secure their business loans, they can use the funds to invest in almost any aspect of their business. Unfortunately, that is not exactly the case when they take out a loan from AMZ. It may not be a problem if your needs are Amazon-based, but better options may be for entrepreneurs who wish to diversify their investments.
Aspects of a collateralized loan
Amazon seller loans work like a collateralized business loan wherein the assets will become collateral if you default on your debt. Say, for instance, you ship goods using FBA, and you cannot afford to pay the loan. So any inventory in the platform's fullfilment center will be kept in check until you pay the money back. The marketplace can also use the merchandise and sell items to recoup some of their lost funds.
Congratulations! You have made it to the end of this knowledge slide. Our guide explored everything about the Amazon lending program, from its terms and requirements to its pros and cons.
Raising Amazon seller funding at the right time and in the right amount might become the perfect answer to developing your business. With proper business management, the benefits of using Amazon Lending are always higher than the cost of servicing it. 
Are you ready to get an Amazon loan and broaden selling goods on the platform? SellerSonar can help you get the most out of your business by discovering high-demand and low-competition products, managing your sales, and tracking product listings. 
Register for our 29-day free trial to learn more!