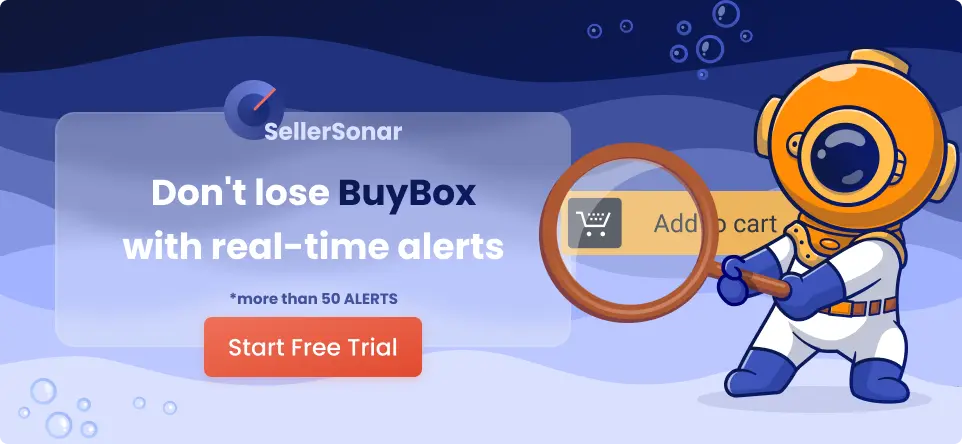 Utilizing various Chrome extensions can be a silver bullet if you're an Amazon merchant. Selling on Amazon.com requires staying well-organized in different fields of operating such a business. However, before seeing a dime, sellers must look for goods and gauge sale estimates and profits on any product they wish to sell on the platform.
Luckily, as tiresome as it might sound, there is still hope. Why? Google Chrome, with its extensions, is firepower in assisting merchants to become much more efficient with their product research. This blog post will delve deeper into essential AMZ Chrome extensions to ease your legwork.
Why Should AMZ Merchants Get Chrome Extensions for Their Business?
It will help if you benefit from all features and possibilities to grow sales and keep up with your competitors as an AMZ seller. Usually, merchants tend to concentrate on traditional options. They may, for instance, launch a Lightning Deal and use social media. 
However, you can reach new heights by optimizing your Chrome browser with selling extensions. And unfortunately, many users miss out on this crucial opportunity.  
Amazon seller Chrome extensions help sellers to customize their browsers according to their AMZ merchant's needs. For instance, you can utilize the right option to evaluate the profitability of goods and identify search terms that will grow your product listing's visibility.
It's possible that the top ones will give you the most value. Each AMZ seller has different needs and priorities, so Chrome extensions may benefit some merchants more than others. 
Nonetheless, we still recommend you get an idea of the available tools by checking out our list below. You can then pick to add one that you think will be most useful for your business or use the info to start further research.
Top Chrome Extensions for Amazon Sellers
To start with, product analysis, Amazon keyword research, and price monitoring are three critical yet exhausting tasks for any FBA business in the marketplace. The subsequent free Chrome extensions for Amazon sellers are considered the best instruments for making these tasks more convenient and successful.
Amazon Assistant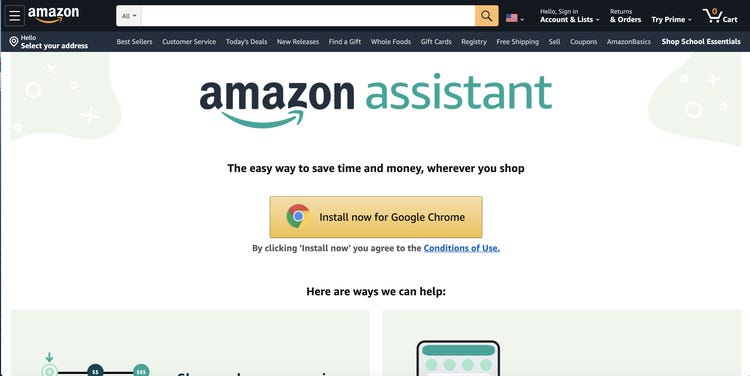 Exhausted by opening many tabs while trying to check if your item has any match on Amazon.com? That is precisely where this seller's Chrome extension comes in handy. Continue browsing on merchants' sites as you always do; however, let this plugin run alongside your work and notify you of any potential product matches on Amazon.
Helium 10 XRay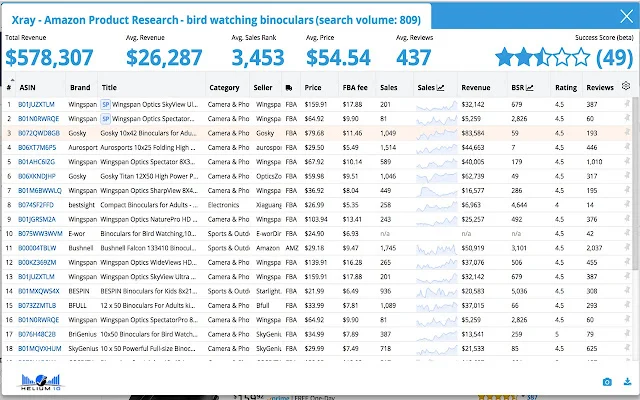 Helium 10 is one of the best plugins for Chrome. This extension allows users to analyze selling information, spy on their competitors, apply profit calculations, and much more. It's the most thorough extension for Chrome on our list. Feel free to check the complete list of functionalities of its website.
Also, this Amazon Chrome plugin recently developed some new features:
Sellers can utilize XRay to spot reliable manufacturers directly on Alibaba.com

Sellers can scan the Alibaba platform to estimate the demand for goods on Amazon.com

Helium integrated a special keyword tool (Cerebro) within XRay.
Another perk of this extension is that it is available absolutely for free.
DS Amazon Quick View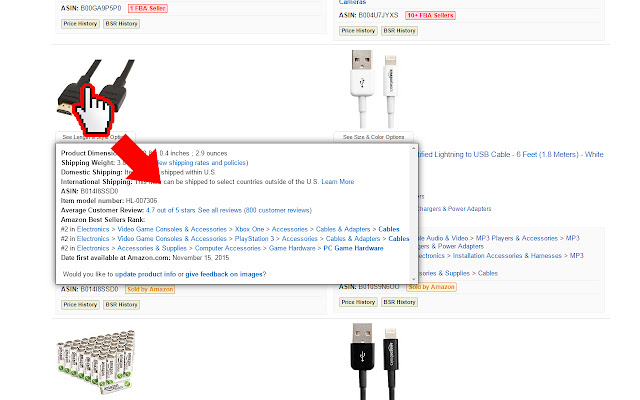 The next point on our list of Amazon extensions for sellers on Chrome is Amazeowl. It enables sellers to carry out influential product investigations for their Amazon business without leaving the platform. Just look through a specific keyword, niche, or category to get a checklist of potential items in the corner of the product page. Notably, this Chrome Amazon plugin is straightforward, with simple hover info, colors, and user-friendly functions. In addition, to get access to more details, check your "Market Analysis" bar and receive a table highlighting data that matches your item criteria. Finally, this extension can be used on more than ten Amazon marketplaces.
Keepa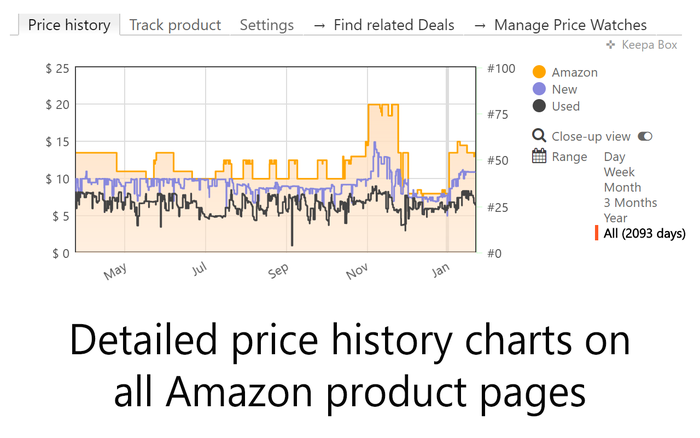 Feel free to try Keepa, the top-notch source of historical sales statistics on Amazon.com. This extension constantly runs in the background and provides helpful sales data on ranking and pricing from many listings on the marketplace. No wonder, Keepa is now of the most well-known and trusted plugins for Amazon users because of the amount of info it gives in real-time and at no cost.
Camelizer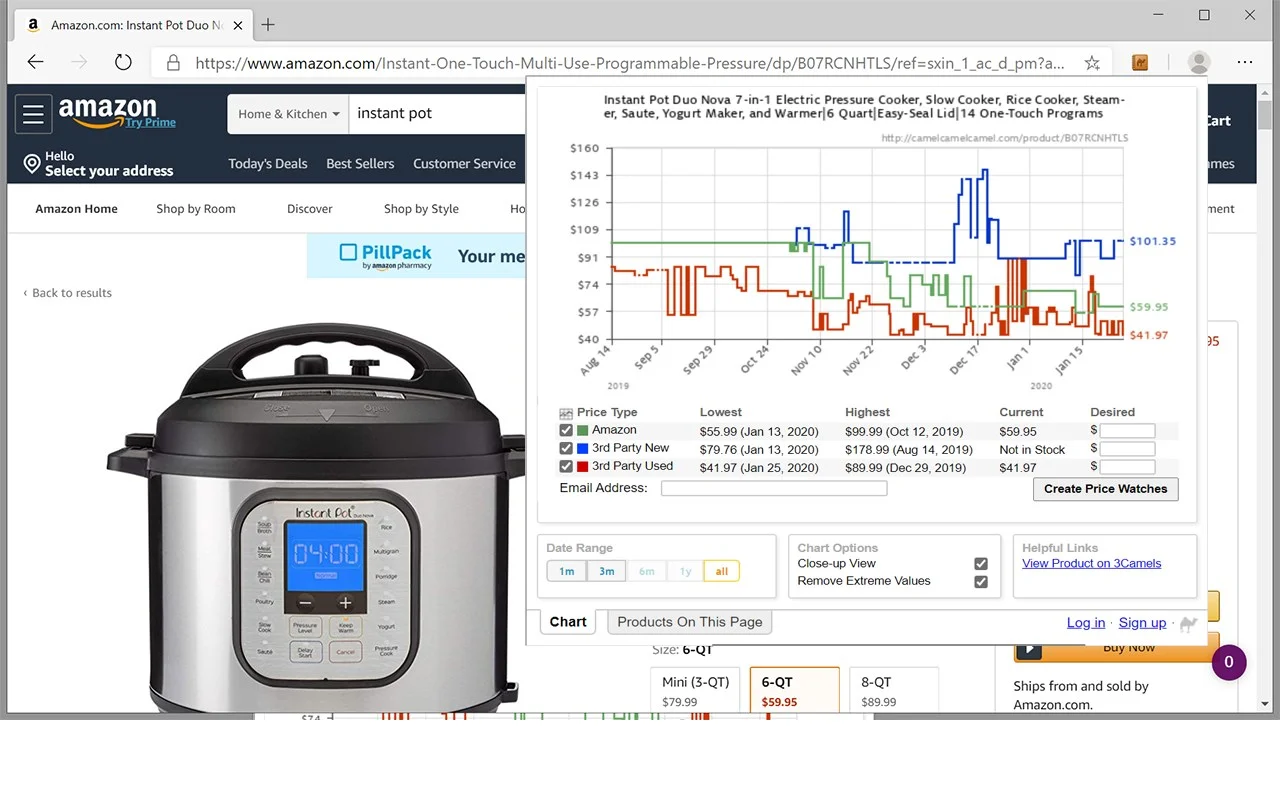 Another excellent extension for online merchants who do not use any Amazon repricing instruments is The Camelizer. It helps compose the email and social media pricing notifications automatically sent when your competitors change their pricing. Also, you can check the historical prices of millions of goods. Isn't it a good choice for any novice and developing Amazon seller?
MozBar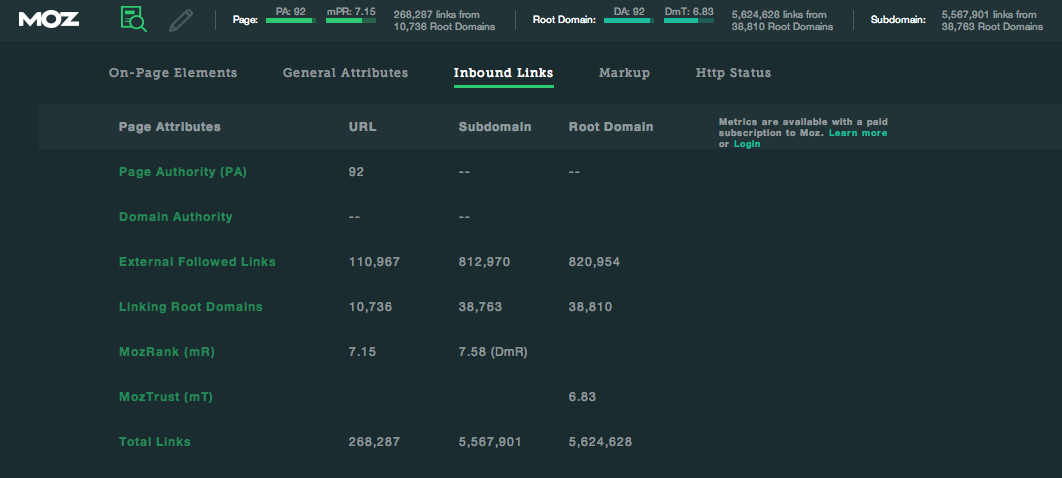 MozBar is one of the most famous Chrome extensions applied for Google SEO. You can check the product listings, launch MozBar, and track the number of external links that point to your particular listing.
Thus, merchants can discover affiliate platforms and other websites that lead to their competitors. Later, they can contact such sites and ask them to link to their listing instead.
AMZScout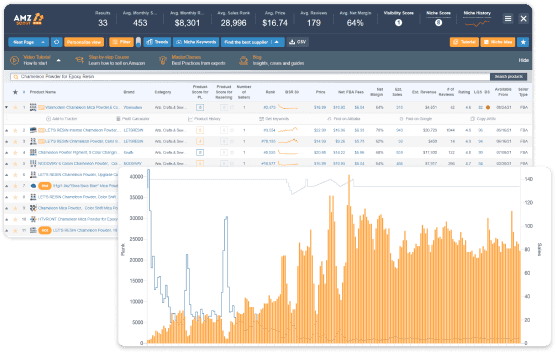 Product research might look like a tiresome task, but AMZScout's in-browser extension makes it easier and more enjoyable. Type in the item idea and let this Amazon Chrome plugin calculate an overall score, revenue level, demand estimate, and competitors' info. Merchants can then use the AMZScout to access competitor details, including seller rank, stock levels, possible profits, and FBA costs. To sum up, it's a perfect all-around instrument for spotting niche goods with a high potential for profits.
Honey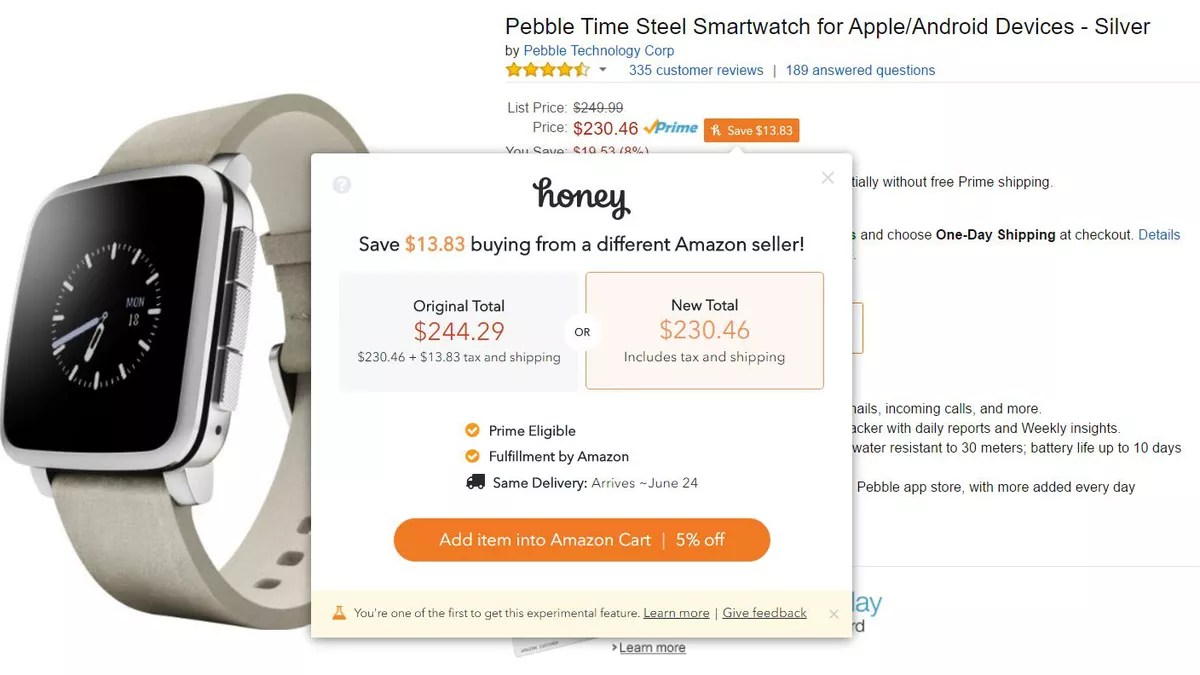 While making up a list of goods to buy for your warehouse, don't forget to add the Honey Chrome Amazon plugin to the browser. This extension scans out promo codes and coupons you can use. Therefore, you do not need to search for them in Google manually.
RevSeller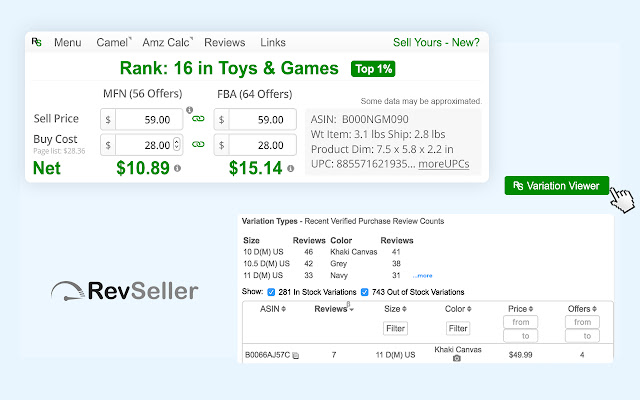 It is our most adored extension for Chrome. Its user-friendly dashboard helps sellers estimate their listing's profitability round-the-clock while showing only the most important information on your Amazon.com product listing page. For example, this Chrome Amazon plugin will show FBA and FBM offers, allowing merchants to fill in the fees for each Amazon model. RevSeller can also indicate product measurements, sales ranking, ASIN, and UPCs, besides quick profit estimates.
Unicorn Smasher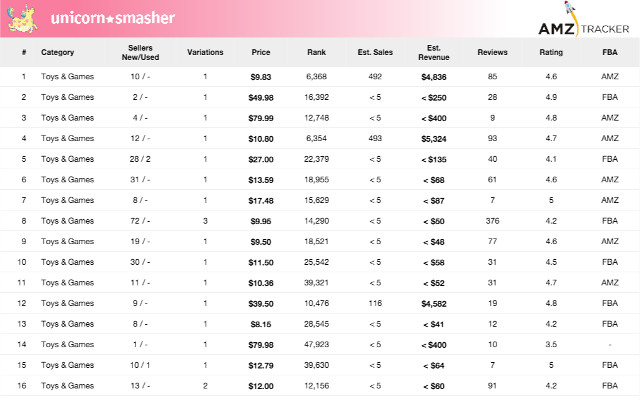 Here comes a free-of-charge all-in-one plugin created to collect comprehensive info for product analysis. This extension will compile competitor pricing,  sales rankings, reviews, and estimated sales capacity with an easy-to-navigate, integrated menu. We recommend it for any novice Amazon seller.
Amazon Brand Detector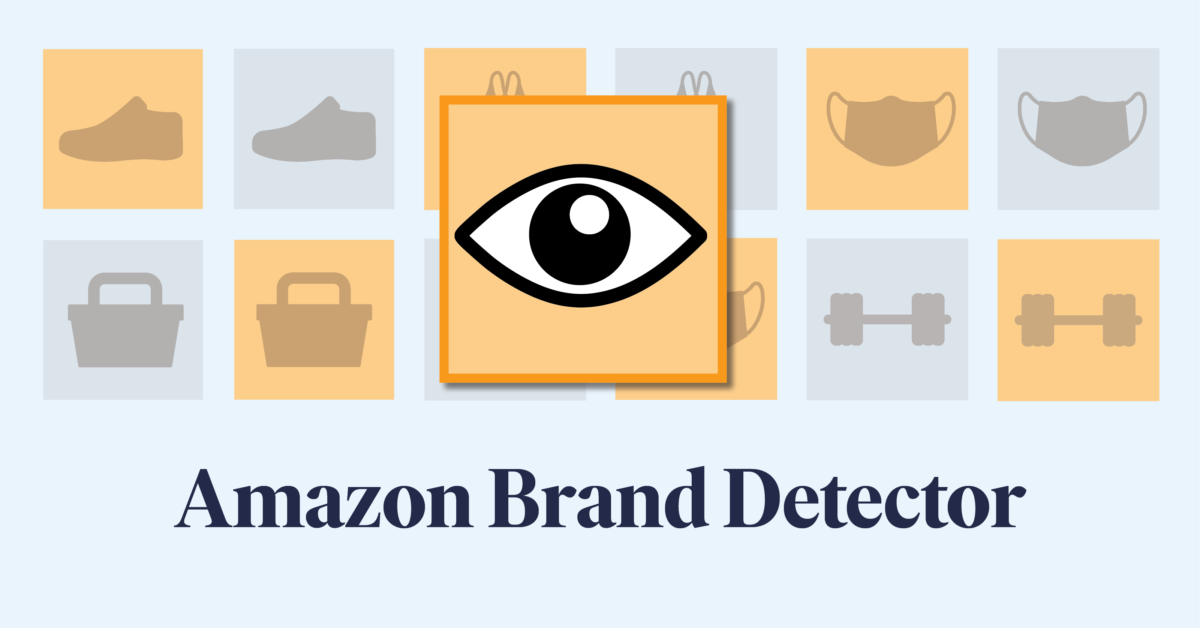 This browser extension for Amazon shows how many brands on the platform are actually just Amazon. It promises to demonstrate to users which goods in your AMZ search results are sold by companies that are either owned by or are exclusive to AMZ, giving a better understanding of who is selling what clients are buying. This Amazon for Chrome extension leverages a list of AMZ brands created by The Markup, together with filters and other techniques to spot items that are a part of Amazon's Our Brands program.
The company created this extension after investigating how Amazon ranks its in-house brands in its search results and says the tool (available for Firefox and Chrome-like browsers) is aimed at making searches more transparent. 
Extensity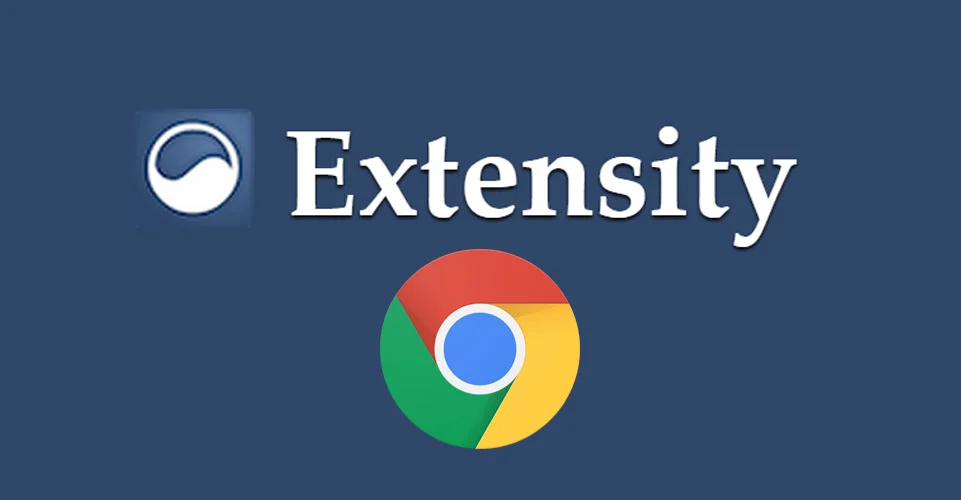 While this extension is not designed primarily for Amazon merchants, it helps boost efficiency and productivity. Extensity helps users organize all of the Chrome extensions they have in their browsers for easier access and use. With it, one can quickly enable and disable all Amazon extensions for Chrome, depending on which one they are using. It allows you to get your work done much faster, and you can move on to other aspects of your business. Extensity is a free feature. Just download it into your browser to get started.
Which Chrome Extension to Choose?
Extensions for browsers are the most cost-effective options at an Amazon.com user's disposal. With most Chrome plugins not costing anything, the programs mentioned above can serve as a helpful element of your merchant toolkit within a few minutes and spare you many hours every week.
There exist many useful AMZ seller Chrome extensions for companies and budgets of all sizes. However, we suggest trialing a couple of keywords, goods research, and price alert applications to stop the best one for your requirements.
Moreover, you can try all-inclusive software like SellerSonar to boost your Amazon listings monitoring. You can enhance product and competition research, keyword analysis, pricing structuring, and sales estimating with it. Growing your AMZ business hasn't been so easy with this value-packed tool.
Register for a free 22-day trial and harness the ability to increase your efficiency and prоductivity.