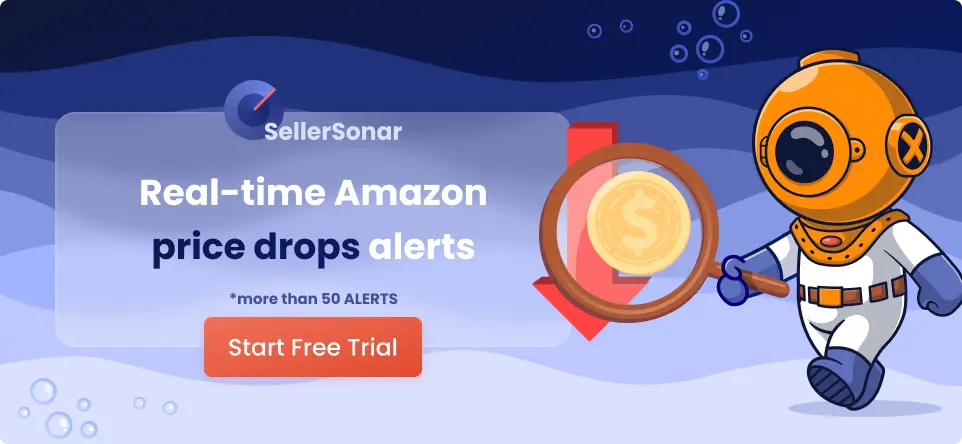 Beginning as a humble digital bookstore, Amazon has become a global online giant – taking the #1 place in the eCommerce retail shopping services market.
As displayed on its logo, which shows the letters "A" and "Z" linked by a smile-shaped arrow, AMZ informs everyone that it really sells everything from A to Z.
As a platform's customer or seller, you probably face all sorts of Amazon warehouse acronyms while navigating the marketplace.
If you utilize Seller Central, communicate with others on Amazon-related FB groups, or do AMZ-related Google searches, you may also notice many unfamiliar Amazon abbreviations that may leave you scratching your head.
What does 3P mean? ACOS? ROI?
And wow… there is even one called CRAP!
In this article, we have collected a comprehensive Amazon abbreviation list to give you a helping hand, especially if you're a novice to the platform.
Why Learn Amazon Warehouse Acronyms? 
Knowing Amazon acronyms as a seller is important because it allows you to understand and communicate more effectively within the Amazon seller community. Many Amazon-specific acronyms are common in forums, chat groups, and other online communities where sellers seek advice, discuss strategies, and share experiences.
By understanding the acronyms in the Amazon seller community, you can:
Communicate more effectively with other sellers

: Understanding acronyms enables you to quickly decipher and respond to messages and ask more informed questions.

Stay up-to-date with the latest trends and best practices

: Many acronyms help describe Amazon-specific concepts and strategies, such as FBA (Fulfillment by Amazon), PPC (Pay-Per-Click), and ASIN (Amazon Standard Identification Number). Understanding these terms can help you stay informed about the latest trends and best practices.

Optimize your product listings

: Certain acronyms, such as A+ Content and EBC (Enhanced Brand Content), refer to features that can enhance your product listings and improve your chances of making sales.

Avoid confusion and costly mistakes

: Misunderstanding an acronym could lead to confusion, errors, and potentially costly mistakes, such as misinterpreting your metrics or failing to take advantage of a particular feature or program.
Amazon Glossary of Terms
3P – Stands for a Third-Party Merchant – A company that sells an item that isn't their product or brand. Using Seller Central, merchants sell goods directly to clients on the platform under their business name and take on the function of retailers. 
3PL – Refers to Third-Party Logistics.
7-Day Deal  – It means one of the promotions for merchants on AMZ.The time-bound offer gets featured on the platform's Best Deals page. 
ACOS – Stands for Average Cost of Sales – It relates to Amazon-sponsored product advertisements. It indicates how well your advertisements s are performing compared to their cost.  
Account Health – In your Seller Central dashboard, the Account Health section overviews the seller profile's adherence to the performance metrics and policies necessary to sell on AMZ. 
ASIN – Means Amazon Standard Information Number – It's the platform's internal monitoring identifier for all listings in the catalog. It is similar to UPCs. However, it's exclusive to the Amazon marketplace.  
A9 Algorithm – The Amazon ranking algorithm determines how goods appear in the platform's search results. Images, titles, copy, video, A+ content, inventory, reviews, and other aspects all impact this algorithm.
A/B Testing –  A method to test your listing performance with different advertising messaging or content versions.
BB – Stands for Buy Box – It refers to the merchant associated with the Add to Cart button on any AMZ product detail page.  
BOLO – Means Be on the Lookout – Usually, it is about a profitable product that you can spot in shops near you.  
BSR – Stands for Best Seller Rank – It often goes interchangeably with selling rank and gives a perception of how well a product moves compared to other products.
CAGR – Means Compound Annual Growth Rate.
COGs – Stands for Cost of Goods Sold.
CRAP -–Means Cannot Realise Any Profit
DS – Is short for Dropshipping – Delivering an item directly from a distributor to the final client.
EAN – European Article Number – It's a 13-digit number program for indicating retail goods.        
FBA – Means Fulfillment by AMZ.
FBM – Stands for Fulfilled by Merchant – It's known as MF (merchant-fulfilled). This selling method lets sellers ship goods to the final customer.
FNSKU – Refers to Fulfillment Network Stock Keeping Unit – It's the method that AMZ identifies an item as unique to the merchant that the merchant has sent to an FBA fulfillment center. So every item processed via an FBA warehouse gets some unique identifier.
FC – Fulfillment Center – It's one of Amazon's fulfillment centers/ warehouses.    
FFP – Means Frustration-Free Packaging – It's an AMZ program to reduce hard-to-open and excessive packaging.
FLOW – Refers to Forward-Looking Order Workflow –  AMZ buys orders with a delivery window for the coming week for best-selling goods.
IP – Stands for Intellectual Property.
IMO – Indicates In My Opinion – This term is common in FB groups when an individual wants it to be clear they are sharing recommendations or something they likely do not want to be taken as 100% reliable. You might also notice the option IMHO, which means In My Humble Opinion.
ISBN –  Means International Standard Book Number –  A 13-digit code is assigned to place goods in a catalog. This code is similar to SKU and EAN.
LTH – Stands for Long-Term Hold – Keeping goods to be moved later. For instance, purchasing Christmas decorations on December 29th and waiting to offer them until the following month.
MAP – Refers to Minimum Advertised Price – One can use it for wholesale sourcing. It'sYou decide not to list the price below if you buy a product from a distributor or wholesaler.
MSRP – Means Manufacturer's Suggested Retail Price.
MTD – Stands for Month to Date – One utilizes it when displaying sales or a specific indicator since the start of the month.
OA – Indicate Online Arbitrage – This means purchasing products at online vendors to resell on AMZ.
OB – Stands for Outbound.
ODR – Indicates Order Defect Rate – The share of orders that clients report an important issue on. Per AMZ, it's the rate of orders that have obtained negative feedback, a chargeback, or an A-to-Z Guarantee claim. It helps sellers to measure general performance with one metric.
OOS – Stands for Out Of Stock –This term is for products that are out of stock in retail shops or the Amazon marketplace.
OSE – Refers to Online Selling Experiment.
P&L – Means Profit and Loss Statement – This term is the earnings statement.
PL – Indicates Private Label – It means putting your logo or brand name on a produced item and branding it as your own.
PM – Can indicate Private Message or Price Match – It most likely relates to price matching another retailer or a private message when you see it in an Amazon-related Facebook group. 
PPC – Stands for Pay Per Click – This term goes for AMZ Advertising, in which sellers pay a fee every time an advertisement gets clicked.
Q4 – This means the fourth Quarter from October to December when AMZ sellers usually see large growth in sales. You might also notice Q1 (January to March), Q2 (April to June), and Q3 (July to September). 
RA – Stands for Retail Arbitrage – Purchasing products in retail shops to resell on the Amazon platform.
ROI – Return on Investment.
SENRFR – The abbreviation means a suppressed listing. When a product listing gets suppressed, AMZ has determined some issues with the page. It usually appears in the video game niche on AMZ.
SKU – Indicates Stock Keeping Unit – It's a letter and number combination that helps to identify products in a merchant's inventory. It helps to manage inventory effectively.
TIA – Stands for Thanks in Advance – You can usually see it in FB posts when asking some questions.
TOS – Amazon's Terms of Service.
TOT –  Refers to Time Off Task – It's a fulfillment center acronym to describe task completion duration.
UPC – Universal Product Code – It's a 12-digit code shown with the code on most retail goods.
VA – Amazon's Virtual Assistant – A virtual assistant is generally from a state country and carries out various duties, such as administrative tasks or online sourcing.
WS – Means Wholesale – Indicates sourcing items wholesale. Usually, products are bought direct from the producer or a supplier.
YTD – Stands for Year To Date.
YOY – Stands for Year Over Year.
Amazon Acronyms List: Final Thoughts
Our partners and customers constantly ask us what Amazon warehouse acronyms mean. Thus, we have compiled this practical guide with the most popular abbreviations and terms in the marketplace.
We might have missed some, so if you think some lingo should be added to this Amazon glossary of terms, let us know in the comments section!
For more useful tips about selling in the marketplace, check our blog and register for a free trial of SellerSonar product listing monitoring!