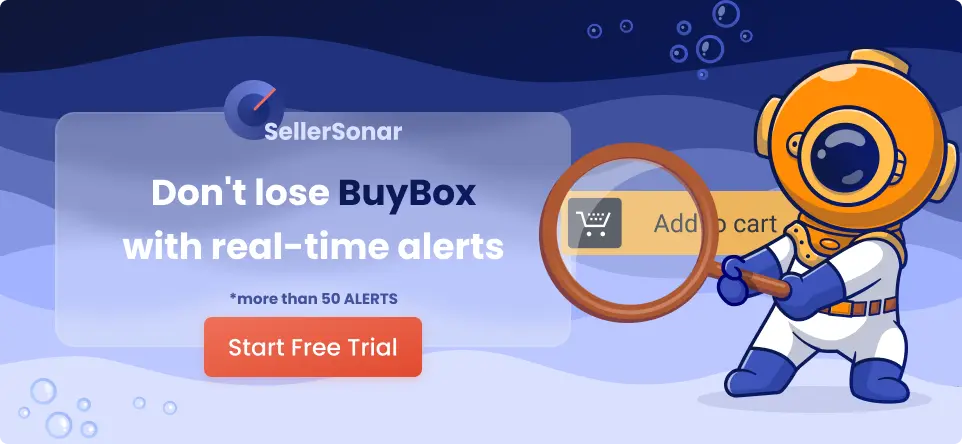 The growth of the online retail industry triggers complex logistics processes. To work smoothly, they must be diversified and efficient. An optimized approach to delivery, including shipment to the shopper's door, enabled the same-day delivery option from Amz, a standard expectation of today's online shoppers.
Around 80% of online buyers shop on Amazon because of fast, free shipping. This Amazon's service is due to efficient supply chain strategy, stock management, and optimized 3PL network services. In addition, diversified shipment channels increased the efficiency of Amazon delivery logistics.
Amazon has a vast number of warehouses all over the world. This complex system is barcode-driven. Each product that a seller sends to a fulfillment center must have a barcode so that it is possible to track it throughout the fulfillment process.
Barcodes are digital symbols Amazon scans electronically to track inventory. They contain such data as product and batch numbers. Barcodes help identify and track where the products are in the supply chain at a definite period.
Amazon and 3PLs apply many different barcodes – GTIN, UPC, ASIN, FSKU, and more. However, there's a straightforward system behind it.
Read further to find out what Amz FNSKU is, what Amazon FNSKU label requirements are, and how to get FNSKU from Amazon.
What Is FNSKU Amazon?
Fulfillment Network Stock Keeping Unit (FNSKU) is an internal Amazon barcode that the platform uses to track products in its fulfillment centers.
On Amazon, several sellers can sell the same product. They can easily get messed up if they don't have a unique tracking number.
In addition, many sellers can sell products from the same manufacturer. In such a case, they can all use the same UPC or EAN from the manufacturer. It can confuse either.
To avoid sad mistakes and hence delivery delays, Amazon introduced FNSKU – its shipping label assigned to each product fulfilled on the platform. You can easily monitor the product's shipment status using this unique number.
Amazon fulfillment centers use the FNSKU number to identify each of your items. It is exclusive to Amazon FBA products.
Amz also applies FNSKU in the fulfillment process to ensure that the right seller is credited for sale.
Why Does FNSKU Matter?
Some products have a manufacturer's barcode. In such a case, they'll require an Amazon barcode for tracking.
Amazon applies FNSKU to print your product labels. This code is a unique identifier of your product on the platform.
Some products have a UPC barcode. However, Amazon prefers its own FNSKU code. Even if your product already has a barcode or UPC, using FNSKU on Amazon is better.
The reason is that someone else may be selling the same product as you. If you both use the same UPC and fulfill the same product, chances are that they land in the same fulfillment center. To prevent mishmashes, Amazon recommends sellers include FNSKU on the shipping label of the product. This makes it easy to match an item with the right seller.
If Amazon doesn't require you to have FNSKU, it's matched with ASIN, and no additional label is needed.
Does Amazon Require to Apply FNSKU on Every Product?
This depends on the product. Amz will determine that when you list a product.
When you add an item product to the inventory, Amazon asks for your barcode preference — either the manufacturer barcode (UPC) or an Amazon barcode. At this stage, Amz may require you to use tFNSKU.
As said, it's better to use FNSKU as it simplifies monitoring your product's fulfillment status on Amazon.
What Barcodes Dose Amazon Apply to FBA Products?
Fulfillment by Amazon uses three types of barcodes to identify and track inventory throughout the fulfillment process.
Kinds of barcodes used by Amz to identify products
manufacturer barcodes (UPC, EAN, JAN, and ISBN);
Amazon barcodes (FNSKU);
transparency authenticity code ( used by brand owners to prevent counterfeit).
Manufacturer barcodes
Amazon applies the manufacturer barcode to track inventory throughout the fulfillment process unless you have changed your barcode settings in Seller Central. When more than one seller has inventory with the same manufacturer barcode, Amazon can fulfill orders with the inventory closest to the customer for faster delivery.
Amz barcodes
All products that don't have the manufacturer barcode must apply Amazon barcodes.
Products that are required to have FNSKU:
products that are not in new condition;
items that don't have a scannable UPC, EAN, JAN, or ISBN;
restricted products and dangerous goods;
products with an expiration date;
consumable or topical products;
media products;
products for children or infants.
Transparency authenticity codes
These codes are authentication stickers that help protect brand owners and customers from counterfeit.
They have a Transparency "T" logo. It must not cover or be covered by any other label.
Amazon Barcode Requirements
As far as barcodes are identifiers for Amazon's inventory fulfillment system, it is imperative to meet its requirements for these codes.
When you create your product listing page, Amazon converts the item's UPC barcode into an FNSKU.
Elements of the FNSKU label
FNSKU number or Registered Unit Barcode;
name of the product;
the condition of the product (new or other);
scannable barcode.
Requirements for printed barcodes
When you print barcodes onto labels, they should match the formatting of the Seller Central generated label.
Printed barcodes should include
enough white space around the Amazon barcode and related text: (0.25 inches on the sides and 0.125 inch on the top and bottom);
enough white space around the label content and the edges (0.25 inches on the sides and 0.125 inches on the top and bottom);
ASIN or FNSKU;
product name;
item condition.
Amazon FBA printed label requirements
When you've printed are ready barcodes, you need to put them in the right place on the packaging.
Barcode label placement guidelines
put the correct barcode on each item;
cover all other visible barcodes, except for any serial number barcodes or Transparency authentication code labels;
ensure the barcode is scannable after applying any prep materials;
do not place the barcode on a curve or corner of the package;
allow 0.25 inches between the edge of the label and the edge of the packaging;
make sure that each item in a case pack has a barcode and that any barcodes on the case have been removed.
Note: Failure to follow label placement requirements can cause delays in processing and may result in unplanned prep service fees.
Printer requirements
The tools in your seller account are optimized for thermal printers. You can also use laser printers. Do not use inkjet printers to print Amz barcodes.
Barcode printing guidelines
each label must be readable and scannable for 24 months;
test your Amazon barcodes by scanning them so that they work;
use a printer with a print resolution of 300 dots per inch or greater;
test, clean, and replace your printer heads from time to time.
Label paper requirements
Barcodes must be printed in black ink on white, non-reflective labels with removable adhesive. Dimensions must be between 1 x 2 inches and 2 x 3 inches (1 x 3 inches or 2 x 2 inches, for example).
Label sizes supported for laser printers
21 labels per page (63.5 mm x 38.1 mm on A4);
24 labels per page (63.5 mm x 33.9 mm on A4, 63.5 mm x 38.1 mm on A4, 64.6 mm x 33.8 mm on A4, 66.0 mm x 33.9 mm on A4, 70.0 mm x 36.0 mm on A4, 70.0 mm x 37.0 mm on A4);
27 labels per page (63.5 mm x 29.6 mm on A4);
30 labels per page (1-inch x 2 5/8 inches on US letter);
40 labels per page (52.5 mm x 29.7 mm on A4);
44 labels per page (48.5 mm x 25.4 mm on A4).
Note: if your printer attempts to scale the PDF print area when you print your labels, make sure that the printer scaling is set to None or 100%.
Typical mistakes with the barcode product labels
no barcode – the product arrives at the fulfillment center without a barcode;
item mislabeled – the product arrived at the fulfillment center with a barcode that does not match it;
the barcode is not scannable – the barcode cannot be scanned; the label was placed around a corner or curve or was printed on a reflective surface, making the barcode impossible to scan;
unit or shipment prep errors – items in the shipment arrived with labeling, packaging, prep, or shipping requirement errors.
How to Get an FNSKU?
You can ask Amazon to label your products or do it yourself.
Amazon FNSKU Labeling Service
If you don't like the idea of purchasing a printer and labeling your products yourself, you can request Amazon to label products for you.
Once you've created a shipment, Amazon will ask you "Who Labels" – choose Amazon.
However, the service comes with a cost. Amazon charges a fee of $.20 per unit.
Labeling products yourself
If you prefer to label products yourself, choose the 'Merchant' option under "Who Labels" after creating a shipment.
How to get an FNSKU for Amazon?
Getting FNSKU to step by step
Step 1. Set your product to FBA.
Step 2. Add a product to the catalog. Amazon will assign an FNSKU to your item.
Step 3. Export the barcode generated by Amazon.
Step 4. Label your product with the FNSKU before you send it to the fulfillment center.
How to print a label?
Printing a label step by step
Step 1. Go to 'Manage FBA inventory.'
Step 2. Go to your product and click the drop-down menu to the right of the product.
Step 3. Select 'Print Item Labels'
Step 4. Choose 'Print labels' and click 'Ok.'
Step 5. Select the appropriate size and print.
Step 6. Label the FNSKUs on your products.
What is the difference between an ASIN and FNSKU?
ASIN is an Amazon Standard Identification Number, a unique figure used to identify the product. ASIN is located on the product detail page.
The difference between an ASIN and FNSKU is that the ASIN is product-specific, and the FNSKU is seller-specific.
In other words, the ASIN just identifies the product, while the FNSKU shows Amazon what the product is and to whom it belongs.
What is the difference between FNSKU and SKU?
SKU is Stock Keeping Unit. It is code sellers apply to track a product for inventory purposes for internal use. It may include details such as color, size, fit and other variations. An SKU is the smallest unit of product. Sellers can create their SKUs.
In turn, FNSKU is a barcode assigned to each product to distinguish the item from the others in the Amazon fulfillment centers.
What Are the Other Codes on Amazon?
UPI, GTIN, UPC, Barcode
All products that merchants sell internationally have unique product identifiers (UPIs). They distinguish your product from the others and help find or track them. UPIs are assigned to each item by the manufacturer, and if you resell the product, the UPIs will be the same.
UPIs are:
Global Trade Item Numbers (GTINs);
Manufacturer Part Numbers (MPNs);
brand names.
GTINs are:
UPC – Universal Product Code (12 digits, used in the USA);
EAN – European Authentication Number (13, 14, or 8 digits, used outside the USA);
ISBN – International Standard Book Number (10 or 13 digits, used internationally);
JAN – Japanese Article Number (8 or 13 digits, used in Japan only);
GTIN-14 – Global Trade Item Number-14 (14 digits, shipping container code).
GTIN, UPC, Barcode
On Amazon, UPC is the commonly applied type of GTIN. However, not every product has it. For instance, they don't have a GTIN if you sell a private label or handmade product.
In such cases, sellers may apply for a GTIN exemption. GTIN exemption means you do not need a UPC for your item.
If you don't have a GTIN exemption, you must have a barcode registered in the GS1 global database. You can buy a UPC to sell on Amazon from the GS1.
Wrap Up
Many online buyers shop on Amazon because of fast, free shipping. That is possible due to the efficiency of Amazon fulfillment. Amazon has a vast number of warehouses all over the world. This complex system is barcode-driven.
Each product that a seller sends to a fulfillment center is assigned a barcode so that it is possible to track it throughout the shipping process. Barcodes help identify and track where are the products in the supply chain at a definite period.
FNSKU is one of such barcodes. It's an internal Amazon barcode that the platform uses to track products in its fulfillment centers. To avoid shipping mistakes, you need to follow Amazon FNSKU label requirements.
Though fulfilling your product on Amazon fast is vital, merchants shouldn't forget about their product performance. Amazon monitoring software is an efficient way to stay on top of your sales. SellerSonar offers instant Amazon alerts to protect your sales. You are aware of listing changes, Buy Box hijackers, new/deleted reviews, keyword rank history, and product suppressions with us.
Try SellerSonar now. Register for our 90-day trial and boost your incredible journey of running your business on the platform.