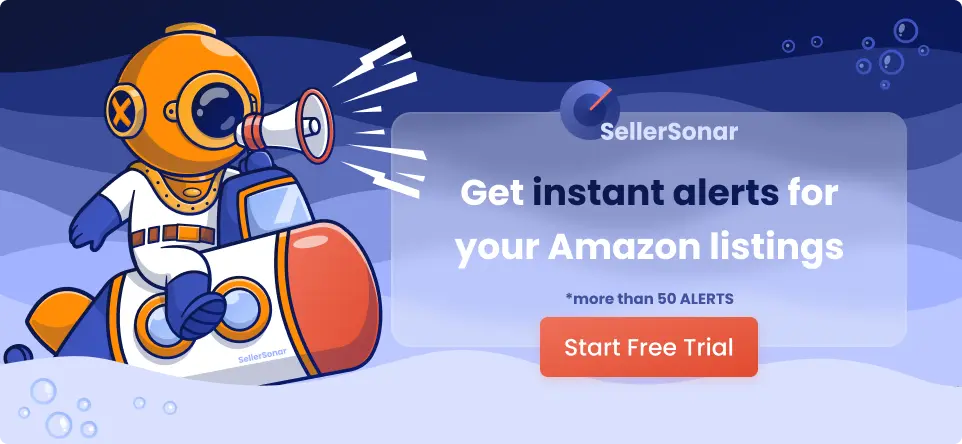 As the number of goods available on the Amazon platform grows, it is not a miracle that the marketplace also seeks to enhance quality.
If you wish to list your items for sale on AMZ, the platform needs you to have your product ID, also known as GTIN. They are essential because the marketplace uses them to monitor inventory as goods are moved in and out of AMZ fulfillment centers.
Nevertheless, there are cases when you can't get a GTIN for your merchandise. For instance, when your product does not have an ISBN,  EAN, or UPC. Therefore, you will need to apply for the Amazon GTIN exemption before being able to list such goods.
Let us take a wild shot. Are you well aware of GTIN at all?
Do not worry. You are not alone. We will explain everything you need to know about GTIN and help you get an exemption on your goods.
What Is a GTIN Exemption on Amazon?
Global Trade Item Number (or GTIN) is a unique sequence of numbers that determines particular goods beneath the barcode. However, it's not the barcode itself. A Global Trade Item Number is a merchandise identifier number needed to sell goods in stores or on an online platform like Amazon.
Also, these merchandise identification codes allow you to manage inventory and ensure that your item is unique. Efficiently organizing and labeling products with the proper identifier lets retailers avoid catalog mix-ups, data conflicts, etc.
GTINs are in several forms, including ISBNs, UPCs, and Part Numbers related to an SKU, to name a few:
UPC: A Universal Product Code that is also known as GTIN-12). It's a 12-digit numerical merchandise identifier most often utilized in Canada and the United States. Such an option is the most popular barcode type worldwide. You can find it on literally every physical item in a store.
ISBN: International Standard Book Number is a unique merchandise identifier for books. Based on the publication date, they can contain 10 or 13 digits.
EAN: Code that is mostly utilized in the European market.
Part Number associated with SKUs: It can work as an identity only by AMZ approval.
Why Does Amazon Need GTIN Numbers?
Imagine when an eCommerce retail platform like Amazon started offering products without IDs.
We'll paint a picture for you. Merchants will start selling patented and copyrighted products without merchandise numbers to specify them uniquely. It is very likely that people might manipulate the system, as there would be no way to differentiate between goods and their merchants or origins.
Furthermore, item identification helps sellers increase the visibility of their listings, rank higher on AMZ search engines, and cross-promote their listings with relevant products.
Regarding product listing optimization, having a set of experts to look at your product pager or a third-party tool can help a lot. SellerSonar can help you discover the best keywords for your AMZ listings. The product tracker features also allow staying fully aware of the slightest changes in your AMZ business environment. Our software detects and notifies you of any issues with listings that may be potentially harmful to your sales and online reputation!
Am I Eligible for Amazon GTIN Exemption?
There are certain circumstances in which a merchant can apply for a GTIN exception:
The brand, publisher, or manufacturer doesn't provide a GTIN for the goods you wish to sell. For instance, handmade goods or private-label merchandise. 

The goods you wish to sell don't have barcodes; you're the brand, manufacturer, or publisher.

You want to list product parts, and such parts don't have a GTIN. 

You wish to sell a package that contains more than one item. For example, a pack including watercolors and a sketch pad.

The merchant offers a custom-made or handmade item that wouldn't need a GTIN.
AMZ has provided a list of labels that need a Global Trade Item Number to list their goods in the marketplace. Such brands have already provided GS1-approved codes for their merchandise, so GTIN exemptions aren't available for items under these brands. Therefore, if you list goods under these labels without a GTIN, your product listing will get suppressed. 
What Do I Need to Get Amazon GTIN Exemption?
If you're planning to apply for an Amazon GTIN Exemption, you need to prepare the necessary requirements beforehand. These are the details you need to provide when you contact Amazon Seller Support:
Brand name

Image URL

Manufacturer name

SKU

Category name

Proof of product authenticity

Product name

Screenshot of the error message you received

EAN/UPC/JAN code
Make sure to have these details on hand when applying for a GTIN Exemption to avoid any delays in the process.
4-Step Procedure for Amazon GTIN Exemption
1 – Brand
When applying for a GTIN exemption, it's important to select the appropriate category for your products and enter your brand name exactly as it was approved. This means using the same capitalization and special characters. Failure to do so may result in the rejection of your GTIN application.
2 – Proof
To proceed, you must upload 2-9 images of your product or custom packaging with your brand name displayed on them. Click the "Continue to Submit Proof" button and name your product.
3 – Product
When filling out the product name section, you can use your name, the actual title you plan to use in the listing, or simply name your product. Using your entire listing title is recommended to avoid any discrepancies between the product you're trying to list and the name you provided.
4 – Approval 
Once you have submitted your application, the process will take around 24 to 48 hours for review. At the end of the review period, you will receive a notification regarding the status of your application.
Now, let's examine what the GTIN Exemption process looks like for brands and resellers.
How to Get GTIN Exemption on Amazon If You Are a Brand?


If you wish to know whether the goods you're offering need a GTIN, you may check Amazon's catalog to see under what category the item is listed. For example, let's say the item you're selling is under the 'Exemption' type. It indicates that the product you're about to detail isn't already listed.
However, if the item exists under the platform's listings, you may check if it needs a Product ID or GTIN. You can also look for those exempt from GTIN goods and add them to your list under 'Manage Inventory' on your Seller Dashboard. You may find these options in your Seller Central profile.
Furthermore, if the items do not match the conditions, you may request the marketplace for an exemption before adding them to the list. As for listing your goods, you should mention each product's name and upload at least two pictures from different angles. If you add the image, also put up the packaging photo. Here is how to do it as a seller.
The brand name you fill in should correspond to the exact brand name on the packaging.

The pictures you add must be real and demonstrate the handling of the item or package.

The product or its packaging must contain the brand name.

Ensure that you do not put an approved GS1 code, as it can cause a negation of your exemption.
Keep in mind that if you ever get your brand name wrong, you may reapply by fixing it.
How to Apply for GTIN Exemption on Amazon If You Are a Reseller? 
You must follow specific guidelines for enrolling in a GTIN exemption. AMZ differentiates between resellers and sellers by having different procedures for each. As a reseller, you need to include the following:
You need to provide the addressee's name or the individual who writes the letter and indicate their contact information.

You need to indicate why an exemption is necessary for you.

You need to provide your name, contact details, and address.
Now, let's cover how to apply for an exemption. Just follow the steps below: 
Sign in to AMZ Seller Central and click 'Apply for a GTIN Exemption.'
Click 'Select' and pick the relevant merchandise category.

Choose the brand type if you're selling unbranded goods, and type 'Generic' into the separate field. Also, spell the brand name precisely by paying attention to special characters and capitalization.

Pick 'Check for Eligibility.' If the item doesn't need a number, it will produce 'Ineligible' when you click the 'Check for Eligibility' button. Otherwise, proceed to the next step by choosing 'Continue.'

Now, you can upload your supplement letter. Or you may also pick 'No,' enter the merchandise name and add the images.
The Amazon marketplace may take up to 48 hours to reply to your application. So, you need to be patient until then.
What If I Am Not Eligible for the Amazon GTIN Exemption?
If the brand or merchandise category isn't eligible for an exemption, your only choice is to purchase a UPC. Previously, you might buy UPCs from third-party vendors. However, AMZ now demands that all codes be bought from the authorized GS1. For US merchants, you can buy your UPC barcodes or GTINs from GS1US.
And even when you get an Amazon GTIN exemption, you must still plan to get a GS1 barcode in the long run. Thus, you can develop a sustainable business by offering your goods on other online platforms and offline retail outlets.
Final Thoughts
If you're an Amazon FBA merchant, using GTINs for your goods is always right. It makes your goods look more credible and makes it easier for clients to search for merchandise. However, sometimes you cannot get GTINs for your item. It may often be true if you are a custom handmade merchandise creator or a private label merchant. In such rare examples, you may apply for a GTIN exception by using the abovementioned steps.
Don't forget that you can make your FBA business successful and seamless with third-party tools like SellerSonar. Ranked as the top trustworthy and best-value solution today, it can help you with many tasks. From product listing tracking, competitor research, keyword research, and even product page optimization, SellerSonar will give you a competitive edge.
Sign up for a 29-day free trial now and check how you can benefit from the service!