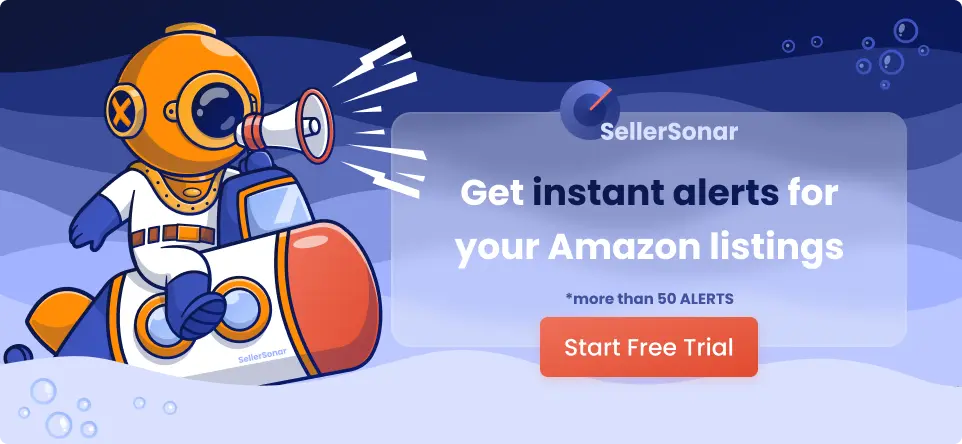 There are things you can't buy and sell on Amazon. Some of those are prohibited, while others are restricted from the sale. Certain restricted categories and products you can sell, but you need to get approval from the marketplace.
In fact, when you make product research, this is one of the important things to keep in mind. It is very frustrating if you found a profitable product idea, spent time and effort negotiating with a supplier, and listed it on the marketplace, and all of a sudden it appears that Amazon doesn't allow you to sell it. Moreover, they've suspended your account and removed your selling privileges. Definitely, this is not what you want.
Of course, you've heard about the Amazon prohibited products. These are illegal, hazardous, and other similar items. Amazon has a policy as to products and brands you can sell, those you can't sell, and those you need approval to sell.
As a matter of fact, if something you want to sell falls under restricted products on Amazon, this doesn't necessarily mean that they will not allow you to sell it. Actually, oftentimes you can get permission from the marketplace to sell restricted products. Also, there are cases when restrictions just imply extra commissions.
Moreover, some merchants prefer to sell restricted products. This is part of their marketing strategy since the competition is lower.
Read further to find out everything you need to know about Amazon restricted products, and how to deal with Amazon seller restrictions if you want to sell such products.
What is an Amazon Seller Restricted Product?
If a product is restricted, this means that Amazon either forbids sellers to list it or you have to get approval to sell.
Some of the restrictions relate to legal limitations to selling goods. Others are due to safety or quality requirements.
Also, there are listing limitations that specify claim compliance. For instance, if you mention on your product page that the product you sell is "Made in the USA", that means you should be able to prove that it was completely or mostly made in the United States.
Practically, the lists of restricted products vary from country to country because national legislation differs. For instance, in some countries, you have restrictions on selling alcohol or gambling. Therefore, the lists of restricted categories and products are not the same for different marketplaces.
You should also keep in mind, that the lists of restricted categories and products change from time to time, therefore, at times, you need to refresh your knowledge.
In any case, it's a good idea to check whether a product you are going to sell falls under one of the restricted categories to avoid an account ban. Amazon is very strict when it comes to compliance with its regulations. If they think that you've violated their Terms of Service, they may suspend your account. Afterward, it will take time and effort to reinstate it.
Why does Amazon have product restrictions?
First and foremost, Amazon wants its shoppers to buy safe, secure, and best-quality products. These products should, therefore, comply with all industry standards and safety regulations, have all necessary warranties, etc. This applies, for instance, to automotive parts, children's clothing, and more.
Secondly, the marketplace wants to ensure that the goods that sellers offer will raise no claims. This means, that the listed items should be legally allowed and conform with all regulations of the market where you sell them.
What Are Amazon Restrictions?
Virtually, there are a lot of restrictions on Amazon. In substance, you should pay attention to the category, product, listing, and brand restrictions.
Restricted categories on Amazon
For certain FBA restricted categories and sub-categories, Amazon requires sellers to get approval before they list products.
The list of restricted categories in the U. S.
Postage stamps
Collectible Coins
Fine Art
Holiday Selling Requirements in Toys & Games
Jewelry
Join Amazon Subscription Boxes
Made in Italy
Music & DVD
Services
Sports Collectibles
Streaming Media Players
Video, DVD, & Blu-ray
Watches
Sony PlayStation Requirements in Video Games.
Amazon restricted products
For certain restricted products, that you list you have to obtain pre-approval from Amazon. In other cases, you have to provide supplemental information or an additional guarantee. Also, if you are an FBA seller, you need to familiarize yourself with the list of Amazon FBA restricted products that are not eligible for this fulfillment program.
Amazon restricted products in the U.S.
Alcohol
Animals & Animal-Related Products
Art – Fine Art
Art – Home Decor
Automotive and Powersports
Composite Wood Products
Cosmetics & Skin/Hair Care
CPAP Cleaning and Disinfecting Devices
Currency, Coins, Cash Equivalents, and Gift Cards
Dietary Supplements
Drugs & Drug Paraphernalia
Electronics
Explosives, Weapons, and related items
Export Controls
Food & Beverage
Gambling & Lottery
Hazardous and prohibited items
Human Parts & Burial Artifacts
Jewelry & Precious Gems
Laser products
Lighting
Lock Picking & Theft Devices
Medical devices and accessories
Offensive and Controversial Materials
Pesticides and pesticide devices
Plant and Seed Products
Postage meters and stamps
Recalled products
Recycling electronics
Refrigerants: Ozone-Depleting Substances and Substitutes
Strike anywhere matches
Subscriptions and Periodicals
Surveillance Equipment
Tobacco & Tobacco-Related Products
Warranties, Service Plans, Contracts, and Guarantees
Upholstered Furniture, Bedding, & Other Quilted Products
Listing restrictions
General listing restrictions apply to the information you specify on your product detail page. For instance, when you make claims in listings, they must be accurate. Especially, this relates to medical equipment. In addition, environmental claims must follow Federal Trade Commission marketing guidelines. Also, guarantees and warranties should comply with all applicable regulations.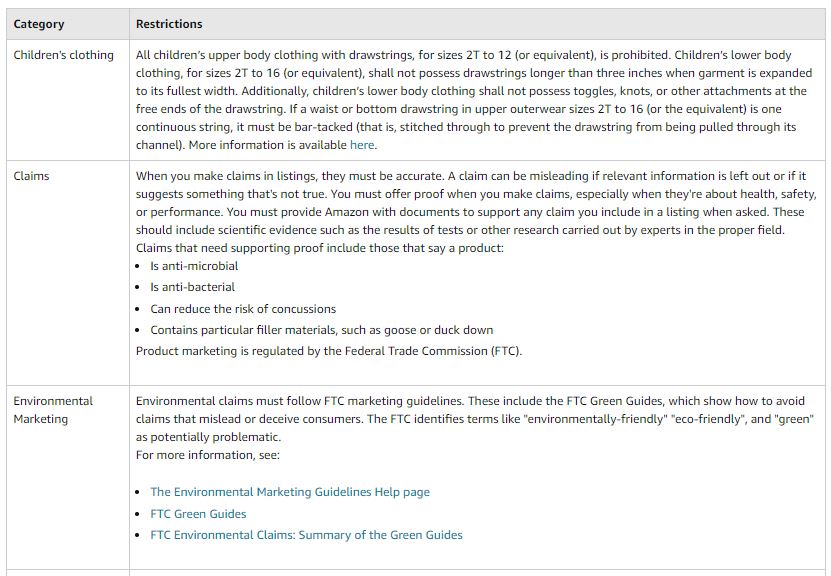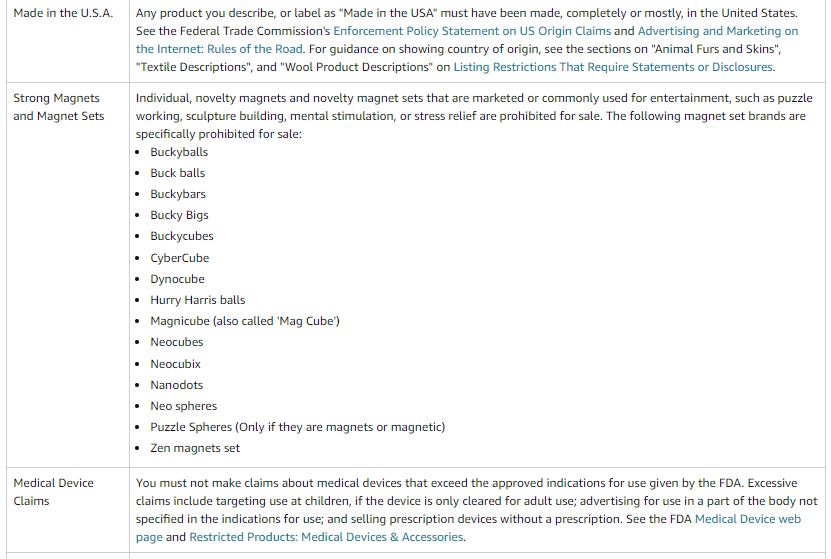 Amazon restricted brands
There are many brands Amazon restricts. The reasons range from their exclusive agreements with these brands to a huge number of counterfeits.
However, if a brand is restricted, more often than not this doesn't mean that every item in a brand falls under restriction. The restriction may apply to a certain product or product line within that brand.
The full list of restricted brands is quite long. You can find it here.
How to Apply for Selling in Restricted Categories?
Although obtaining approval to sell restricted products requires additional effort, and sometimes extra fees, it has some benefits. One of those is substantially lower competition. This is because not every seller is granted permission to sell in restricted categories.
How to apply for selling restricted products step by step?
Step 1. Log in to your Seller Central account.
Step 2. Select 'Inventory'.
Step 3. Click 'Add a Product'.
Step 4. Find your product.
Step 5. If it returns as restricted, select 'Listing Limitations Apply'.
Step 6. Click 'Request Approval'.
If you receive approval immediately, that's your day. However, if not, Amazon may ask for additional information or invoices.
To give you permission to sell restricted items, Amazon also requires, that your Seller Account is in good standing and you sell under a professional selling plan.
What to Do If You Violated Amazon's Product Restrictions?
Of course, you don't want to go against Amazon's TOS. However, even if you unintentionally failed to comply with their restrictions, they will take an action.
Consequences of violating the restrictions
If you violate the restrictions, Amazon may:
cancel your listing;
limit your listing privileges;
suspend your account;
ban your account.
What to do to remedy the violation of restrictions?
Actually, if you're unlucky and Amazon suspends your account, there's still a chance to reinstate it. For that, you need to convince them that the violation happened by chance and you will not repeat it. You should understand the reason for the violation and provide Amazon with a plan of action on how you will solve a problem.
How to recover account step by step:
Step 1. Find out a reason for the restricted product violation.
Step 2. Review Amazon rules that relate to your case.
Step 3. Take steps to resolve the violation (delete or update a restricted listing).
Step 4. Take proactive steps to resolve the violations in the future (review other listings and remove prohibited claims and add information for compliance).
Step 5. File a properly formulated appeal. Apologize for the violation.
Step 6. Create a clear and reassuring plan of action with bullets.
Step 7. Submit a plan of action and wait for Amazon's response.
Wrap Up
When selling on Amazon you should remember that there are products and categories you are not allowed to list without Amazon's permission. These products, categories, and brands vary in different marketplaces. You need to make sure that the product you sell doesn't fall under such a category.
On the other hand, a restricted product status doesn't necessarily mean that you are not allowed to sell it. You can apply for Amazon's permission to sell a restricted product if you have a profitable product idea. However, if you violate restrictions, there's a good chance that Amazon will suspend your account.
You should also remember, that selling restricted products is not the only reason for account suspension. Poor account health and performance can also result in an account ban. Therefore, it's paramount to constantly keep track of your products' performance efficiency. To maximize your sales volumes, it's necessary to constantly keep track of all your product's metrics. By doing that, you can control your sales indicators and overall store profitability.
Amazon monitoring software is an efficient way to stay on top of your sales. SellerSonar offers instant Amazon alerts to protect your sales. With us, you are aware of all listing changes, Buy Box hijackers, new/deleted reviews, keyword rank history, and product suppressions.
Try SellerSonar now. Register for our 29-day trial and boost your incredible journey of running your business on the platform.