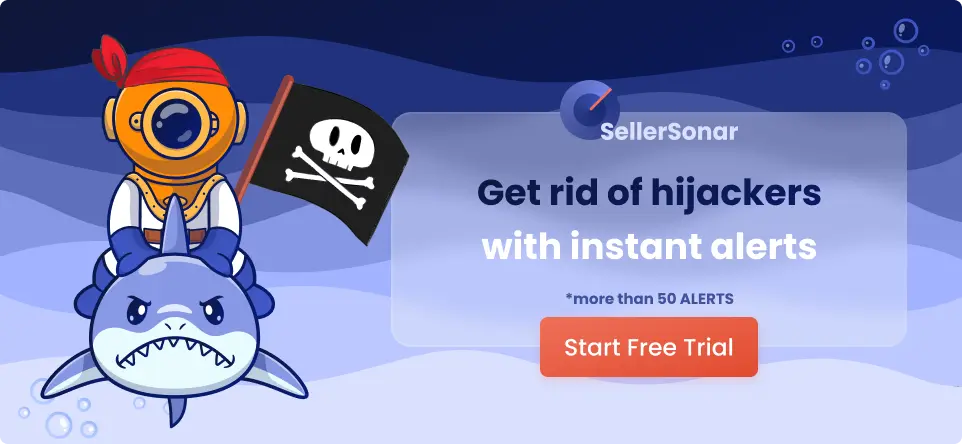 The first thing you need to remember if your Amazon account is suspended is that this is not the end of the world.
Firstly, you can reactivate your Amazon seller account. It is possible, though it takes time and effort. You'll just have to follow the right steps to get it back.
Secondly, you are not alone. Amazon account suspension can happen to any seller, regardless of sales volumes, positive reputation, or great performance. Unfortunately, any merchant can wake up and see an e-mail that their Amazon account is suspended. In that case, see argument one above.
You should also remember, that if Amazon suspended your account, this is for a reason. You should find out what has happened and correct what you've done wrong. But not only that. If you don't want that Amazon suspends your account again, it's a good idea to proactively review all your listings. There is a number of typical mistakes sellers make and you may not be an exception. Therefore, it's better to avoid those before Amazon detects that.
Learn why can Amazon suspend your account and how to reactivate your Amazon seller account, from our guide below.
What Does Amazon Suspended Account Mean?
Unfortunately, Amazon suspension means that you can't temporarily sell on Amazon. During this time, Amazon hides all your product listings from the shoppers and they can't see them.
In the majority of the cases, this happens because you've violated Amazon's ToS (Amazon Seller Terms of Service). On top of that, Amazon can suspend you if you failed to meet their seller performance standards.
If Amazon suspends your account, they'll notify you by email. You will not be able to sell until they reactivate your Amazon seller account for you.
There are different types of account suspension. You should file your appeal to Amazon's team in accordance with the type of suspension.
What Are the Types of Suspended Amazon Accounts?
The levels of account deactivation range from temporary suspension to complete ban. In the majority of the cases, you can file an appeal and get your account back. However, if your account is banned, this may be tricky.
4 types of Amazon account suspension are:
Amazon account deactivated;
Amazon account suspended;
Amazon account denied;
Amazon account banned.
Amazon account deactivated
If Amazon deactivates your account, you can no longer sell on it. Very often they deactivate your account because they think that your account relates to another one Amazon prohibits selling on. In such a case, you have 90 days to file an appeal to Amazon.
If you decide not to do it, after that time you can request your funds back.
Amazon account suspended
This kind of suspension indicates that your account is currently inoperative. If you get such a notification, there is a possibility to reinstate your account. The way to do so is to address Amazon and ask them to reactivate your account. Find out why it has happened. Promise to correct the mistake and propose a clear and convincing POA (Plan of Action).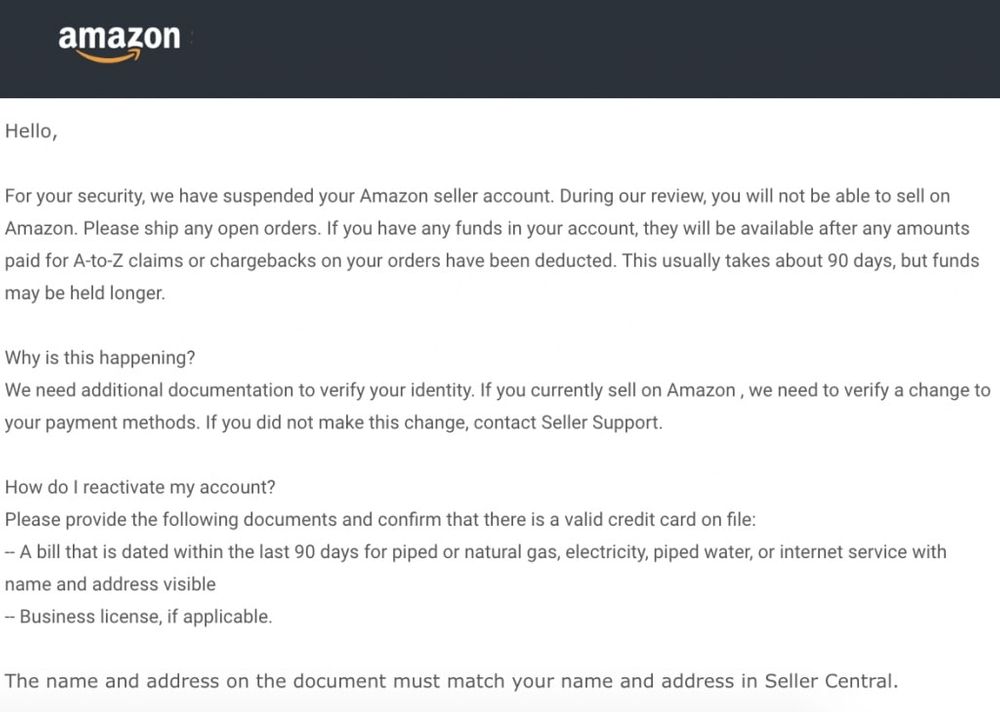 Amazon account denied
Tee marketplace may deny your account if you have already asked for reinstation, but they have rejected it. If this happens, you can still make changes to your POA and resubmit it. In such a case, it will be a good idea to review Amazon's policies on the subject matter and think why they didn't like your action plan.
Amazon account banned
This means that Amazon has closed your account. Unfortunately, in this case, there is very little chance that Amazon will reopen your account.
Why Has Amazon Suspended My Account?
As a matter of fact, there are two types of reasons why Amazon suspends you. Firstly, they suspend you if you fail to comply with one of their numerous policy regulations. Secondly, suspension can be related to underperformance.
The reasons for account suspension may include the low quality of your products, or if you sell restricted items. Poor account metrics may also cause suspension, as well as poor customer service.
Low-quality products
If you are selling low-quality or inauthentic products, this can be a reason for suspension. According to Amazon's guidelines to product authenticity and quality, damaged products or those missing any parts also belong to poor quality items. Also, you are not allowed to sell used items as new ones. In addition, Amazon prohibits listing products with a past expiration date.
Restricted products
Another reason for the suspension is selling restricted products. On Amazon, there are product categories that you can sell only in case you have approval from Amazon. The restrictions vary in different marketplaces and depend on national legislation. The lists of restricted categories, therefore, will not be the same in the US and in the EU.
Prohibited and illegal products
This is not the same as restricted products. While you are absolutely not allowed to sell prohibited or illegal items, you can list restricted products with Amazon's approval.
Prohibited are counterfeit, inauthentic, or illegal products. If you sell any of these, there's a good chance that Amazon will ban your account.
Breaching intellectual property rights
Amazon is very strict about observing the copyright and any other intellectual property rights. They claim that sellers should ensure their products are authorized for sale or resale. Also, they should comply with all copyrights, patents, trademarks, and rights of publicity. In other words, they should be in line with Amazon's Intellectual Property Policy for Sellers.
If you are a newbie on Amazon, it's better to start with products that are not subject to intellectual property rights.
Violating Amazon Seller Terms of Service
Amazon expects all merchants to observe ToS. However, there are a lot of rules you may not be aware of. This may result in account suspension. Read ToS closely to avoid suspension as much as possible.
Poor account performance
Amazon is interested that your sales go well. This is because they earn money together with you. The more you sell, the more is their profit. This is one of the reasons why they closely monitor your account metrics efficiency. If they drop down, Amazon analyzes the situation and may expect you to present an action plan on how to improve your performance
Low-level customer services
In fact, Amazon is a customer-oriented company. Therefore, they anticipate that sellers follow the best customer service practices. In certain cases, Amazon provides customer services on your behalf (for FBA sellers), but you have to pay for it.
Inadequate customer services may include late shipments, cancelling orders, and poor customer communication. Too many negative reviews may also cause account suspension.
Inaccurate product page information
If the data or description in your listing is inaccurate, missing, or misleading, Amazon may suspend your account. Another reason may be providing incorrect sails details, like wrong UPC codes
Cheating with reviews or competitor product pages
If Amazon suspects, that you cheat with reviews or hijack listings, you are under suspension risk. Amazon expects you to play fairly.
Creating multiple accounts
Amazon doesn't allow you to sell one and the same item on multiple seller accounts of the same person. If they discover that, they'll ban you.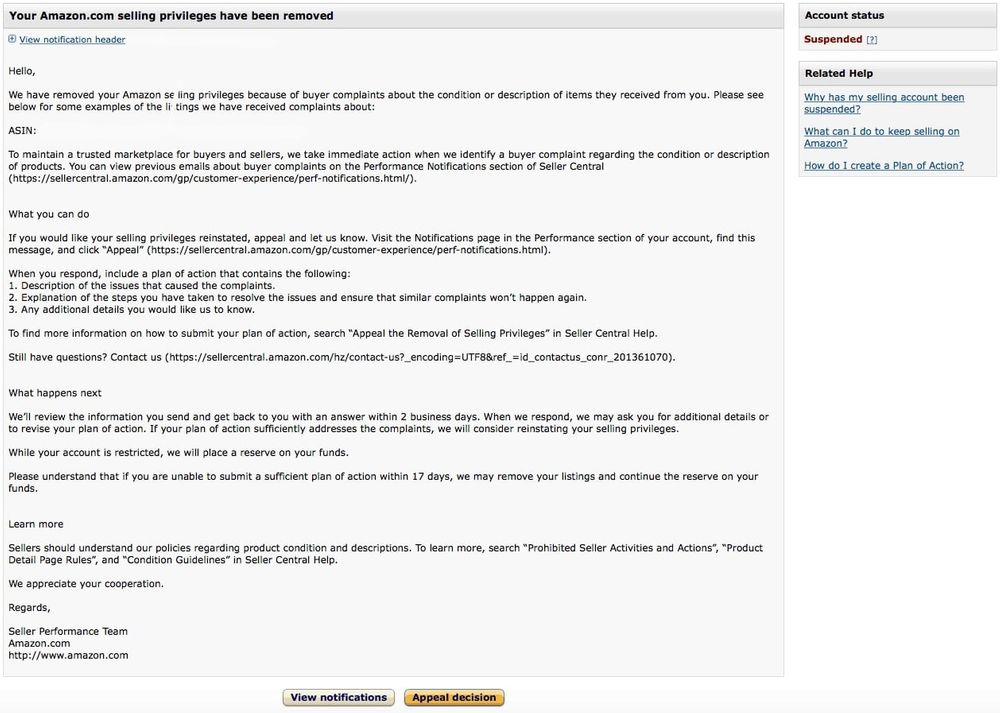 How to Recover Amazon Seller Account?
In short, you should find out the suspension reason, understand how to improve the situation, and convince Amazon to reinstate your account.
When the reason is clear, review Amazon's rules on the subject matter. Create a persuasive Plan of Action with bullets and a clear explanation of how you are planning to fix the problem. Contact Amazon's Seller Performance Team and send your POA for review.
Don't do it in a hurry. Carefully think over what you're going to present so that you don't have to resubmit the POA a second time. They should be convinced that they have a reason to lift the suspension. If they see that you are eager to improve, they will be happy to give you a chance.
In addition, it makes a big difference for Amazon if they think that you've made mistake by chance or deliberately made harm or cheat. The latter may cause a permanent account ban.
Plan of Action should:
be comprehensive and specific;
be short enough (use bullets);
include steps for relevant improvements;
provide Amazon with a clear reason to lift a suspension;
follow Amazon's rules.
How to recover account step by step:
Do
check and resolve pending support tickets;
find out a reason for account suspension;
review Amazon rules on the subject matter;
file a properly formulated appeal;
create a clear and reassuring Plan of Action;
make proactive changes to avoid future suspensions;
be professional and show readiness to cooperate.
Don't:
hurry with your appeal;
disturb Amazon's team every day with e-mails, be patient;
contact seller support by email or via seller account;
blame shoppers;
open a new account;
generate fake invoices;
be rude to the seller performance team;
threaten Amazon with legal proceedings.
How to Prevent an Amazon Account Suspension?
Very often, suspension means that you have violated one of numerous Amazon regulations. Suspension, unlike a ban, is Amazon's way to call you for action and correct the non-compliance.
How to proactively prevent your Amazon account suspension:
monitor your account metrics;
sell high-quality items;
review Amazon's regulations on illegal, hazardous, or other restricted products and avoid them;
optimize your listing;
make conclusions from the Amazon suspension notice;
stay in tune with Amazon seller policy;
improve your customer services and fulfillment management;
manage customer feedback and deal with negative reviews;
don't open multiple accounts of the same item.
Wrap Up
Amazon account suspension is a painful experience. However, you shouldn't take it personally. Remember, that in the majority of the cases this is a sign that Amazon wants you to either improve your performance or observe their rules. In substance, most often there is a possibility to get your account back by providing a reassuring Plan of Action on how you will fix the problem.
In order to proactively avoid account suspension, it's paramount to constantly keep track of your products' performance efficiency. To maximize your sales volumes, it's necessary to constantly keep track of all your product's metrics. By doing that, you can control your sales indicators and overall store profitability.
Amazon monitoring software is an efficient way to stay on top of your sales. SellerSonar offers instant Amazon alerts to protect your sales. With us, you are aware of all listing changes, Buy Box hijackers, new/deleted reviews, keyword rank history, and product suppressions.
Try SellerSonar now. Register for our 29-day trial and boost your incredible journey of running your business on the platform.