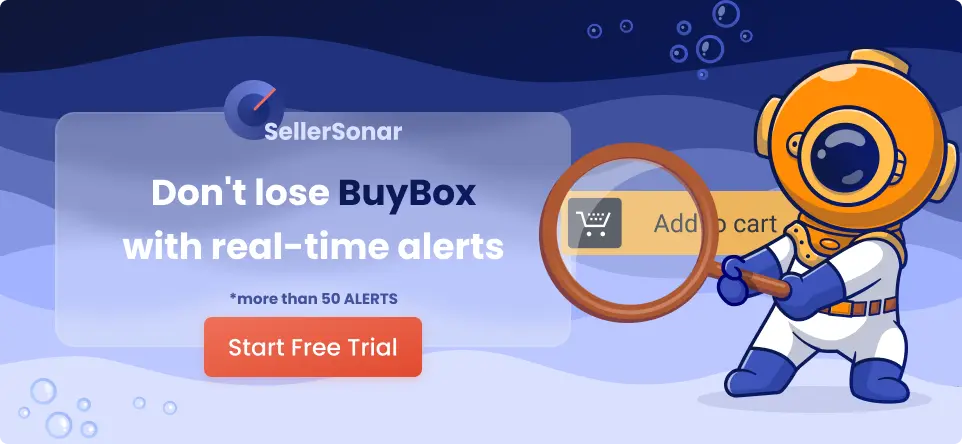 On Amazon, buying from a third party happens every now and then. If you buy on Amazon, more often than not you see a "Sold and Shipped by Third-Party" option on the product's listing. This means that the product you're going to buy is sold and delivered by a third-party supplier on Amazon.
In the U.S., Amazon third-party sellers trade over 7,000 products per minute. On top of that, they make serious cash by selling on the marketplace. 76% of Amz sellers are profitable, and 63% are profitable within a year of launching their business. In 2022, 60,000 third-party sellers exceeded $1 million in sales.
Amazon gives third-party businesses excellent opportunities and advanced tools to grow. Initiated by Amazon back in 1999, the third-party partnership model attracted a lot of sellers. Nowadays, third-party merchants account for more than half of those who sell on the platform.
In the majority of the cases, third-party sellers offer the same quality services as Amazon itself. With a few exceptions, though.
Read further to find out what are third-party sellers on Amazon, how to identify third-party sellers on Amazon, and how to contact them should something go wrong with your order.
What Is a Third-Party Seller on Amazon?
Third-party sellers are independent merchants who offer new, used, or refurbished items on Amazon.
In fact, the platform offers three levels of partnership – "Ships from and sold by Amazon" (1st party), "Ships from Amazon sold by third party", and "Ships from third party sold by third party".
Ships from and sold by Amazon
1st-party sellers (1P) are brand manufacturers who sell their products directly to Amazon. In turn, Amazon sells them to its customers. These types of items are displayed as "Ships from and sold by Amazon".
Ships from Amazon sold by third party
In this type of partnership, sellers are independent merchants and brands that sell their products on the marketplace, and Amazon fulfills them. To clarify, Amazon ships such items ahead of time to its warehouses. Whenever a buyer makes an order, Amazon delivers them. Such products are called "Sold by brand, ships from Amazon".
Ships from third party sold by third party
These sellers are independent businesses that use Amazon as a marketplace to sell directly to buyers. They handle customer service and order fulfillment themselves. The exception is if the order is eligible for Amazon Prime. Such types of products are marked "Sold and Fulfilled by Merchant".
How Many Third-Party Sellers Are There on Amazon?
By Amazon's own estimations, 3rd party sellers' share in the platform's product sales is more than half – around 60%.
Amazon sellers reside in 93 countries. Their age is from 18 to over 80. 52% of merchants live in the U.S., 8 % – in China; 7 % – in the U.K. A lot of them sell in multiple Amazon marketplaces.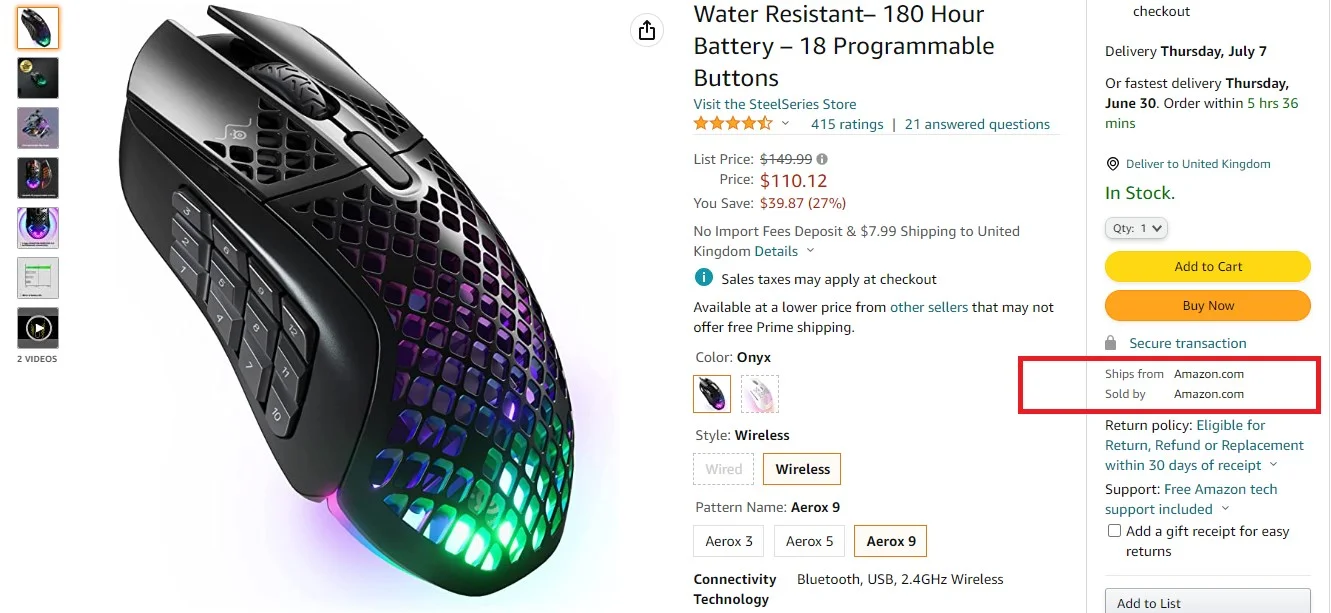 1P and 3P Amazon Sellers: Pros and Cons
1Ps pros and cons
Actually, for 1P vendors sales process is simplified. Manufacturers just send the inventory they produce directly to Amazon. The advantages of this method are wholesale sales to Amazon and priority selling. In addition, 1Ps enjoy high brand trust thanks to Amazon's credibility.
On the other hand, since Amazon does all the sales, 1Ps have little control over their brand promotion. In addition, they can't influence the price policy.
3Ps pros and cons
On the contrary, 3Ps are free to set pricing and margins as they wish. Thus, they can offer better payment terms, promotions, and discounts.
However, they take care of the product fulfillment and inventory management on their own (unless they use Fulfillment by Amazon). Also, they bear responsibility for the customer services, and returns, excluding Prime items.
How to Know that you Buy from a Third-Party Seller?
The relevant note you can find on the product listing. There are two lines that say "Ships from" and "Sold by."
In order to find them, on a product detail page, look in the area just below the "Add to Cart" and "Buy Now" buttons. If the ASIN belongs to a third-party seller, you'll see their name right after the "Sold by" line.
If a product is both shipped from and sold by a third party, it will say "Ships From XYZ" and "Sold By XYZ."
There are additional concerns when you buy from a third-party seller. Since the product is fulfilled by a merchant, you might doubt if Amz third-party sellers shipping terms are observed. In the majority of the cases, Amz requires FBM sellers to stick to the best service practices. If a seller has a lot of returns, high order defect rates, or increased delay numbers, they may suspend the seller's account.
In addition, customers are protected through the "A-to-z Guarantee". However, to be on the safe side, it's a good idea to go through the seller's rating on Amazon or contact them if you have any doubts about the product or fulfillment terms.
If you have a problem with an order that's marked "Ships from Amazon sold by third party", you'll contact Amazon for a refund and send it back to a fulfillment center. If the product is labeled "Ships from third party sold by third party", return the item directly to the seller.
How to Order from a 3P Seller on Amazon?
The process of placing an order with a third-party seller is the same as making any other order on Amazon. Buyers add products to carts and complete orders through the Amz checkout process. You can either make payment immediately or when the order ships. Amazon sends your cash to the third-party seller itself.
If the third-party seller's product isn't Fulfilled by Amazon, the seller will do it themselves. These products are called "Fulfilled by Merchant" (FBM). In that case, the seller will also take care of the customer service, with the exception of Amazon Prime items.
Whenever a buyer places an order on the platform, they can cancel it within 30 minutes. To do this, select the order from "Your Orders" and click "Cancel Items". After 30 minutes, request a cancellation through "Your Account" by clicking "Request cancellation".
If for one or another reason, a product you've ordered is no longer available and a seller can't deliver your item, they'll refund you asap so that you can place a new order.
Note: Prices for similar or identical products may vary from seller to seller.
How to Contact Third-Party Seller on Amazon?
You can contact a 3P seller in two different ways – before and after placing an order.
Method 1. Contacting the seller before placing an order
On the product detail page, click the name of the seller.
On the next page, select "Ask a question".
If the same product is sold by different sellers. select "New and Used" on the product listing to choose from the list of sellers. Then, select the rating of the seller to get to your product seller's profile page and click "Ask a question".
Select the relevant options in the Seller Messaging Assistant chat or fill out the form. Send a message to the seller in the Buyer-Seller Messaging Service. They'll come back to you by email within two business days.
Method 2. Contacting the seller after placing an order
Go to "Your Orders".
Choose your order in the list.
Select a "Problem with the order".
Choose the relevant problem reason from the list.
Click "Contact seller".
The seller will respond within two business days.
Wrap Up
Oftentimes when you shop products on Amazon, third-party sellers sell and fulfill them. On Amazon, there are three levels of seller partnership. There are items marked "Sold and Shipped by Amazon", "Sold by Third-Party, Fulfilled by Amazon", and "Sold and Shipped by Third-Party".
In the first case, this means that the 1P merchant or brand delivers a product. To clarify, Amazon purchases these items like inventory and sells them to buyers. These ASINs are sold and shipped to customers from an Amazon warehouse.
In the second case, 2P merchantsthe deliver the products. Independent businesses are owners of these items, and Amazon ships them ahead of time to its warehouses. The time a shopper places an order, Amazon delivers it to them.
In the last case, the items are owned by third-party sellers. In a lot of cases, they are shipped to customers from that third-party business's location.
Though shoppers may have certain concerns regarding delivery times, quality, and return process, Amazon monitors sellers' activities. If they have a lot of negative feedback, Amazon may suspend the seller's account. On top of that, Amazon protects its customers with A to z guarantee.
For third-party sellers, it's very important to maintain the high level of customer services, as well as keep track of their product performance. Amz monitoring software is an efficient way to stay on top of your sales. SellerSonar offers instant Amazon alerts to protect your sales. With us, you are aware of all listing changes, Buy Box hijackers, new/deleted reviews, keyword rank history, and product suppressions.
Try SellerSonar now. Register for our 29-day trial and boost your incredible journey of running your business on the platform.