As an Amazon seller, you're probably well aware of the incredible opportunity that Amazon Prime Day presents. This massive shopping event, exclusively for Amazon Prime members, is one of the most significant sales events of the year, offering incredible deals across a wide range of products. And with Prime Day 2023 just around the corner, now is the time to start preparing your Amazon store for the influx of shoppers that will soon be flooding the platform.
But when is the next Amazon Prime Day, and where do you start? With so much to do and so little time, trying to navigate Prime Day's ins and outs can be overwhelming. That's where we come in. SellerSonar is excited to present our comprehensive guide to Amazon Prime Day 2023 for sellers. We've got everything you need to know, from sale dates and deal predictions to seller tips and tricks.
SellerSonar is widely recognized as one of the top choices for Amazon sellers to handle Prime Day sales. This robust platform offers a plethora of invaluable functionalities aimed at enhancing your Amazon listings. It's impressive repertoire includes comprehensive keyword research capabilities, insightful competitor analysis tools, and efficient product tracking features. Use the promo code below to get SellerSonar with 20% off!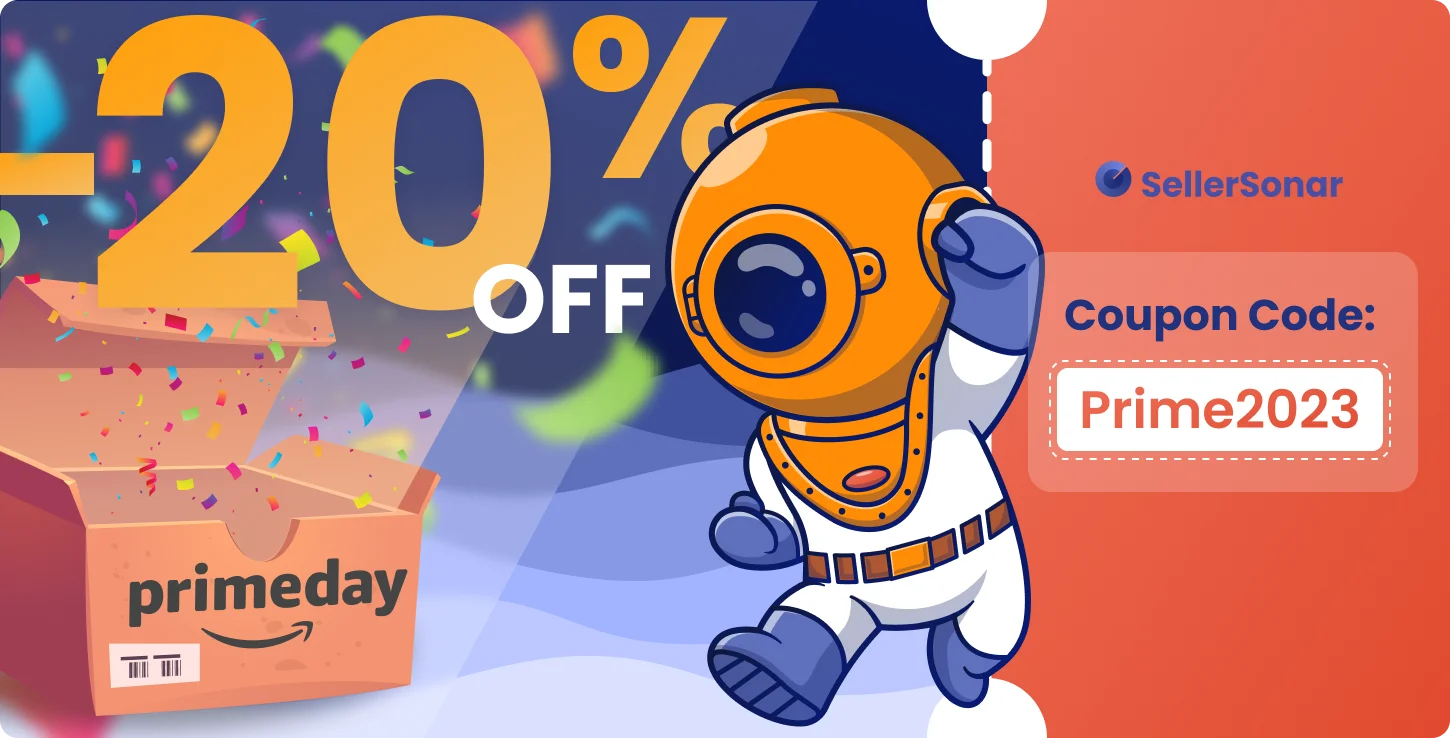 Just apply this code for any yearly plan during the purchase by Aug 31st!
In this guide, we'll tell what Prime Day is and walk you through the entire process of preparing for Prime Day as an Amazon seller. We'll cover everything from optimizing your product listings and pricing strategies to managing inventory and handling shipping logistics. Plus, we'll discuss how much is Amazon Prime 2023 and share our top tips for making the most of this huge sales event and driving as many sales as possible for your Amazon store.
So whether you're a seasoned Amazon seller or just starting out, don't miss out on this incredible opportunity to boost your sales and grow your business. Read on for our complete guide to Amazon Prime Day 2023 for sellers.
Amazon Prime Day: Complete Guide for Sellers
Looking to boost your sales and expand your customer base? Then look no further than Amazon Prime Day! This annual shopping extravaganza is a win-win situation for both buyers and sellers; there's no better time to jump on the bandwagon. So get ready, get set, and get selling!
How Does Amazon Prime Day Benefit Sellers?
Amazon Prime Day can be a fantastic opportunity for sellers to grow their businesses and increase their sales. By taking advantage of this event and offering great deals to shoppers, you can attract new customers, improve your ranking on the platform, and clear out excess inventory.
What is Amazon Prime Day?
Amazon Prime Day is a major annual shopping event held by Amazon, where the company offers exclusive discounts and deals on a wide range of products to its Prime members. The event typically runs for 48 hours and is usually held in July, although the exact dates can vary from year to year.
For Amazon sellers, this event is an opportunity to boost their sales and increase their brand visibility on the platform. Many sellers offer exclusive discounts and promotions during the event to attract more customers and drive sales. It is a highly anticipated event that offers shoppers a chance to save money on their favorite products while allowing sellers to increase their sales and grow their businesses.
Upsides of Prime Day 2023
So, how exactly does this big sale benefits sellers? Let's dive in.
Increased exposure: Amazon Prime Day is heavily promoted by Amazon, meaning millions of shoppers browse the platform for deals. This increased traffic can lead to greater product exposure, translating into increased sales and a higher profile for your brand.
Boosted sales: With so many shoppers looking for deals, Amazon Prime Day can be a significant boon for sellers. By offering discounts and special promotions on your products, you can attract new customers and drive more sales during the event.
Improved ranking: Amazon's algorithm rewards sellers who generate a lot of sales, and Prime Day can be a great way to boost your ranking on the platform. By selling a lot of products during the event, you can improve your product's visibility on Amazon and increase the likelihood that it will appear at the top of search results.
Clearing out inventory: If you have excess inventory that you're looking to move, Amazon Prime Day can be a great way to do it. By offering discounts and promotions, you can encourage shoppers to purchase items that may have been languishing in your inventory.
How to make the most of Prime Day 2023?
As Amazon's significant sales approaches, preparing your business for the surge in traffic and sales is essential. With massive reach and increased traffic, it's the ultimate platform to showcase your products and grow your business.
Enroll in Amazon Prime: Ensure you have an active Amazon Prime membership before the start of the event. If you don't already have a subscription, you can sign up for a 30-day free trial. After the trial period, the membership costs $14.99 per month or $139 per year. Prime membership provides several benefits exclusively accessible to Prime members, such as fast and free two-day shipping and Lightning Deals.
Start promoting early: Prime Day is a highly anticipated event, so it's vital to start promoting your products well in advance. Use social media, email marketing, and other channels to build hype and generate buzz around your products.
Plan your inventory: This event is all about Amazon Prime deals and discounts, so it's crucial to have enough inventory on hand to meet demand. Analyze your sales data from previous years to determine which products are likely to be the most popular and ensure you have enough stock to meet demand. Remember to also factor in lead times and shipping times to ensure you can fulfill orders in a timely manner.
Set up Amazon alerts: Make sure you have your Amazon alerts ready to stay tuned for active sales. One of the most popular tools to help you solve this task is SellerSonar. It provides many valuable features to help you optimize Amazon listings, including keyword research, competitor analysis, and product tracking. SellerSonar offers Hijacking alerts, Competitor research, Price change alerts, Product review and rating alerts, Amazon Keyword Rank Tracker, an Amazon BSR tracker, Product suppression alerts, and an FBA calculator.
When Is Amazon Prime Day 2023?
Are you wondering when Prime Day is this year and when does Prime Day end? While the exact dates have not yet been announced, the event will likely span two days and will return to its summer roots with June 12-13 dates.
However, there's more to the story than just the dates. In 2022, Amazon introduced a new event called Prime Early Access Sale, which featured similar Prime deals to those available during Prime Day. Unlike Prime Day, this event occurred in October, just in time for the holiday shopping season.
So, keep your eyes peeled for the official announcement of the dates for this year's Prime Day event. And who knows, perhaps we'll see another surprise event like Prime Early Access Sale this year as well.
What to Expect on Amazon Prime Day-2023?
2023 is an excellent chance for sellers to skim the cream off this vast shopping event. So get ready to score some incredible Amazon Prime Day deals during this year's event. Last year, Prime members from all around the globe purchased over 100,000 items per minute, and this year's event is expected to be even more impressive. With multiple categories in demand, there's something for everyone to offer during Prime Day.
Popular categories likely to have profitable Prime Day deals include Consumer Electronics, Beauty, Grocery, Health and personal care, Home goods and furniture, Home improvement, Telecom, and Hospitality. And suppose you're wondering what products will have the most significant price drops. In that case, you can expect discounts on popular items such as Instant Pots, robotic vacuums, smartwatches, mattresses, apparel, household goods, electronics, toys, and many more.
Leading up to the big event, Amazon typically promotes early deals, discounts, and other promotions, and this year will be no different. You can expect to find hundreds of thousands of deals, including discounts on popular seasonal and gift items. And remember the Lightning Deals, which will have countdown clocks, pushing shoppers to make quick purchases and creating a frenzy of excitement.
Amazon device lovers will be happy to know that Amazon will likely offer essential discounts on its own lineup of devices during Prime Day. Look out for discounts on Echo smart speakers, Fire tablets, Fire TVs, and Kindle e-readers.
How to Prepare for Amazon Prime Day-2023?
With proper preparation and execution, Amazon Prime Day sales can be a game-changer for your business, and it's time to get ready to maximize your sales potential. To help you make the most of this massive shopping event, we've compiled some tips and tricks to prepare you.
Prepare your inventory: Ensure you have enough to meet the increased demand during this big sale. Take a look at your sales data from previous years to get an idea of what to expect, and stock up accordingly. Consider offering bundle deals to entice shoppers to buy more. Keep a close eye on your inventory levels throughout Prime Day to ensure you stay on track. Use Amazon's inventory management tools to track your inventory levels and restock as needed.
Optimize your listings: With so many sellers vying for attention, making your listings stand out is essential. Make sure your product titles and descriptions are detailed and accurate, and highlight key features and benefits of your products. Use high-quality images and videos to showcase your products, and consider adding customer reviews to build trust with potential buyers. Consider using Amazon's Enhanced Brand Content or A+ Content to give your listings an extra edge.
Use high-traffic keywords: research relevant keywords in advance and add them to your listing and advertising campaigns. Using popular search terms can increase your visibility and attract more potential buyers to your products. Be sure to research and target keywords specific to your product category and use them strategically in your product titles, descriptions, and advertising copy.
Leverage Amazon's advertising tools: Amazon offers many effective instruments to increase your visibility and sales. Sponsored Products, Sponsored Brands, and Sponsored Display ads can help you target specific keywords and product categories and drive traffic to your listings.
Take advantage of promotions: Consider offering exclusive deals and promotions to incentivize shoppers to buy from you. Lightning Deals, Coupons, and Best Deals are just a few examples. Plan your promotions in advance to ensure they align with your inventory and sales goals. Remember to promote your Prime Day deals across your social media channels and email list. Use social media ads and email marketing to reach potential customers and generate excitement around your deals. Share promo codes on social media as well.
Ensure your pricing is competitive: With so many sellers offering discounts, it's vital to ensure your pricing is competitive. Monitor your competitors' prices and adjust your own pricing accordingly to stay competitive.
Focus on customer service: With the increased traffic and sales during Prime Day, it's essential to prioritize customer service. Ensure you have a plan in place to handle any customer inquiries or issues that may arise. Respond to customers in a timely manner and go above and beyond to ensure they have a positive experience.
How to Find the Best Amazon Prime Day 2023 Deals?
Finding profitable products to sell on Amazon requires a combination of research, analysis, and strategy. Sellers can use the strategies below to identify profitable deals for Prime Day and reduce their costs for increased profit margins.
Product Research: Sellers should conduct thorough product research to identify profitable products. They can use tools such as Google Trends, Amazon Best Sellers, and other tools to identify products that are currently in demand. They should also analyze customer reviews to identify gaps in the market and identify product features that customers value.
Finding Suppliers: Sellers should find reliable and affordable suppliers to source their products. They can use Alibaba and AliExpress to find suppliers in China and ThomasNet to find suppliers in the United States. Sellers should also negotiate with suppliers to get the best possible price.
Competitor Research: Sellers should analyze their competitors' products to identify gaps in the market. They can use tools such SellerSonar to analyze sales data and identify profitable products with low competition. They should also analyze their competitors' pricing and marketing strategies to identify opportunities for differentiation. SellerSonar's Competitor Research feature allows you to analyze and exceed the strategies of leading market players by monitoring factors such as keyword ranking, product listings, pricing, and Best Seller Rank. By gaining deeper insights into the market, you can position your products for more tremendous success.
Using Seller Product Research Tools: Many seller product research tools are available. These tools provide data on sales volume, revenue, and profit margins for different products. Sellers can use this data to identify profitable products and make informed decisions about which products to sell. Don't forget to use the FBA calculator to estimate your product profitability accurately.
Looking for Coupons and Discounts: Sellers should look for coupons and discounts to reduce their costs and increase their profit margins. They can use tools such as Honey and Rakuten to find coupons and discounts on products they want to sell. Sellers should also negotiate with suppliers to get bulk discounts and reduce their costs.
Examples of the best Prime Day deals from 2022
During Prime Day 2022, a variety of products from different categories became best-sellers worldwide. Premium beauty brands such as LANEIGE and NuFACE, Apple Watch Series 7, Pampers and The Honest Company's diapers and wipes, kitchen essentials from Rachael Ray, Le Creuset, and Hamilton Beach, and VTech and LeapFrog toys were among the top-selling items.
Additionally, Levi's apparel and accessories, Chemical Guys car wash products, and pet products from NUTRO, TEMPTATIONS, and GREENIES were popular with shoppers. Furthermore, selected Fire TV, Echo, and Blink devices were also included in the list of Amazon's best-selling items globally.
How to use lightning deals and limited-time offers?
Lightning deals and limited-time offers can be powerful tools for Amazon sellers to boost their sales during Amazon Prime Day.
Lightning Deals are time-limited promotions that offer significant discounts on a specific product or range of products for a short period of time, typically 4-6 hours. The deals are available to all Amazon customers but are limited in quantity, so customers must act fast to take advantage of the offer.
Limited Time Offers, on the other hand, are promotions that offer discounts on a product or range of products for a limited period of time, typically for several days. These offers are available to all Amazon customers and appear on the product detail page, search results, and other areas of the Amazon website.
Tips for using lightning deals and limited-time offers
Plan ahead: Sellers should plan their lightning deals and limited-time offers well in advance of Amazon Day. They should research their competitors' pricing and promotions, identify popular products in their category, and set competitive prices.
Create a sense of urgency: You should market Lightning deals and limited-time offers to create a sense of urgency among buyers. Sellers can use phrases like "limited time only" or "while supplies last" to encourage buyers to act quickly.
Promote widely: Finally, sellers should promote their lightning deals and limited-time offers widely to attract as many buyers as possible. They can use social media, email marketing, and Amazon's own advertising platforms to reach potential buyers and drive traffic to their product listings.
Prime Day vs. Black Friday – Should You Wait?
Prime Day and Black Friday are two major shopping events that occur annually, with Prime Day being an Amazon-exclusive event while Black Friday is a more widespread retail holiday.
Key differences between Prime Day and Black Friday
Duration: Prime Day typically lasts 48 hours, while Black Friday spans several days, starting from the day after Thanksgiving.
Product Availability: Prime Day mainly offers deals on Amazon products, including electronics, gadgets, and household items, while Black Friday provides discounts on a broader range of products across multiple retailers, including clothing, furniture, and appliances.
Online vs. In-store: Prime Day is an online event, and all deals are offered exclusively on Amazon's website, while Black Friday is both an online and in-store event, with deals available in brick-and-mortar stores and online.
Timing: Prime Day usually happens in mid-July, while Black Friday occurs on the Friday following Thanksgiving, typically in late November.
Discounts and Promotions: Both events offer significant discounts and promotions, but Prime Day tends to offer steeper discounts on Amazon products, while Black Friday offers broader discounts across multiple retailers.
Shopping Experience: Prime Day is designed to offer a seamless shopping experience for Amazon Prime members, with features such as fast shipping and personalized recommendations. In contrast, Black Friday shopping can be more chaotic and stressful due to the volume of shoppers and the need to navigate multiple retailers.
With the right inventory strategy and planning ahead, you can use both events to boost sales.
Wrap Up
As an Amazon seller, Prime Day is an excellent opportunity to boost your sales and increase your brand's visibility on one of the world's largest e-commerce platforms. By taking advantage of the tips and strategies outlined in this post, you can optimize your sales and make the most of this year's event.
Remember to plan early, optimize your product listings, and leverage Amazon's advertising tools to increase your reach and attract more customers. By staying up to date on the latest trends and strategies, you can maximize your profits and build a strong brand presence on Amazon.
So get ready to take on Prime Day 2023 and make it your best one yet! With the right approach, you can make the most of this sales event and take your business to new heights on Amazon.
Amazon monitoring software can effectively help you stay on top of your sales during Prime Day. SellerSonar offers instant Amazon alerts to protect your sales. You are aware of listing changes, Buy Box hijackers, new/deleted reviews, keyword rank history, and product suppressions with us.
Try SellerSonar now. Register for a 29-day trial and boost your incredible journey of running your business on the platform.