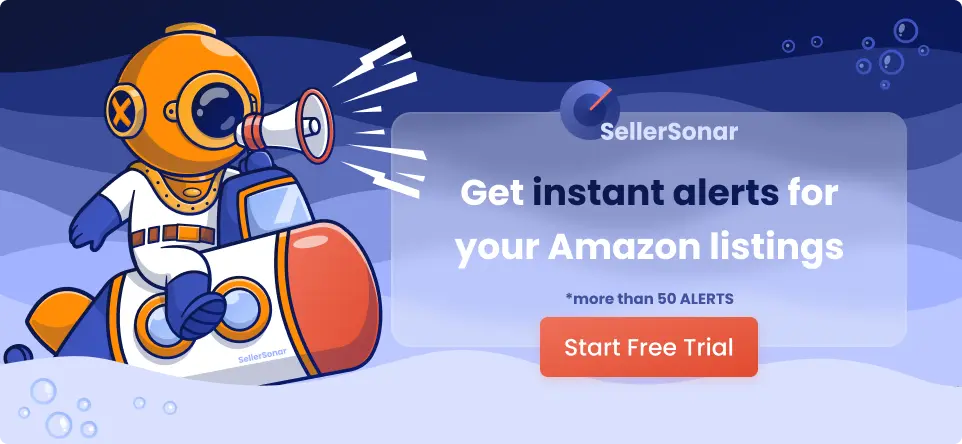 Finding the right ones to manage and scale your business can be challenging in the vast expanse of Amazon seller tools.
Most "best Amazon seller tools" lists don't consider your unique needs, products, and growth stage. Instead of wasting your money on overly complex or insufficient software, you need to identify the essential tools and their necessary features. This guide outlines the most critical types of software every seller needs and provides tips for finding the right tools for your business.
For your convenience, we've also compiled all the essential information in convenient tables for you to compare the services and choose the best one. Don't get lost in the sea of Amazon seller software – let's find the perfect fit for you. 
SellerSonar
SellerSonar is an around-the-clock monitoring service that keeps you informed about sudden and unexpected alterations in Amazon.com listings. This program is intended to help you avoid losing thousands of dollars in sales by enabling you to promptly detect and resolve listing problems.
Track competitors and keywords with these Amazon seller tools
SellerSonar allows sellers to track seller account metrics, monitor daily changes to the Buy Box, and safeguard their product listings against hijackers. This tool also offers ASIN change alerts, which can assist users in protecting themselves from unsavory actors in the marketplace. Additionally, you can use SellerSonar to track feedback and identify any potential issues that could result in account suspension.
By offering a range of features, SellerSonar is an all-in-one solution for increasing sales, optimizing margins, enhancing productivity, and gaining insight into your Amazon ASINs.
CashCowPro
CashCowPro is a highly extensive database that can offer you a wealth of data if you want to obtain as much information as possible.  This tool was originally developed as an analytical tool to aid businesses in forecasting their growth by providing access to all the relevant data and factors impacting profitability. Over the past few years, the system has undergone several upgrades, including adding features essential for managing an online business, such as inventory monitoring and product selection.
Business analytics and reporting: essential tools for sellers
While it may not measure up to tools like SellerSonar, this seller software can provide you with nearly any metric you require, such as conversion rates, real-time sales, profits, promotions, refunds, keyword rankings, and more. Furthermore, it enables you to automatically send emails to customers to increase your positive reviews and keep an eye on your sales and inventory.
HelloProfit
Thousands of Amazon sellers have utilized HelloProfit, a well-known data and management tool, to gain valuable insights and enhance their businesses.
Optimize your business with comprehensive Amazon seller's software
HelloProfit is an innovative Amazon software for sellers that utilizes analytics to assist users in enhancing their sales performance. This solution consolidates your seller accounts into a single, easy-to-manage dashboard. With HelloProfit, you can view your sales statistics, rankings, and profits in real-time on visually appealing, user-friendly dashboards.
Seller.Tools
Seller.Tools is a valuable resource that can save you countless hours of manual labor. With the Seller Tools listing manager, optimizing Amazon listings becomes a breeze.
Seller.Tools is an all-encompassing Amazon software suite designed for sellers, featuring a comprehensive set of tools. These tools include reverse ASIN lookup, listing management, creation and optimization, product research, account alerts, and PPC management. Notably, its keyword research capabilities are particularly dominant due to the integration of all its keyword tools.
Keyword research is a crucial element for Amazon sellers and Seller. Tools, along with its Last Search feature, can greatly expedite this process, allowing you to concentrate on more intricate tasks, such as keyword tracking for your Amazon FBA business.
FeedbackWhiz
FeedbackWhiz is an incredibly useful email autoresponder tool. It is a specialized software solution that enables Amazon sellers to enhance their feedback and seller ratings by increasing the quantity of positive feedback received.  If you succeed in crafting a compelling message, you can expect a review rate of nearly 10%.
Automate your business with email management and order Amazon FBA tools
One of the most significant obstacles that sellers face is obtaining a steady stream of reviews. FeedbackWhiz addresses this issue by sending regular emails to customers after a purchase, reminding them to leave an unbiased review. The crucial element is to develop an engaging copy that entices the customer to open these emails.
Competitor Comparison Table
This comprehensive comparison table will evaluate four popular seller services: SellerSonar vs. CashCowPro vs.HelloProfit vs.Seller.Tools vs.FeedbackWhiz.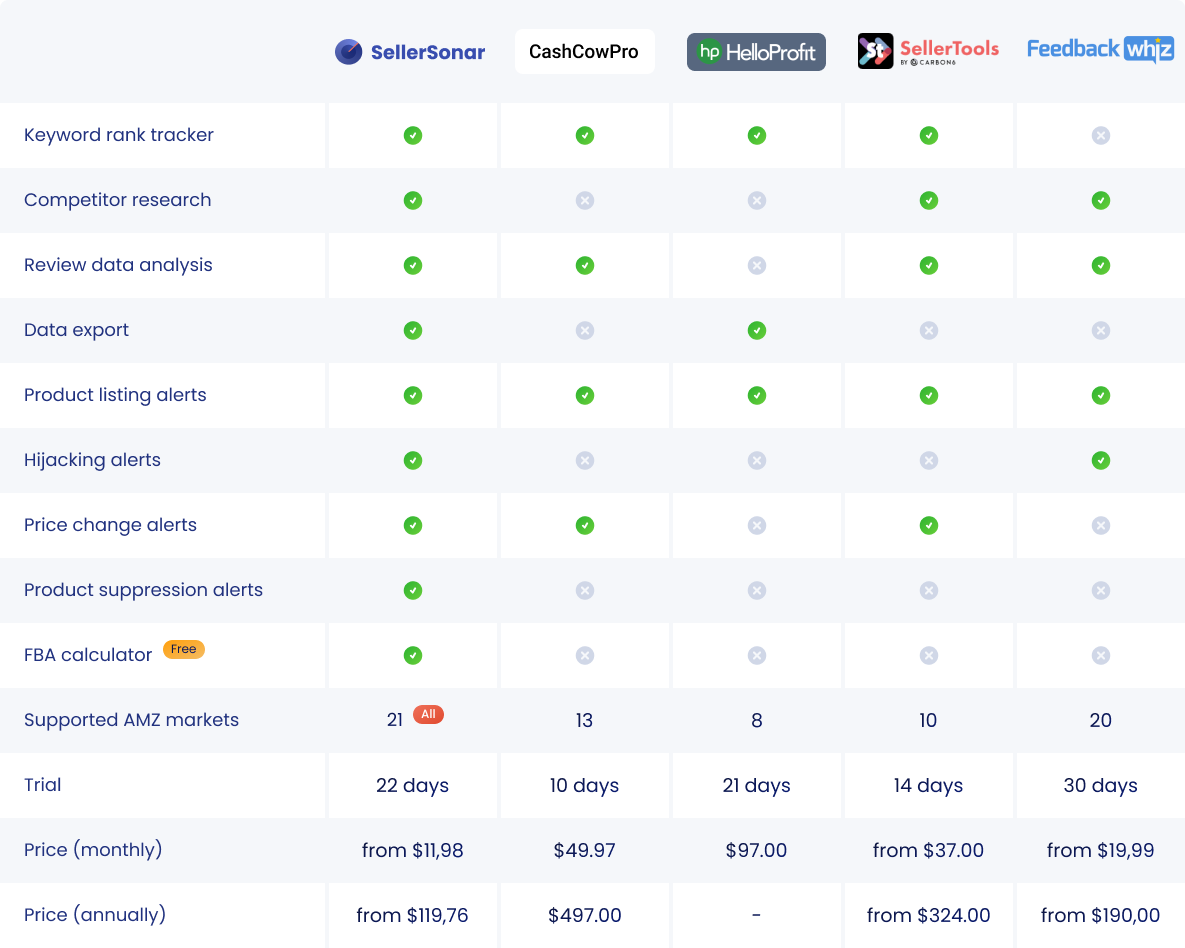 *Full list of features is available on the service's website.
** FeedbackWhiz has a Per Email and Review Automation or Profits and Accounting plans. If you need all features, you need to purchase two plans separately.
ZonGuru
ZonGuru is a software suite comprising a variety of tools designed to assist Amazon sellers in boosting their sales and expanding their businesses. It is an all-in-one solution that enables users to analyze their Amazon business performance and identify areas for improvement.
Streamline your business with product research and listing optimization software for an Amazon seller
ZonGuru is an exceptional Amazon seller tool that offers a comprehensive data solution, allowing you to identify top-selling products, access supplier databases, and discover valuable market opportunities. Its Niche Finder feature assists you in uncovering inspiration and generating ideas for your next niche product. Furthermore, its powerful and user-friendly sourcing tool enables you to locate the best supplier for your products easily.
EcomEngine
eComEngine is a suite of two primary tools – FeedbackFive and RestockPro – that can be used separately or in conjunction with each other.
Manage your feedback and inventory with the best Amazon FBA tools
FeedbackFive is a feedback, review monitoring, and management tool allowing you to track customer feedback and reviews. RestockPro, on the other hand, is an inventory management solution that provides accurate forecasting and restocking suggestions to help you keep your inventory in check.
Viral Launch is an all-in-one Amazon SEO solution that provides a robust set of features to support sellers in optimizing their listings and boosting their search engine rankings. Although it has experienced a decline in popularity, it remains a valuable asset for many sellers who seek to understand the Amazon marketplace better. With its diverse array of tools and resources, is an excellent choice for anyone looking to improve their Amazon sales and expand their business.
Launch and grow your Amazon business with cutting-edge tools for FBA sellers
One of the standout features of Viral Launch is its advanced keyword research tools, which empower Amazon sellers to pinpoint the most effective and relevant keywords for their products. These tools also track keyword trends and changes over time, helping sellers stay ahead of the competition. Furthermore, Viral Launch offers comprehensive market research and competitor analysis, giving sellers a comprehensive understanding of their niche and allowing them to make informed decisions about their products and marketing strategies.
Although Viral Launch has faced some decline in popularity, it still presents a valuable Amazon SEO solution for both novice and experienced sellers. By leveraging its powerful keyword research and market analysis tools, sellers can optimize their listings and improve their search engine rankings. If you are seeking a tool to help you navigate the complex world of Amazon e-commerce, Viral Launch should definitely be on your radar.
AMZScout
AMZScout is a versatile Amazon seller tool that offers a range of features to help sellers identify profitable products, optimize their Amazon listings, calculate Amazon fees, and more. One of the most valuable features is the ability to analyze the sales data of a product across different seasonal periods, which can help sellers make informed decisions about inventory management and marketing strategies.
Find profitable products and estimate sales with Amazon FBA business tools
AMZScout is available as both a Chrome extension and a web app, making it easy to access and use. The Chrome extension provides a range of useful functions, including product research, supplier analysis, and competitor tracking of keywords, sales, rank, pricing, and stock levels.
Whether you are a new or experienced Amazon seller, AMZScout can help you identify profitable products and optimize your listings, saving you time and effort in the process. The combination of its Chrome extension and web app provides a powerful set of tools to help you succeed in the competitive world of Amazon selling.
Competitor Comparison Table
Now it's high time we compared SellerSonar vs. ZonGuru vs. EcomEngine vs. Viral Launch vs.AMZScout. Whether you're looking to optimize your listings, monitor your competitors, or streamline your inventory management, this comparison table will provide valuable insights to help you make the right choice.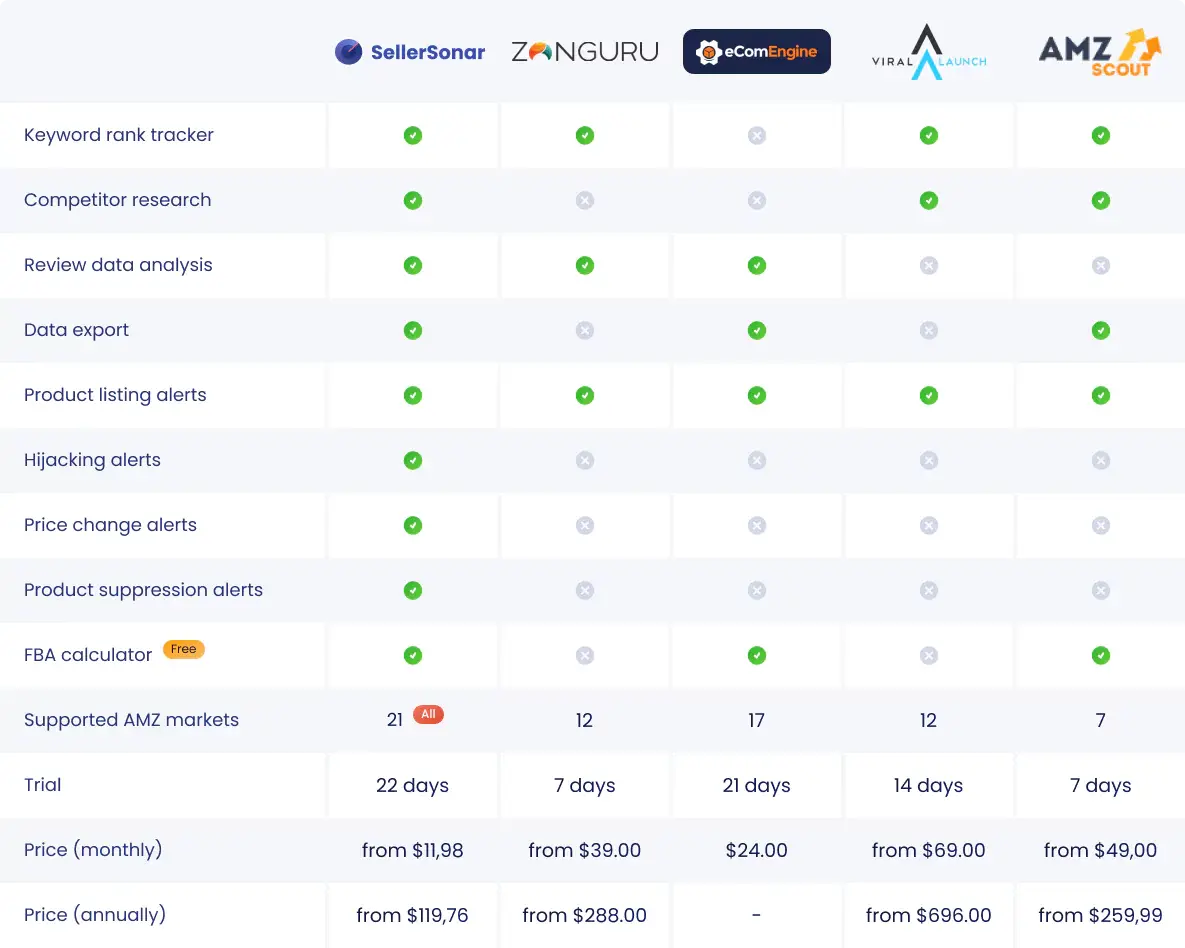 *Full list of features is available on the service's website. 
Bindwise
Bindwise is an excellent Amazon seller tool that helps you identify potential issues with your account before they become a problem. Importantly, the software is fully compliant with Amazon's Terms of Service, ensuring that it does not violate any rules or regulations. This is a crucial factor for security tools, as their software can sometimes violate the terms and cause problems for sellers.
Protect your Amazon business and get alerts with automated monitoring software
The tool monitors unresolved customer issues and violations of Amazon's Terms of Service, providing alerts to prevent costly issues. Additionally, Bindwise notifies you if Amazon removes one of your products, preventing the frustration of not knowing why a product was removed. 
DataHawk
DataHawk is a powerful Amazon SEO tool that provides a range of features to help sellers optimize their listings and improve their search engine rankings. While it can be more expensive than some other Amazon SEO tools, many sellers find that the accuracy and depth of its analysis make it a valuable investment. 
Get insights and analytics with advanced market intelligence software for Amazon sellers
One of its key strengths is its accurate and in-depth analysis of keyword rankings, which is presented in easy-to-understand visualizations. Additionally, DataHawk provides real-time alerts on product and keyword changes, allowing sellers to respond quickly to shifts in the marketplace. With its focus on data-driven insights and user-friendly visualizations, DataHawk is an excellent tool for both experienced and new Amazon sellers looking to improve their sales performance.
Sellerboard
Sellerboard is a comprehensive software solution for Amazon sellers, combining profitability analytics and stock management capabilities. Among its numerous features are a live profit report, restock alerts, automated follow-up message campaigns, FBA error reimbursements (including for lost and damaged stock), PPC optimization identification, and listing change alerts.
Manage your profits and accounting with essential Amazon FBA business tools
SellerBoard's ability to sync directly with your Amazon account is definitely a plus, as it ensures accurate and up-to-date data.  The real-time data and customizable charts make it easy to analyze your business's performance at a glance, which is essential for making informed decisions. The profit/loss statements, cash flow tracking, and trend analysis are also valuable features for managing your Amazon business effectively. Overall, Seller Board seems like a useful tool for Amazon sellers looking to optimize their profits and streamline their operations.
Competitor Comparison Table
SellerSonar vs. Bindwise vs. DataHawk vs. SellerBoard. Which service to choose? With a deep dive into their pricing and features, we'll help you choose the best platform to take your Amazon business to the next level.
*Full list of features is available on the service's website. 
AMZMonitor
AMZMonitor is an effective tool that Amazon merchants can use to keep track of their products, keywords rankings, and their competitors' activities on the platform. By using AMZMonitor, sellers can stay ahead of the competition and make informed decisions regarding what products to sell and when to sell them.
Monitor your products and keywords with top Amazon seller software
The extension comes with various features such as product listing change alerts, review alerts, sales performance tracking, and keyword ranking data analysis that can help identify profitable products and niche opportunities. AMZMonitor has a user-friendly interface that is easy to navigate, and sellers can track multiple products simultaneously while customizing alerts to fit their specific needs. Additionally, the tool provides comprehensive data on product demand, competition, and pricing, empowering merchants to make data-driven decisions for their businesses.
SentryKit
Keeping track of each listing on Amazon can be a time-consuming task that takes away from your other business operations. However, with SentryKit, you can let the software handle it for you. 
Protect your listings and get alerts with this Amazon FBA tool for sellers
This tool monitors your listings for issues such as hijackers, problems with listing images, competitor activity, and any technical glitches that require attention. Whenever an issue arises, you will receive an email alert so that you can quickly take action to resolve the problem, either by contacting your virtual assistant or addressing it yourself. 
AMZ.One
AMZ.One is software designed to assist Amazon sellers in efficiently tracking and marketing their products. This software allows sellers to optimize their Amazon business and gain a competitive edge in the marketplace.
Research products and calculate profits with these best Amazon tools for FBA sellers
AMZ.One offers a variety of Amazon tracking and marketing tools, including keyword rank tracking, the top 30,000 sales ranked products in each category, a buyers club for launching products, sales tracking for your own products and your competitors' products, negative review alerts, an on-page SEO analyzer, and an online arbitrage research tool.
Competitor Comparison Table
This competitor comparison table will evaluate four popular e-commerce services: SellerSonar vs. AMZMonitor vs. SentryKit vs AMZ.One. Check out a detailed analysis of their features and pricing to make an informed choice.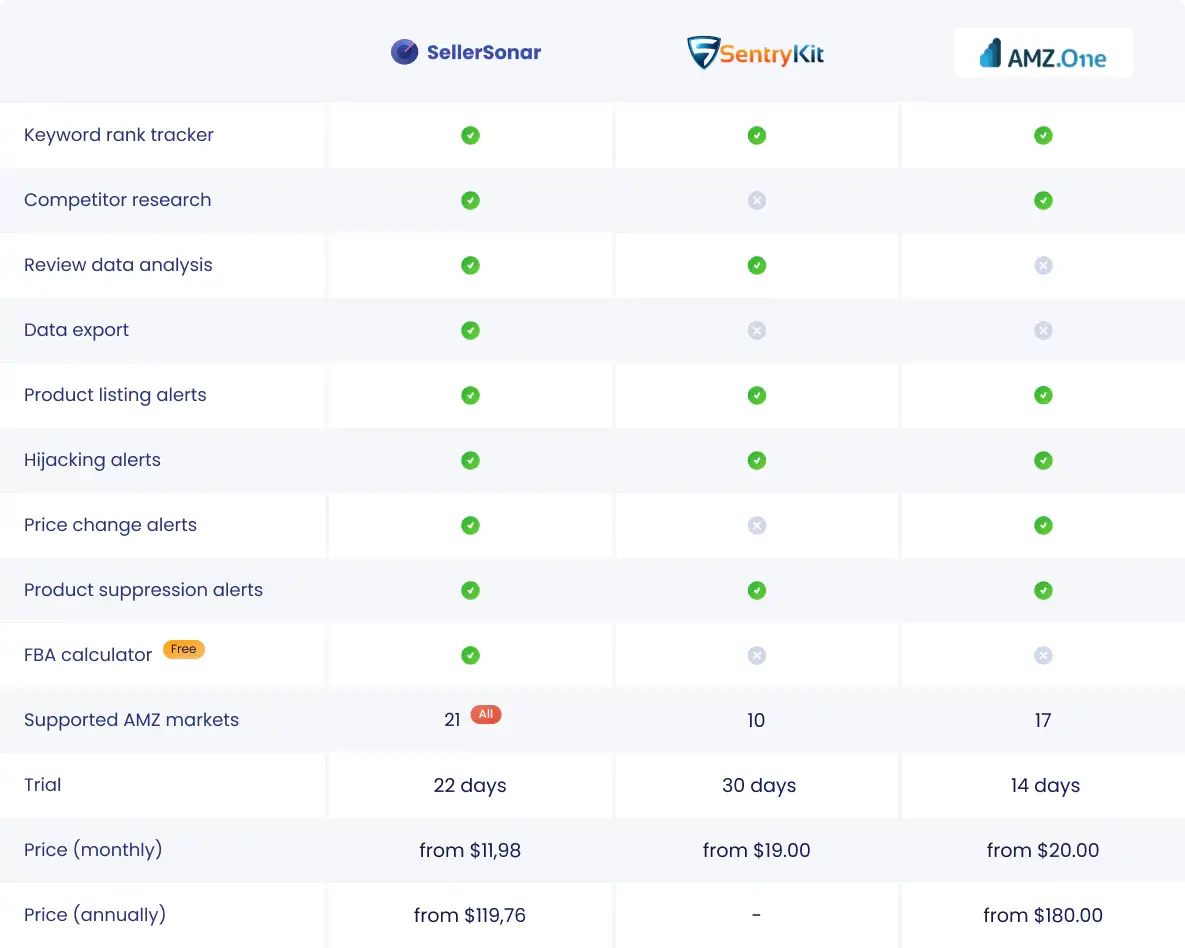 *Full list of features is available on the service's website. 
Conclusion: Best Tools for Amazon Sellers
We've shared our top Amazon report tools, but the final decision is up to you. Take your time to test and evaluate the tools that caught your eye. Each tool has its unique selling point, so it's important to analyze them carefully and narrow down to one or two that work best for your Amazon store.
Nonetheless, we highly recommend investing in a comprehensive tool like SellerSonar. Why juggle multiple tools for product research, keyword research, and listing optimization when you can do it all seamlessly with SellerSonar? It offers numerous features that boost efficiency in your business operations and help you stay ahead of your competitors. Make the smart choice and try SellerSonar today.
Amazon Tool for Sellers: FAQ
What are Amazon seller tools, and why do I need them?
Amazon seller tools are a must-have for any Amazon seller who wants to thrive on the platform. These software tools are designed to tackle various challenges, such as product research, keyword research, marketing, and inventory management. By using these tools, you can save time, reduce errors, and streamline your business processes. With Amazon Seller Tools, you can hit the ground running and achieve success on the platform in no time.
How do I choose the right Amazon seller tool for my business?
With countless third-party software tools available today, it can be overwhelming to choose the right one for your Amazon business. Luckily, there are plenty of options available, each specializing in specific areas that can help you succeed as a seller.
We recommend testing a couple of options with a free trial, comparing pricing plans, and picking the one that suits you the most. Finally, it's better to opt for comprehensive software like SellerSonar, which offers an impressive array and will save much of your time.
What are some of the best Amazon seller tools for product research and analysis?
The tools mentioned above are our top pick when it comes to product research and analysis. By utilizing them, sellers can access valuable data on sales volume, competition, price trends, and customer demand for various products. With these insights at your fingertips, you can make data-driven decisions that boost your sales and help you achieve your business goals.
How can top Amazon seller tools help me optimize my product listings and increase sales?
Optimizing your product listing is the first step towards boosting sales on Amazon. Here are some of the most popular listing optimization features that can be helpful: 
keyword research – identify the most relevant and popular keywords for your product to grow visibility on the platform;

feedback management – analyze customer feedback, spot negative reviews, and contact customers to fix the issue and protect reputation;

listing monitoring – detect and alert of any product listing changes and issues that may be potentially harmful to sales.
What are the best tools on Amazon tools for managing and automating my business operations?
Since every Amazon business is unique, what works for one seller may not necessarily work for another. To ensure you have everything you need to succeed, it's essential to consider all the categories discussed in this post. Fortunately, SellerSonar includes a comprehensive set of tools to help you succeed, no matter what your business goals may be. With our help, you can streamline your operations and achieve your business objectives more efficiently than ever before.
How can I use Amazon seller tools to track and monitor my competitors?
Having the right tools in your toolbox is crucial for streamlining your data research and keeping up with the competition. With SellerSonar's competitor analysis tool, you can stay ahead of the game by understanding what works and what doesn't for your competition. This enables you to identify areas where you can improve your own product listings and gain an edge.
Adding your competitors' ASINs to your monitoring list takes just a few clicks. From there, you can track changes in their Best Seller Rank, pricing, and reviews to see how these factors affect their sales. Get instant notifications when your competitors make changes so that you can see the whole picture and take action accordingly.