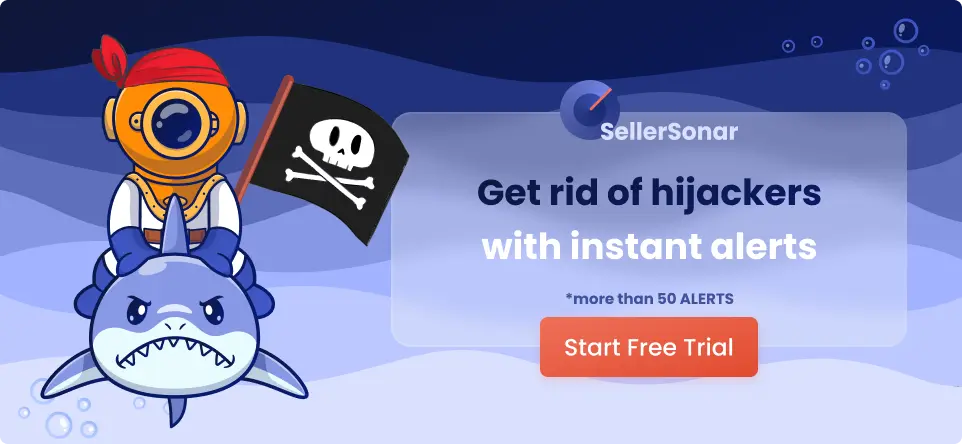 It's no wonder the Amazon marketplace is a multibillion-dollar brand. The platform gives merchants a simple way to get their items in front of a worldwide audience. Amazon seller account creation may seem intimidating, but it's easier than you imagine. Our guide will walk you through how to run your business in the marketplace. How do you become an Amazon seller? Here is everything you should know to get started.
Becoming an Amazon Seller: Before You Start Working on Amazon
How to sign up
The site provides individual and professional selling solutions for anyone wanting to become an Amazon seller. The first is perfect for merchants with only a few products, while the second is aimed at larger-scale operations. 
Before selling on the platform, you should pick the right subscription. From there, you can commence creating your AMZ seller profile. Ensure that you have the following information:
Your existing AMZ customer account or business email 

Active credit card to pay for any fees

Tax info

Government-issued ID

Phone number

A bank account where AMZ can deposit the earnings from your orders
If you are worried about making the wrong choice, you can switch your solution anytime. Nonetheless, some extra selling commissions apply when you change plans.
Costs 
You might be subjected to specific commissions when becoming a seller on Amazon. These charges depend on many factors, such as your selling subscription and the type of items you are moving. 
Subscription costs
Subscription costs are the AMZ selling solution fees. If you opt for the Individual seller plan, you will be charged a $0.99 commission for each unit sold. If you are on a Professional solution, you will be charged a general monthly commission of $39.99, with no fees for each unit sold.
Selling costs
Selling costs are charged for each unit that is sold. These expenses cover variable closing and referral commissions. The first one is only applied to media products, while the second refers to the item's selling cost percentage, which might differ according to its type.
Shipping costs
Should you select to fulfill orders yourself, AMZ shipping rates will apply. Such fees depend on several factors, including the product category and the shipping services you opt for.
FBA costs
If you choose the platform's Fulfillment by Amazon (FBA) option, you will need to pay for services, such as storage and order fulfillment.
How to Start Selling on Amazon? 
Carry out market research
Before selling on AMZ, you should check the restricted categories list. Some products, like DVDs or jewelry, need approval before listing, while some are restricted completely.
To narrow down your potential niche, look at the private labeling of a winning item. It just indicates the producer adds your brand label to existing goods. Next, check what items are trending and popular.
After deciding on a category or niche, look at the top product listings for what you wish to sell. Are there a lot of competitors? We recommend choosing items that are in demand but have a lower barrier of entry. As soon as you find merchandise, you should get a supplier. Negotiate with manufacturers and request samples—the last thing you wish is an item that breaks easily or does not look like the photos.
After deciding on a supplier, you should calculate your cost per item. Are your profit margins good enough to make your merchandise choice viable? Otherwise, you should consider a different item. Ideally, you should have enough of a profit margin to provide coupons or discounts.
Pro tip: Use SellerSonar's free FBA calculator to estimate your fees and profits before you get started on the platform. 
Set up a seller account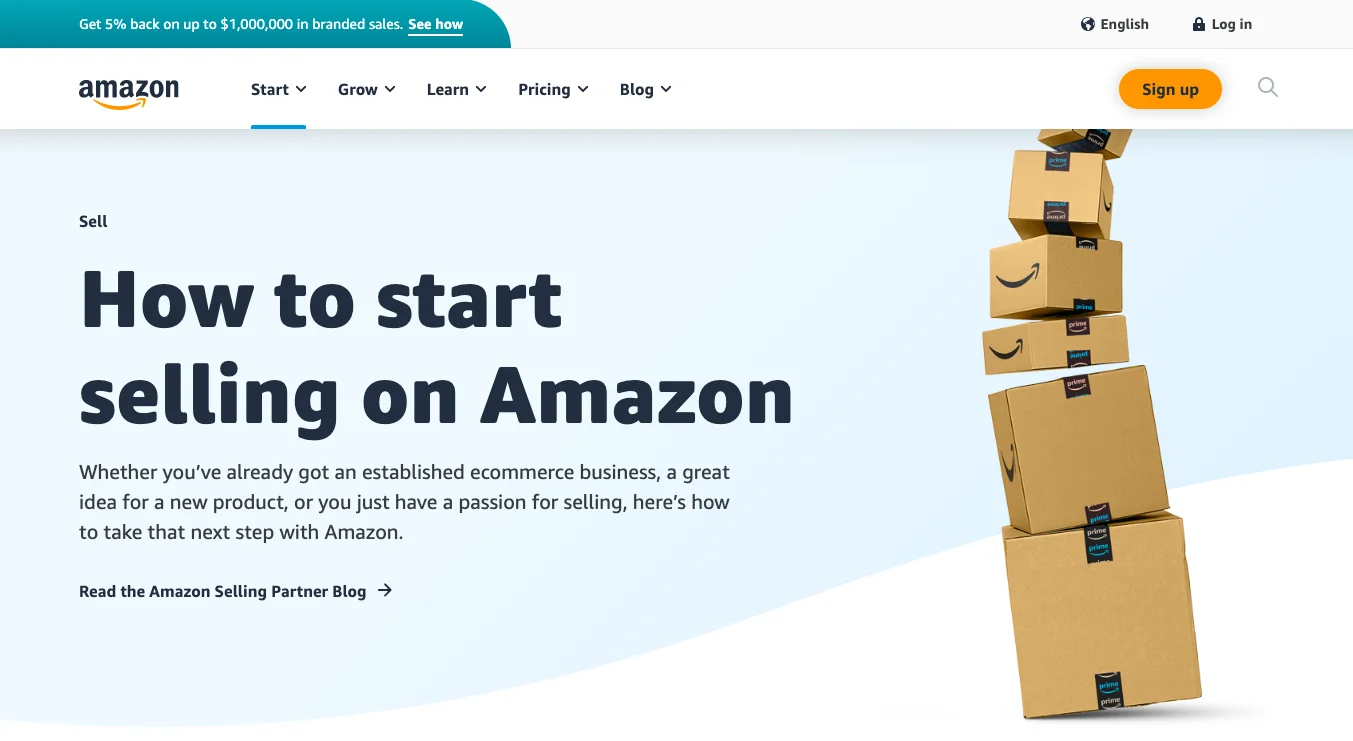 Step 1. Head to AMZ Seller Services.
To run your business on Amazon, you need to head to https://sell.amazon.com.
Step 2. Begin the registration procedure.
If you wish to sign up for an individual selling account, scroll down until you see a link to sign up for an Individual profile. If you are a company, you will see an orange button saying 'Sign-Up' and indicating a fee for the profile just below.
Step 3. Log in or make a profile.
You can log into your profile if you already have an AMZ account here. It will not be a seller profile unless you follow the steps to make a seller account. Still, it will help collect some of your data, making the registration procedure faster and smoother. If you don't have one, you may create one at this point.
Step 4. Tell AMZ about your company.
The platform will ask you questions about your brand in the next few steps. You don't need a legally registered firm to sell in the marketplace, but it will help. After this step, your life will be much easier on AMZ and beyond.
Step 5. Fill in your payment information.
There are two main things that you will need to indicate here while setting up a selling profile:
Credit card info

Bank info
If you entered these details when creating a buyer's profile, it will likely be filled in. Still, you need to make that the info is correct. Use such information if you have a bank account and credit card for your company. Don't enter personal details. It may cause issues when tax season begins.
Add items 
There are two methods to add items: use existing listings of the same products or create new ones. You should use a new AMZ listing if you are the only merchant for a particular item.
Keep in mind that your product descriptions need to be optimized for the platform's search engine. Likewise, pictures are just as essential as product descriptions. Many merchants use a lightbox to get product images; otherwise, some businesses can take photos for you if you ship them your merchandise.
Attract clients
With the massive amount of Amazon product listings, yours must stand out. The best tips to attract clients involve pricing, advertising, and shipping.
Set competitive prices. With

SellerSonar, you can monitor the prices of your Amazon competitors and set price drop notifications to get an opportunity to always suggest the best prices.

Advertise with sponsored listings. When you make the listing sponsored, it appears in search results and on product pages. Such ads operate on a cost-per-click approach. It means that when someone clicks on your advertisement, you pay whether or not they ordered a product. 

Deliver fast. If you do not use AMZ Prime shipping, the next most reasonable thing is to ensure you send your goods quickly when using FBM.
Get reviews and feedback
There are strict regulations for what is and is not allowed when requesting client reviews. If caught offering incentives for your buyers to leave feedback, your profile can face a permanent ban, withholding of funds, or even legal action.
With SageMailer, you can put your feedback generation process on an auto-pilot. This Amazon-compliant solution sends automated emails asking for a product review or seller feedback to all your buyers. In turn, it increases the percentage of customers who leave reviews, improves your AMZ rating, and minimizes the chance of getting negative reviews.
Advantages of Being an Amazon Seller with FBA 
According to a survey conducted by Amazon, sellers using FBA saw an average sales increase of 30-50% and can save up to 50% on shipping costs. There are plenty of other benefits to becoming an Amazon seller with FBA. Thus, we have grouped all of them into main categories to make it more clear:
Hassle-free and fast shipping
Every company has to fulfill the orders and then deliver them. Consequently, you are likely aware of the lack of time and frustration to quickly handle all the orders. So, when you come to the point where you get dozens of orders per day, you realize the need for some improvements.
Normally it would indicate that you need to have your storage and employ some staff to manage the fulfillment and delivery. Then you require additional workers for client service, and it increases your costs. Nevertheless, if you use Amazon FBA, it lets you outsource the whole process.
Return management
By utilizing Amazon FBA, you take off the stress due to disappointed customers. The platform's representatives handle the returns, logistics, and delivery labels. Yet, you need to pay a commission for each return.
Client service
Amazon provides top-customer service. Thus, you can let the platform handle your clients daily. Probably one of the most useful things is that they're available for a live chat, phone call, or email 24/7. Whereas you, as a seller, need time to rest so that the response time could result in lost sales.
Buy Box
FBA sellers have a higher chance of winning the Buy Box, the coveted spot on a product detail page that allows customers to purchase the product with one click. According to Amazon, over 80% of Amazon sales are made through the Buy Box.
Unlimited inventory space
You must use strategies to keep the best order quality when you own your storage. Yet, when you employ Amazon FBA, the marketplace does it for you. There are no limitations on inventory and the number of items you should keep in the warehouse.
Order fulfillment from other selling channels
The most admired feature of AMZ is that sellers can obtain fulfillment from other sales channels. Such a service is known as Multi-Channel Fulfillment (MCF). If you automate the procedure using third-party services, the platform automatically gets the order from the fulfillment channel.
Similarly, AMZ also sends tracking info to your clients from different channels. It helps you to streamline the shipping and fulfillment processes from many sales channels in a single place.
Becoming an Amazon Seller: Bottom Line
At first glance, Amazon seller account creation may seem mission impossible to your small brand: a global platform, a vast audience, and a go-to destination for client search. Nevertheless, with a proper approach, AMZ can help you earn money online. 
Remember that listing optimization will let you get discovered by a massive audience and unlock new opportunities. Likewise, experimentation, strategic planning, and some hustle will guarantee a long way to successfully running your business on the platform.
With the best tools like SellerSonar, you will be unstoppable. Register for a free trial to find out how you can benefit from the service.