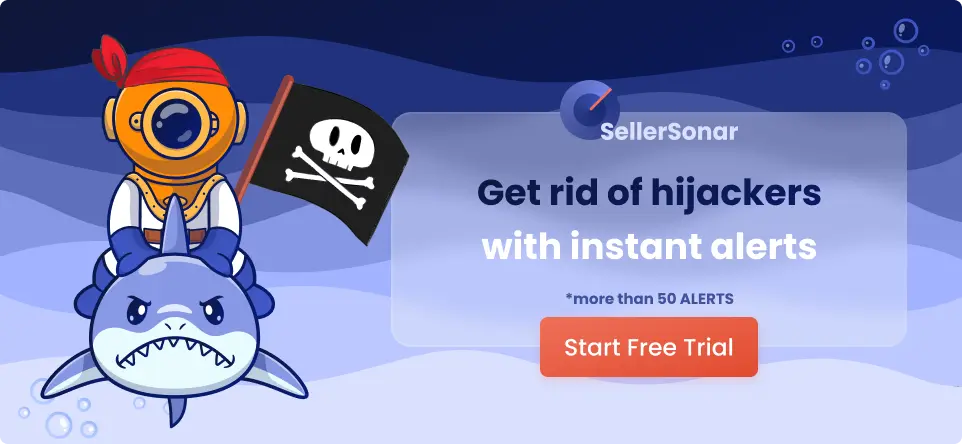 For Amazon sellers, high-quality fulfillment service is an essential part of their business. No wonder, since their potential customers chose Amazon for fast delivery and low shipping cost. As a matter of fact, 83% of consumers expect free shipping for all online orders. Another 91% assume to receive a product within a week.
Fine-tuning fulfillment process takes a lot of time and effort unless you let Amazon do all the job. This is one of the options offered by the e-commerce giant to third-party sellers. With this service, merchants shouldn't bother with packing, storing, and shipping orders. Instead, they can dedicate time to growing their business.
Another advantage is that Amazon takes care of the refunds and returns of your product, as the case may be. However, the service comes with a cost.
Read further to find out what is Amazon FBA, and how does Amazon FBA work. We'll also tell you, what features Amazon FBA offers to sellers.
What does Fulfillment by Amazon Mean?
The fulfillment process basically involves inventory storage in warehouses, packing and shipping orders. In addition, it may include the processing of order returns or exchanges.
The moment a shopper hits a 'Buy Now' button, the fulfillment process starts.
On Amazon, order fulfillment includes the following steps:
Receiving inventory;
Inventory storage;
Order processing;
Shipping;
Customer shipping notifications;
Returns processing.
What are the Fulfillment Models on Amazon?
Amazon is flexible with respect to the fulfillment method sellers chose.
There are several fulfillment models available to sellers:
FBA (Fulfillment by Amazon);
FBM (Fulfillment by Merchant);
MCF (Multi-channel Fulfillment);
SFP (Seller-fulfilled Prime).
Of those, sellers most often select the Fulfillment by Amazon (FBA) or Fulfillment by Merchant (FBM) model. Very often, merchants use a combination of both in their stores. They chose a model depending on the product's cost efficiency.
To clarify, 57% of Amazon merchants use FBA only. 34% use both FBA and FBM, while as little as 9% apply only FBM.
What is Amazon FBA?
FBA is a fulfillment method helping third-party sellers deal with the storage, packaging, and shipping of their orders. As said, the service may also concern the processing of order returns or exchanges.
In fact, Amazon FBA meaning is that the marketplace takes care of all essential fulfillment process stages we discussed above.
First, sellers deliver their inventory to any of Amazon's fulfillment centers. There, Amazon stores the items until it's time to ship them to the customers. When a buyer places an order, Amazon staff prepares, packages, and ships the product to the door of the end customer.
The FBA fulfillment method is a good choice both for the newbies on Amazon and for experienced merchants. Apart from optimized logistics and enhanced customer services, it offers other benefits. Among them are a one-day delivery option for Prime members.
On top of that, FBA sellers get access to extensive marketing and product promotion tools.
Also, effective and reliable fulfillment by Amazon helps build customer loyalty. Thus, it gives sellers a competitive edge.
Features and Services of FBA on Amazon
In order to better understand what is FBA, it's good to know what kind of features and services it includes.
FBA Features
Customer service for FBA orders
With this feature, Amazon provides customer service on the seller's behalf when they sell products.
Global selling
Sellers can use FBA to expand their business to any of the 20 Amazon's marketplaces.
FBA Services
Amazon Partnered Carrier
This program provides discounted rates to deliver inventory to fulfillment centers.
Multi-Channel Fulfillment
Amazon gives merchants an opportunity to fulfill the orders they sell on their website and via other channels.
FBA Label Service
This is an option where Amazon can apply barcode labels to your products.
FBA Prep Service
The service helps merchants prepare inventory in accordance with the FBA prep requirements. It comes with a per-item fee as well.
FBA Repackaging Service
Amazon assists sellers with repackaging products that buyers have returned. After repackaging, sellers can resell them.
Inventory Placement Service
In a shipping plan, products can go to different fulfillment centers. In such a case, Amazon splits a shipment is divided into parts. The Inventory Placement Service allows sellers to send all inventory to one fulfillment center. After that, Amazon will distribute a shipment. A per-item fee applies.
Manual Processing Service
If a seller hasn't specified box content info of FBA shipment, Amazon manually processes such boxes.
Scan & Label
Scan & Label gives sellers the possibility to scan products using a barcode scanner. With this, option sellers can print and apply labels one at a time.
Thus, the label matches the right unit.
Note: FBA label service, FBA prep service, inventory placement service, and manual processing service come with a per-item fee.
The Pros and Cons of FBA
It's no doubt, that FBA fulfillment Amazon has a lot of benefits. However, depending on the product strategy, it may be better to select an alternative fulfillment method.
To do that, you have to account for each and every fee Amazon charges you and compare these expenses with FBM or other type of fulfillment costs. Doing it manually is a tough job. Therefore, it's a good idea to use an Amazon FBA calculator to estimate your expenses.
Also, you have to be aware of certain disadvantages of FBA. For instance, Amazon charges FBA sellers a lot of fees. Some of those are hidden.
Pros of FBA
The major advantages of FBA include simplified logistics and inventory management. Basically, Amazon handles everything that relates to picking, packing, shipping, and returns. It also delivers your product fast for a competitive price.
Effortless Logistics
If a seller selects FBA, Amazon takes care of almost all of the fulfillment processes. What merchants do is send their products to Amazon's fulfillment centers. Whenever a shopper purchases an item, Amazon receives, packs, and ships them to the customer's door. On top of that, it handles customer service and returns.
Competitive Shipping Costs
Amazon is known for its effective logistics and moderate shipping rates. Due to Amazon's agreements with a wide range of shipping companies, FBA sellers can get discounted prices for the delivery of their orders. It also has a worldwide network of warehouses. This means, that in many cases it can offer better prices than you'll get if you ship your products individually. Moreover, FBA inventory is eligible for Amazon Prime. This gives a possibility to offer free shipping for orders of $25 or more.
Return Management
As far as Amazon treats customer returns and exchanges as a part of the fulfillment process, they take care of it as well. Amazon has a clear returns and refunds policy. This helps grow customer trust and loyalty. In fact, this is one of the reasons why shoppers prefer to buy on Amazon.
Customer Service
Amazon offers 24/7 customer service. On behalf of an FBA seller, the platform's professional staff takes care of the inquiries, returns, refunds, and any other problems. The service is free, with the exception of the Returns Processing Fee.
Customers can also track the orders and check their status. They can view all delivery updates as well.
Fast Delivery
As said, Amazon automatically enrolls FBA inventory in the Amazon Prime program. This program ensures fast and free delivery. On Amazon, fast delivery means Amazon Free Same Day Delivery and Free One Day delivery. This gives sellers a competitive edge because in the majority of the cases shoppers expect to receive the orders instantly.
Unlimited Storage Space
Amazon owns a hyper-efficient network of warehouses globally. Due to this, they offer FBA sellers a convenient enhanced inventory management system. Amazon's automated warehousing systems ensure reliable services. Therefore, retailers can store as much inventory as they need without physically owning or renting a storage space.
Multichannel Fulfillment
Amazon offers FBA merchants an option to handle and ship their orders not only within the Amazon marketplace. If a retailer sells on other platforms and channels, like eBay, Shopify, etc., Amazon can fulfill the orders.
Cons of FBA
As you can see, FBA is a very convenient and efficient service. However, it has some drawbacks. The most essential of them is that it comes with a cost.
FBA Fees
Amazon charges FBA sellers a lot of fees. They include fulfillment and storage fees. Also, if your inventory sells slowly, long-term storage fees apply. Also, removal and disposal fees for defective, damaged, and unsellable items may come up.
Higher Return Rate
Due to a simplified return policy on Amazon, customers are 'tempted' to easily return an item. As far as Amazon handles returns for FBA sellers, this may end up in the increase of the returns number.
Strict Product Prep Guidelines
Amazon has a list of requirements for FBA products that arrive in its warehouses. A product should be in accordance with the FBA inventory warehousing guidelines. They comprise proper packaging, labeling, and more. With regard to certain products, it may include poly bagging or bubble wrapping. Amazon offers prepping service for a per-item fee.
Product Handling Issues
Sometimes, Amazon can lose or damage inventory in the process of fulfillment. In such cases, Amazon reimburses the seller. However, there may be some errors and this may go unnoticed. Therefore, sellers should keep an eye on their shipments.
Lack of Control
Since Amazon handles most of the fulfillment process, sellers have little control over the inventory. If you want to control and customize it, you should select another fulfillment type.
How Much Does FBA Cost?
Generally, Amazon sellers should pay a basic recurring fee depending on the Selling Plan. Amazon charges $0.99 per item merchants sell under an Individual plan or $39.99 per month under a Professional plan. Also, the marketplace applies Referral Fees. They vary by product category and account for 8% to 15%. On top of that, there are FBA-specific fees that sellers pay if they use Fulfillment by Amazon.
FBA Fees: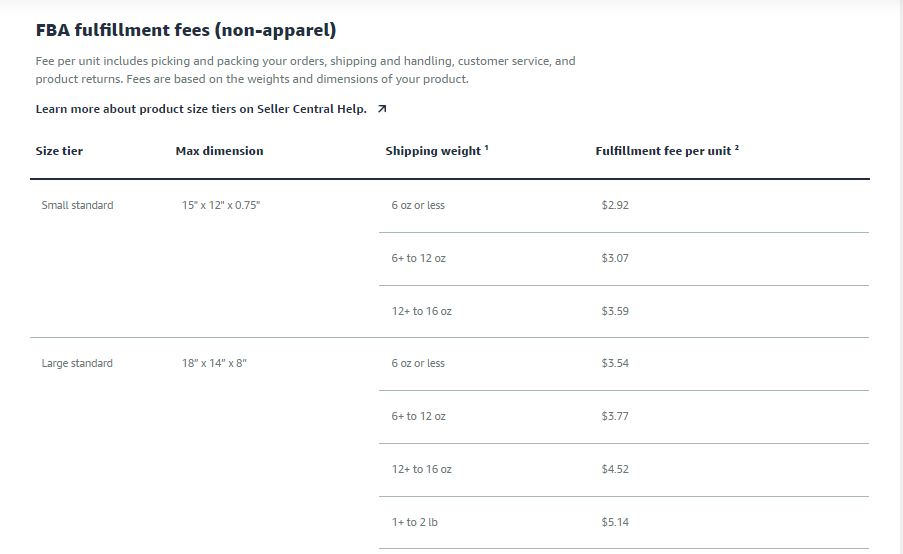 FBA Fee Tools
In order to estimate expected FBA expenses and product revenues, Amazon merchants can use fee estimating tools. A more exact picture you can get if you apply Amazon FBA calculator.
You can also use:
How to Get Started with FBA
If you made up your mind to enroll in FBA, follow the steps below.
Step 1. Create an Amazon Seller Central account.
Step 2. In the Seller Central account, set up FBA.
Step 3. Create your product listings, add your products to the Amazon catalog
Step 4. Prep your product in accordance with Amazon's packing guidelines.
Step 5. Select a shipping plan, print the shipping labels, and send your products to Amazon.
Amazon monitoring software is an efficient way to stay on top of your sales. SellerSonar offers instant Amazon alerts to protect your sales. With us, you are aware of all listing changes, Buybox hijackers, new/deleted reviews, keyword rank history, and product suppressions.
Try SellerSonar now. Register for our 29-day trial and boost your incredible journey of running your business on the platform.