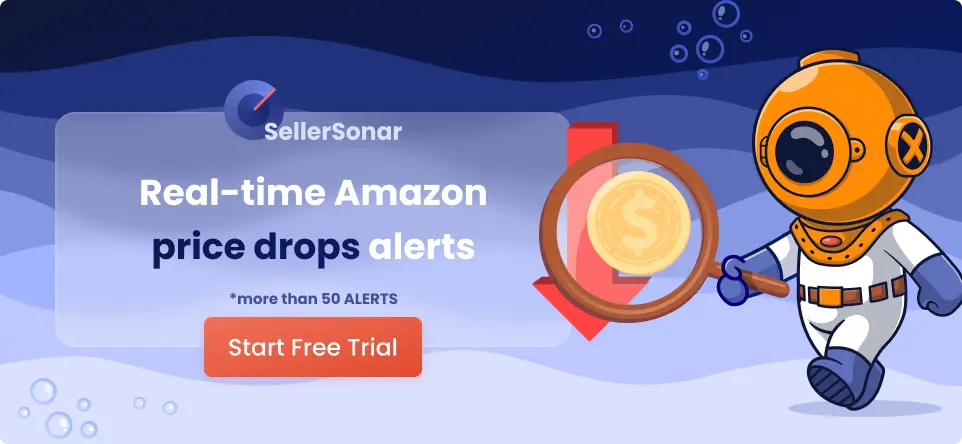 The Amazon Brand Registry is a solution that allows companies to protect intellectual property in the marketplace.
By participating in the program, businesses can create their unique identity on the platform, which provides many benefits, including preventing hijackers. 
If you are an Amazon merchant or planning to run an online business on AMZ, you should benefit from this program to have a competitive edge among other sellers.
So, what is Amazon Brand Registry? This blog post will tell you what it is, how to enroll, and what the Brand Registry on Amazon requirements are.
What Is the Amazon Brand Registry Program?
It is a program developed for business owners to help enroll their brand with AMZ to get improved marketing options and have entire control over their business.
The solution helps safeguard a registered trademark on the platform. The registration to it is a clear and one-time operation, which can be done at your Seller Central. 
Undoubtedly, AMZ is set up exclusively with complex algorithms to collect product info from various merchants. So obviously, some product details can be distorted or listed wrong.
So, it is also useful if a seller has different vendors selling their goods online.
This scheme is highly important for merchants working via AMZ Seller Central. Without the platform's help, a merchant may miss a lot in sales. Thus, the Brand Registry solution helps merchants to:
Add their branded items

Manage branded items

Prevent the brand's imitation items on the platform

Ensure that the info about the branded item on the listing is correct
Difference Between AMZ Brand Registry 1.0 and 2.0
The old version of the program allowed AMZ merchants to sign up their brands with the marketplace and get verified business status.
It allowed sellers to access features that would protect their companies on the platform, including the possibility to report policy violations and fake products.
In turn, the marketplace's updated brand registry, Brand Registry 2.0, is developed on the foundation of the older version with some new benefits and features.
It includes creating A+ Content for product pages, enhanced trademark protection, and exclusive AMZ search ad tools.
If you're an Amazon merchant, it's essential to know the differences between these two solutions so that you can decide which one fits you and your business.
What Are Brand Registry Features for Sellers?
The program can:
Provide sellers with greater control over their listing content.

Give a separate, more effective internal team to help fix and escalate incorrect page variations and contributions.

Offer dedicated staff to submit and escalate intellectual property infringement claims.

Ensure a tool to track your business on AMZ.

Give access to the platform's A+ Content to enhance the content displayed on AMZ listings. 

Grow visibility via interactive media and alternative ad routes.
The program cannot:
Gate the business or limit other merchants from selling such products.

Let you whitelist or blacklist other merchants from selling the brand.

Let someone other than brand owners to submit IP infringement claims against other merchants.

Give access to AMZ Stores to promote the business with a multi-page Store.

Boost visibility with advanced ad strategies such as Sponsored advertisements.

Help to live stream and reach potential clients with Amazon Live.
What Are the Benefits of Amazon Brand Registry?
Below are the main perks of the program:
Improved customer trust
By registering your label with Amazon, you can improve customer trust in your products. This is because customers can be confident that their products are genuine and of high quality.
Trademark protection actions
AMZ has a dedicated internal team to help you secure your brand. You may report wrong product listing details and technical problems like page loading issues. You may submit an intellectual property infringement claim whenever you see a suspected fake item. You may also report platform violations, for example, 'Not as described' complaints or product feedback manipulations.
Advanced listing customization
The platform's A+ Content Manager gives exclusive access to additional customization of your AMZ listings, like images and additional formatting. It allows your items to stand out on a crowded platform. Merchants may also update their listings at the ASIN point, preview the page on mobile devices, design templates, and add language variations. According to AMZ statistics, adding A+ Content improves page conversion results by more than +10%.
Pro tip: To enhance and protect your AMZ listing, use third-party monitoring services like SellerSonar. With the tool, you can stay fully aware of the tiniest changes in your Amazon business environment. Besides, the tracker catches and notifies you of any issues that might harm your online reputation and sales!
Brand Analytics
This tool pulls in valuable statistics to track your trademark and how it is being sold in the marketplace. Standard indicators include shipped revenue, ordered revenue, shipping expenses, and traffic analysis, such as Fast Track Glance View Rate (share of stock available for Prime delivery when a glance view happens). Sellers will also take advantage of extra shopper insights, for example, search queries, pre-order analysis, basket analysis, and stock planning.
Client engagement tools
Brand-registered merchants can make AMZ Storefronts (pages including customized information that allow buyers to navigate all of the merchant's items). Amazon gives a Stores Builder, which guides sellers through a comprehensive process to make a storefront. Merchants can also add images and videos to their pages to boost conversions. Furthermore, AMZ Live Creator helps sellers to engage with customers directly by using interactive live streams and stories. Moreover, your store is the only place on the platform exclusively for your business and won't include competitor advertising and product suggestions.
Sponsored Brand advertisements
Sponsored advertising appears at the top of the AMZ search results pages, and users are charged on a PPC (Pay-Per-Click) basis. You may design how goods appear in these advertisements and use them to grow awareness and sales. For instance, if buyers click on an item, they will be taken straight to your AMZ listing, but if visitors click on your logo or brand name, they will be taken to the storefront.
Do You Require a Trademark for AMZ Brand Registry?
As mentioned before, the AMZ Brand Registry solution needs sellers to get a registered trademark for their item to apply. In America, you must have registered the trademark with the US Patent and Trademark Office.
How can I get my trademark?
To get the ball rolling, you will have to take the following steps: 
As soon as you have your name and logo, make sure it's unique and that there are no other registered trademarks with this name. You can check this info on the USPTO site by doing a detailed search in their official database. 

File within a particular class for the trademark. It's similar to choosing a product category on Amazon and will define the products under the trademark. The price for your trademark will be based on its class.

Hire a dedicated licensed trademark lawyer to file the trademark application. You may find attorneys delivering this service online or in your local area. Hint: you may apply and file for the trademark without hiring an attorney — it will spare you some money.
How long can it take to get your trademark registered?
Generally, you may expect to wait at least one year before getting a response from the USPTO. 
Luckily, you do not need to wait an entire year to get the brand approved by the marketplace. 
AMZ offers a service known as the IP Accelerator, which connects business owners to dedicated IP lawyers who will assist them with the registration process.
If you work with an IP professional handpicked by the marketplace, Amazon will authorize your item for the Brand Registry before receiving the trademark application.
How long does it take for program approval?
If you already have your trademark or you have submitted a request via the IP Accelerator solution, the entire approval procedure may take nearly two weeks. Ensure you submit everything AMZ needs for the brand the first time. 
Also, ensure you check all the eligibility conditions and keep in mind that your brand should have a legit registered trademark in every state where you want to enroll.
What Are Amazon Brand Registry Requirements?
The exact rules differ by state, but all need that sellers have the following:
A live registered trademark in the country that is labeled on your packaging or merchandise.

The possibility to verify themselves as the rights owners via the public contact stated on their trademark registration.

An AMZ account (either Vendor Central or Seller Central).

The trademark should be an image-based mark with text or a purely text-based one. An entirely graphical label, for instance, the famous Nike's "Swoosh," won't be accepted.
How to Enroll in Brand Registry?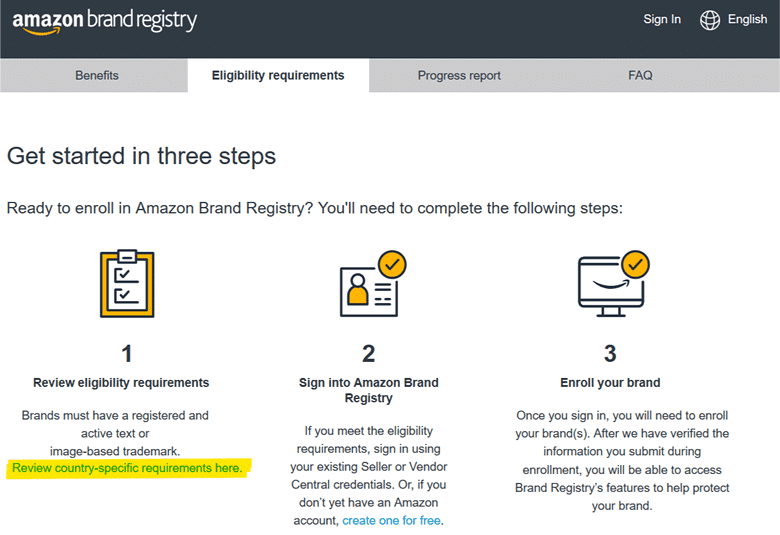 Visit the webpage of Amazon Brand Registry to start the registration process.
After clicking the button to participate, you will be requested to pick which one of the marketplaces you wish to enroll in. To register in the program, you will need an active trademark that reflects the trademark name labeled on items and packaging.
Sellers also have to provide the following:
Pictures of their brand's logo.

Pictures of goods and packaging that match the trademarked name. When the item itself isn't branded, the packaging should be branded.

A list of the state where the company's goods are produced and distributed.

A list of merchandise categories (for example, sporting goods, apparel, electronics) in which this brand must be listed.
If sellers were enrolled in the old AMZ Brand Registry 1.0, that solution is now defunct, and you won't be automatically switched to the 2.0 version. You should reapply using the guidelines above.
Bottom Line
By enrolling in the Brand Registry program, you can ensure that only brand-registered merchants list goods using your trademark or brand name and that clients see accurate info about your merchandise.
Moreover, the solution provides enhanced tools, such as improved AMZ search visibility and the option to create product listings with additional content.
Finally, to enhance your business even more, use SellerSonar and automate your product listing monitoring. Register for a free 29-day trial to check all the tool's benefits!