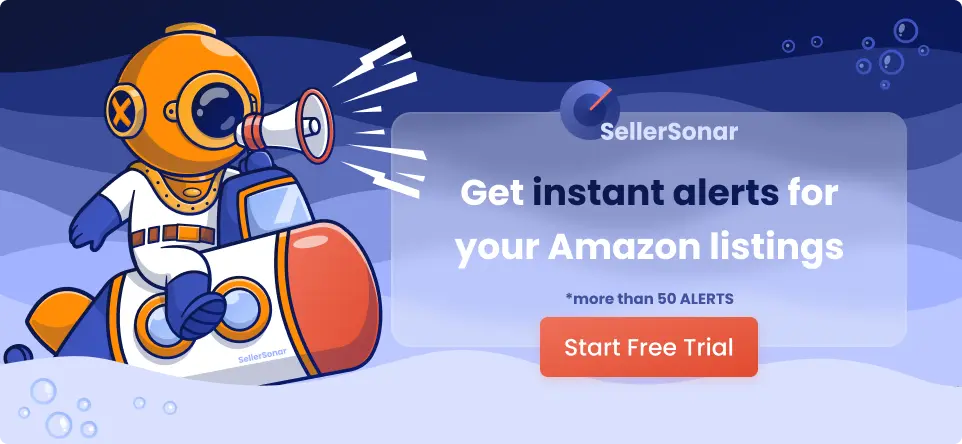 The exceptional abilities of Amazon OTT's video ads have been grabbing the spotlight in the realm of online advertising. Capitalizing on the platform's first-party data, these ads can drive business performance objectives while also supporting broader marketing aims. But what is Amazon OTT? 
We've prepared a simple and concise guide to assist you in comprehending what Amazon OTT advertising is, how to benefit from it, and what some best practices are. So without further ado, let's dive in.
What Is AMZ OTT Advertising?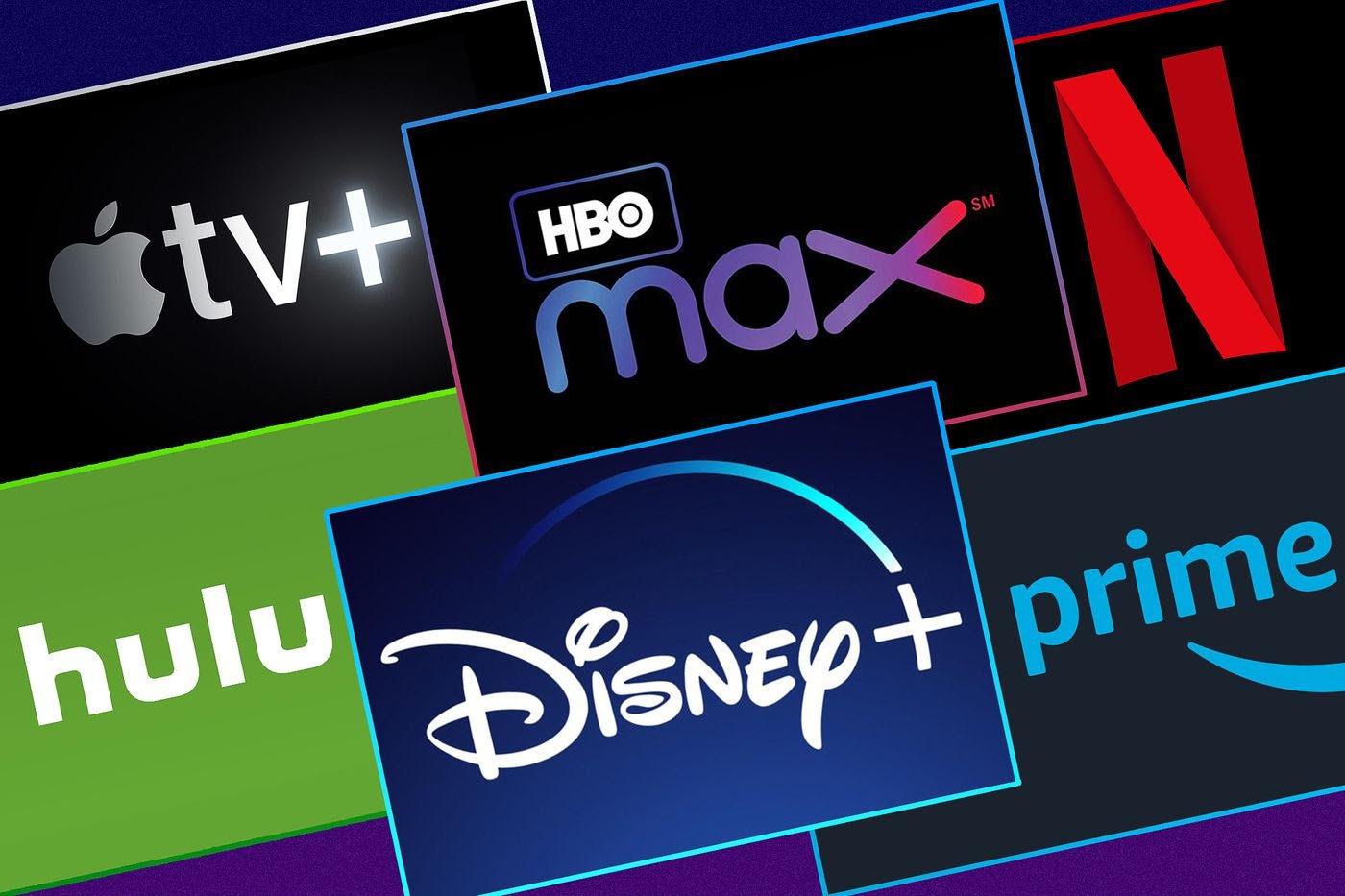 Amazon OTT ads are a hot topic in the world of digital marketing. OTT stands for "over-the-top," which refers to streaming services that deliver video content directly to viewers over the internet, bypassing traditional cable or satellite TV providers.
To put it simply, Amazon OTT ads are a way for businesses to advertise their products or services on Amazon Prime Video, which is one of the largest streaming services in the world. This allows advertisers to reach millions of viewers who are actively engaged with content on the platform, giving them a targeted and effective way to promote their brand.
In addition to its massive reach, Amazon OTT Advertising offers a range of targeting options, allowing businesses to tailor their ads to specific demographics, interests, and behaviors. This means that businesses can ensure their ads are seen by the right people at the right time, maximizing their impact and ROI.
Overall, Amazon OTT Advertising is a powerful tool for businesses looking to reach new audiences and market their brand in a highly engaged and targeted way. So if you're looking to strike while the iron is hot and take your advertising to the next level, it may be time to explore the world of Amazon OTT Advertising.
How Does OTT on Amazon Work?
As mentioned earlier, Amazon OTT utilizes its demand-side platform (DSP) to distribute videos programmatically across the marketplace's extensive modern online media network. Advertisers can purchase video ad placements on various streaming media platforms. However, a few essential differences make this type of advertising stand out. 
First, because AMZ is both a content platform and marketplace, such ads have first-party information insights about what visitors are looking for and what they are buying. It allows users to target ads more efficiently than other platforms that do not have access to such data. AMZ OTT ads might be targeted to particular devices, making them more efficient than videos that are displayed on multiple platforms. For instance, an advertisement for a new flatscreen TV may be targeted at shoppers who have a smart TV.
Second, OTT media advertising is non-skippable. It means that visitors must watch the video ad before they can proceed with watching their film or other videos. It gives sellers a captive audience and helps ensure the key message gets across. 
Finally, as these are not clickable advertisements, the metrics cannot be determined by click-through rates or direct conversions. It's instead evaluated in terms of ad impressions. In contrast to Sponsored Ads, advertising on OTT platforms is paid per thousand impressions.
AMZ video ads will get users from your ad to the product page. From there, your product listings have to do the difficult task of getting the sale. That is why paying attention to the pages you create is very important. 
Boost Your Product Listings with SellerSonar
Use SellerSonar to build more optimized product listings and stay fully aware of the slightest changes in your AMZ business environment. It's a comprehensive tool that will help you understand the overall quality of your product listings, track any changes, and handle the issues instantly.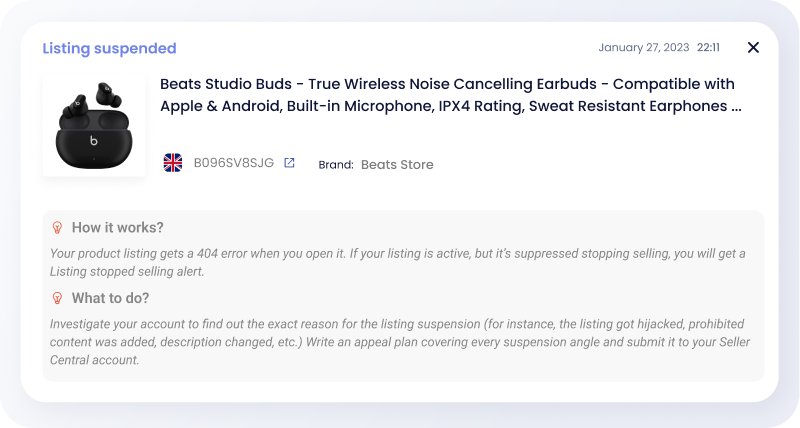 Our solution detects and notifies you of any issues, for instance, listing suppressions, that may be potentially harmful to your sales and online reputation! Thus, you will protect your sales on the platform and enhance your business in the marketplace.
Sign up for a 29-day free trial to benefit from all its features now!
Key Benefits of OTT Video Ad
So, now that you are aware of the key points of AMZ OTT ads and how they function, you may be wondering how exactly such videos can benefit your business. Below are five significant benefits of this advertising method:
Get your ideal clients
With OTT videos, you can benefit from audience targeting options to ensure that your advertisements reach the most interested visitors in your services and products.
For instance, you can target particular users depending on their:
Gender

Age

Location

Purchasing history

Interests

And more!
It means you may reach your perfect clients who will likely buy your products, bringing more high-quality orders for your business.
Easily estimate your results
With classic TV advertising, it is almost impossible to gauge the results of ad campaigns. However, with OTT ads, you may easily check essential metrics and data about your campaigns to examine their performance.
Thus, you can check which strategies, platforms, and ad types are most profitable for your brand. You may then improve and optimize your campaigns to get the highest possible ROI for the efforts. In addition, it means you will not have to worry about squandering your resources and time on techniques that do not drive conversions for your company.
Make personalized promo messages
Making personalized advertising messages that resonate with the target customers is the key to getting more clicks and sales for your business. You can develop different ads that resonate with certain users with this method.
Some media, like Hulu, allow you to show binge ads when a client binge watches some TV series. With advertisements like this, you may appeal to the users' actions, making a more personalized viewing experience that results in more sales.
You may cut costs on marketing spend
AMZ over-the-top advertising is a cost-efficient way to contact your target audience. Indeed, it is one of the most reasonable ad spending solutions available. It is because you only pay when someone watches your video, so you do not need to worry about squandering money on advertisements that no one notices. It's less expensive than conventional TV advertising, making AMZ OTT advertisements more reasonable for small and mid-size companies.
Poach clients from other sellers
AMZ OTT advertising lets you target buyers who have checked your competitors' items but haven't ordered anything. It's a direct link to users interested in goods similar to yours. Besides, you can take some business out of your opponents' hands. Based on your advertising strategy, it could be the ideal way to convey your value proposition to on-the-fence customers, like mentioning your new features or lower prices.
Best Practices for Your Amazon OTT Ads
Follow along in this article to find out more about how to make high-quality video advertisements for your AMZ OTT campaigns. The following best practices are given by the marketplaces, so we'll just outline each idea they provide sellers. 
Define your objective. 
Prior to creating your video, you should first define the purpose you desire to achieve with ads. Many companies use advertising to grow brand awareness and develop an emotional bond with their audience. Concentrate on one goal to keep visitors engaged and involved in learning more about your service or product. 
Understand your audience.
Ensure you know who your client is and that your ads contain a clear statement based on your product's unique selling propositions. 
Share a story.
Share a compelling story to intrigue your audience. For example, your story may show how your service or product benefits your clients' lives, show why clients need your goods over the competitor's or develop beautiful imagery that will grab the visitor's attention. 
Add a logo.
This recommendation sounds obvious; however, ensure you add your company's logo to the video ad. Including a logo helps potential buyers associate that image with your brand, improving general brand awareness. 
Include call-to-action. 
At the end of the video ads, include CTA to encourage your target audience to check your website, buy a product, or find out more about your business. You may say things like "Check on Amazon.com" or "Find out more about us at [URL]." Don't make your CTA look like a button or clickable link. 
Think of voice-over.
AMZ does not require it but may help communicate your messages to the audience by limiting the usage of on-screen text. 
Mind on-screen text.
Although some on-screen text is okay, AMZ recommends restricting the amount of text in the streaming videos, as it can create a negative experience for viewers. Instead, use short and easy-to-read sentences to convey your point. 
Pick music or audio.
Select audio or music that fits the tone of your ads. Avoid using abrasive and loud sounds that may disrupt the visitor's experience. 
Bottom Line
Amazon OTT video ad is a wonderful option over traditional TV placements if you want to reach a captive target audience with your ads. With its exceptional targeting capabilities and non-skippable videos, you can stay sure that your key messages will be heard and seen. In addition, you will want to keep tabs on brand search metrics, reach metrics, and your brand lift to measure the success of your campaigns. And finally, keep in mind that AMZ is not just an OTT platform—it is also a solution for digital content and eCommerce. It means that you have a bunch of other options for advertising in the marketplace. So, do not be afraid to experiment and try out new things!