Are you tired of spending hours managing your Amazon business? Look no further than SellerSonar – the ultimate tool for Amazon sellers. No more juggling multiple platforms, spreadsheets, and tools – SellerSonar provides an intuitive platform to monitor your product listings, reviews, keywords, and more, all in one place.
Already a game-changer for many merchants, SellerSonar is now getting even better with the latest features, from the one-tap ratings monitoring to the FBA calculator updates. 
Let's dive in and explore the exciting updates that will help you streamline your business and take it to new heights.
One-Tap Rating Division
The one-tap rating Amazon system serves two primary goals: encouraging more customers to rate products and providing shoppers with more authentic customer ratings. By simplifying the rating process, the platform hopes to gather more feedback from a larger pool of customers and mitigate the issue of fake reviews. Buyers can easily leave a rating with just a single tap, ensuring that product ratings reflect genuine customer experiences. In turn, it can give sellers a better understanding of how their products are performing in the market.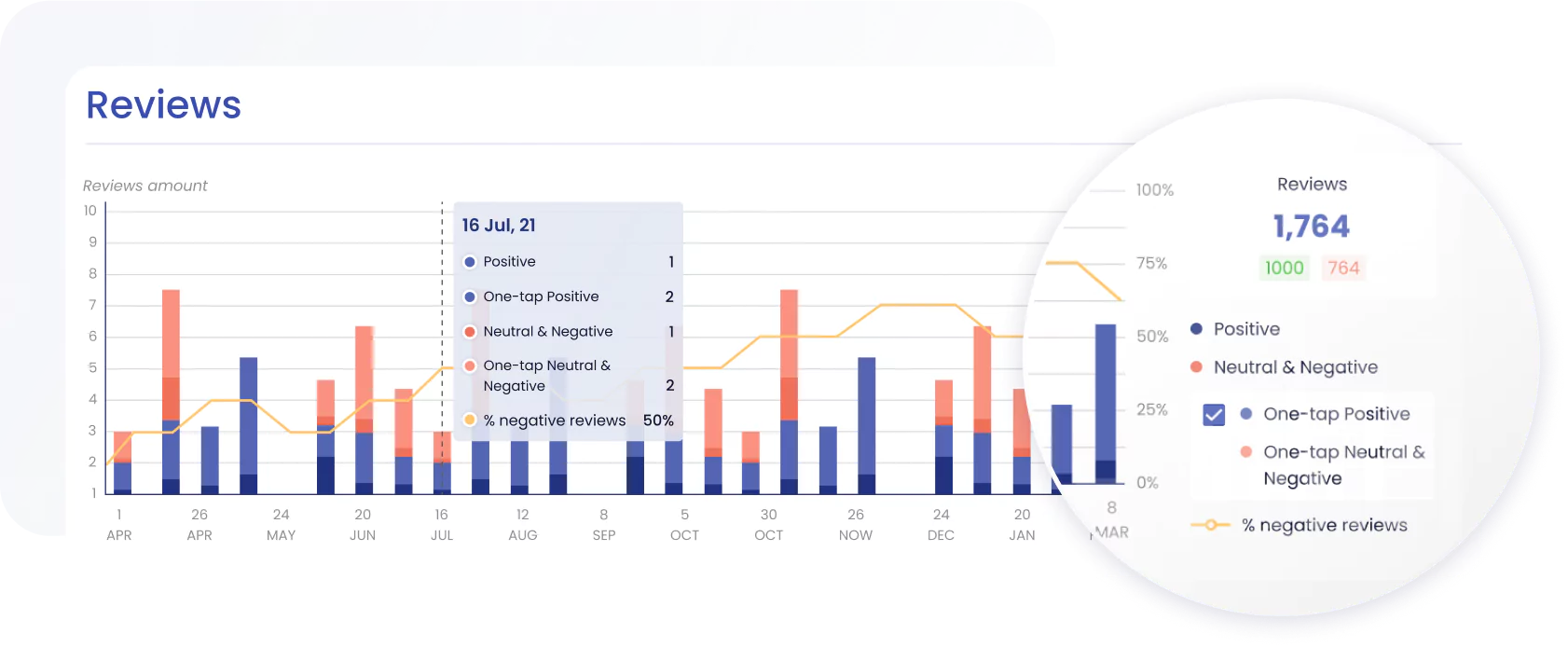 By keeping a close eye on one-tap ratings through SellerSonar's dashboard, you can quickly identify trends and make informed decisions about your products, adjust pricing, and improve the customer experience.
With SellerSonar's new one-tap ratings division feature, you can easily see the dynamics of text and one-tap ratings on your dashboard. Besides, it allows you to sort your reviews by product and period to get an insight into how your goods are performing over time. 
Review Filter by Images
Reviews with pictures can be even more powerful than text-based reviews. With SellerSonar's new review filters by image, you can get a more detailed understanding of your product's performance. For instance, if you notice that many customers are uploading photos of your product that don't match the description, you can take action to correct the issue and avoid negative reviews.

A quick reminder: SellerSonar's review tracker allows you to sort your reviews by deleted reviews, top reviews, and reviews by gender so that you can see what customers like and dislike about your product and adjust your strategy accordingly.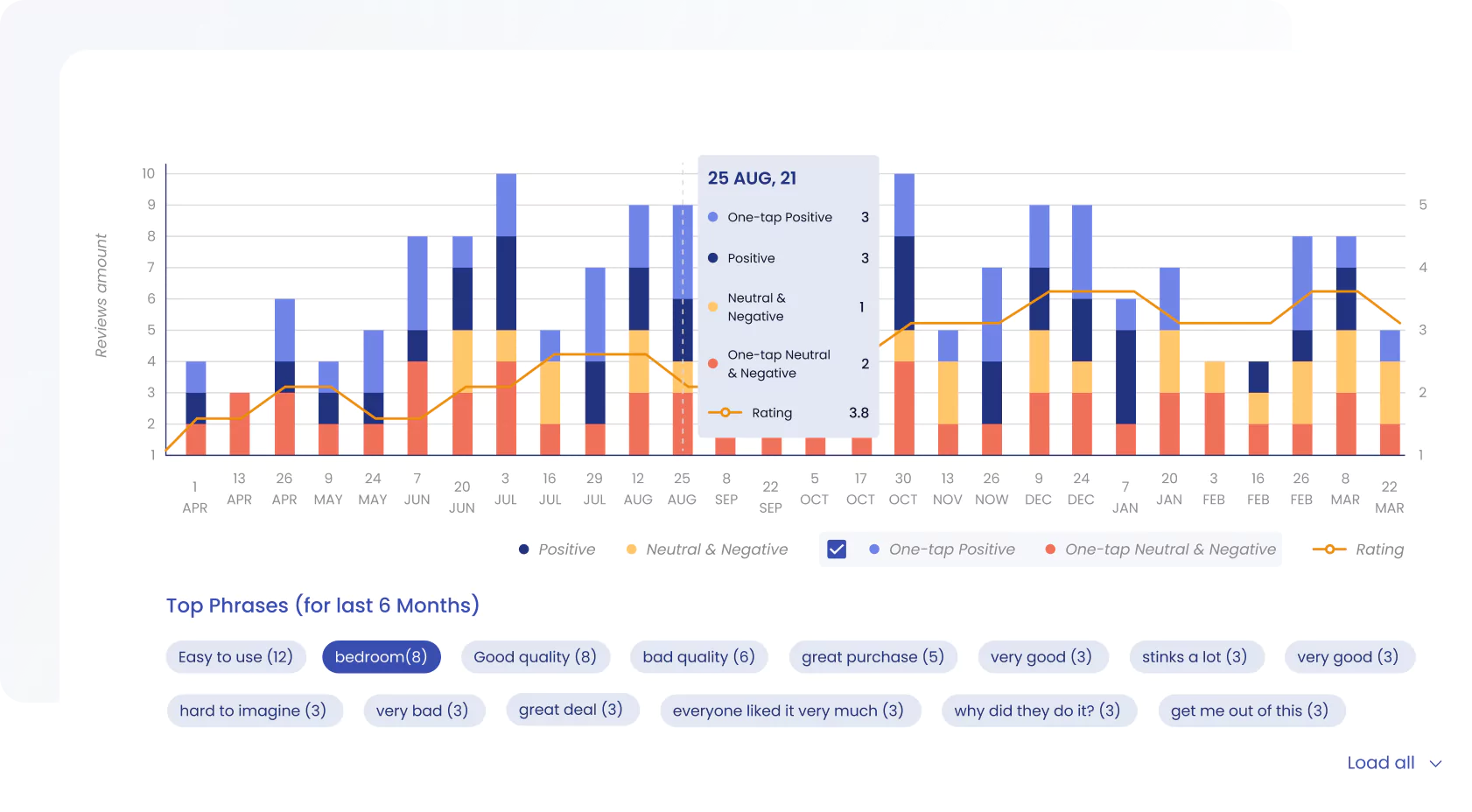 And if you sort reviews by one product, you can get a chart of reviews for it and top phrases. It enables you to quickly identify the strengths and weaknesses of your product based on customer feedback. You will see which phrases customers use most frequently in their reviews, giving you valuable insights into what they love about your product and what areas may need improvement.
FBA Calculator Updates
One of the obvious SellerSonar benefits is that it provides a simple yet efficient free Amazon seller fees calculator. The tool gives you a clear understanding of how much profit you are making on each product. Unlike a basic fees estimator provided by AMZ, SellerSonar's service more accurately handles expenditures and profit margin calculations. As a result, it allows merchants to see the bigger picture, measure their actual profits, and adjust their selling strategies. 
To calculate your fees and potential profits:
Find your product by entering the product's ASIN or URL. If you search for items by ASIN, pick a specific AMZ marketplace.

Click on the 'Check fee' button and wait a bit for the AMZ FBA calculator to find the necessary product information. 

SellerSonar's calculator will find the item and show its size and weight. Keep in mind that you can change the size and weight of the product. 

On the right, it will display the average price of this item in the marketplace as well as estimated FBA and commission fees. 

Your profit indicates the amount you will receive from each product sold and includes the cost of the product. So, to estimate the net profit, subtract all additional expenses, if any.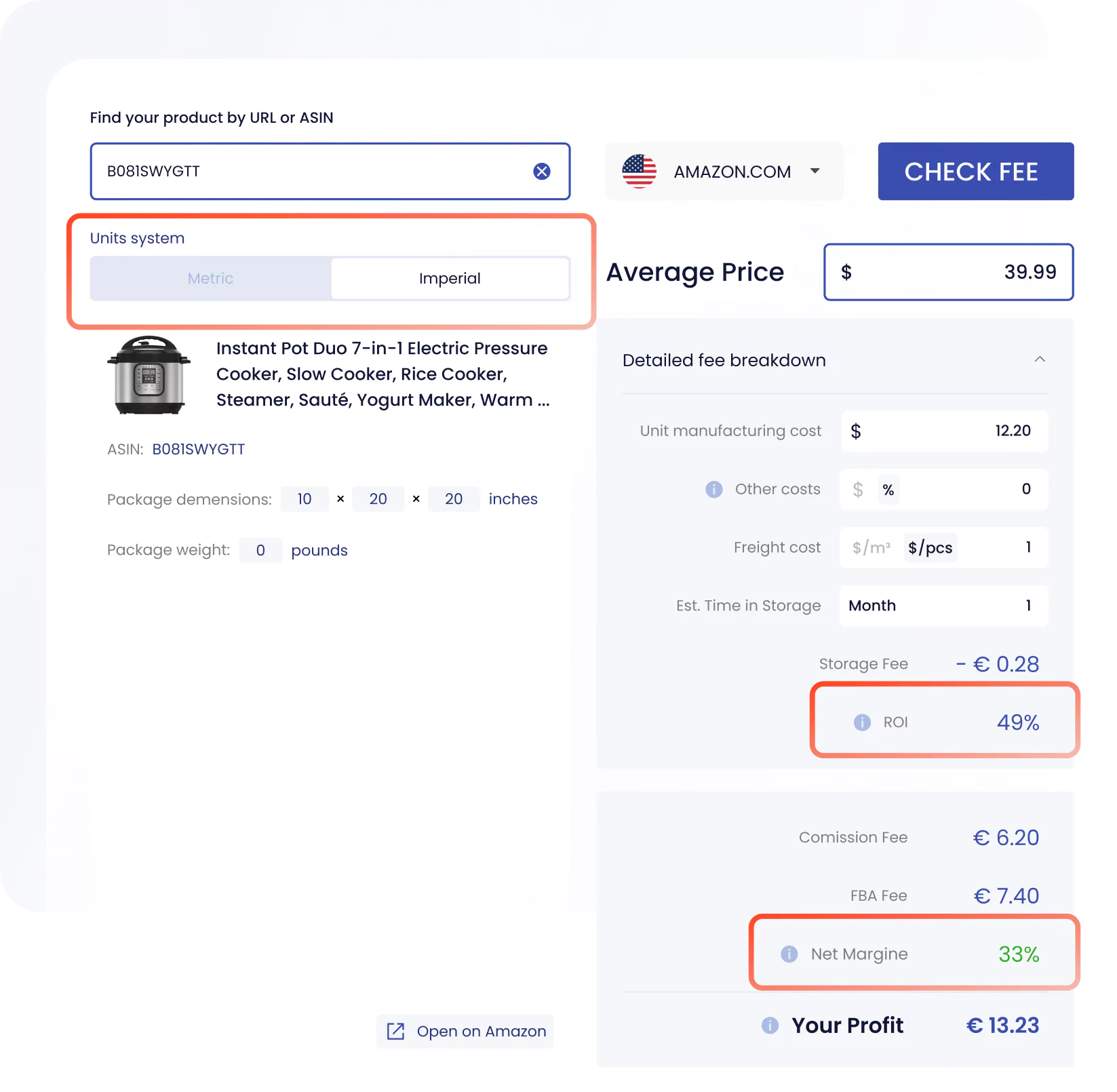 The FBA calculator in SellerSonar has been updated with new indicators of ROI and Net Margin, making it easier to calculate your product's profitability: 
Net Margin – the expression of profit as a percentage of the product price. 31%+ (highlighted in green) is considered a good result. 
ROI – your return on investment. If ROI approaches 100%, it's a good result.
Moreover, there are two measurement systems provided. SellerSonar uses the measurement system depending on your AMZ market (e.g., for the United States – the imperial system, for Europe – the metric one). 
Keyword Export for One Product
Last but not least, you can now export a report with organic and sponsored positions of your keywords for a product to analyze how it's performing in search results. Meanwhile, the All Keywords Tab allows export product rankings by a specific keyword. Thus, you can monitor the effectiveness of your keywords, find out which keywords are driving traffic, or boost phrases that are underperforming.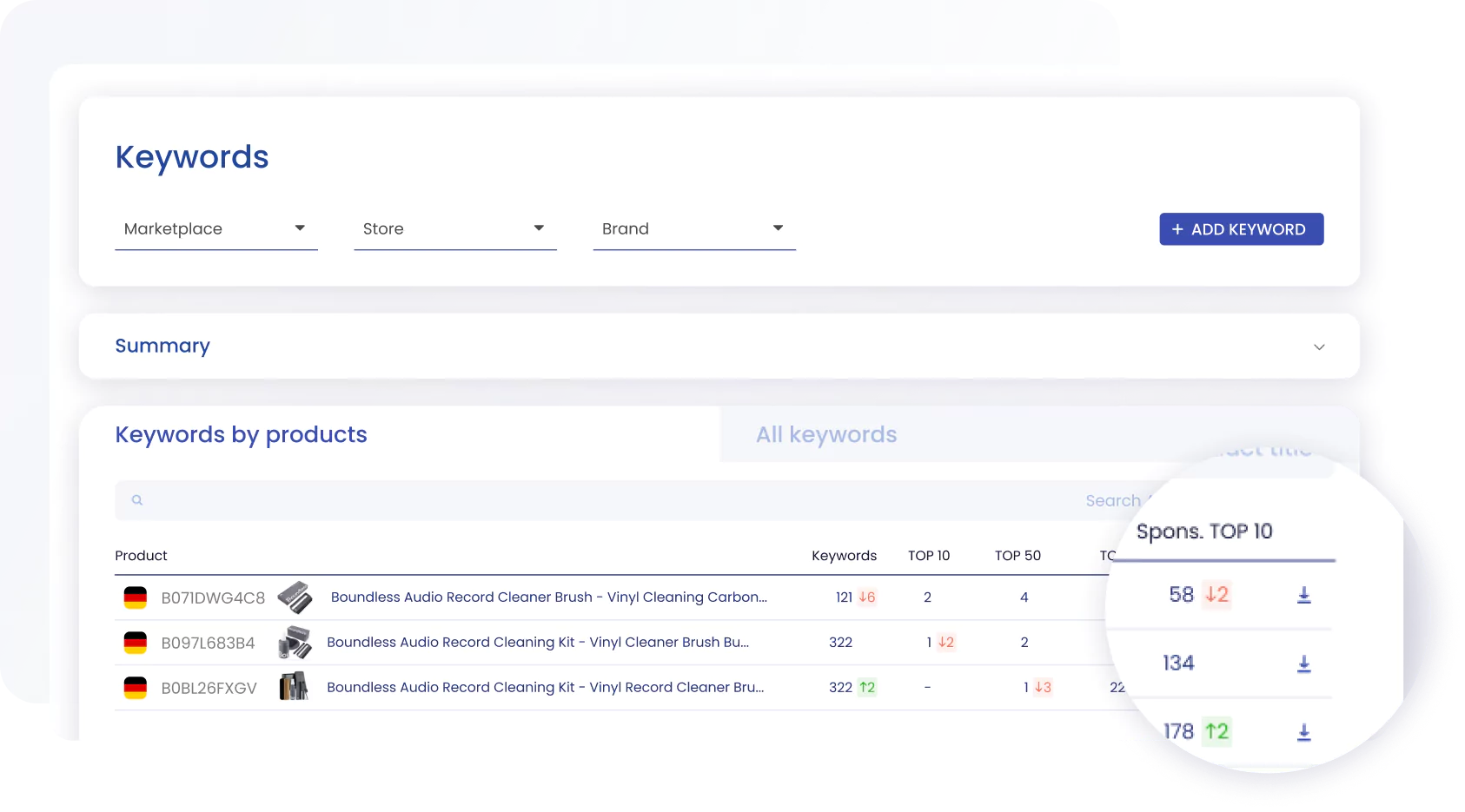 Don't forget that data export is also available for Products, Sellers, Notifications, and Reviews. SellerSonar allows you to sort your information by specific criteria and download a comprehensive report about monitored items in CSV or XLSX formats. 
We know that staying on top of your Amazon sales game can be challenging, but with SellerSonar, you'll have everything you need to stay ahead of the curve. And the best part? We don't stop there. Our dedicated team is always listening to customer feedback and working tirelessly to ensure that you have access to the latest and greatest tools to help you succeed on Amazon.
So, whether you're a new seller just starting out on Amazon or an experienced seller looking to take your sales to the next level, SellerSonar is the perfect solution. Register for a 29-day trial and do not miss a chance to be the first one to try out new features.