Not all clients will have the same preferences when shopping on Amazon. For instance, some may prefer a particular color over another or require a different size. It is where product listing variations, or Amazon parent-child listings, come into play. 
Using variations for your listings can significantly boost your customer's experience. Offering clients various buying options in one place makes it easier to find what they are looking for on уour store instead of searching through the crowded options.
It, in turn, can help enhance your product discoverability and conversions.
What are Amazon seller variations?
To put it simply, variations are multiple related items available for sale under one listing. For example, it means you can offer various colors and sizes of a shirt, different flavors of pet food, etc.
Before deciding whether to pursue product variations, it is necessary to understand if they are the right fit for your goods and whether your product listing can vary. You might consider variations if the following is true for уour goods:
Your items are very similar

You have at least one variation for the product

The separate items could share the same descriptions and titles

The items can share one parent product, meaning they're different product types of the same thing
Comprehending the architecture behind the listing variations tab is another way to measure if they're the right fit for your strategy on the Amazon marketplace.
What are the elements of Amazon listing variations? 
According to the platform, a listing variation relationship is composed of three components: 
Parent ASIN
It acts as the holding spot for the variants and is a non-buyable entity (for example, a T-shirt).
Child ASIN(s)
These are the actual variants of your parent that you can purchase. In addition, sellers can have multiple ASINs under one related parent listing (for instance, a small, red, short-sleeve T-shirt).
Variation theme
It is the type of variation that defines how related goods differ. Examples of different Amazon variation themes are color, size, flavor, etc. 
You might use only one variation theme per listing, but some themes might combine two variations for specific categories. 
For instance, if you wish to sell a T-shirt in multiple sizes and colors, you should use the 'SizeColor' variation theme to help уou provide various colors and sizes on one product listing. You can always change the listing and add or remove different variations when needed with such a variation theme. In the example provided below, there are four variations:
Small blue T-shirt

Large blue T-shirt

Small red T-shirt

Large red T-shirt
If you provide more size options or colors down the line, you may easily add them to your variation family.
Here's what the real variation families on a clothing listing look like: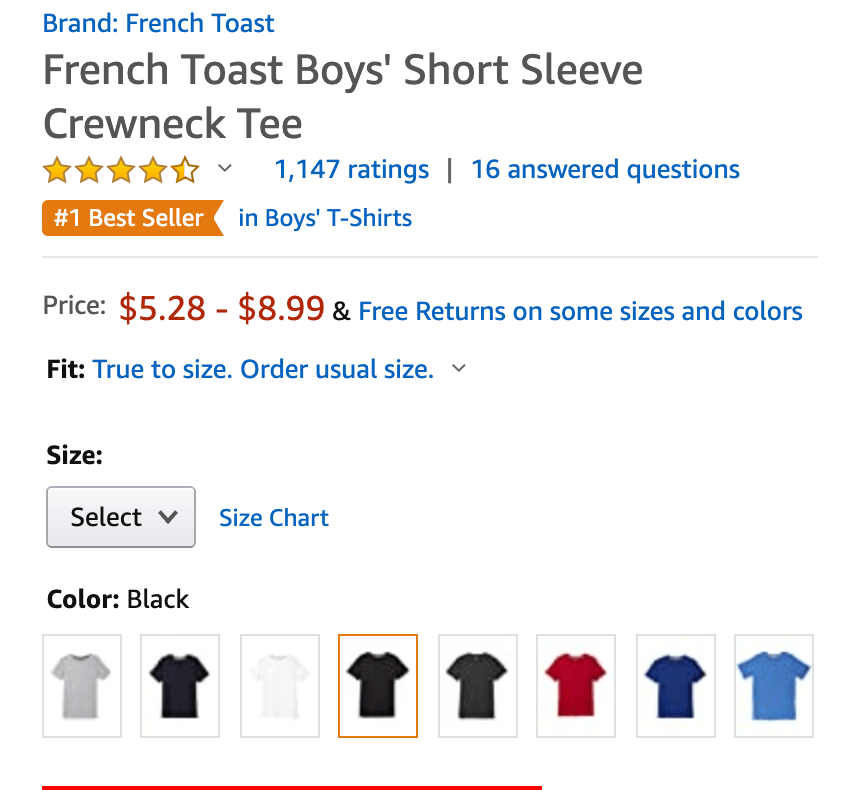 This Amazon seller used the 'ColorSize' variation theme for the listing. As you can see, there's a drop-down menu to select the size and the color you prefer. 
The idea of a parent-child listing is easy, but adding a variation listing or adding some variations to your existing product listings can be a confusing issue for some Amazon sellers. 
So, this article will explain how to create a variation listing on Amazon and cover everything you need to set up and optimize your product variations.
How to Track Amazon Variations with SellerSonar? 
SellerSonar allows you to monitor your Amazon listings and their variations. It provides real-time updates on product changes, such as title updates, price adjustments, new reviews, and more. By tracking these changes, you can stay informed about your listings' performance and adopt your seller strategy.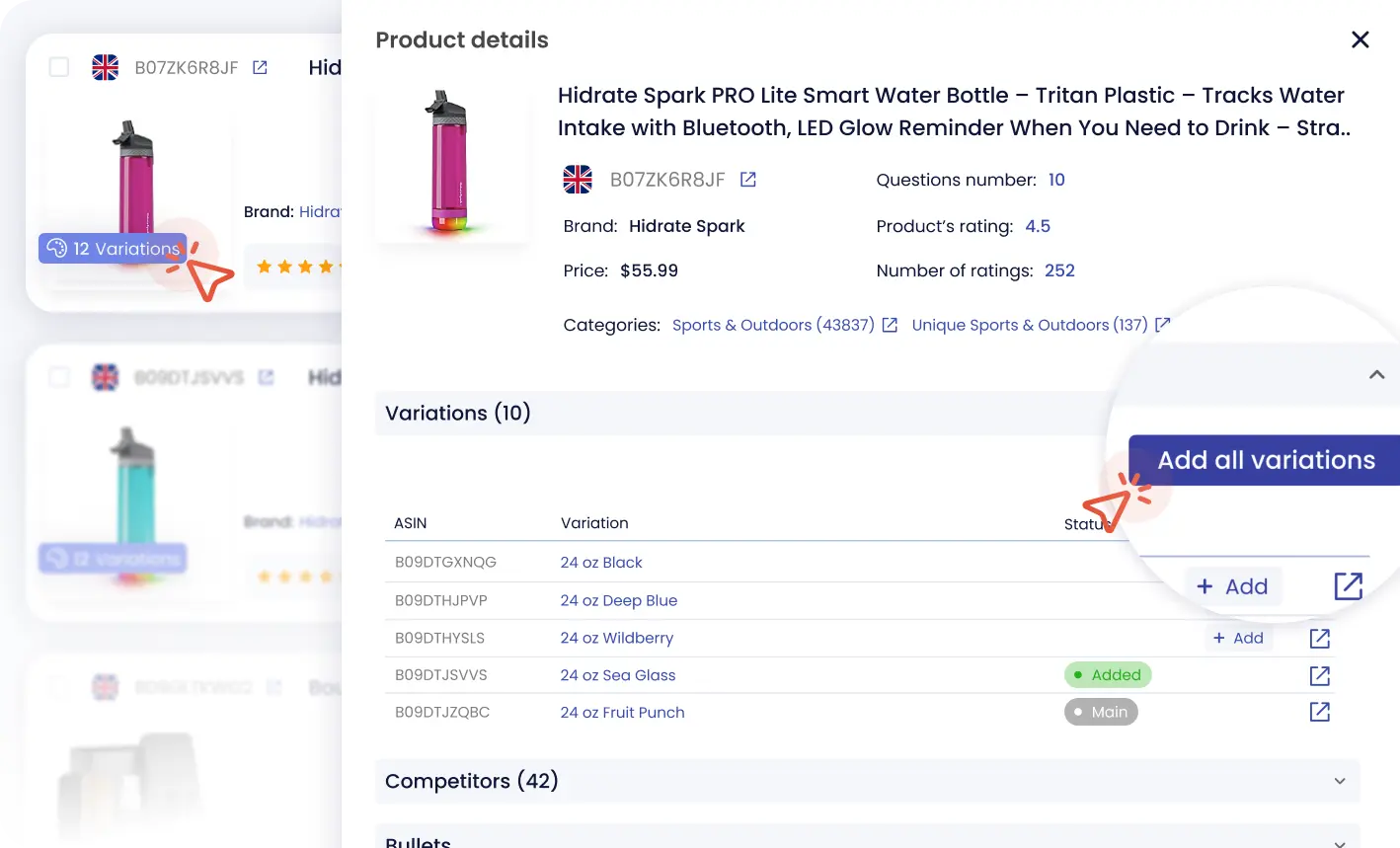 With SellerSonar, adding product variations is a straightforward process. In one click, you can add variations, such as size, color, or style, to your existing listings. It helps you manage and track different product options seamlessly.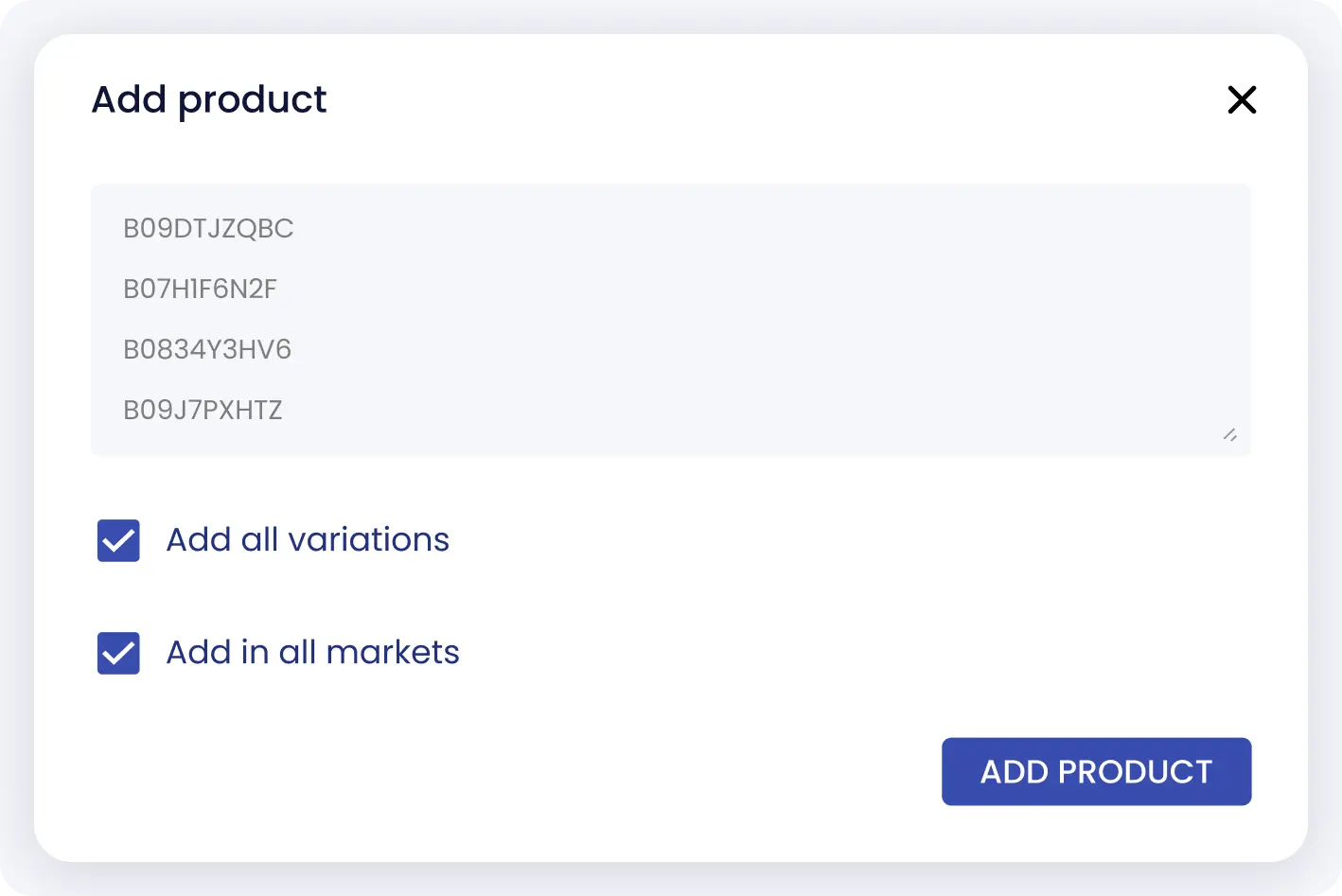 The tool will send you instant alerts for important events related to your listings and their variations. You can also set up customized alerts to receive notifications for specific changes or actions, such as when a competitor changes their price, when a product goes out of stock, or when you receive negative reviews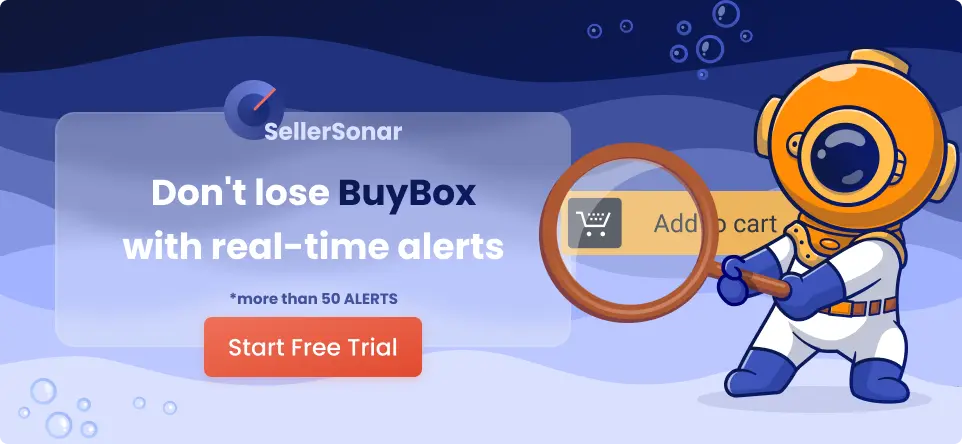 What are the advantages of Amazon variations?
Developing a brand new product listing variation or adding one to an existing Amazon listing can benefit your overall selling strategy on the platform. 
Enhance conversions
The most considerable benefit to adding variations to the listing is that clients have multiple options to choose from without having to click in and out of many product listings to find the color/size/flavor etc., they are looking for. It increases conversions. 
Boost discoverability for each child listing
Combine brand-new or low-performing goods with higher-performing ones to raise the discoverability of the poor-performing or new items. For instance, say you launch a new pet food flavor. Then, rather than creating a new product listing without reviews, you can add your new flavored product as a variation to an existing pet food listing (that can be your or another seller's existing listing — check how to do it below).
Combine product reviews for each child listing
No matter which listing variation your client purchases, the reviews on all the variations will add up and be listed under one parent listing. Returning to the previous example, it is conducive when adding a new variation to an existing product listing with reviews. 
Add up the sales history
Every sale on your product listing without regard to the variation will be included in the overall sales history of your listing. It will help grow your organic search ranking and your overall Best Sellers Rank.
How to add a variation to your listing on Amazon?
How to create a parent listing on Amazon? There exist two ways sellers can create a brand new listing or parent-child listing on the Amazon platform. They can do it manually through their Amazon Seller Central dashboard or fill in and upload a particular inventory file.
For that, in your Seller Central account, hover over the 'Inventory' tab and then choose 'Add a Product.'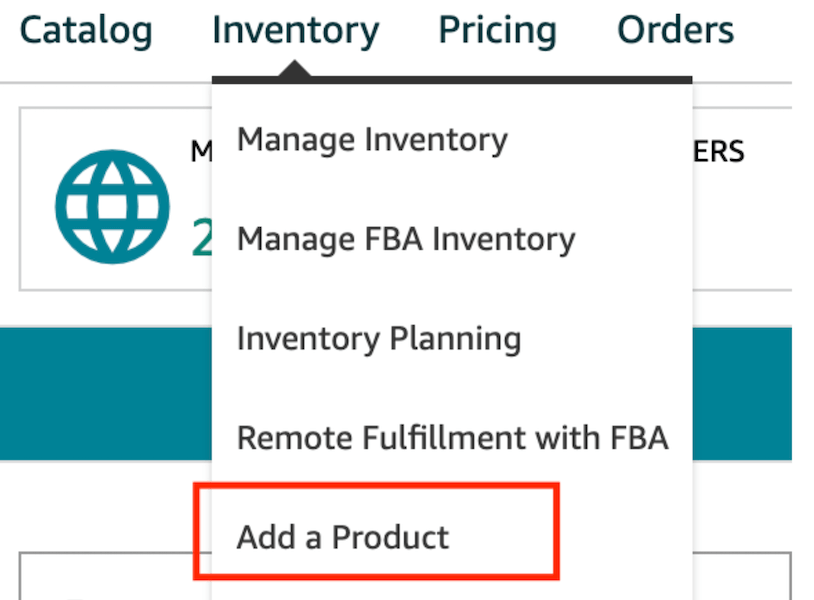 Next, select,' I'm adding a product, not on Amazon.'
You might either search through the categories to spot your item in this tab or use the search function below. As soon as you find it, choose the matching category.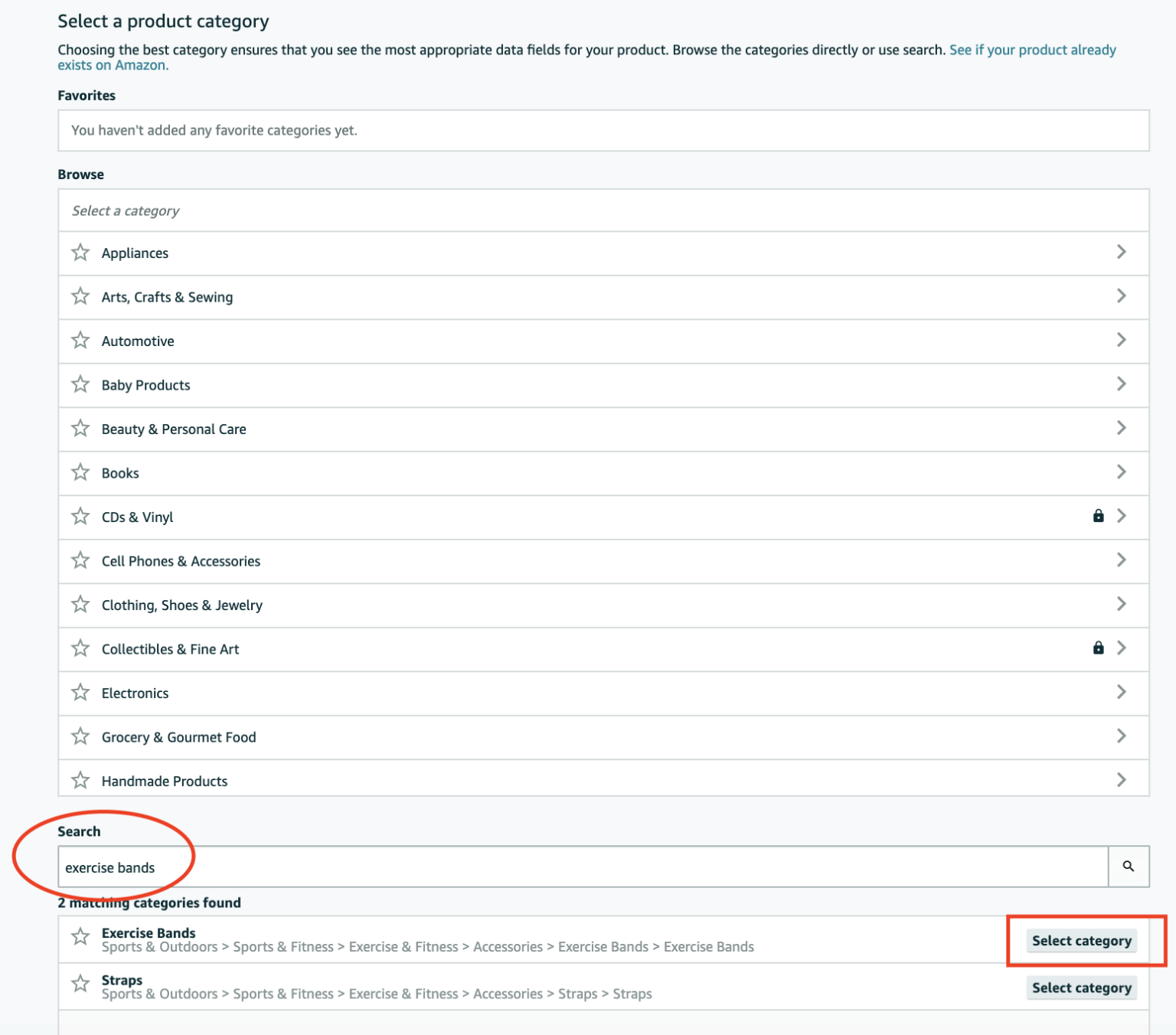 You need to enter the info into the 'Brand,' 'Product Name' (title), and 'Manufacturer' sections on the next page. As you add many variations, leave 'Product ID' blank.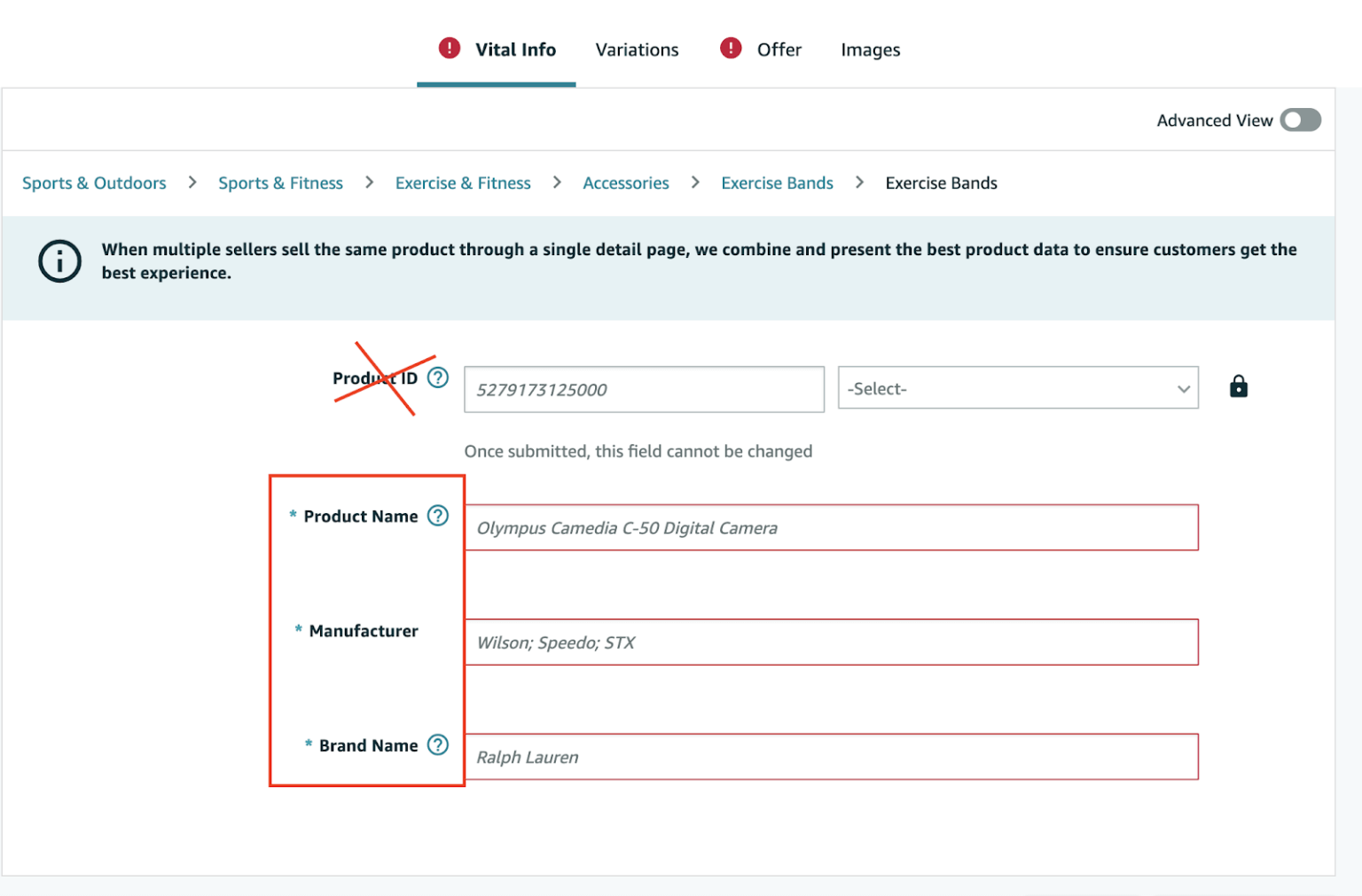 After filling in your 'Vital Info' tab, proceed with the 'Variations' section and choose your 'Variation Theme.' Keep in mind; the theme is the type of variation your item is. We chose 'Color Name' for this example as our products will vary only in color.
Fill in all the colors you are going to sell and click on the 'Add Variations' button to create variations.
Then, enter the product ID, product ID type, price, condition, and quantity. When selling FBA, set the amount to zero.

After entering all the necessary info, click 'Save & Finish.' Within about 15 minutes, your parent-child product listing will appear in your 'Manage Inventory' tab!
And that is all it takes to create a brand new variation listing from scratch.
Variation for an existing Amazon listing
How to combine existing listings into variations on Amazon? There may be a situation where you would like to add a specific variation to a product listing created by another Amazon seller. Unfortunately, you cannot add variations to another merchant's private label listing when the brand is different. So, the following instructions from Amazon's help page will apply if you sell a similar product using the wholesale or arbitrage method.
Find the product details page for an existing parent product and look up its ASIN. The parent ASIN # is located in the Product Detail tab on any child ASIN detail page.

In the inventory file template, add the new child ASIN's info and fill in the required fields exactly as if it were a child within a parent-child variation set.
Note: Remember to match the Variation Theme field to the existing parent ASIN.
Add the parent product, enter the fields that make up the parent-child relationship with the new product, and mirror the child product's variation theme. For instance, in the Parent item row, don't forget about the following points:
In your SKU field for the parent row, you might leave the field blank (if you want the system to generate an SKU number automatically), or уou might choose any alphanumeric string of up to 40 characters. Still, you should be unique to your listings and not duplicate any other products.
Mention the parent ASIN in the Product ID field.
For the Product ID Type section, enter the product ASIN. It will associate your new child product with the ASIN of the existing parent product.
In the dedicated Update/Delete column, fill in the following:
Update – for your parent SKU (as we're creating this parent in the inventory from scratch)

PartialUpdate – for your child SKU(s), given that these child SKUs are already included in your stock.
Keep in mind: If the child's ASIN is already added to your inventory, use "PartialUpdate." If not, use "Update."
Confirm and upload the final inventory template. Ensure to enter all the mandatory(*) info. 
How to drive sales from Amazon variation listings? 
There are some crucial tips you can use to enhance your sales volume using listing variations:
Mark the best item as your main listing

so that potential customers can click on уour item and view the child listings. 

Make use of A+ Content

. The Amazon marketplace says that A+ Content improves the overall sales volume of goods by 3 – 10%. In addition, clients have higher customer satisfaction with goods when they know more about them.

Ensure to add multiple product pictures with clear and high quality that can help convert

. According to recent findings, the sweet spot is six pictures.

It's a great idea to use a specific Amazon keyword tool

that provides the stats of what customers are searching on the platform's search results and helps you sweeten your overall Amazon SEO. SellerSonar's Amazon keyword feature can help you spot some of the top-searched keywords on the marketplace to achieve a competitive edge in your niche. 

You should monitor and manage your product listing quality after adding your goods

. It will help you define the level of discoverability and desirability of your listing variation.

An excellent way to monitor уour Amazon listing quality, and check if your listing variations rank high enough or not, is by using SellerSonar. With the app, you can monitor changes to your products, get alerts on alterations of product titles, images, new sellers, Best Sellers Rank (BSR) drops, and much more without even having to log in to your Seller account.
Register for SellerSonar's 29-day free trial now and get automated Amazon listings monitoring!