Greetings to Amazon SBA, the new initiative from the marketplace aimed at offering customers the lowest prices on any marketplace by promoting competitive pricing. While this sounds promising to consumers, as a seller, you might be questioning how this program can benefit you, or maybe you think it won't.
In this blog, we'll provide sellers with a comprehensive guide to the Sold and Shipped by Amazon program, and we'll also discuss some pros and cons to consider before enrolling your items in the Sold by Amazon program.
What Is SBA – Sold By Amazon?
"Sold by AMZ or SBA offers a new way for FBA listings to grow their business without any effort. It means Amazon will take over the pricing of your Amazon-sold items, so you don't have to worry about it.
The marketplace constantly monitors and changes the pricing of your FBA listing to make sure that it stays competitive. It is great news for customers who are always looking for the best deals. But as a seller, you may be worried about your profit margins. That's why AMZ will agree to a minimum price that you'll receive each time one of your products is sold, even if they sell it for less than that price.
So, it's important to understand the benefits and drawbacks of enrolling your items in Sold By Amazon. Keep reading to learn more.
How to Find Products Sold By Amazon?
So, how to find items sold by Amazon? At present, searching for products sold by AMZ directly requires accessing the desktop version of the Amazon.com website via a web browser. Start by loading up AMZ or your country's equivalent, and then type your desired item into the search bar before pressing "Enter."
To discover products directly sold by AMZ through a search, you must access the Amazon.com website via a web browser on your desktop. Once there, type in what you're looking for in the search bar and press "Enter."
As the search results appear, take note of the left-hand sidebar. In the "Department" section, choose a category that's most relevant to your search query. It will help you refine your search.
Next, keep scrolling down until you spot the "Seller" section on the sidebar. Finally, select the checkbox next to "Amazon.com" to limit the search results to items sold directly by AMZ.
Once you've selected "Amazon.com" as the seller on the desktop version of AMZ, you'll see only items that are procured, owned, and sold by the platform. To double-check if Amazon sells a particular item, check the area under the "Add to Cart" and "Buy Now" buttons. If it says "Sold by AMZ.com," you can rest assured that the product will come directly from the platform and not from a third-party seller. This information might also appear under the price, such as "Ships from and sold by Amazon.com."
You can also find this information on the AMZ app on smartphones and tablets. Look for the "Sold By" information under the "Add to Cart" button. If it doesn't say "Sold By Amazon.com," then the product came from a third-party seller.
To narrow down your search results on the desktop version of AMZ, type in what you're looking for in the search bar, then locate the "Department" section in the sidebar on the left side of the screen. Click on one of the departments that apply most to what you're looking for, and then scroll down in the sidebar until you see the "Seller" section. Check the box next to "Amazon.com," and the search results will reload with only items sold by the marketplace listed.
Benefits and Drawbacks of Sold By AMZ
Let's take a look at the advantages and disadvantages of enrolling in the AMZ SBA program:
SBA benefits 
Competitive pricing

: With AMZ taking over the pricing of your products, you can rest assured that your prices will remain competitive, potentially leading to increased sales.

Increased visibility

: Products enrolled in the SBA program may receive increased visibility on the platform, as the company may choose to feature and promote them.

Streamlined process: Enrolling in the SBA program can save you time and effort, as the marketplace will take care of pricing, shipping, and customer service on your behalf.
No cost

: There are no fees to join the program, so it won't affect your profits.

Product selection

: You can choose which products are enrolled in the program, giving you more control over your sales.

Buyer confidence

: When a product is listed as Shipped and Sold by AMZ, it can make buyers more confident that the product is authentic and high-quality.

Listing optimization: Amazon only controls the pricing, so you can still optimize your product listings as you see fit.
SBA drawbacks
Minimum gross proceeds (MGP)

: While the company prioritizes giving customers the lowest possible prices, this can result in low margins for third-party sellers.

Potential for limited to no benefits

: Even with AMZ handling pricing, no guarantee enrolling your products in the SBA program will lead to increased sales. It is because Amazon's primary concern is the customer, not the seller. Consequently, pricing that's "competitively priced" may not be what's best for your business.

Negative effect on branding

: Customers may perceive your brand as a budget offering, which can make it challenging to build a strong reputation and sell items at a premium

Limited control

: While you do have some control over which products are enrolled, AMZ ultimately has the final say in the pricing and promotion of your products.

Competition

: Because the marketplace promotes a wide variety of products, you may face increased competition from other sellers enrolled in the program.
To summarize, while enrolling in the Amazon SBA program is free, it may not provide significant advantages. However, as an FBA seller, you already have access to Amazon's extensive fulfillment network, and your products can be eligible for Amazon Prime, which offers numerous benefits to customers.
How to Optimize Your Listings with SellerSonar Keyword Tracker? 
You can leverage the SellerSonar tool to identify high-ranking keywords from your competitor's product pages and add them to your listings. The keyword tracker gives you a dashboard with data-driven information on keyword search results, ad, and organic ranks. It helps to stay aware of any changes in the search performance of your products to optimize your SEO.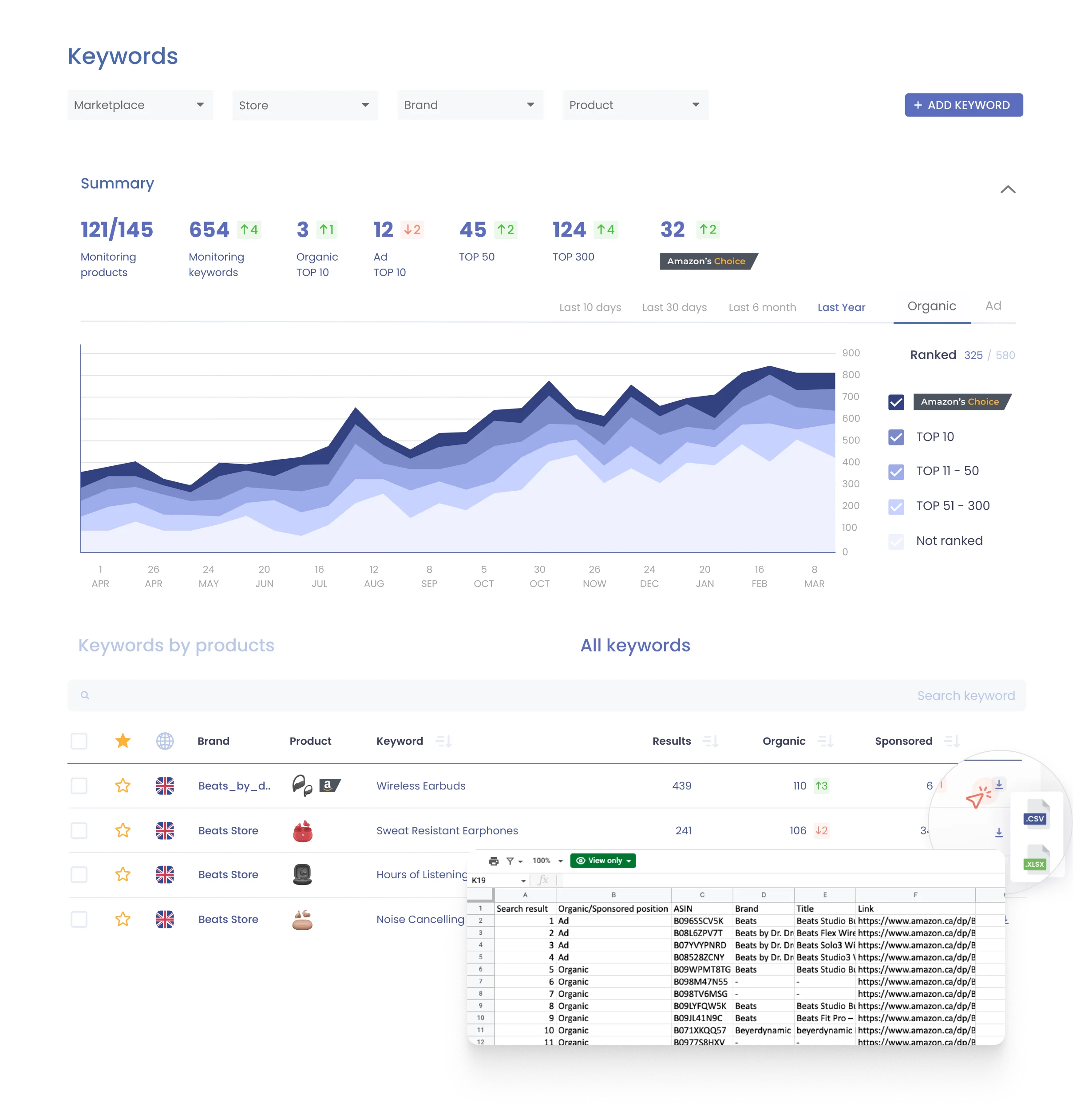 Who Is Eligible for Sold By Amazon?
To be eligible to participate in the SBA program in the United States, sellers must meet specific requirements set by AMZ.
The eligibility requirements include having a Verified Business Account, a Professional Selling Plan, an approved product catalog, and compliance with Amazon's Seller Agreement and applicable laws. Furthermore, the products listed for sale on Amazon must adhere to the requirements of your Selling Agreement.
What Items are Eligible for Sold by AMZ?
The marketplace has stringent guidelines and requirements for products sold through the SBA program. One of the essential requirements is that products must be new and in compliance with Amazon's Selling Agreement. In addition, products must have a valid Universal Product Code (UPC) or European Article Number (EAN) and must not be subject to hazardous material restrictions. These requirements help customers receive high-quality, safe products when purchasing through the SBA program. As a seller, it is essential to thoroughly review and adhere to these guidelines to ensure your products are eligible for the program.
Steps to Register for the SBA Program
If you choose to leap, AMZ made it very straightforward to participate in the new program. 
Step 1: Enroll in Brand Registry.
You can enroll in the SBA program if you have already registered your brand with AMZ. If you still need to, you will need to register your brand with AMZ through their brand registry program, set up a professional selling account, and list your products in the FBA program.
After completing all of these steps, you can easily register for the SBA program by accessing the settings section in your Seller Central account information.
Step 2: List Sold by Amazon products. 
Once you have completed the registration process, all items Sold and Shipped by Amazon will have an assigned MGP amount through the Sold by Amazon program. You can then select the SKUs you want to enroll in the SBA program. Next, access the eligible listings through the 'Manage Inventory' view and submit them for enrollment.
Takeaways
The SBA program provides a way to keep your product listings competitive while ensuring a minimum profit. There are no contractual agreements binding you to participate in the program. If you decide to unenroll from the program, a simple 2-click process will get your items out of it. Sold By AMZ is not a permanent commitment.
Whether you decide to enroll in the SBA program or not, it's essential to approach selling on AMZ strategically and keep an eye on your product listings. You don't have to bear the entire burden alone, though. We highly recommend leveraging third-party services to help you grow your business without the added stress.
SellerSonar monitors your product listings 24/7 and sends you real-time alerts on critical changes. So you can protect your business and handle issues before they become harmful. Sign up for a free 29-day trial!