Have you ever thought of making money on Amazon if you're not a seller investing lots of money in the inventory? Though you may not be aware of it, there are at least a dozen of different ways how to make money on Amazon apart from selling products. For that, you don't need to be an Amazon employee either.
Contrary to a generally accepted belief, Amazon is not only a place for traditional e-commerce trade. It offers a lot of lucrative opportunities to third-party entrepreneurs. Among the popular ways to make money on Amazon, you can select anything ranging from trading in the used items you don't need anymore to becoming an Amazon assistant for sellers or writing and publishing your own books. One of those is the Merch Amazon program.
As a matter of fact, if you are creative and generate the ideas people like, you can easily earn by creating designs with Amazon Merch. This print-on-demand service offered by Amazon allows you to sell your t-shirt designs without any upfront costs.
If you are interested, proceed to read and find out what is Merch by Amazon and how to sell Merch by Amazon products.
What is Merch by Amazon?
Merch by Amazon (Merchandise by Amazon) is an on-demand printing service allowing content creators and merchants to sell their t-shirt designs.
With this service, you can offer to Amazon buyers and other customers branded products of your own design that Amazon produces, sells, and ships for you. Good thing is that there are no upfront costs involved. When a customer buys your shirt, you get paid royalties.
However, you have to bear in mind, that Merch is an invite-only program. This means that to enroll, you have to be approved by Amazon.
Is Merch by Amazon Worth It?

Making money in a creative way
Selling merchandise in the marketplace is not only a method of earning cash. It is also a test of your research skills and creativity. In other words, this is a challenge and a lot of fun. On top of that, there's no risk that you'll lose money.
Growing your fanbase
Merch by AMZ allows you to convert popular ideas or game characters you discuss with your fans into branded T-shirts. On the one hand, your existing fans will want to share the artifacts with the outer world and wear the t-shirts with these images. But, on the other hand, you'll get new followers.
Access to a huge customer portfolio
On top of your growing number of social media followers, Amazon offers you the possibility to take advantage of its multi-million audience. In addition, you get access to Amazon's advanced customer services and expertise. Enhanced distribution, logistics, shipping, and marketing options from AMZ help you arrange the sales process. At the same time, reporting tools assist in monitoring your income.
How Does Merch by Amazon Work?
Merch by Amazon is a simple and cost-effective opportunity to start selling branded items on Amazon. What you have to do is upload the artwork for your product, select colors, set a price, and submit it. Amazon will take care of the rest. Then, when the t-shirt sells, you'll get a royalty. Apart from earning money, Merchandise helps take your followers to the next level and drive more traffic to your website if you have one.
Step-by-step Merch on AMZ process
Step 1. Register an Amazon account.
Step 2. Upload your artwork as per Amazon's design specifications.
Step 3. Set a price.
Step 4. AMZ creates your product listing.
Step 5. The customer purchases your t-shirt.
Step 6. AMZ prints the order packs it, and ships it with AMZ Prime.
Step 7. You receive monthly royalties.
What Do Sellers Need to Get Started?
Imagine something you can get your masterpiece on. 
Below are the things you will need to start selling with the Merch by AMZ program:
An active bank account, identity proof

(tax information or SSN), and

routing number.
A digital design app or studio

. You can find many such tools available on the Internet, from

Canva

(beginner-friendly and free ) to the

Adobe graphic design suite

(more comprehensive for designers). 

A top-notch design idea

. It is time to be creative and draw up something that draws buyers' attention (

and

influences their "add to cart" decisions!)
It sounds simple, but that is really all you require to get your custom AMZ merch item out there on the marketplace.
How to Apply for Amazon Merch?
At the moment, Merch by Amazon is an invite-only program. Because of the tough competition, you'll need to go through an invitation process before you can produce Amazon Merch products.
You can enroll in Amazon Merch in two ways:
Amazon team

sen

ds

you

an invitation, or

You file a request for an invitation on the Amazon Merch landing page and get approved.
Application for Merch by Amazon
#1. Sign in to your Amazon Account or create one.
#2. Click the 'Request Invitation' button.
#3. Accept the services agreement.
#4. Click 'Begin Application.'
#5. Enter all information requested:
Organization name;

Industry type;

Website (optional);

Additional information (optional).
#6. Wait for Amazon approval.
Once you've filed an invitation request, you'll be placed on a waiting list. Keep in mind that it can take several months to get approved by Amazon.
Note: Carefully fill in all details. The 'Additional information' field helps the Amazon team identify your uniqueness and ability. Depending on how you present your details they may or may not accept your request. For the same reason, it's good to have a website with your artwork.
How Much Can You Earn from Merch by Amazon?
When shoppers purchase your Merch by Amazon products, you'll get a royalty.
Royalty Calculation
The royalty depends on the product's purchase price you've set. On average, you can make around 25% (between 13% to 37%).
Amazon deducts taxes and costs from the purchase price of each sale and you'll get the difference. Amazon's costs include materials, production, fulfillment, customer service, returns, exchanges, and fraud prevention expenses.
For example, in the U.S. a standard t-shirt purchase price can range from $15.99 to $25.99. In such a case, your royalty will be from $2.21 to $9.77 per sale.
The detailed royalty calculation examples depending on the country and t-shirt type you can find here.
What Content Can You Sell on Merch by Amazon?
All artworks you submit on Amazon Merch should contain fresh, new content. You are not allowed to use the designs that someone else holds intellectual property rights. When you submit your work, Amazon may not approve it because they consider that it contains trademarked content.
On the other hand, you can use someone else's design ideas or concepts unless you duplicate them. Also, you can obtain the owner's permission to use their artwork.
On top of that, Amazon doesn't allow for offensive or controversial content.
Dos and Don'ts for Amazon Merch Products
Do
Create understandable, innovative, and aesthetic designs with appropriate placement, color, and size;

Check the artwork and product descriptions for misspellings;

Use element colors that are clearly visible against the product background;

Make sure that the content is allowed on the marketplace where you're going to sell.
Don't
Produce a design or product description with misleading information;

Apply terms that describe the product (shipping promises, sizing, etc.).

Implement wordings related to accidents, natural disasters, and shootings.
Read more about the Content Policy on Merch by Amazon here.
How to Promote Your Merch?
If your Amazon Merch account is eligible to register for Amazon Advertising, you can promote your products using the PPC techniques similar to those you apply to other Amazon inventory. You should research highly relevant keywords, include them on your product listing, and bid on them.
Amazon Merch allows you to launch both Sponsored Product and Sponsored Brand campaigns.
Sponsored Products
Sponsored Products display your ads to buyers on search results and product detail pages. This type of ad campaign helps you reach a wider audience and promote individual listings.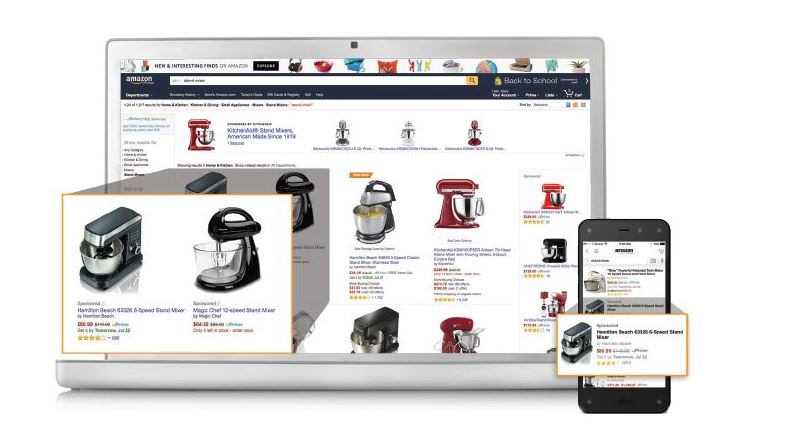 Sponsored Brands
Sponsored Brands appear above search results. These ads increase brand awareness. It is possible to advertise 3 ASINs at once. With these ads, you can lead customers to your store or website.
Read more about promoting your Merch products and recommended ad budgets here.
How to create an Amazon Merch Product?
When you've selected the artwork for your t-shirt, it's time to make a product out of it.
Creating Amazon Merch Product Step-by-step
Step 1. Start Adding a Product
When Amazon approves you, they'll send you an Amazon Merch Dashboard. In that dashboard, you can create new products or edit existing ones.
To create your first product, click the 'Add Products' button.
Step 2. Create Your Design
To proceed, click the 'Upload Artwork' button. To create a design, you can download Amazon templates. Amazon offers design templates for Adobe Illustrator to help you with the placement and sizing of your design.
Follow Amazon Merch's Best Practices for the design quality. Uploaded product designs should be in sRGB (the standardized RBG color space for digital graphics). They have to be transparent PNG files not exceeding 25MB.
Step 3. Upload a Product and Set a Price
When you've uploaded your artwork, Amazon will start an approval process. It includes eight stages: 'draft', 'under review', 'rejected', 'processing', 'pending your approval', 'live', and 'removed'.
When your product is approved and goes live, wait for your customers to buy it.
Tips for Your AMZ Merch Items
Research is your key to success. Use the free tools to look for your phrase with the AMZ Merch category.

Avoid copyright violation. Check relevant platforms if you are unsure. If you utilize a copywritten term/quote/image, then you risk getting your entire account blocked without warning.

Use well-written descriptions and bullet points in your listings. It may result in up to a 40% increase in sales for FBA sellers.

Discover a niche market and develop new ideas.

Use

Google Trends

to check what search terms are trending on the web. Besides, keep an eye on any significant events happening.

Collaborate with local businesses.

Advertise your designs by making Twitter and Facebook posts in the promotions section within Merch by Amazon.

Examine your sales.
If you made up your mind to earn from selling on the platform, monitoring software is an efficient way to stay on top of your sales. SellerSonar offers instant Amazon alerts to protect your sales. You are aware of listing changes, Buybox hijackers, new/deleted reviews, keyword rank history, and product suppressions with us.
Try SellerSonar now. Register for our 90-day trial and boost your incredible journey of running your business on the platform.