Starting a business on Amazon in 2023 is more complex than before: the effects of the pandemic and increased competition, including from the marketplace itself, affect even the most experienced sellers. However, a Seattle-based online giant continues to grow profits and market reach at a fantastic rate. And therefore, it remains the most promising platform for online trading worldwide.
Once your goods are ready, you need to concentrate on their launch and ensure that you keep a fool-proof item launch strategy prepared. Why? Because if it fails, all of the time, money, and hard work will be in vain. It's very disappointing to see the failure of new items. This guide will provide five steps to successfully and easily create buzz around new goods and get them moving.
Why Try Selling a New Product on Amazon? 
Amazon monthly visits exceeded 2.2 billion in December 2022. Statistics prove that more than 80% of American shoppers do not use any other online stores and do not search for anything on Google – they go directly to Amazon. Of those who use other stores, 90%, first of all, check the availability of goods and the price on Amazon. Ninety-five million Americans have premium accounts on the marketplace and spend an average of $1,400 per year. 
What does it mean for you as a seller? First, it means launching a product on AMZ gets them in front of the eyes of millions of interested visitors. That is the kind of exposure that one cannot miss, especially for a growth-minded business!
The financial results of the platform are also impressive: revenue for 2022 is $490 billion, and net profit is $33 billion. At the same time, third-party sellers make over 50% of all sales. Amazon provides its third-party sellers with the most favorable conditions with its flawless tax optimization. Instead of the standard 21%, the marketplace has reduced income tax to 1-1.5%, and in the last two years, it has completely brought the figure to 0%.
Sounds promising, isn't it? So, how to launch a new product and stay ahead of the competition?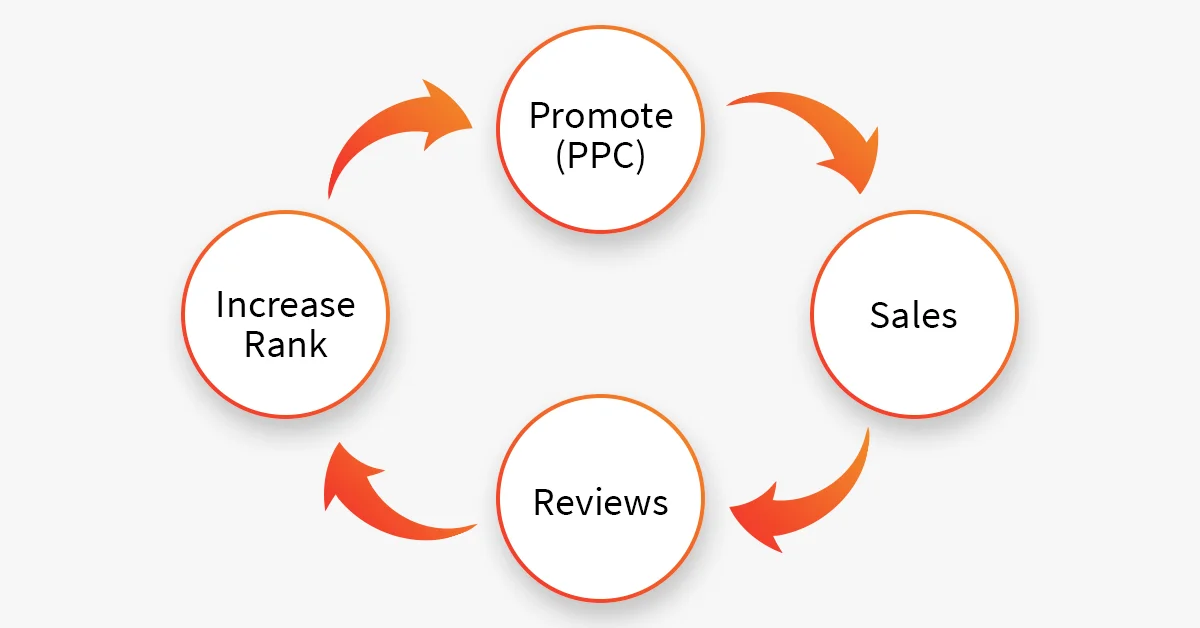 Step 1: Get the Buzz Started Before Your Amazon Launching
Creating suspense before the film launch has been employed successfully by moviemakers for decades. For instance, the Prometheus team utilized the Tedx platform to promote the sci-fi flick and even made a fictitious website with the company name used in this movie.
However, the entertainment niche isn't the only one that may do that. You will wish to practice the same concept with your item's launch.
Here's a bunch of things you may try:
Prepare blog posts about your goods so customers can jump right in once your product is released.

Register social media accounts so you may get potential clients to spread the word. Create a hashtag and add it consistently to your posts, then watch it roll along like a tumbleweed as shoppers use it themselves.

Be engaging with your content. One of the silliest things you can do is write updates and tweets that sound like an 80-year-old robot wrote them. Instead, prepare an interesting fact of the day or gently roast other brands like Wendy's does with McDonald's.
Step 2. Optimize Your Product Listing
Now that you can sell the product, it's time to list it on the marketplace. Use your time to create a compelling, informative, and unique listing.
Although this step is often overlooked, we cannot underestimate the importance of a well-written Amazon page. Unlike brick-and-mortar stores, Amazon doesn't offer its customers the luxury of seeing and interacting with its merchandise. As a result, your ad's words, images, and video play an essential role in giving buyers a complete picture of your item.
How to create an excellent product title on Amazon? 
Your title is one of the most critical Amazon product page optimization areas.
Here are some of the ingredients of a good Amazon product name:
Pay attention to the character limit: The title should be no more than 200 characters. Amazon may remove your listing if it's longer.

Make the information clear: The title should be informative and concise and ask visitors to click on the listing page.

Use your keywords: Include the most critical keywords in the title.

Specify your brand: The name must also include your brand.

Follow Amazon guidelines: The name must comply with the Amazon policy available on Seller Central.
How to create stunning images for Amazon products?
Great merchandise pictures increase your chances of selling the goods for any e-commerce company. Here are some components of proper product images on AMZ:
Use a white background: Main images should be on a light white background.

Optimize pixel density: To scale up the page, images must have at least 1,000 pixels on their longest side and 500 pixels on their shortest side.

Take real photos: Whenever possible, use real photos of your product instead of computer-generated pictures.

Include lifestyle photos: Show how your product can be used in real life.

Add details and alternative angles: Take pictures of your products and close-ups from different angles.

Add a pinch of editing: You can use services like Pixc or Fiverr or try out your photo editing options with Photoshop product photos tutorials.
How to write an effective Amazon product description?
It's a true art to write product descriptions that sell. It is vital to write sales pitches and determine which words will convert potential customers. Here are some components to describe the winning item:
Analyze features and benefits: Present the features and benefits of the product that are relevant to your target audience.

Solve a problem: Address the problem you are solving with your goods.

Let's say it: Form a consumer's perception of the relevance of this product.

Add a call to action: End with a strong call to action. Tell the buyer to buy!
Step 3. Add Unexpected Value for Clients
On AMZ, clients expect to get a well-functioning item promptly. Unfortunately, meeting these minimum customer service standards will hardly bring you the first few reviews. Thus, while launching a new item, you should try and create incredible value for your client and encourage them to share a testimonial – for exceptional client service.
This unexpected value may come in a discount for their future purchase order, freebie, or valuable online resources/information that complement the goods. 
Launching a new item is tricky: how do you convince shoppers to buy a product with no feedback, and how do you collect reviews for an item with no buyers?
Fortunately, you do not necessarily need to launch a product on Amazon.com first and empty reviews.
Instead, launch your goods on the website first, where you are entirely responsible for all the rules. Next, get feedback from respected sources, publish them on your website, and share your website on social media platforms, directing shoppers to your Amazon page.
You should build reviews on your Amazon site because customers will see that you are a reliable and trusted merchant.
Below are a couple of things you can use to gather customer feedback.
Provide exclusive discount coupons to your email list
If you're running an online store outside of Amazon where you have already gathered email addresses, you might leverage them to your advantage. Most of the shoppers on the list have probably either shown interest in your item range or bought from you before. Providing them with a certain discount via a newsletter with a link to the new Amazon listing enhances your likelihood of making some sales and creating a thriving product launch on the marketplace.
We realize that developing an email list from the beginning is a lot of work. However, it always pays off in the long-term perspective. So if you're currently readying to extend the product range and have a couple of months to prepare for the launch, creating a new email list may be an efficient way to get external traffic to the Amazon listing. Now and for your next product launch.
Get influencers on board
If your item is ready to go but has not reached its launch date yet, try contacting bloggers who reach the target audience in your market and make the goods available to them for free in exchange for feedback or review.
The most effective method is to check your competitor's items and search for the <product name> and "review." It will bring up all the bloggers who reviewed other sellers. Next, make a list of all these influencers in some Google sheet. Finally, utilize tools like Followerwonk or BuzzSumo to determine the influential people in your space. Add them to your list as well. Finally, send your goods to as many editors, writers, and bloggers as possible. The more people you reach, the better your opportunities of getting reviews are.
Connect with the target audience via Facebook
There are three ways you can use the Facebook platform to do it.
Depending on the goods you wish to sell, you can look for relevant Facebook pages and groups with members who may become the right target audience for a new product on Amazon based on their hobbies or interests. Then, text the group admin and request permission to publish a link to your Amazon listing with a related discount code.
Another path to use the power of Meta when selling a new item on the marketplace is via advertising. Facebook allows sellers to fine-tune their ad targeting so that they can reach visitors that will probably be interested in your merchandise. However, if you have never tried this sort of ad before and are not 100% sure what you are doing, it may quickly bleed out all marketing budget for your launch (and even beyond).
Last but not least, Facebook Bot might give an interactive component to your promotions on Facebook. Besides, it's the most practical way we know to get the first few sales.
Step 5. Add an Extra Push with PPC campaigns
PPC campaigns on AMZ are your best bet to make the goods visible in front of your clients, especially for newly launched items. When a visitor enters a search query in the search bar, in addition to organic results, they will also see ads with the "sponsored" icon. Here's what you can do:
Target the best-performing keywords in your PPC campaigns to boost your rankings.

Target your competitor's brand or item to get a broader audience.

Leverage bidding strategies to reach the right audience and enhance your sales metrics.
To begin with, Amazon has its contextual advertising. Once you've selected your top keywords, optimized your listing, and made sure your product is indexed for those keywords, you can run contextual ads.
Amazon has two types of advertising: automatic and manual. It is always worth launching automatic advertising so that people start buying your product, and you can see in the reports what search terms your product is selling for.
Next comes manual advertising. You're most interested in the keywords you've seen sell for in an automated campaign, but it's worth gathering as many words as possible describing your product. When ads start generating sales for those keywords, Amazon will start promoting you organically for those same keywords. It is advised to start advertising when you have already collected reviews, but you can run ads with a minimum number of reviews (2-5). The sooner you can launch your product, the sooner you can bring it to suitable ranking positions. Don't forget that you have to pay a monthly $40 fee on Amazon for using the account, a storage fee for keeping the item in their warehouse, and a fee for each sale. Therefore, time can turn into a considerable loss of money on Amazon.
Bottom Line: How to Get Your Product on Amazon
Now you know how to launch a new product. Once you get the ball rolling, you will need to monitor your product listings and stay aware of all the changes.
For this, it is a brilliant idea to have SellerSonar by your side. We will easily handle all the tricky bits you could not think about and put many of your tasks on auto-pilot. When you register now, you start things off with a 29-day free trial.