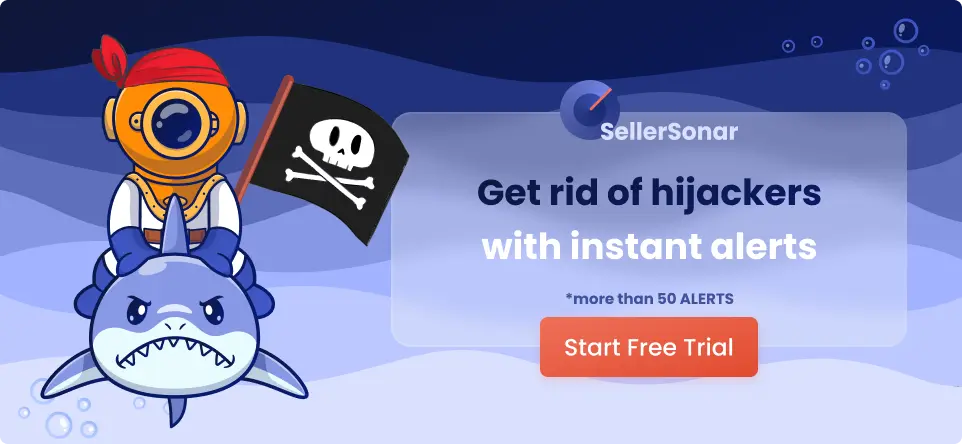 Among so many products sellers offer to buyers on Amazon, your ASIN is invisible. As a matter of fact, even though you may want to sell a unique branded item, you still need to familiarize your potential customers with it.
You can do it with the ads for Amazon products. Amazon is known for the advanced marketing and advertising tools it offers to sellers. They allow you to tell their brand story, target customers in specific niches, help grow sales, and retain customers.
Amazon uses a PPC (Pay-Per-Click) principle for product advertisement. Generally, it's similar to Google's approach. It 'buys' you visibility based on results.
There are different types of ads sellers use on Amazon for different purposes. There's no one-size-fits-all advertising method. To make your ads profitable, it's necessary to select the right type of Amazon PPC campaign and make keyword research. This is because you bid on keywords in certain types of Amazon ads.
In other words, you need to select the right Amazon advertising strategy depending on your goals.
Read further to find out how to advertise on Amazon and how to choose the right ad strategy that fits your needs.
How Does Advertising on Amazon Work?
There are three ad methods on Amazon concerning what triggers the ad – keyword-targeted, product-targeted, and interest-targeted ads.
Sellers who advertise on Amazon pay for the bid only if the buyer clicks on the ad. Thus, they pay "per click." This way, the advertiser pays only for the ad that reaches the buyer.
Keyword-targeted ads
Amazon advertising keyword-targeted campaigns are based on the PPC approach. It works like an auction. The seller who wants to place the ad bids on keywords. The seller who places the highest bid on a relevant keyword wins it. Then, their ad appears when a buyer on Amazon looks for an item to purchase for that keyword or keyword phrase.
Product-targeted ads
With these ads, customers see your creative when they visit a specific product page. It's a good way to target competitor listings and products complimenting your ASIN. Shampoo and conditioner, for example.
Interest-targeted ads
These ads appear when shoppers visit product pages that relate to your product. If you sell Apple AirPods, they can pop up when a shopper searches for a smartphone.
Amazon Ad Types
There is a variety of ad types on Amazon. You can use any of them depending on your strategy.
Amazon ad types
Sponsored Product ads;
Sponsored Brand ads;
Sponsored Display ads;
Video ads:
Amazon stores;
Amazon native ads.
Sponsored Product ads
With the Sponsored Product ads, you can advertise your ASINs on product details pages and search results. This is one of the most popular types of advertisement on Amazon. It's good for product launch For it to work properly, you need to do keyword research.
Amazon shows this type of ad within search results; on the right-hand side of search results; on the bottom of search results; on the product detail pages.
To create Sponsored Product ad campaign, choose an item you want to advertise, the target keyword, and allocate a budget. Amazon will place your ads automatically for a suitable audience.
Sponsored Brand ads
This ad type allows you to place your custom headlines, logos, and landing pages in the ad creative. With it, you can promote several ASINs and complementary products. You can also include promo videos.
Brand ads display above search results; to the left of search results; below the search results.
To launch a Sponsored Brand ad campaign, use your Amazon advertising console in your Seller Central. Select Sponsored Brands. Specify the campaign name, its details, and the brand name. Select a Product collection, Store spotlight, or Video ad. Add at least three branded products.
Sponsored Display ads
These ads aim at re-targeting buyers who have recently looked up your product pages or searched by relevant keywords. Sponsored Displays generate recurring purchases. With this type of ad, you help target different audiences.
Sponsored Display ads show up both on and off Amazon. On Amazon, they appear next to the "Add to cart" button, on product detail pages, on customer review pages, and on top of the offer listing pages.
To create a Sponsored Display ad, choose Product targeting or Audiences in the Campaign Manager, select your bid and daily budget, and the products you'll promote.
Video ads
Amazon Video ads allow sellers to show a 15-second video on the wake screen. If the shopper is interested, they may tap on the video to unmute it.
These ads appear across Amazon's websites, mobile apps, and on the Fire tablet wake screen. They also include Streaming TV ads and online video ads.
To create Video ads, read Amazon's guidelines.
Amazon Stores
With this type of ad, sellers can market multiple ASINs on their own Amazon store. The store has an Amazon URL. You can also analyze sales metrics.
Amazon Storebuilder will help you create a storefront.
Amazon Native ads
Native Shopping ads are recommendation types of ads from Amazon Associates. These are stylishly designed and responsive ads. There are three types: recommendation, search, and custom ads.
These ads appear at the end of content or within the content on a brand's own website.
Organic and PPC Sales
The difference between organic and ad sales is that the first one happens when a customer can find and purchase your ASIN due to better placement on search results. This involves Amazon Search Engine Optimization (SEO).
In turn, ad sales occur when a buyer finds and purchases a product by advertisement. You should create an efficient ad strategy and measure its results to optimize your ad campaigns.
What Are the Benefits of Amazon Advertising?
Advertising on Amazon helps grow visibility against competition and grow sales.
Benefits of Amazon ads
maximizing sales;
increasing visibility and conversions;
helps launch a new product,
getting rid of products that sell slowly;
targeting specific audiences;
generating recurring purchases;
reducing the sales cycle;
improving product's sales history and BSR;
growing brand loyalty;
helps stand out against the competition.
How to Break Down Advertising Budget on Sponsored Ads?
In fact, different types of sponsored ads drive different traffic and conversions. Though all of them work for your product promotion, most of the budget should go to the types that grow sales.
The exact proportions depend on your marketing goals.
Typically, many sellers break down their budget for sponsored ads as follows:
Sponsored Products Ads – 75%;
Sponsored Brand Ads – 20%;
Sponsored Display Ads – 5%.
How to Create an Amazon Advertising Strategy?
Creating an advertising strategy means, first of all, understanding your goals. You shouldn't invest in an Amazon store if you sell one single product. You must understand to whom you will promote your product and what you want to achieve with your ads. A good strategy should answer these questions.
5 steps to create your Amazon ad strategy
Step 1. Set up your goals
Typical ad campaign goals
awareness;
consideration;
purchase;
loyalty.
Step 2. Choose the ASINs you'd like to advertise
Typical product to advertise
high-margin ASIN;
product where you don't compete with Amazon;
ASIN with good selling potential.
Step 3. Select from the type of ads you want to run
Sponsored Products;
Sponsored Brands;
Product Display Ads;
Video ads;
Amazon store;
Amazon native ads.
Step 4. Calculate your target ROAS and ACoS
ROAS is Return on Ad Spend; ACoS is Advertising Cost of Sales. Both metrics show the profitability of your ads.
ACoS = Total Ad Spend / Total Sales.
RoAS = Total Revenue from Ad Spend / Total Cost of Ad Spend.
Step 5. Launch your ad campaign
start running the ad campaign;
monitor your key metrics and optimize bids.
Tips for building your ad strategy
perform keyword research, including competitor analysis, before launching the campaign;
test all types of ad campaigns, automatic and manual keyword targeting, and select the most profitable;
don't spend too much money at once; look at the result first;
give ad campaigns time to run, around one month;
analyze running reports weekly; add, subtract, or adjust keywords;
make sure to delete wasteful bids.
Best Practices in Amazon Ad Strategies
Ad strategy links your product and customer via ads. Therefore, you must ensure that the shopper finds the listing relevant to their search, can find all necessary information on the product page and is happy with the purchase.
Ideas for Amazon ad strategies
make an audit of your product listing for optimization;
use separate ad groups for each keyword match type in ad campaigns (broad match, phrase match, exact match, broad match modified);
lower bids on low-performing but highly relevant keywords;
exclude irrelevant match of negative search terms;
apply branded keywords campaigns;
collect positive reviews;
focus your ad budget on the right products;
concentrate on ads profitability, ACoS, and ROAS;
connect with your customers to grow sales.
Wrap Up
Nowadays, it's hardly possible to sell a product through organic sales. You must advertise it to attract shoppers to your listing.
The advertising type you apply should be able to target the right customers and reach the goals you set.
You must define campaign objectives, choosing between awareness, consideration, purchase, or loyalty. Then you must select the right products. They should have a high margin, you must not compete with Amazon, and it must have a good selling potential.
Once done, select from the type of ads – Sponsored Products, Sponsored Brands, Product Display ads, video ads, Amazon store, and Amazon Native ads. Then, calculate your target ROAS and ACOS, and launch your ad campaign.
When you run ad campaigns, you must ensure that they facilitate business profitability. Therefore, it's paramount to keep track of your products' performance efficiency constantly. To maximize your sales volumes, it's necessary to keep track of all your product's metrics continuously. You can control your sales indicators and overall store profitability by doing that.
Amazon monitoring software is an efficient way to stay on top of your sales. SellerSonar offers instant Amazon alerts to protect your sales. You are aware of listing changes, Buy Box hijackers, new/deleted reviews, keyword rank history, and product suppressions with us.
Try SellerSonar now. Register for our 29-day trial and boost your incredible journey of running your business on the platform.