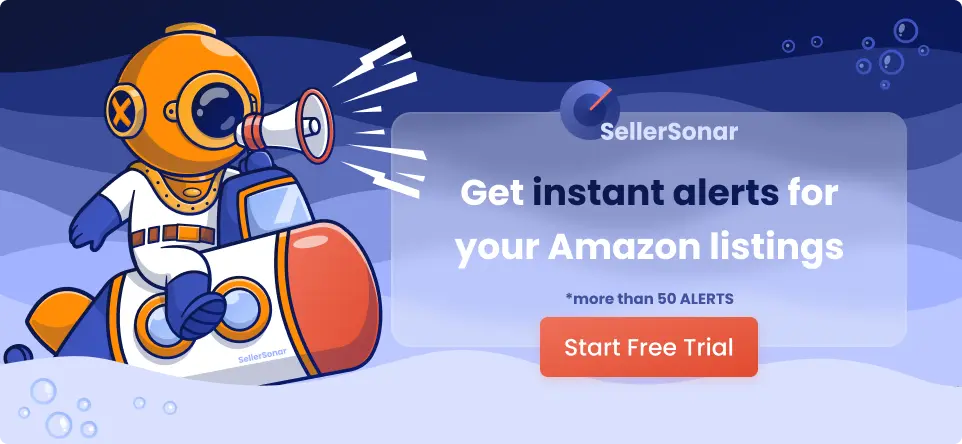 What comes to your mind when you think of Amazon? Probably one of the first few pictures you imagine are warehouses, boxes, delivery vans, or tangible items that can be touched and held. 
However, the platform provides much more than that. With ever-increasing Amazon digital purchases, the marketplace has also become the solution for selling virtual products. 
You might also go virtual as a seller and begin creating and offering digital content on Amazon. 
But what exactly can sellers provide on Amazon.com? How can you create digital products? And what is necessary to become a virtual product seller on Amazon.com?
Our blog post will answer all the questions in detail.
What Is AMZN Digital Product?
Amazon digital products are all the virtual items customers can pay for and download immediately. Such goods are intangible, meaning that you cannot touch them. However, they do have value—to the amount of an estimated $331 billion field in 2022.
The greatest hitters are TV and streaming music, video games, apps, and software. Besides, they are the first items you may think of as "digital content." 
Nonetheless, there are many other methods you may develop digital products using your creativity, knowledge, expertise, and skills – and you do not need a full team of IT developers or film crew for it.
Why Offer Digital Products on Amazon?
Creating, promoting, and offering online content might seem an overwhelming task, especially if you are not the most tech-savvy person. But your learning curve may be very short with online services like Shopify, Thinkific, and Etsy.
Besides, there're plenty of decent reasons to offer digital goods online:
Low investments and potentially high income
You can create many digital products using only energy, time, and a bit of focus. Additionally, e-commerce software and online platforms are relatively cheap compared to leasing a brick-and-mortar store or building a physical warehouse. As a result, it potentially leads to a higher profit margin.
No rent hassle, inventory, and shipping 
In addition to the fact that sellers do not have to pay any costs for making, storing, or physically delivering products, they may also avoid logistics. Offering digital items through a virtual platform has a great potential to stay exceptionally simple—that is why it is a perfect gig.
More profitable than tangible products
Digital goods sell at higher profit margins than tangible goods. And this margin enhances over time because sellers do not need to spend any money creating more units.
Automated source for your passive income
If you already have some employment holding you busy, the virtual items you sell on AMZN can bring extra money even if you spend most of the week on the full-time side hustle.
Serving a niche at scale
Often you need to be great at something unknown. For instance, catering to a particular target audience with special requirements is easier than competing broadly.
Many people strive for shredded abs within a couple of weeks. However, a less number need the perfect physique for playing water polo. That is called serving a niche.
The main challenge with serving a particular niche locally is that there is not enough market to sell to. But even the smallest categories are large enough to scale worldwide with no boundaries or limits to who you may provide your products.
Using the shift to online education
With more companies shifting online, the demand for virtual goods continues to increase, with the demand for online lessons estimated to get $319+ billion by 2025.
And this growth is accelerating—a recent report on the influence o COVID-19 had on the education industry discovered a 218% increase in student registration in online courses in 2020 when social distancing restrictions were implemented. Still, now that we are coming out of COVID-19, the popularity of online education is here to stay!
What Kind of Digital Products to Sell on Amazon?
From songs to ebooks to polo designs, Amazon.com provides many avenues for aspiring sellers to earn money on the platform. Let's consider the most popular ones: 
Books: If you adore writing books, Amazon.com provides at least three options to sell your content. Two of them are solely online. First, you may offer physical copies of your books on the marketplace using Amazon FBA. Otherwise, you may sell ebooks via the platform's Kindle Direct Publishing (KDP) which presents two methods: "print on demand" and online.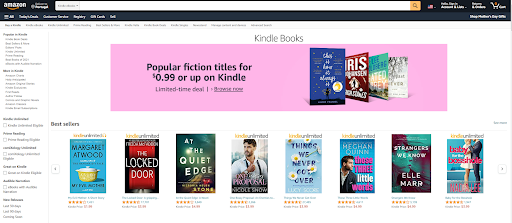 Music: For musicians, Amazon.com provides TuneCore, the part of Amazon Music. Via this option, artists can make their songs instantly available on Amazon, Spotify, iTunes, Google Play, and more than 150 platforms worldwide.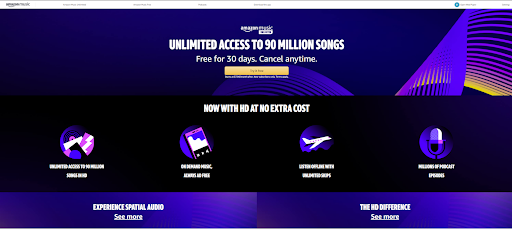 Art: If you are an artist or graphic designer, feel free to upload your pictures to the Amazon Merch solution and see what your work looks like on printed T-shirts. Like TuneCore or KDP, Merch does not require you to hold inventory to market products. Instead, you need to wait for a custom order to come through. Then, Amazon.com creates the items for the client, and you get your money.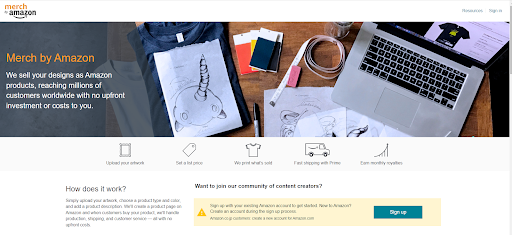 How to Sell Digital Content: Tips for Amazon Creator
Whether you're a novice or a seasoned expert in content creation, there's no fast and hard rule you can apply. However, successful high-tech content is often targeted, engaging, platform-specific, and created with a focus on the target audience and after a thorough marketing analysis. 
Here are the main guidelines of a good Amazon online content creator for your better assistance. 
Be current, research, and read
All the winning digital content producers are always aware of ongoing market tendencies and observe the alteration in how their clients usually use digital channels. Besides, such sellers apprehend their target audience's needs, wants, and pain points and resonate with them through the content. 
So, ensure to research what is happening globally and stay relevant to the constant developments and what is "in demand." 
Leverage adequate knowledge of your market
An excellent digital content seller does not just offer decent content. They also look for ways to promote their products in the most efficient way. 
For example, instead of simply relying on AMZN PPC, you can find many other ways to attract clients to your high-tech items. You can try using simple tools such as Canva to come up with marketing material and enhance your brand via social media, email lists, and other possible online channels.
Know your purpose and measure success
Prior to creating digital content, understand what you wish to get through your products. For example, are you planning to receive more sales, website traffic, social engagement, or all three? 
Likewise, do not neglect the power of estimating success and monitoring it. As soon as your product is live on AMZN, check its success against your main purpose. It will help to determine what works and what needs some improvements the next time.  
Besides, with the SellerSonar business tracker, you can stay fully aware of the slightest changes in your Amazon business environment. Our tool detects and notifies you of any issues that may be potentially harmful to your sales and online reputation so that you can handle them in no time!
Whether you're a subject expert, always know enough about your product to make reasonable changes and continue producing new content. For example, if you prepare ebooks to publish on KDP, you should know your way around this domain and its smallest details. Likewise, you might have to launch the next volumes of your books as the online market landscape changes rapidly.
Furthermore, you will need to stay unrelenting and focused on content creation. Don't forget that it's not a linear process. For instance, if you are writing an ebook, you might be able to complete an entire chapter of thousands of words some days. And on some days, you might not even write a couple of lines. 
So, the key to success is not getting desperate and frustrated and moving forward anyway without losing concentration.
Dos and Don'ts of Offering Digital Products on AMZN
Some guidelines exist around producing and selling digital products on Amazon like any other platform. As a result, some users find running such a business on the platform frustratingly daunting. Nonetheless, if you stay true to your long-term marketing plans and goals and truly realize what you should or should not be doing, becoming a popular and profitable merchant won't be an issue. 
Some of the general Dos and Don'ts of selling digital assets on Amazon are the following:
Dos:
Before distributing your digital content, read through Amazon recommendations, formatting requirements, and style guides.

Wait for Amazon's permission before selling products.

Be honest with your content description. 

Keep a close eye on the Amazon dashboard for any updates on your sales.
Don'ts:
Do not break the seller rules and guidelines stipulated by Amazon.com.

Do not provide the platform with fake, forged, or false legal identity or documentation.

Do not publish paid reviews.

Do not use the domain names (.com) (.biz) (.in) (.org) when providing your business name on the marketplace. 
A Final Word of Advice: How to Sell Products on Amazon
Go ahead! Create your digital Amazon listings and promote them to attract customers on and off the platform. 
Ensure you develop the type of products that your target audience demands and provide them consistently. Then, collect reviews and make adjustments to your products. Remember that depending on your content, you must follow the rules for the respective platforms involved to get your products approved. 
Sound like it might be too hard to sell digital content on Amazon? Then, learn how you can automate product listings monitoring with SellerSonar. Sign up for a free 29-day trial now!