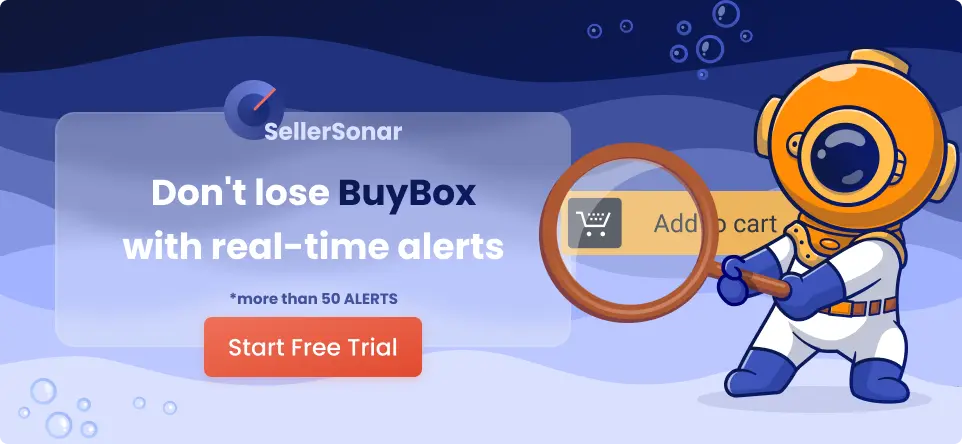 Commonly, 60% of sellers face Amazon Sponsored Products campaigns issues. While listing the goods on Amazon is easy, creating an efficient campaign and optimizing it further to improve performance and visibility in the marketplace can turn a real trick. Unfortunately, it's where most sellers end up making serious mistakes that grow their ACoS without producing sizeable returns on the investments. With a great product and an outstanding listing copy, you still need the right Amazon PPC strategy to get the most out of the advertising campaigns.
So, how to advertise on Amazon properly? To help you out, we have compiled this comprehensive guide for 2023. These guidelines will help you enhance your brand's exposure while driving your target audience and sales to your Amazon listings. So no further ado, let's get started!
Overview: What Is Amazon PPC?
In every market, there's always some way to advertise your listings. While some options are usually free (for example, featured products), the others are paid. Paid advertising is some of the largest income generators and moneymakers globally.
Have you heard that Google, one of the globe's greatest search engines, broke a whopping $200 billion in 2021? This huge amount of money was generated, for the most part, from one channel – its advertising profits. This gives you an idea of how giant advertising is for some traffic-heavy and famous websites.
Amazon isn't an exception. The marketplace also has a profitable advertising solution. PPC (or Pay-Per-Click) is an advertising platform that helps sellers and vendors promote their product listings. Simply put, merchants on Amazon.com can create ads for their goods. They need to pay a commission only when a client clicks on the sponsored ads. Here comes the name pay-per-click.
This system is a much-preferred option to boost ads because impressions do not charge you anything. Thus, as long as your target audience notices your listings, you might still develop awareness. Shoppers can still see your advertisements if they do not click your advertisements. And as you are charged when viewers click, you do not have to spend too much money.
Why Should You Try Amazon PPC? 
Although you offer a product getting pretty decent sales, you may still want to check out PPC campaigns for multiple reasons. The most common grounds vendors and sellers opt for PPC ads for their goods are listed below.
1. To increase product sales.
Running PPC ads is one of the simplest ways to convert shoppers into customers. Growing sales is the long-term goal of all merchants trying PPC campaigns for promoting products.
2. To boost organic rankings of competitive search terms.
Some keywords in your product listing may be too competitive to rank in the organic search. Launching PPC campaigns for such search terms will help you ensure visibility. Keeping the first-page results for such keywords leads to sales and raises the organic ranking of your item for those keywords.
How to check your keyword rank on Amazon? Get started with the best Amazon keyword tool to get as many insights as possible. SellerSonar keywords tracker for Amazon provides you with an ultimate picture and generates valuable data for further analysis.
3. To develop brand awareness for newly-launched products.
Goods with the most sales automatically get on top of Amazon search results. In turn, new items face difficulties with ranking high for some keywords. Low rankings bring in fewer sales. So, running PPC ad campaigns is a perfect method by which the goods rank high and also get a higher sale potential.
4. To get rid of competitors seizing sales and top positions.
Over time, best-selling categories and niches get saturated by the number of merchants. So though your product might rank high in organic searches and provide good deals, it might be easily left behind by other sellers running PPC ads for their goods. Most top-ranking companies use Amazon PPC advertising to protect their brands and hold the top positions and ranks in the platform's searches over rivals who also use PPC.
5. To boost the visibility of items for seasonal trends.
Amazon.com merchants see the largest during seasonal peaks like Mother's Day, Christmas, Halloween, etc. It applies to the end-of-season sales and the Q4 quarter. So, based on your product, Amazon PPC Ads can turn a good way to bring in sales by growing client interest due to seasonality.
What Are the Types of PPC Amazon Ads?
The platform offers three types of PPC advertisements:
Sponsored Brands, Sponsored Products, and Sponsored Display. The first two categories target potential clients using keywords, whereas the last one targets a potential audience with shopping and browsing activities. Let's delve into each a bit deeper:
Sponsored Products: It's the platform's most commonly used PPC ad. Such ads promote individual Amazon listings. They come up on the first page of the platform's search results, usually in the upper part of the page, alongside or within search results. These ads also appear on Amazon product detail pages. Below is one of the examples of Sponsored Products.

Sponsored Brands: These ads advertise a product portfolio and a certain brand. They show several items (up to three), a custom headline, and a brand logo. Sellers need to enrol in the Amazon Brand Registry solution to use such ads. Sponsored Brand advertisements appear at the top of the webpage, within or alongside search results. Below is one example of Sponsored Brand ads:

Sponsored Display: These ads advertise single items to buyers on and outside Amazon.com based on their shopping preferences. The part of the webpage where sponsored display advertisements are shown is based on your targeting settings. On the marketplace, sponsored Displays typically come up on Amazon detail pages and within or alongside search results. Below is one example of Sponsored Display ads on Amazon: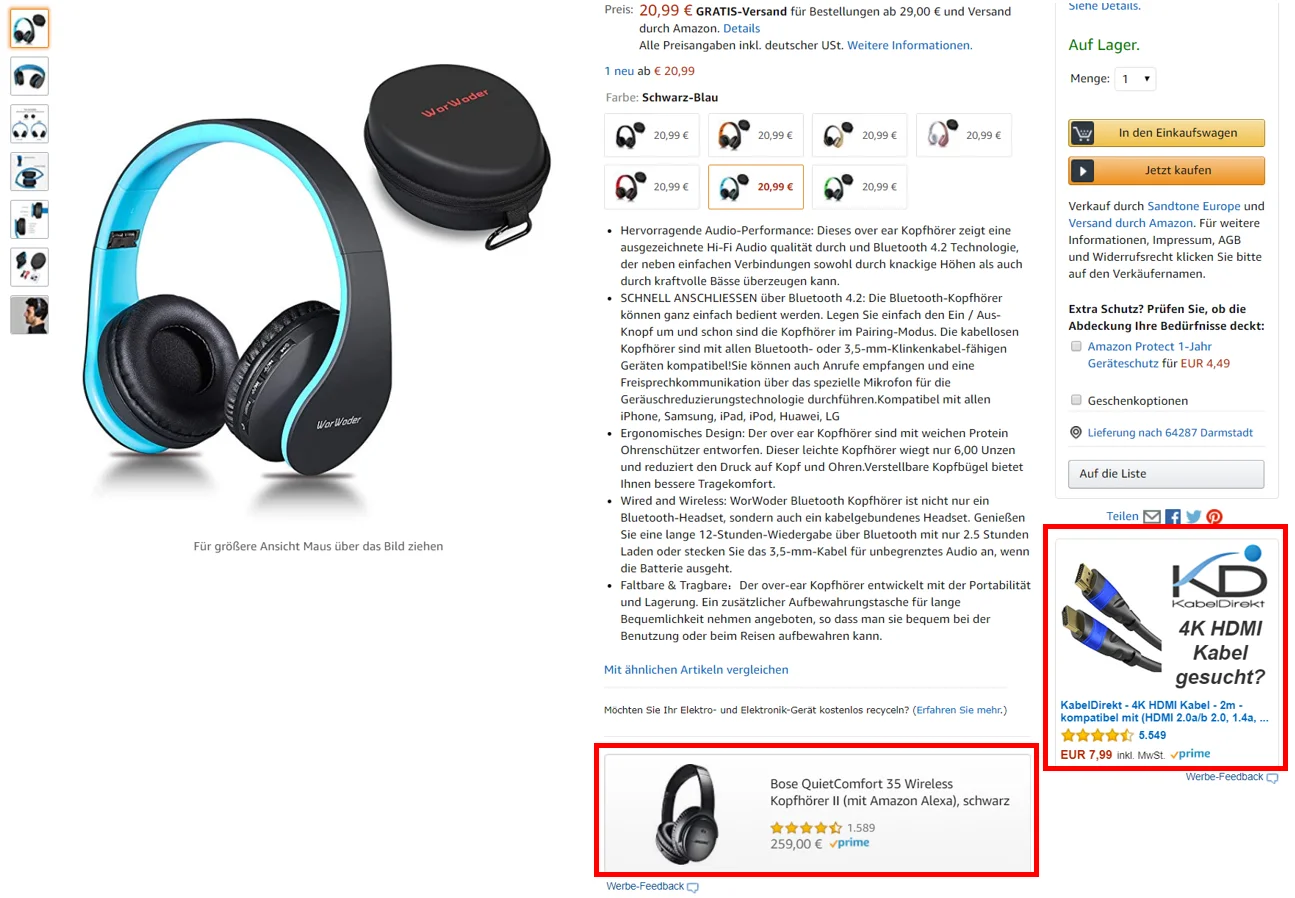 How to Choose the Type of Amazon PPC Ads?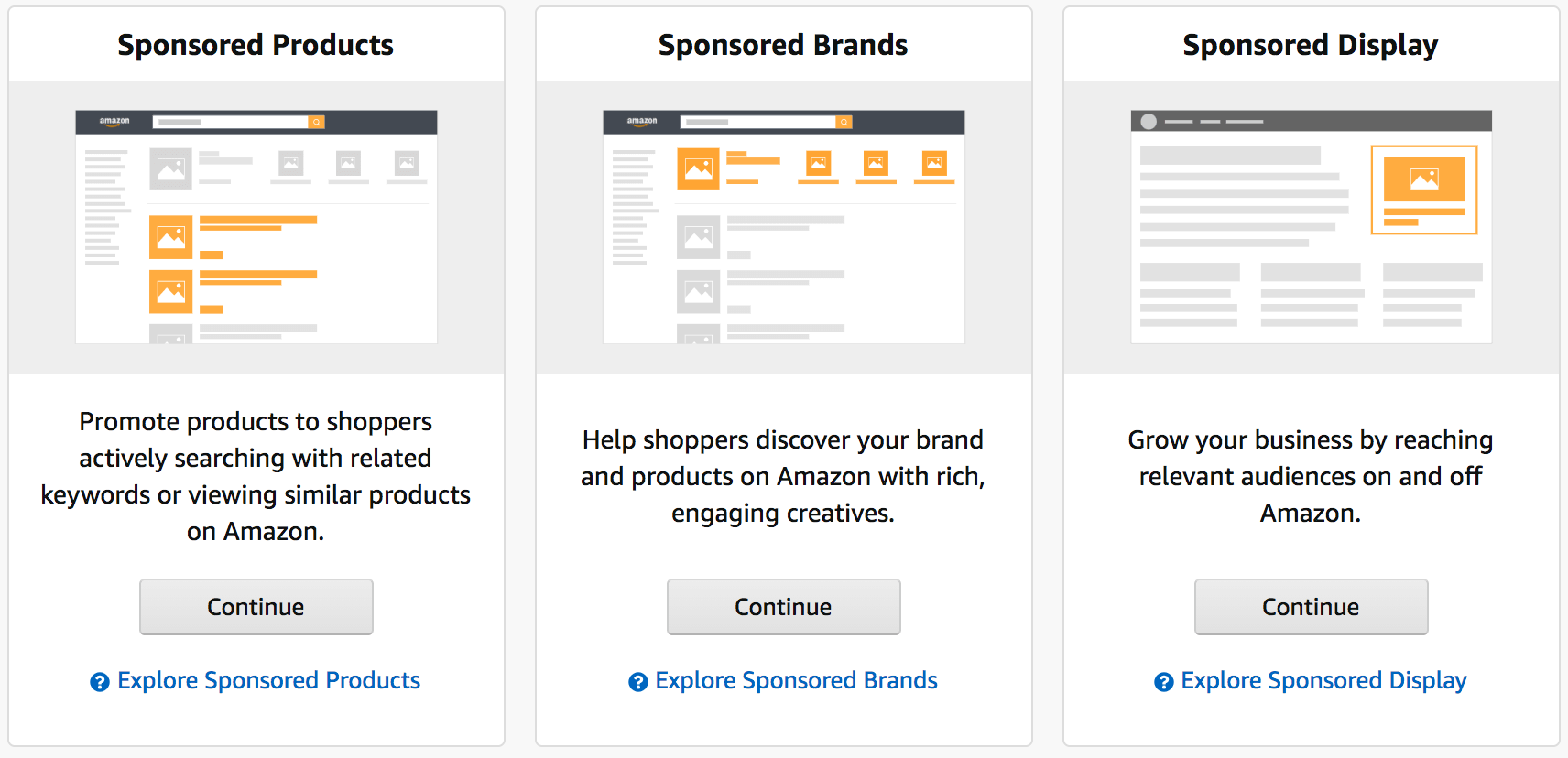 It may be difficult to establish which one to choose for your business with several kinds to choose from. Anyway, different categories have different target audiences, and it might be hard to predict their behaviour. Therefore, Amazon merchants keep a close eye on the performance KPIs like all online sellers. Some of the most relevant metrics include:
Impressions – the number of times the ads are shown within the customer search results.

Clicks – the number of times that visitors click on the advertisement.

Cost-per-Click (CPC). It indicates the winning price in the PPC bidding auctions. The ad cost depends on this rate.

Click-through rate (CTR). It shows sellers the percentage of viewers who see the ad, follow it through and click on it. It measures how appealing the ads are.

Conversion rate (CVR). It tells sellers how persuasive their ads are. It shows the percentage of people who click through their ads and then buy their merchandise.

Advertising Cost of Sales (ACoS). It shows sellers if their advertisements are profitable and how they compare with their competitors. It indicated how much sellers spend on advertising to gain a dollar of sales.

Return on Ad Spend (ROAS) is the opposite of ACoS. It displays how much sellers earn from each dollar they spend on advertising.
The last one often turns out to be the best gauge for selecting the right PPC type for you.

Certain advertising types, combined with specific bidding strategies, can reduce your business's ad budget. Sometimes, launching a mix of Sponsored Brands with a loose and close match keyword strategy can do wonders. However, in other categories, this combination may not be so effective.
| | |
| --- | --- |
| Ad Campaign Type | 30-day RoAS |
| Sponsored Brands | $6.25 |
| Sponsored Products | $4.85 |
| Sponsored Display | $1.95 |
| | | |
| --- | --- | --- |
| Target Match Type | 14-day RoAS | 30-day RoAS |
| Close Match | $6.55 | $6.58 |
| Loose match | $5.42 | $5.45 |
| ASIN | $3.74 | $3.78 |
| Substitutes | $3.45 | $3.48 |
| Category | $3.20 | $3.22 |
| Views | $2.20 | $2.23 |
| Supplements | $1.67 | $1.70 |
The price of your goods matters as well. While RoAS usually increases with the item's pricing, the $21-$30 range is an optimal choice, with a higher RoAS than average and less expensive goods. 
| | | |
| --- | --- | --- |
| Product Price Range | 14-day RoAS | 30-day RoAS |
| $0-$10 | $0.79 | $0.81 |
| $11-$20 | $1.10 | $1.12 |
| $21-$30 | $2.74 | $2.85 |
| $31-$40 | $1.17 | $1.18 |
| $41-$50 | $1.85 | $1.92 |
| $50+ | $1.47 | $1.52 |
So how to estimate which PPC type works for you? It's simple. Launch a campaign and test. By A/B testing, you will be able to accurately check which one is the best for you. Then, using the statistics provided by the advertising reports, you can make reasonable decisions. Testing&adjusting is the most helpful Amazon PPC guide that works for any business type.
How to Launch an Amazon PPC Strategy? 
Below are some basic aspects of creating concrete Amazon PPC management strategies: 
Test every PPC ad campaign type and adjust manual and automatic keyword targeting to check what works best for your company.

Carry out detailed keyword research using SellerSonar, focusing on competitor products and related keywords.

Set default bids and daily budgets 50-100% higher than the platform suggests when starting.

Run your ad campaigns for at least a couple of weeks before browsing reports and introducing adjustments.

Use advertising reports from the automatic campaigns to spot keywords for the manual campaigns.

Before you remove or adjust a keyword from your manual campaign, ensure it gets at least ten clicks.

Proceed with reviewing your advertising reports every week, adding, adjusting, and subtracting keywords.
Enhance Your Business with Amazon PPC Optimization
On Amazon.com, it is not enough to offer a great product — there are simply too many competitors to rely only on your goods' quality. Instead, you need to come up with a way to make your items highly visible to attract customers in this crowded market. The simpler it is to spot your products, the more likely you will make a sale.
Amazon PPC ads are the key to earning product exposure and sales. You can select whether you will rank high in searches by bidding on the relevant keywords. Of course, PPC is an additional cost to your overall budget, but mindfully launching and managing your promo campaigns with this guide will maintain your advertising cost-effective, leading to more conversions.
Want to get started and scale your business? Learn how SellerSonar can help you win on the platform. Sign up for a free 90-day trial and benefit from proficient listings monitoring!