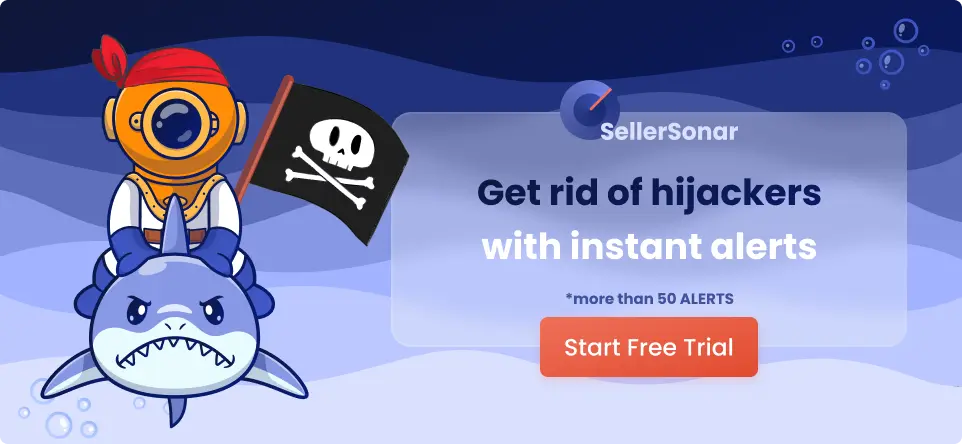 If you are a brand owner, you might have been already hit by counterfeit sales. De facto, the sale of fake products negatively impacts both the big brands and shoppers.
From the brands, illegal products steal profits and undermine their reputation. On top of that, buyers also suffer from counterfeits. If they are unlucky to purchase fake products, they can very often become victims of low-quality and even hazardous stuff.
As far as counterfeiting has been an issue for Amazon the same way as for other online marketplaces, the e-commerce giant exercised extensive efforts to combat fake goods. According to Amazon Brand Protection Report, they've preventively blocked more than 10 bln suspected bad listings before they came live.
In addition, Amazon took a number of measures to automate fighting fakes. Furthermore, it provided brand owners with a self-service tool to remove counterfeit listings named Project Zero.
Read further to find out what is Project Zero and how it can help brands protect their businesses.
What Is Amazon Project Zero?
Amazon Zero is a program developed by Amazon to protect its customers and brand owners from counterfeits. This program allows Amazon itself and brands to join their efforts to drive counterfeits to zero, hence the name.
It involves high-tech solutions to automate the detection of fakes. In addition, Amazon developed a self-service software tool, assisting brands in identifying and removing counterfeit listings.

Amazon Anti-Counterfeiting Policy

Amazon strictly prohibits the sale of counterfeit products. If they suspect that you supply inauthentic products, they will suspend or terminate your Seller Central account and dispose of suspicious inventory.
Prohibited products:
bootlegs;

fakes;

pirated copies or content;

illegally replicated items;

products infringing intellectual property rights.
Key provisions of anti-counterfeiting policy:
Amazon prohibits selling counterfeit products;

merchants must not sell illegally replicated, reproduced, or manufactured products;

sellers should be ready to give a proof of product authenticity;

failure to comply with Amazon's policy leads to account suspension.
Amazon's Action to protect customers and brands:
removing suspect listings;

taking legal action against counterfeiters;

reporting counterfeit products;

implementing A-to-z Guarantee;

encouraging sellers to notify if they have counterfeit complaints.
How Does Amazon Project Zero Work?
Amazon Project Zero embraces three tools: Automated protections, Self-service counterfeit removal, and Product serialization. Amazon Project Zero works as a combination of all three.
Automated protections
The automated protections tool constantly scans online stores with the purpose to find suspect counterfeit listings. When the tool detects a counterfeit, it proactively removes it. It scans over 5 billion listings daily.
The service uses high-tech machine-learning features established by Amazon Web Services (AWS). The tool scans brand data such as the logo, trademarks, and other characteristics that prove the brand and product credibility.
Self-service counterfeit removal
This application allows brands to remove counterfeit listings themselves. Previously, brands had to report a counterfeit to Amazon. After that, Amazon's team investigated these notifications and took an action.
Instead, Project Zero gives brand owners the possibility to delete counterfeit listings themselves. Thus, Amazon's self-service tool streamlines the counterfeit removal process. It minimizes the time between detection and disposal of suspect products in the marketplace.
As soon as the listing is removed, the information about it is transferred to an automated protections database for Amazon to better proactively trace counterfeits in the future. It is processed by machine-learning features of Automated Protections to enhance its algorithm.
Product serialization
Product serialization is a tool allowing brands to protect their intellectual property rights. With this service, sellers can individually scan and confirm the authenticity of each product. Amazon assigns a unique code to every produced item. After that, the brand owner puts this code on their product in process of manufacturing. Each time buyer orders a serialized item, Amazon scans and verifies the authenticity of the purchase. Thus, the procedure stops counterfeits for every unit before it reaches a customer.
However, the feature comes with a cost. Brands that opt for the service have to pay Amazon an amount of $0.01 to $0.05 per item. In the meantime, this feature is optional. Though all three services are working as a combination towards fighting counterfeits, brands can select to use only two first options that are free.
Where Is Project Zero Available?
Project Zero is currently available in 20 countries. In particular, these are the U.S., UK, France, Italy, Spain, Germany, Japan, India, Mexico, Canada, Australia, Brazil, Egypt, the United Arab Emirates, Turkey, Singapore, Poland, the Kingdom of Saudi Arabia, Sweden, and the Netherlands.
If a brand is enrolled in Project Zero in one country, it automatically enrolls in other countries.
Who Can Join Project Zero?
Since Project Zero Amazon gives brands the right to delete third-party listings, Amazon wants to ensure that this right is not misused by the unfair competitors. Therefore, Amazon evaluates at its own discretion who is eligible for the project and who is not.
Importantly, Brand Registry members can check if they are eligible in their Amazon Seller Central
Requirements to join Project Zero:
a brand must be enrolled in Amazon Brand Registry;

it should be a government-registered trademark;

a seller should own the rights of the trademark;

a merchant should have an Amazon account with access to Brand Registry;

an applicant should have submitted counterfeit reports with an acceptance rate of 90% in the past half-year.
How Does Amazon Ensure that Brands Properly Remove Counterfeit Listings?
Of course, Amazon understands that they delegate unprecedented responsibility to brand owners. This is because they trust the combined efforts of Amazon and brands. Certainly, brands are interested to protect their intellectual property rights and can help effectively drive counterfeits to zero.
According to the marketplace, brand owners must maintain the accuracy of at least 99% to preserve their Project Zero privileges.
On top of that, Amazon has developed a number of processes to promote accuracy. First of all, a brand owner can't become a Project Zero unless they've repeatedly reported potential proven counterfeits through the Report a Violation tool. In addition, Amazon provides obligatory training as a part of Project Zero enrollment. Amazon team also constantly monitors misuse of the tools.
How Much Does Project Zero Membership Cost?
In fact, the majority of the services under the project are free. Access to the automated protections and the self-service counterfeit removal tool is provided at no cost. Brand owners who opt to use the product serialization service incur a cost per unit, based on volume. To clarify, for product serialization service, Amazon charges between $0.01 and 0.05 per item, depending on the store's volume.
Drawbacks of Project Zero
In spite of the unconditional project's benefits, there is a number of shortcomings. First of all, Project Zero's major focus is counterfeits. Secondly, it does not consider trademark infringement and other intellectual property violations. Also, only trademark owners are eligible for the project.
Project Zero shortcomings:
only brands with trademarks can join the project;

counterfeits not using brand owner's ASINs won't be identified;

Project Zero only detects counterfeits;

product serialization implies costs for larger brands.
Other Amazon's Features for Brand Protection
As a matter of fact, Amazon implements a number of tools to combat illegal sales. Besides Amazon project Zero, it includes Amazon Brand Registry, Amazon IP Accelerator, and a product serialization service called Transparency.
Amazon Brand Registry
Brand owners enrolled in the Brand Registry get access to Amazon's proactive automated brand protection. Also, they can report any violations you detect with the help of Amazon tools.
Amazon IP accelerator
This service helps brand owners quickly register intellectual property rights and brand protection in Amazon's stores.
Transparency
This product serialization service allows to identify individual fakes and prevent them from reaching customers.
Protecting your brand is very important because counterfeiters steal your profits. However, this is insufficient for your success on Amazon. To maximize your sales volumes, it's necessary to constantly keep track of all your product's metrics. By doing that, you can control your sales indicators and overall store profitability.
Amazon monitoring software is an efficient way to stay on top of your sales. SellerSonar offers instant Amazon alerts to protect your sales. With us, you are aware of all listing changes, Buy Box hijackers, new/deleted reviews, keyword rank history, and product suppressions.
Try SellerSonar now. Register for our 29-day trial and boost your incredible journey of running your business on the platform.