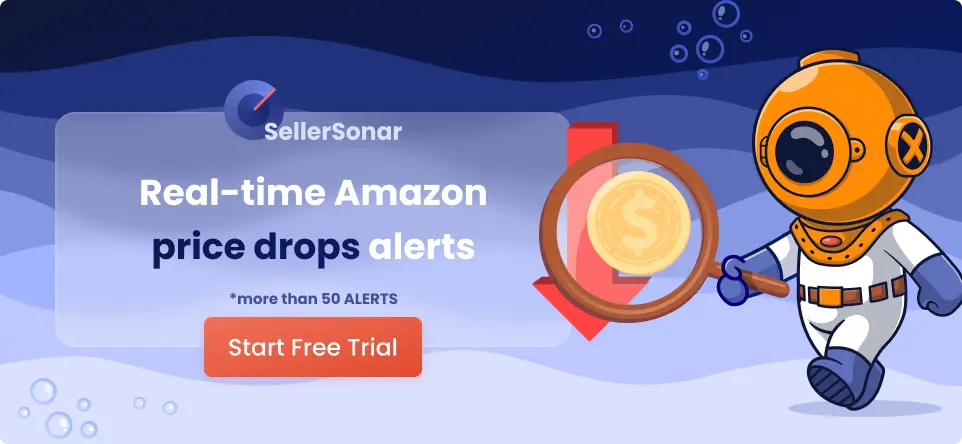 Sometimes, it can happen that sellers and buyers need to exchange messages and do it fast. For example, if there are any issues with the order, as the case may be. Critical messages related to the shipping schedule or problems with delivery addresses have to be communicated without delay. This is because quick communication helps avoid sad mistakes.
In fact, Amazon wants to help make buyer‐seller relationships smooth. Therefore, they created a dedicated feature called Buyer-Seller Messaging Service. Actually, Amazon messaging between shopper and seller is part of the sales process. When the order is completed without any problems, the majority of the communication between Amazon buyers and sellers is indirect. On the other hand, oftentimes direct messaging is important.
Virtually, Buyer-Seller Messaging Service is a good tool for both buyers and sellers. Buyers who are not eligible for Amazon Prime can easily contact sellers should they have any questions. In addition, they can view a history of their Amazon seller messages.
In turn, sellers who want to provide high-quality services need to communicate with their buyers. This way, they enhance customer experience and grow brand loyalty. Likewise, if a seller promptly responds to a customer, they add up positive reviews and ranking. In addition, direct communication with shoppers helps handle negative feedback and resolve issues if they arise.
Our guide below will give you an overview of how to message sellers on Amazon and how to reply to sellers on Amazon if you need to.
What is Amazon Buyer-Seller Messaging Service?
Amazon's tool that facilitates communication between shoppers and sellers is Buyer-Seller Messaging Service.
Messaging happens by email or from the Seller Central account. For the sake of security, the service applies encrypted email addresses for both shoppers and merchants.
Whenever a buyer sends a message to a seller, Amazon assigns them an encrypted alias. It looks like [email protected]. Afterward, Amazon routes the emails to the encrypted alias. Alias has 35 characters including the domain. Actually, it remains the same for all future communication between the same buyer and seller.
As a matter of fact, anonymized email alias helps protect customer messages, and respect privacy, and rights.
Importantly, to get access to the Buyer-Seller Messaging Service, log in to your Amazon account and navigate to "Message Center".
What Are the Benefits of Amazon Buyer-Seller Messaging?
With Buyer-Seller Messaging Service, a buyer who wants to message a seller on Amazon or a seller who wants to reply to Amazon message from a buyer can do it easily and in a protected way.
Advantages of Buyer-Seller Messaging
fast and efficient communication;
secure messaging;
one-stop-shop for all your Amazon correspondence (including Outlook, Hotmail, Gmail, Thunderbird, GMX, and more);
helps resolve disputes and claims;
gives Amazon access to buyer-seller messaging history to deal with A-to-z Guarantee claims and chargebacks.
How to Use the Amazon Buyer-Seller Message Service?
The Buyer-Seller Messaging Service simplifies buyer-seller relationships. For the convenience of sellers and buyers, Amazon created response templates. In addition, sellers can send proactive and critical messages to shoppers. Amazon also has a messaging policy regulating buyer-seller communication.
Buyer-Seller Messaging Service functions
buyers can contact sellers;
sellers can reply to shopper messages;
buyers and sellers can review mailing history;
buyers and sellers can send attachments.
Proactive and critical messages
Critical messages are those that are necessary for completing an order. Proactive messages are those that sellers send to a shopper with any information not in response to their question.
Critical messages
Types of critical messages
product customization questions;
shipping scheduling;
issues with the delivery address.
Note: Amazon never blocks critical messages.
Proactive messages
You can send proactive messages by email, from the Contact buyer or Request a review page in Seller Central, using third-party applications, or via Application Programmer Interface (API). The proactive message should include the 17-digit order ID.
Reasons for proactive messages
dealing with order fulfillment issues,
asking for additional information to complete the order;
return-related questions,
providing an invoice;
requesting product review or seller feedback;
planning for the delivery of a heavy or bulky product;
scheduling Home Services;
clarifying a custom design.
Amazon messaging policy
All messages that shoppers and merchants send should comply with the Amazon guidelines. If Amazon thinks that correspondence is in violation of its messaging policies, it will remove any message from it.
What you can't send as a message on Amazon?
shipping or order confirmations;
'Thank you' information only;
offer help if customers have any problems;
promotional messages with coupons;
asking for a positive product review or removing a review;
external links if they are not necessary for order completion;
attachments except for invoice, product instructions, or warranty details;
logos that redirect off Amazon;
asking the buyer to opt out of messaging;
requesting emails or phones;
sensitive information (violence, adult content, or offensive language);
tracking pixels;
pictures not related to the seller's brand.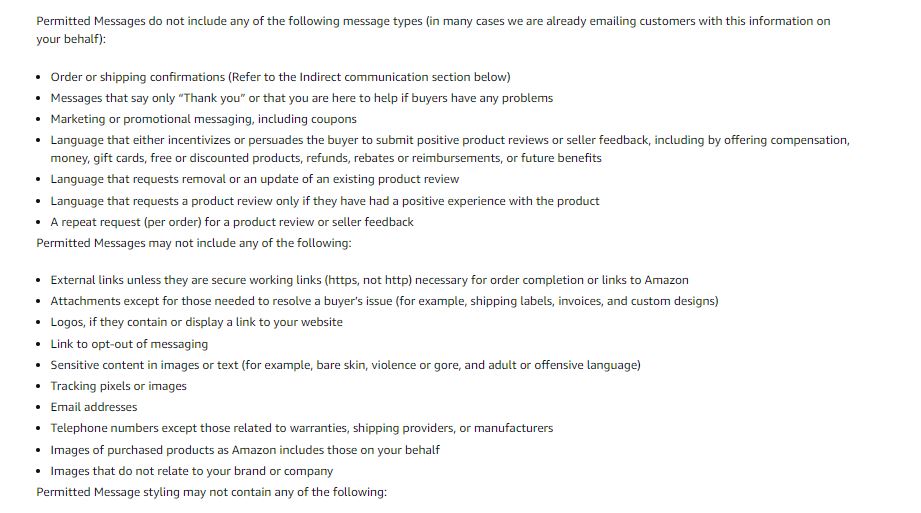 Amazon messaging policy
How to Send Message to a Seller on Amazon?
As a matter of fact, if your product is eligible for Amazon Prime, Amazon customer service takes care of all issues. Therefore, in such a case you can contact Amazon to sort out problems.
However, if your order isn't eligible for Amazon Prime, you need to contact a seller directly if you want to address any question or problem.
Actually, whenever a buyer sends an email to a merchant, they will get a message either in their Message Center in Seller Central or to the email address linked to their Seller Central account.
When sending messages both buyers and sellers shouldn't forget, that Amazon monitors all buyer-seller communications and may delete any unwanted correspondence.
Contacting a seller before and after placing an order
Practically, there are two different cases to message a seller. To clarify, these instances are before and after placing an order. On Amazon, this happens in different ways.
How to contact a seller before placing an order?
Virtually, to contact a seller before you order a product if you have any questions or want to find out some details, follow the process below.
Messaging a seller before placing an order
Method 1. On the listing, select the name of the seller next to "Sold by".
You will get to the seller's profile. Select the "Ask a question" button on their profile.
Note: There are instances when multiple merchants sell one and the same product. In such a case, select "New and Used" on the listing to see the list of all merchants. Then, select the rating of the seller to access the seller's profile. Select "Ask a question".
Method 2. Use Buyer-Seller Messaging Service. In your account, go to Message Center and message a seller. A merchant will respond to you by email within two business days.
Messaging a seller after placing an order step by step
Step 1. Navigate to "Your Orders".
Step 2. Find your order in the list.
Step 3. Choose the problem with the order.
Step 4. Select a topic from the list.
Step 5. Click "Contact seller."
Note: This process doesn't apply to canceled orders. If a buyer has any questions about the cancellation process, they should contact Customer Service using the "Contact Us" form.
How to Respond to Buyer's Messages on Amazon?
In fact, it's possible to send seller messages on Amazon in two ways. Firstly, merchants can message buyers from their Amazon seller account, Secondly, they can do it through Buyer-Seller Messaging.
How to send message to buyer step by step
Step 1. On the "Orders" tab, go to "Manage Orders".
Step 2. Select the buyer's order.
Step 3. In the "Order Details" column, click the name of the buyer to open the Contact Buyer page.
Step 4. Send a message in one of the two ways:
from your seller account: on the next page, select the message reason, type the message, and click "Send";
by your email: in the "To" field on the Buyer-Seller Messages page, copy the buyer's encrypted email address. In your email, use this address to contact the buyer. The buyer will not see your email address.
How to Activate Amazon Buyer-Seller Messaging Service?
If you are an FBM seller and fulfill orders yourself, Amazon activates Buyer-Seller Messaging for you by default. In turn, FBA sellers can enable Buyer-Seller Messaging to contact shoppers about the product they ordered or to enhance customer services.
Activating Buyer-Seller Messaging step by step
Step 1. On the "Settings" menu, choose "Notification Preferences".
Step 2. In the "Messaging" section, click "Edit".
Step 3. Select the "Buyer Messages" check box, and enter the email address for buyer messages.
Step 4. Click "Save".
Wrap Up
Communication between buyers and sellers is an essential part of the sales process. In many cases, it helps resolve issues with the orders and prevent mistakes in delivery. So, in order to simplify buyer-seller communication, Amazon created a feature called Buyer-Seller Messaging Service. It allows not only to send protected messages and attachments but also to keep track of the correspondence in one place. However, buyers and sellers should remember that Amazon has messaging guidelines they should stick to.
While buyer-seller relations are very important to growing sales and customer satisfaction, sellers shouldn't forget about their product performance. Amazon monitoring software is an efficient way to stay on top of your sales. SellerSonar offers instant Amazon alerts to protect your sales. With us, you are aware of all listing changes, Buy Box hijackers, new/deleted reviews, keyword rank history, and product suppressions.
Try SellerSonar now. Register for our 29-day trial and boost your incredible journey of running your business on the platform.