Amazon Marketing Services (AMS) is a powerful suite of advertising tools AMZ offers its sellers. With over 300 million active clients around the globe and 75% of buyers using the platform to find new products, it's no surprise that AMS has become a top choice for brands looking to boost their online sales. Studies show that over half of businesses spend $40,000 or more on AMS ads monthly.
AMS comprises three AMS advertising options: Sponsored Products, Brands, and Amazon Display Ads. Each of these services provides businesses a unique way to reach their target audience and increase their sales on Amazon.
The platform is particularly popular among small and medium-sized businesses and Amazon marketing agencies, who are rapidly moving up to 60% of their ad budgets from Google to Amazon. It is because AMS offers a wide range of services that can help businesses effectively target and reach their ideal customers with highly impactful ad campaigns.
In this post, we'll delve deeper into what AMS is and how you can leverage its powerful tools to take your business to new heights on Amazon.
What Is Amazon AMS?

Marketing Services on Amazon have come a long way since its inception in 2012, with several changes and improvements made along the way. In this guide, we'll cover the latest version of AMS and show you how to leverage its tools to give your business a competitive edge.
As of now, AMS offers three key advertising formats that you should be aware of:
Amazon Sponsored Products Ads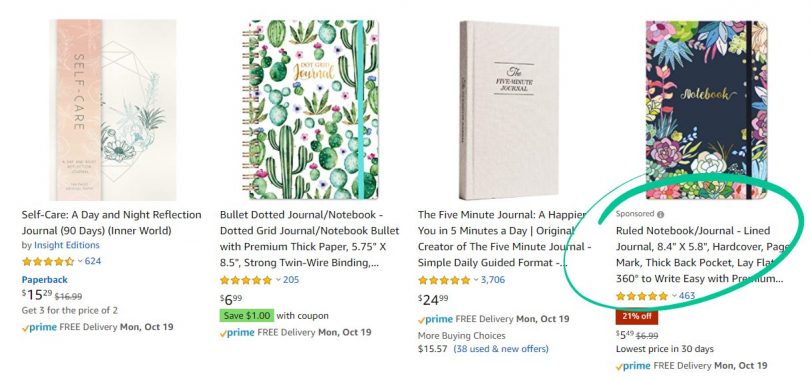 One of the most popular ways to advertise on Amazon is through Sponsored Product Ads, which can be targeted manually using keywords or automatically based on content. These middle-of-the-funnel ads are displayed on the right rail and at the top or bottom of the Search Engine Results Page, making them highly visible to shoppers.
Creating Sponsored Product Ads is quick and easy, often taking no more than an hour to get approved. Both vendors and third-party sellers can use this powerful AMS advertising tool to reach their target audience on Amazon. With such broad reach and ease of use, it's no wonder that Sponsored Product Ads have become a top choice for businesses looking to boost their sales on Amazon.
Amazon Headline Search Ads/Sponsored Brands

Amazon Sponsored Brands, formerly known as Headline Search Ads, is a highly effective way for AMZ vendors to promote their products. Unlike Sponsored Products, these ads are top-of-the-funnel, meaning they are designed to capture customers' attention who may not yet be actively searching for a specific product.
Sponsored Brands are keyword-driven and typically appear in a banner-like format at the top of the search results page. They are only available to Amazon vendors and can be used to showcase multiple products at once. With eye-catching headlines, custom images, and a direct link to your brand's landing page, Sponsored Brands can be a powerful tool for driving traffic and increasing sales.
Amazon Product Display Ads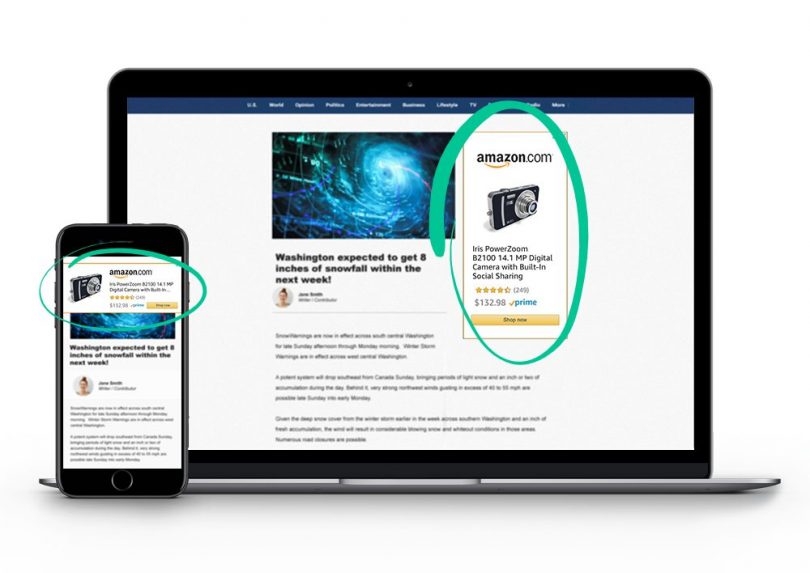 Amazon Product Display Ads are a powerful way for vendors to target specific products or interests, and they can appear on product detail pages and competitor pages. As a bottom-of-the-funnel ad, these ads are often the last message a customer sees before making a purchase decision, making them a critical part of your marketing strategy. Keep in mind that Product Display Ads are only available to vendors, not third-party sellers. With this tool, you can drive more sales and increase brand awareness by reaching customers who are actively considering making a purchase.
How Does Amazon Advertising Service Work?
Using AMS to your advantage is easier than you might think. First, let's explore the basics of AMS, which offers two options: products that operate via PPC (Cost-Per-Click) and products that operate via impressions (Cost-Per-Thousand).
Getting started with AMS is as simple as selecting the ad format that best aligns with your business goals, setting up your campaign, and tracking its performance. With the right strategy in place, AMS can be a powerful tool to help you reach your target audience and boost your sales on Amazon.
AMS, or the Ad Console, is a powerful tool that can put your products in front of your target audience, allowing you to compete with other sellers. With AMS, you have the ability to target specific product detail pages, which can help you display your products to customers who are ready to make a purchase.
The self-service solutions provided by AMS offer a range of tools that can be used to create effective AMS advertising campaigns. Depending on your marketing goals, you can choose to use all or only a few of these tools. Each tool offers customization options that can help you stand out from your competitors if you comply with Amazon's marketing terms and conditions. Overall, AMS is an effective way to boost your product visibility and increase sales on Amazon.
Why Is Amazon Marketing Service Important?
Reach a large audience

: AMZ has over 300 million active customers worldwide, and advertising through AMS can help you reach a large audience of potential customers.

Increase sales

: AMS can help you promote your products to customers looking for similar items on Amazon, increasing the likelihood of making a sale.

Targeted advertising

: AMS offers a range of advertising options, including sponsored products, sponsored brands, and product display ads, which can be targeted to specific keywords or interests, increasing the relevance of your ads to potential customers.

Customization

: AMS allows you to customize your ads to fit your brand and marketing goals, ensuring your message is consistent and effective.

Measurable results

: AMS provides analytics and reporting tools, allowing you to track the performance of your ads and make data-driven decisions to optimize your campaigns and maximize your return on investment.
Where Do Sponsored Brands Ads Appear?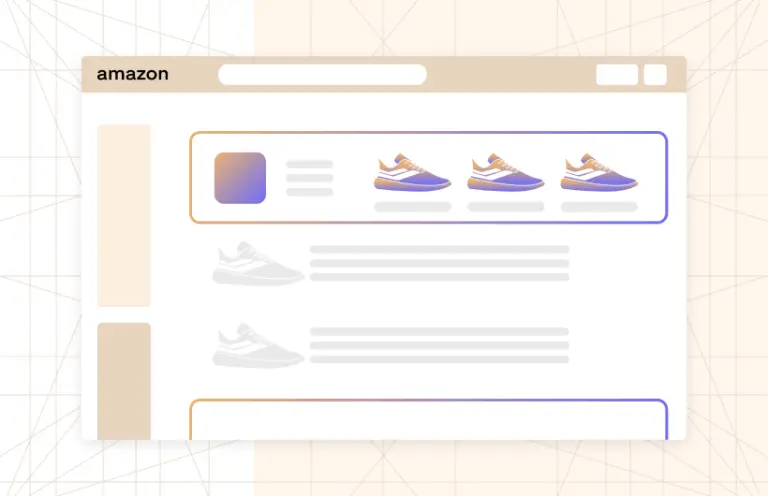 In the Amazon Marketing Services (AMS) world, the Sponsored Brands option is a key player in increasing brand awareness and driving traffic to a specific landing page. These banner ads can appear in various locations, including above, to the left, at the very bottom of search results on the desktop, and even in the middle of the mobile app search results page.
The top-row placement and custom headline make Sponsored Brands hard to miss, so they are excellent for capturing the shopper's attention. The big, eye-catching logo at the front of the banner is especially effective for building brand awareness. It can lead shoppers to an exclusive brand store or custom landing page tailored to their interests and tastes.
With Sponsored Brands, you can customize each target to suit your target audience's preferences and create a unique brand experience that sets you apart from competitors. By utilizing Sponsored Brands, you can establish your company's presence on the platform and create a loyal following of shoppers who trust and value your products.
How to Qualify for Amazon Marketing Services?
The robust and dynamic features of Amazon's Marketing Services are not available to everyone. Access to these features is limited to a select few, including account holders of Seller Central, Vendor Central, Advantage Central, and Kindle Direct Publishing (KDP). 
However, merchants can access these services through an agency that represents them on the platform. With this exclusive access, sellers and vendors can leverage the power of Marketing Services on Amazon to drive more sales, increase brand visibility, and enhance their overall marketing strategy on the world's largest online marketplace.
Advertising Services on Amazon: Best Practices
Once you've decided on the type of ad you want to run through Amazon Marketing Services, it's important to implement some best practices to ensure that your campaigns are practical and successful.
Clearly define your target audience
Identify the demographics, interests, and behaviors of your ideal customers. This information can help you to tailor your ads and messages to better resonate with your audience.
Do your research
Before launching a campaign, conducting thorough research is essential. Here are a few key areas to focus on:
Discovering the most relevant keywords and key phrases for your campaign

Gaining a better understanding of the interests of your target audience to ensure your campaign resonates with them

Identifying cross-selling opportunities to boost your sales and revenue.
Highlight the right items
To effectively reach your target audience and maximize your return on investment, it's important to create ad campaigns that showcase products most likely to appeal to them. For example, focusing on seasonal items, high-demand products, or those that have proven successful sellers in the past is a smart strategy.
Establish your budget
To ensure profitability with your AMZ advertising budget, it's important to calculate your average cost of sale (ACoS). It includes overhead expenses, production costs, taxes, and account fees. For example, let's say you're selling a product for $100, and your production costs are $70, which is 70% of your product margin. It leaves you with a profit of $30, which is 30% of your product margin. Your ACoS needs to be lower than 30% to make a profit. Therefore, it's crucial to set your advertising budget accordingly and ensure that your ACoS remains profitable for your business.
Optimize
As a seller, you can leverage AMZ Marketing Services to gain access to ad data that can be used to analyze your campaign performance and optimize them accordingly. Doing so lets you learn important details such as the best-converting products, the most popular colors or product models, best-performing ads for specific products, high-performing keywords, and the best copy for click-through rates. This valuable information can help you redirect your advertising budget from lower-performing campaigns to the ones that are working. However, there are many other ways to optimize your advertising campaigns to ensure the best possible return on investment.
How to Use SellerSonar to Enhance Your Marketing Campaigns? 
While you may have some idea of the keywords your customers use to search for your products, it's important to remember that you aren't your customers. To ensure that you're targeting the right keywords and phrases, you need to use an Amazon keyword rank checker. 
One such tool that can help you with this is SellerSonar. With SellerSonar, you can gain valuable insights into your keyword rankings, which can be used to develop more effective marketing strategies. Our tool analyzes AMZ listings and rankings based on the keywords you've entered. As a result, you'll receive a dashboard with data-driven information on keyword search results, ad performance, and organic rankings.
Final Thoughts
Are you ready to take your AMZ business to the next level? Look no further than Amazon Advertising. With Sponsored Products and Brands, you can increase sales and boost brand awareness like never before. Beat your competition and ensure your products are seen by using Sponsored Products or catch shoppers' attention with your eye-catching logo using Sponsored Brands.
But that's not all. Amazon Advertising also offers invaluable ad data to help you optimize your campaigns for maximum ROI. And for even more tips on growing your Amazon business, check out our blog. And don't forget to try our ultimate listing tracking tool for even greater success. So take control of your Amazon business and start seeing results today with Amazon Advertising.
SellerSonar monitors all critical AMZ product listing changes and sends real-time notifications so you can handle them instantly. Interested? Let's get started with a free 29-day trial!