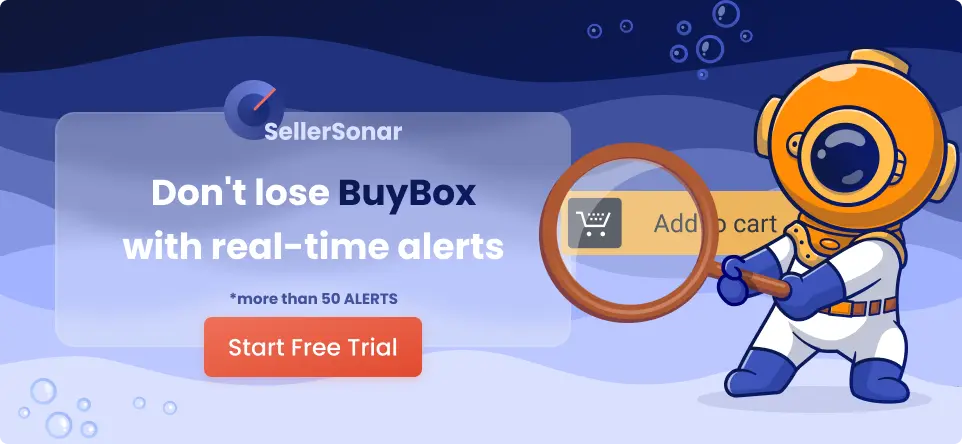 Your clock sets off when you sign up for your seller account on amazon.com.
Your first account charge comes through only in a month. However, you need to satisfy all the platform's performance indicators and rules from day one.
But before jumping in Amazon business headfirst and start selling, check out several Amazon store requirements we encourage all the prospective merchants to consider prior to formalizing their seller profile registration procedure.
Requirements for Selling on Amazon
What is needed to sell on Amazon? First of all, several documents are required to operate on the platform, including your tax ID, state tax card, and business info. Once such documents are on hand, you can initiate the Amazon seller registration procedure and set up your seller profile. 
Fortunately, the sign-up process of the Amazon seller account is relatively straightforward. First, you'll need to fill in some basic information using the documents you have acquired and proceed with the straightforward instructions. Once this process is over, you are ready to begin selling on the marketplace.
How to Get Started on Amazon for Beginners? 
One of the foremost decisions you have to make when creating your seller account on the platform is to sell FBM or FBA. To help you reply to this question, let's delve into the diverse pros and cons of the two models.
Fulfillment by Merchant (FBM)
FBM is the model on Amazon when the seller controls the entire shipping and handling process. Self-shipping is usually a good choice for small sellers and smaller profit margins. You can select between charging for shipping and providing free shipping. The biggest advantage of this system is that merchants can keep everything in-house and not lose more of their profits to Amazon fees.
Meanwhile, the downsides are that it's harder to qualify as an Amazon Prime shipper, so you might lose out on Amazon customers with Prime accounts. The other disadvantage is that it's more difficult to win the Buy Box when using FBM.
Fulfillment by Amazon (FBA)
When working with FBA, Amazon will ship orders for you, and you'll store your inventory in Amazon's fulfillment centers across the globe. Then, the platform handles packaging and shipping the goods when a client places an order.
If the nitty-gritty procedure of shipping and processing orders yourself feels tiresome, go for this shipping method. An FBA seller can enjoy Amazon's world-class fulfillment centers, customer service, and other operational tools to expand your business faster than they ever could on their own.
Amazon Seller Fees: How Much Does It Cost to Work on Amazon? 
Those creating their seller account on Amazon for the first time have the possibility to pick between two main seller programs: the individual selling plan and the professional seller plan. The price for the pro subscription is $39.99 per month to start, while the individual selling subscription is free. Nonetheless, sellers are charged $0.99 per unit they offer on the marketplace with the individual selling plan. It makes your choice between these two plans relatively easy financially. If you sell 40 units and more per month, you can save money using the Amazon professional option.
It's also critical to note that Amazon sets a referral fee per item that varies for different types of goods you're selling. Such a fee is fixed for any plan you're enrolled in. In addition, there also are FBA commissions to consider if you select to benefit from the FBA model. Keep in mind that such fees can turn out to be the heftiest ones. Thankfully, you can use some Amazon seller fee calculator tools. For instance, SellerSonar makes the process of estimating and cutting your fees much simpler.
Requirements for Amazon Seller Account
As soon as you sign up as a seller on Amazon, you can access the Seller Central profile. Consider this profile as a go-to help desk for selling on the marketplace. It is a true doorway to your business on Amazon.com and a one-stop tool for operating your selling account. Here you can add your items, make necessary inventory updates, manage payments, and find useful data on Amazon store conditions. All this will help you navigate the marketplace. Below we provide just a couple of things you can perform from the Seller Central profile: 
Monitor your goods and revise your listings using the Inventory tab

Craft business reports and saves templates you usually use 

Use customer metrics features to track your performance on this marketplace

Check the Case Log to reach out to Selling Partner assistance and submit help tickets

Monitor your everyday sales for the goods you offer on Amazon
4 Simple Steps to Start Selling on Amazon
So, how to begin selling on Amazon? Check out these simple guidelines:
Step 1: Decide on a product category.
The very first point is to choose what goods you wish to sell.
Amazon has some limitations on what items you can offer through the platform. So, the product on Amazon you opt for should match one of the existing categories. In addition, some goods will require prior permission from the retail giant before listing. Thus, keep in mind the troubles you might put yourself through with some SKUs.
Think about what goods there already exists some target audience for. Then, consider how you can develop a unique segment and stand out from the competition.
Step 2: Select your selling plan.
As described above, you can choose between two selling plans. Make your decision in terms of the frequency, price of your goods on Amazon, and your anticipated sales per month. 
Step 3: Register your goods.
For goods registration, you first should set up a Seller Central account. It's the platform to manage your Amazon FBA store.
It is mostly a matter of providing business and personal information. Sellers are also required to provide identity proof, and sometimes, they might be asked to enter beneficial owner info. The final point is to enter bank account information to finish payment transactions.
As soon as you fill in this info, you are ready to begin adding products to your Amazon stores.
Step 4: List your products.
Now you've signed up. It's high time you started developing a collection of items in your Amazon store. So, how to create your product listing? 
The way you list the goods is determined by the plan you have. For example, owning a regular subscription, sellers can upload only one item at a time. At the same time, a pro-selling plan allows merchants to add large bunches of products to the platform through bulk tools, sparing your precious time.
You can use two methods to list an item. First, some goods are already added to the platform. In this case, you might lift the details and enter gaps special to your company, such as condition, stock numbers, and shipping info. If you upload an item not existing on Amazon, you must include more comprehensive information before uploading.
What's next? 
Your business as a seller on Amazon officially begins now. As soon as you have your product listing completed and your goods ready to ship, it's time to go live.
However, there is much more to do than just throwing up a product listing and expecting sales to start rolling in. First, analyze your business within the market. Then, optimize your product listings to enhance website traffic and boost sales. Finally, don't forget to monitor your competitors and check their activities on the platform.
A great way to keep track of уour Amazon listing quality is by using SellerSonar. With the program, you can monitor changes to your listings, get notifications on changes of product titles, bullet-points, new sellers, customer reviews, Best Sellers Rank (BSR) drops, and much more without even logging in to your Amazon account.
For your convenience, here's a comprehensive video guide on how to expand your e-commerce horizons with SellerSonar!
In this tutorial, we'll walk you through the simple steps of adding stores and products to our service, enabling you to effortlessly monitor your product listings across multiple Amazon marketplaces. 
Sign up for SellerSonnar's 29-day free trial now and avail yourself of automated product listings monitoring!