Since its inception in 1994, Amazon.com has been a force to be reckoned with. With its impressive array of services ranging from e-commerce to digital streaming to cloud services, Jeff Bezos' brainchild has transformed numerous industries. Nevertheless, AMZ is not alone in the market. There are plenty of other businesses operating as Amazon's competitors that are making huge profits selling different products.
So, who are Amazon's biggest competitors? Today, we'll take a closer look at some of the top Amazon competitors across various sectors and discover how they attract customers despite having fewer resources. By examining their strategies, we'll find out how your small business can also compete with the online retail behemoth.
Get ready to discover the secrets of these savvy businesses that have taken on the challenge of competing with Amazon and come out on top!
Top Amazon Competitors – Everything You Need To Know
eBay 
In the world of e-commerce, eBay is another giant platform that goes head-to-head with Amazon. The online marketplace company, which is headquartered in San Jose, California, was established in 1995.
Although eBay's revenue has experienced a decline over the years, it still managed to generate a staggering $9.895 billion in 2022.
On eBay, sellers are given the opportunity to list their products for sale while buyers browse through the marketplace to find the products they need. Moreover, eBay sellers offer products that are similar to those sold by AMZ sellers but with a twist. Sellers on eBay can either sell their products via auctions or at a fixed rate, something AMZ does not currently offer.
This unique selling point has placed eBay in an enviable position in the e-commerce world, being essentially a vast online garage sale as opposed to a conventional marketplace, which sets it apart from Amazon's offerings.
Walmart
Walmart is one of the top competitors of Amazon with a global presence spanning 27 countries, boasting over 11,000 department stores. While it competes with Amazon's retail subsidiaries, such as Whole Foods and Amazon Books, in various locations, Walmart offers an extensive range of products at everyday low prices.
Although Amazon dominates the e-commerce market, Walmart's online presence is growing rapidly. Consumers are increasingly flocking to Walmart.com to purchase groceries and other essential items. This is due to Walmart's strategic leveraging of its thousands of physical stores across the US, which provides access to familiar brands and easy pickup/returns.
In 2022, Walmart raked in an impressive $611 billion in worldwide revenue (both in stores and online). With its ever-growing online presence, Walmart is fast becoming a significant competitor to AMZ's e-commerce dominance.
Alibaba Group
The Alibaba Group is a conglomerate of multiple business units, including Alibaba, Aliexpress, Taobao, and Taobao Mall (TMall).
While Alibaba is renowned for being a search engine for Chinese factories, the core of Alibaba Group's business is direct-to-consumer (DTC) sales. In fact, DTC sales generate most of the company's total revenue, which primarily originates domestically.
The Alibaba Group owns several websites, such as Taobao, its largest business unit, offering a marketplace for sellers and buyers. Any individual or small business can set up an online store via the site. AliExpress, on the other hand, is similar to Taobao, but it caters to international customers. Unlike Taobao, anyone worldwide can purchase products from AliExpress.
For larger brands such as Nike, Apple, and Gap, Alibaba Group created TMall, an e-commerce platform that allows these brands to directly sell their products to customers, much like Amazon's approach.
Moreover, aside from e-commerce, Alibaba Group makes a percentage of every sale via Alipay, a third-party online payment platform with over 1.3 billion users globally.
Amazon's rival's dominance in the Chinese e-commerce space is impressive, as it accounted for almost 47% of all online retail sales in China in 2022. In comparison, Alibaba Group's market share is considerably more extensive in its home country than Amazon's market share.
Rakuten
Rakuten is also one of Amazon's biggest competitors. When it comes to e-commerce, few companies can compete with the Japanese powerhouse Rakuten. Since its inception in 1997, this Tokyo-based company has evolved into a diverse ecosystem, offering everything from streaming services to health insurance.
Rakuten's retail strategy is unique, relying on a cash-back system to incentivize customers to shop through its platform rather than directly with brands. And the approach is working. The company achieved great growth in 2022, raking in a total of  1,927 billion yen.
While Rakuten's competitors may focus solely on e-commerce, the company's multifaceted approach has proven to be a successful one. With a wide range of services and offerings, Rakuten has established itself as a major player in the global e-commerce space.
Target
Target is a retail platform that is well-known for its physical stores located all across the United States. With 75% of the US population living within 10 miles of a Target retail store, it's no surprise that the company generated over 109 billion dollars in revenue in 2022.
Although Target's online sales accounted for only 18.9% of its total revenue in 2021, the company is quickly catching up in the e-commerce game. In fact, Target's e-commerce sales are projected to grow by 20% in 2023.
One of Target's biggest strengths is its vast network of retail stores and its loyal customer base. This allows Target to offer a wide range of services, including same-day delivery, order pickup, and drive-up pickup. These convenient options have helped Target remain competitive in the e-commerce space, even against giants like Amazon.
Furthermore, Target has been investing heavily in technology and digital capabilities, such as using artificial intelligence to improve the online shopping experience and offering personalized recommendations to customers. With these innovative strategies, Target is sure to continue its growth and success in the e-commerce industry.
What Makes the Marketplace Stand Out from Top Amazon Competitors? 
Online platform domination
For over a decade, Amazon has been a dominant force in online retail, with nearly 50% of its products sold by third-party sellers. This marketplace is highly attractive to customers and sellers due to its broad selection and flexibility. Over 70,000 entrepreneurs earn over $100,000 in annual sales through AMZ, leaving traditional brick-and-mortar businesses at a disadvantage.
Focused customer service
One of the keys to Amazon's success is its customer service. The site is highly user-friendly, with advanced search capabilities, personalized recommendations, one-click ordering, user reviews and ratings, and automatic reordering with dash buttons. In addition, with its Prime membership, Amazon gains a 360-degree view of its customers' data, enabling it to tailor its services and continuously improve.
Pricing strategy
Amazon's pricing strategy prioritizes long-term growth and customer value over quick profits. Its economies of scale and investments in infrastructure and logistics have enabled it to offer one-hour delivery through Prime Now and underwrite developments in lower-margin sectors like online grocery shopping.
Concurring with technology and innovation
Amazon's focus on innovation has led it to create highly versatile and lucrative technological solutions. In addition, its global purchasing options allow customers to buy items from markets other than their own, with plans to expand language and currency support.
Global purchase options
The international shopping feature of Amazon's browsers and applications is available to users of both Android and iOS. The platform launched this feature to entice customers to purchase items from markets outside of their own. The feature is currently accessible in several languages, including English, Spanish, Brazilian Portuguese, Simplified Chinese, and German. However, AMZ plans to expand its language and currency support to offer more shopping options to customers, including a selection of shipping choices and delivery times.
Marketing to the millennials
Millennials are a key target audience for Amazon, with the app ranking as the most popular among this demographic. The app's features include shopping, music, movies, and the virtual assistant, Alexa.
How to Enhance Your Growth on Amazon with SellerSonar? 
With the right strategy and tools, any online store can thrive. One tool that can help boost sales on Amazon is SellerSonar, which offers comprehensive product listing tracking. It's an invaluable service that keeps you in the loop on any sudden and unforeseen changes to your Amazon.com listings.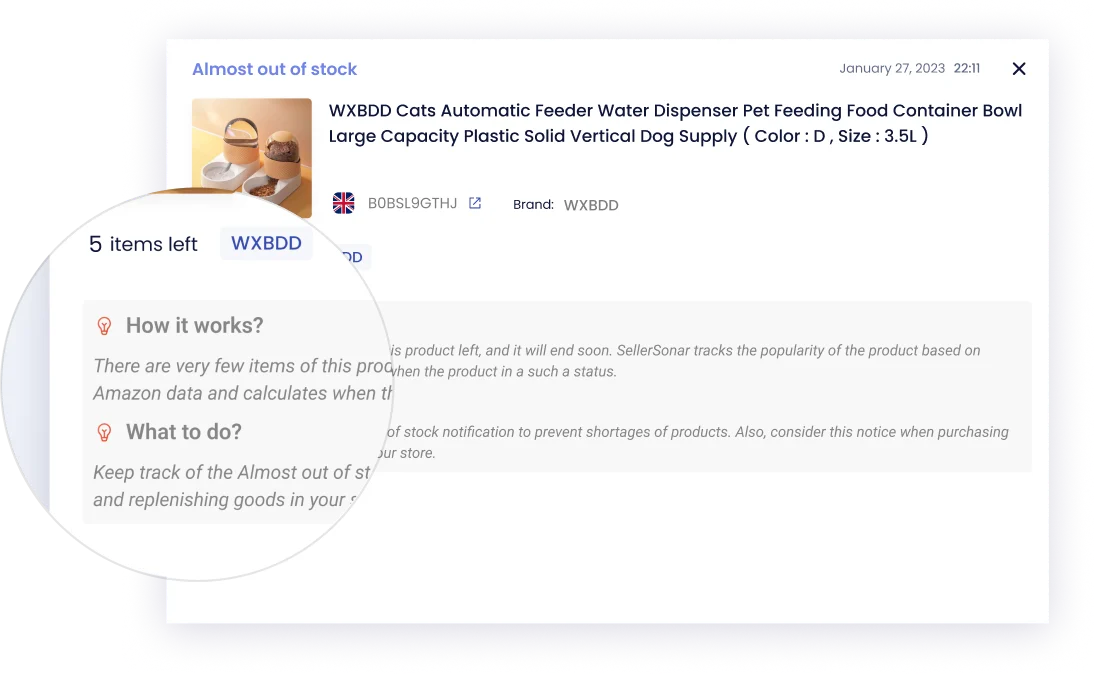 With SellerSonar, you'll be able to keep track of your seller account metrics, monitor changes to the Buy Box, and safeguard your product listings from hijackers, giving you peace of mind. In short, it's an all-in-one solution that can help you increase sales, optimize margins, and protect your reputation. With its wide range of features, you'll gain invaluable insight into your Amazon ASINs, making it an indispensable tool for any Amazon seller.
Sign up for a 22-day free trial and benefit from the service right now!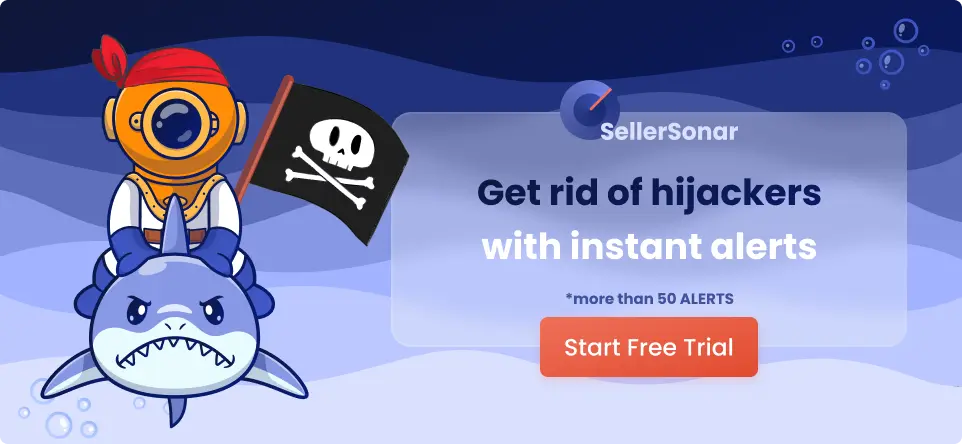 Conclusion
Amazon has certainly made a name for itself in the world of e-commerce, but it's important to remember that there are other options for sellers and merchants. Many successful brands and companies have built loyal followings of their own.
The key to success is not being afraid to take a chance and start small. So, if you want to take your online business to the next level, don't limit yourself. Explore your options, including Amazon's competitors, and take advantage of the tools and resources available. With determination and hard work, your online store can become a success story of its own.