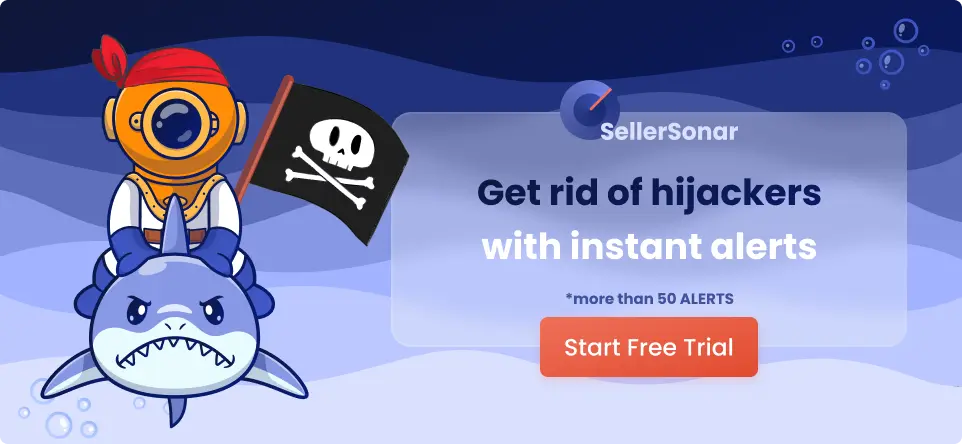 Nowadays, most online shoppers look for a product to buy via search. That's how the potential customers of any Amazon merchant find what they purchase. More than 56% of consumers who'd like to buy products from a single store search for them on Amazon.
To find an item to buy, your customer enters a term in a search bar. If you want to sell as many products as possible, which you do, your listing should contain words that are as relevant to your customer's query as possible. It is because Amazon's engine selects the product that matches customers' searches and ranks the results according to relevancy.
The higher your product ranks in the search results, the more orders you will get.
Said that you'd think it's a good idea to put a lot of keywords on your listing to increase relevancy. However, you can add only a limited number of words to your heading and product description to keep them readable.
Therefore, Amazon introduced backend keywords. These search terms appear in the "invisible" part of your listing. Nevertheless, they are indexed by Amazon's A10 algorithm and improve your Amazon SEO optimization.
So what are backend keywords on Amazon? Read further to know how to find backend words on Amazon and how Amazon backend keywords can help in your listing optimization to grow sales.
What Are Amazon Backend Keywords?
Backend keywords are one of the two types of search terms on Amazon. These are frontend and backend keywords.
Frontend, or primary keywords, are search terms visible to the buyers. They are located in the product listing heading, bullet points, and description.
Backend or secondary search terms are invisible to shoppers. Amazon hides them in the "Search Terms" section under the "Keywords" tab.
Notwithstanding the "secondary" title, backend keywords play a very important role in your listing optimization. Amazon's A10 algorithm indexes them alongside primary keywords. Backend keywords on Amazon strengthen product visibility by being invisible themselves.
Backend keywords make it possible for you to squeeze in search terms that you could not put on the visible part of your listing. These can be synonyms, spelling variations, abbreviations, and more.
Here's a backend Amazon keywords example: if you sell a multicooker, customers may also look for an instant pot or steam cooker. These are backend keywords.
In addition, backend search terms reinforce the efficiency of advertising campaigns. You can specify your target audience thus selecting a certain customer group you aim at. You can add this information in the "Target Audience" section under the "Keywords" tab in your Seller Central.
What's the Difference between Backend Keywords Indexing and Ranking?
Indexing and ranking are not the same. Amazon's A10 search algorithm indexes a keyword when it appears against a buyer's search. Alternatively, ranking is the position of your item in the search results.
How Does A10 Algorithm Rank Your Listing on Amazon?
Whenever a buyer makes a search, they want to find the product they look for, and not something else. That's why Amazon applies its proprietory search algorithm A10 to show products merchants sell in a certain sequence. The higher the product ranks on the SERP (Search Engine Results Page), the better it sells.
Amazon's A10 algorithm ranking criteria
As far as Amazon uses its own algorithm, it applies its criteria to rank search results. Basically, these are relevance, performance, and customer satisfaction product parameters.
Relevance ranking criteria
Listing Optimization:
Keyword Optimization:
don't add too many keywords;
concentrate on the search terms relevant to your product;
perform keyword research.
include backend keywords.
Performance ranking criteria:
sales velocity;
seller authority;
impressions;
sales history;
Click-Through Rate (CTR);
Conversion Rate (CVR);
organic sales;
internal sales;
off-site sales;
PPC sales.
Customer Satisfaction Criteria:
customer review rate;
negative seller feedback rate;
order processing speed;
in-stock rate;
Perfect Order Percentage (POP);
Order Defect Rate (ODR);
exit rate (% of times a shopper views your listing and then exits Amazon).
You can read more about how to match the A10 criteria here.
How Do Backend Keywords Optimize Product Detail Page?
In fact, backend keywords increase your product's discoverability and improve the quality of your listing.
Backend keywords help:
enhance item's visibility;
add high-demand keywords you were unable to use in the front-end;
include spelling variations, abbreviations, synonyms, and more;
index all keywords relevant to the product;
drive traffic and conversions;
improve Best Seller Rank (BSR).
What Are Amazon Guidelines for the Backend Keywords?
For Amazon to successfully index your backend keywords, they recommend sellers follow best practices with regard to search terms.
Amazon Backend Search Terms Guidelines
stay under the length limit;
include synonyms;
add spelling variations, no need for misspelling;
enter abbreviations and alternate names;
you can use all lower case;
don't use punctuation, such as: ";", ":", "-";
separate words with spaces;
do not repeat words within the Search Terms field;
you shouldn't include your brand or other brand names in Search Terms;
don't add ASINs in Search Terms.
no need for stop words such as "a," "an," "and," "by," "for," "of," "the," "with," and so on;
use singular or plural, no need for both;
no temporary statements such as "new," or "on sale now";
don't use subjective claims, such as "best," "cheapest," "amazing," and so on;
don't add abusive or offensive terms.
Amazon backend keywords limit
When you enter backend keywords in the "Search Term" in the "Keywords" tab, the space in the section is limited. You need to use search terms efficiently since Amazon doesn't allow you to enter an unlimited number of backend keywords.
The backend search terms limit is based on bytes. When entering keywords, you can make use of 250 bytes, which is not equal to 250 characters. Regular letters and numbers are generally equal to one byte. At the same time, symbols like "ü" make up two bytes, and "€" is 3 bytes.
All symbols exceeding the limit are not indexed.
How to Find Backend Keywords?
Before entering your backend keywords, you need to make keyword research. You need to find high-converting search terms relevant to your product. You can do it both manually and automatically. Sellers can use either Amazon's Search Term Report and Brand Analytics or apply any of the Amazon keyword research tools available on the market.
Amazon Brand Analytics
Amazon Brand Analytics is a perfect reporting tool that allows you to analyze your product performance, marketing, and advertising activities. However, this feature is available to Brand Registered sellers only. On Brand Analytics, there is a dedicated dashboard – Amazon Search Terms.
Amazon Search Term report
For those sellers who run PPC campaigns, a good place to find backend keywords is the Search Term report on Amazon Advertising. This report contains data about your keywords and their performance. Select the most high-performing keywords with a high Click-Through-Rate (CTR).
How to download the Amazon Search Term report?
Login to your Seller Central and go to the «Reports» tab. In a drop-down menu, click the "Advertising Reports». In the "All Campaigns" section set a reporting period and select the "Create report button". Click "Download".
Automatic keyword research
As said, to automate backend keyword search, you can use one of the Amazon keyword research tools.
How to Add Backend Keywords on Amazon?
Step 1. Login to your Seller Central and go to your "Manage Inventory" page.
Step 2. Select the product and click the "Edit" button to get access to backend keywords.
Step 3. Click the «Keywords» tab.
Step 4. You will see five sections where you can enter your information:
Search Terms – enter your backend keywords;
Intended Use — specify the purpose of your product;
Subject Matter — add the same words as your keywords;
Target Audience — describe your potential customers;
Other Attributes — enter any additional data for the A10 algorithm to identify your item;
Platinum Keywords – will be indexed only if you are a platinum seller.
Step 5. Click the "Save and Finish" button.
Amazon Keywords Tips
add most efficient words;

use only relevant words directly related to the item;

constantly monitor keyword performance;

include search terms in the logical order;

do not use brand identifiers.
Utilize relevant keywords
Don't use keywords that are not relevant to your item. Some companies will attempt to use common words to bring their product in front of more customers. The platform frowns upon this as your product page is irrelevant to such a keyword.
AMZ wants to get the best product results to boost conversions. It does not want you to add irrelevant search terms because your item will not be relevant in buyers' search results. It will indicate fewer conversions for the platform and your business.
To avoid such situations, only add keywords that relate to your goods. Of course, you may stretch them, for example, by using "fitness equipment" as a backend keyword for your fitness blender item, but they must pertain to your goods somehow.
Put search terms in a logical order
If you list backend keywords, make sure they're in logical order. Think about how buyers look for products. In what order do they put those words?
For instance, you do not want to search "fire red engine" but rather "red fire engine." Most buyers will enter the color first and then the item. You need to order your search terms to match how a customer would shop with that keyword.
Omit brand identifiers
Your company name should never stand in your backend keywords. Unfortunately, AM doesn't allow it. Or, if you are offering Adidas sneakers, do not put Adidas in the backend, as it is a brand identifier. In turn, concentrate on non-branded search terms that will bring better results.
Wrap Up
Adding relevant keywords to your product's listing is one of the crucial steps in your sales process. Since Amazon is a very crowded marketplace with tons of competition, you have to make your product visible to shoppers to sell it. Backend keywords help Amazon's A10 search algorithm find your product and show it to the relevant customer audience. Also, they attract qualified traffic to your listing and grow conversion rates.
Of course, selecting the right backend keywords is very important. However, this is insufficient for your success on Amazon. It's paramount to constantly keep track of your products' performance efficiency. To maximize your sales volumes, it's necessary to constantly keep track of all your product's metrics. By doing that, you can control your sales indicators and overall store profitability.
Amazon monitoring software is an efficient way to stay on top of your sales. SellerSonar offers instant Amazon alerts to protect your sales. With us, you are aware of all listing changes, Buy Box hijackers, new/deleted reviews, keyword rank history, and product suppressions.
Try SellerSonar now. Register for our 22-day trial and boost your incredible journey of running your business on the platform.