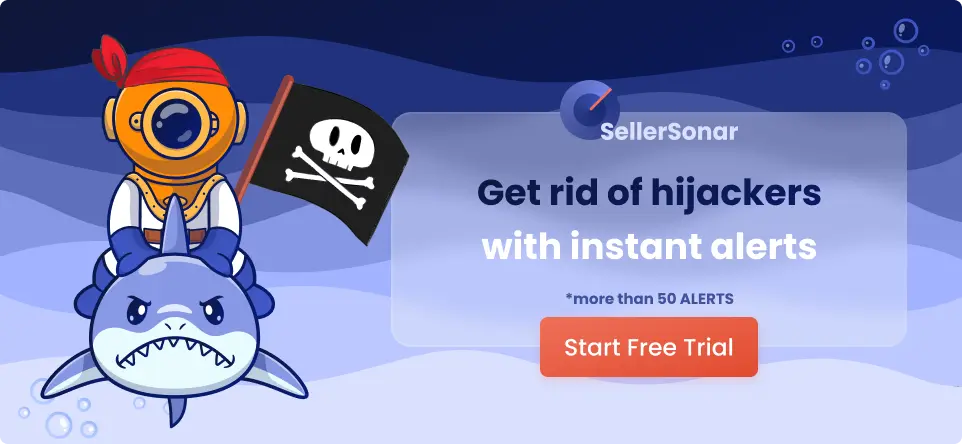 To optimize your Amazon product listings for higher rankings, you need to learn more about Amazon SEO Tips. Read our complete guide for sellers.
Amazon is one of the biggest e-commerce platforms in the world. It offers great opportunities for sellers due to its extensive customer base and trusted reputation. Over 300 million people are Amazon's active users. Moreover, these shoppers purchase around 1.6 million packages daily.
Any of them can become your customer now if they discover your product among many other products. You can achieve this via Amazon Search Engine Optimization.
Read more to find out what Amazon SEO is and how to do SEO for Amazon products to grow sales.
What Is Amazon Product SEO?
Amazon Search Engine Optimization, or Amazon SEO for short, is the method to increase the quality of product pages. SEO optimization on Amazon helps rank your product higher in search results. At the same time, it increases visibility and drives targeted traffic to your listing. In turn, targeted traffic converts to more sales.
Whenever a shopper enters a search query in a search bar to find a product, the Amazon search engine picks out the most relevant results. After that, it ranks them in the order of relevancy.
To do that, Amazon implements its proprietary ranking algorithm, A10. This algorithm accounts for several metrics to rank your item in client search results.
The higher your product ranks in the search results, the more the chance that your potential customers will buy it. Meanwhile, according to marketing experts, 80% of sales happen on the first Search Engine Results Page (SERP). If your product appears below page 3, you will most likely not sell anything.
How Does A10 Algorithm Work?
When a buyer wants to purchase a product, they enter a sequence of search terms to find it on Amazon's website. After that, they can see search results ranked in a specific order. Amazon's search algorithm A10 determines the order of results. It ranks products based on Amazon's own criteria. They range from high-ranked keywords included on the listing to quality images and positive review rates.
As a result, your item shows up at number X on the number Y page. The lower the number, the higher is the rank.
Since A10 is Amazon's proprietary algorithm, and they are not exposing the exact criteria A10 uses. However, we know the most important of them.
If you understand these criteria and apply them properly in your Amazon SEO strategy, you can grow your sales.
What are the Ranking Criteria of the A10 Algorithm?
There are three types of criteria A10 applies to select the best sellers. These are relevance, performance, and ranking factors measuring customer satisfaction.
The first type, relevance metrics, includes listing optimization and highly relevant keywords. The second type, performance factors, include sales velocity, conversions, Click-Through Rate, and other parameters of product performance. The third type, customer satisfaction, includes a positive review rate, positive feedback, order defect rate, and more.
How to Use A10 Ranking Criteria in Your Amazon SEO Strategy?
As far as A10 applies a set of known criteria to rank your product higher or lower, it is a good idea to match them. Thus, Amazon SEO optimization includes A10 compliance.
How to Match Relevance SEO Criteria?
Listing and Keyword Optimization
In order to meet these requirements, you should use only relevant listing keywords and create an optimized listing with a complete product description. If your listing has a clear title and structure and includes optimized high-ranking keywords, it will rank high.
Product Listing Optimization
First of all, you'll need to optimize your product listings. It is important to include on it all information necessary for the buyer to make a purchase decision. Importantly, a potential customer needs to see at once all data they need, including price, delivery terms, discounts, etc.
An optimized product listing should contain the following elements.
Product title
It should describe the brand, model type, and number. You also need to mention product type, size, and quantity, power output requirements. Include color, design, trademarks, or patents.
Product description
Your product description shows how your product differs from your competitors. Thus, you should make it readable and convince shoppers to buy your item. Try to tell a story of your product. Add bullet points, and structure the content. Make sure that all information is up-to-date and correct. This will help avoid negative reviews.
High-quality product photos
Include high-resolution images on your listing. They should preferably display a product on a white background, from multiple angles.
A+ content
Use A+ content to add rich texts, videos, and images. Add engaging brand stories to grow customer loyalty.
Keyword Optimization
Apart from enhanced listing content, high-performing keywords also matter for ranking. They help shoppers find your product. They should match buyers' search terms as closely as possible. It is an important component of Amazon SEO.
You should be careful when adding keywords to your listing. Do not add too many of them. The content should be readable.
Also, concentrate only on the keywords relevant to your product. Otherwise, the traffic will not convert. Imagine that a shopper looking for a steam iron press machine finds a garlic press you sell. Sure, they will not buy your product. Moreover, they might get upset with your brand.
Typically, before adding keywords to your listing, you have to perform keyword research.
Frontend and Backend Keywords
Obviously, to increase product visibility, you would like to squeeze in your listing as many keywords as possible. However, you cannot do it because the listing's number of characters is limited. At the same time, you need to include all essential product info. To solve that, Amazon provides sellers with an option to add keywords to the frontend and backend of their listings. This helps optimize SEO for Amazon products.
Frontend keywords
Frontend keywords are visible to the buyers. They can find frontend search terms on product listing titles, bullet points, and other product details.
Backend keywords
On the contrary, backend keywords are invisible to the shopper, though A10 indexes them. Backend search terms' purpose is to add extra keywords that did not fit in the frontend.
You can find your backend keywords in your Seller Central account. Go to the Manage Inventory page. Select the product and navigate to the Keywords tab. Your backend keywords are in the search terms field.
Don't forget to add both frontend and backend keywords to increase your ranking.
Amazon Search Terms Guidelines
Amazon recommends sellers to follow its keyword guidelines. To clarify, they should be precise, relevant, and have a high search volume.
The essential tips are:
Observe the character limit;
Include synonyms;
Add spelling variations;
Include abbreviations and alternate names;
Avoid misspelling;
Don't include punctuation;
Stay away from the words like "best," "cheapest," etc.
See detailed keyword guidelines from Amazon in the picture below.
Not Obvious Tips to Boost Your SEO
Think of your price
Pricing is a crucial factor for clients. They wish to get the best item for the least amount of cash. Therefore, when you publish your item on the platform, you must look at your competitors' pricing.
If you are selling your goods for $100 and all other sellers have a similar item for $20 – $30, you will not help your AMZ SEO campaign. In fact, your product page will not rank because it's too expensive. Instead, your target audience will pick a cheaper item that suits their requirements.
To keep competitive product pages, you need to monitor how sellers price items similar to yours. It will help you obtain a clearer idea of your merchandise pricing and check if your items can even compete with others.
Manage your feedback
Reviews are an essential part of any brand. They might be why an individual buys your items or chooses to pass. You must manage customer reviews to enhance your AMZ SEO campaign.
Most of the items at the top of the platform's search results generally hold four or more stars. Those are goods that have positive reviews and that people enjoy. You wish to encourage your target audience to share feedback about its experience with your items.
As a result, it will improve your rankings in AMZ search results.
Use Amazon's built-in promo tools
Basically, Amazon SEO is developed for organic traffic, which varies from Amazon PPC. Nonetheless, there's a strong connection between organic and paid search on the platform, and one impacts the other. Utilizing AMZ Advertising can enhance the visibility of your goods and improve your brand recognition. You may use this to boost your items in search results and product listings. AMZ is very innovative in showing PPC ads, making such advertisements very clickable, and sometimes buyers do not even realize they are clicking on ads.
How to Match Performance Ranking Criteria?
The most important performance factors are sales velocity and conversions. No wonder, since the more money your inventory brings to Amazon, the higher is your rank.
Sales velocity;
Seller authority;
Impressions;
Sales history;
Click-Through Rate (CTR);
Conversion rate (CVR);
Organic sales;
Internal sales;
Off-site Sales;
PPC sales.
Sales Velocity
This metric shows how much money a product makes over time. Sales velocity measures the number of opportunities (impressions) multiplied by the average sale. It is then multiplied by the conversion rate. All of that is divided by the sales cycle length.
As you can see, sales velocity has to do with the volume of sales. You can improve it by adding discounts, coupons, lightning deals, and promotions.
Conversion Rate
The conversion rate is the percentage of visits to your product listing that convert (end up in a sale).
Conversion Rate = Total Order Items / Sessions
You can check the conversion rate of your items in your Seller Central.
Go to Reports –> Business Reports –> Sales and Traffic –> Order Item Session Percentages.
Conversion rate indicates, how many visitors of your listing buy your product. To grow this number, you should highlight your product's benefits. On top of your product listing optimization, you should stick to competitive pricing.
Make your products Amazon Prime-eligible and check the efficiency of your PPC campaigns.
Customer Satisfaction Criteria
These criteria, as the name prompts, indicate customer satisfaction. To better rank for these factors, you need to improve customer services. Take care of negative reviews, increase the quality of your inventory management, and more.
Customer Satisfaction Ranking Criteria are as follows:
Customer review rate;
Negative seller feedback rate;
Order processing speed;
In-stock rate;
Perfect Order Percentage (POP);
Order Defect Rate (ODR);
Exit rate*.
*Exit rate is the percentage of times a customer views your listing and then exits Amazon.
Customer review rate
Customer review rate is the number of reviews per every 100 sales. On average, you should expect 1-2 reviews, Thus, this makes 1-2%. Aim for a 5%, or one review every 20 sales.
To add to the number of reviews, send personalized review requests via email. You can ask for reviews on social media or in product inserts. In addition, you can join the Amazon Early Reviewer Program or enroll your products in Amazon Vine.
On top of that, to grow customer satisfaction, you need to optimize inventory management. See to it that you always have enough inventory in stock. Take care of the timely shipping and use FBA.
An efficient way to stay on top of your sales is Amazon monitoring software. SellerSonar offers instant Amazon alerts to protect your sales. With us, you are aware of all listing changes, Buybox hijackers, new/deleted reviews, keyword rank history, and product suppressions.
Try SellerSonar now.
Register for our 29-day trial and boost your incredible journey of running your business on the platform.