SellerSonar is your reliable partner in this online marketplace, armed with plenty of tools to make online selling easier than ever. With the August updates, we've introduced features to help you monitor your product listings without a hitch. 
Register for a 29-day trial today or log in to your existing profile – here's what is already waiting for you.
New Dimension Alerts: Uncover Even Sharper Insights

New Dimension Changed and Weight Changed alerts give you a sharper view of your products. We will notify you instantly when changes occur so that you can take swift action if necessary. Thus, you can prevent costly mistakes and ensure your product listings are always accurate, helping you maintain customer trust and satisfaction.
All Reports on the Export Page: Keep Your Data Organized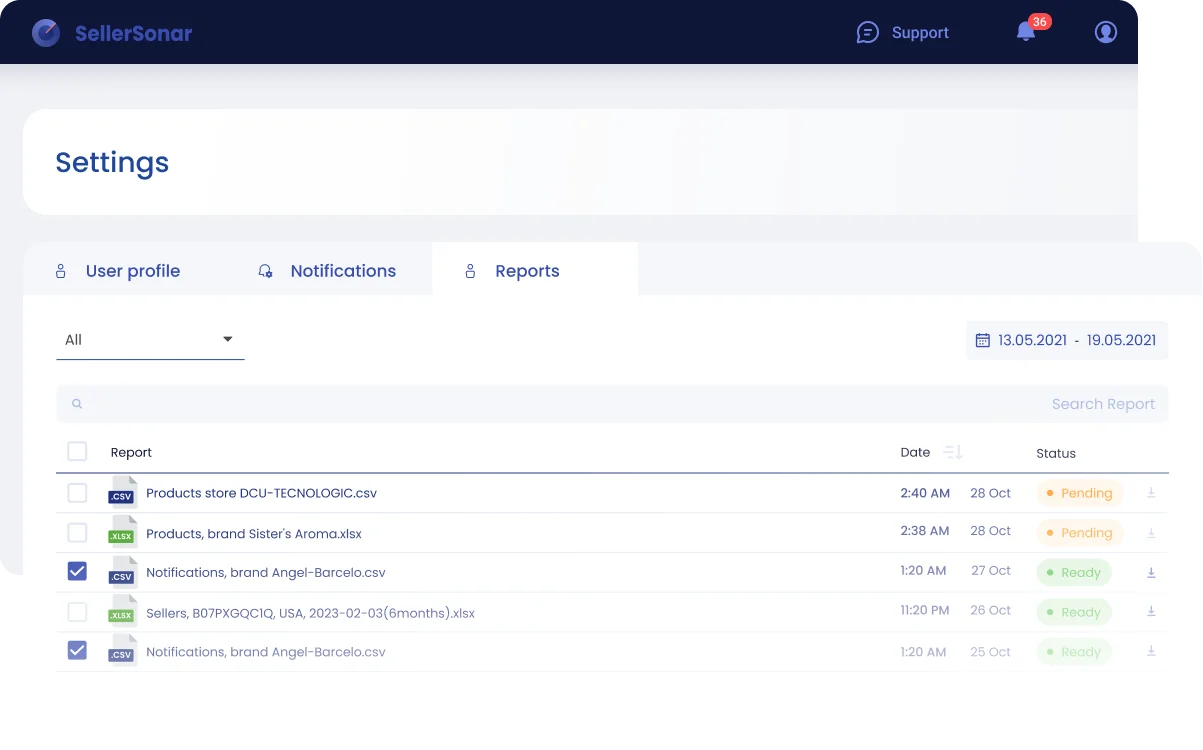 In e-commerce, data is king. We recognize the importance of keeping your data organized and accessible.  Now, all your reports are neatly stored in one place. To access your reports, simply navigate to Settings, then Reports. Keep in mind that SellerSonar retains your report data for one month, ensuring you have access to historical information whenever you need it.
Keyword Suggestions: Streamline Your Product Keyword Research
Successful e-commerce starts with keywords – those magic words that connect your Amazon products with eager customers. With the Recommended Keywords feature, you now have a tool that makes keyword research and monitoring a breeze.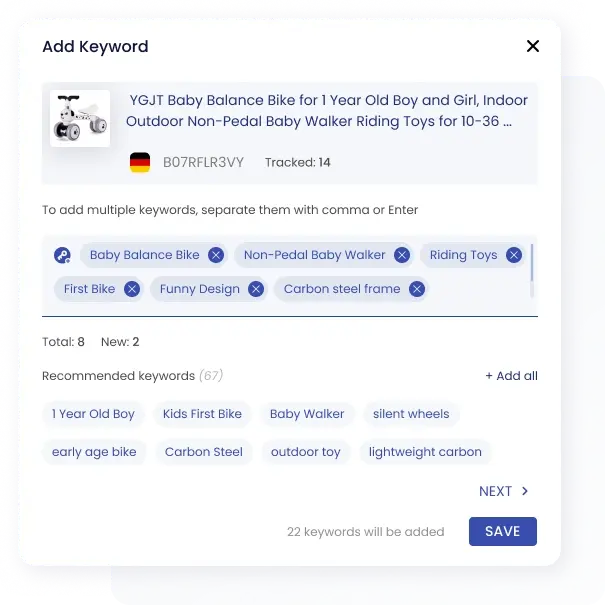 SellerSonar offers suggestions and allows you to select multiple product when adding keywords at once, saving you valuable time. In turn, you can optimize your listings for better search visibility and ultimately boost your sales.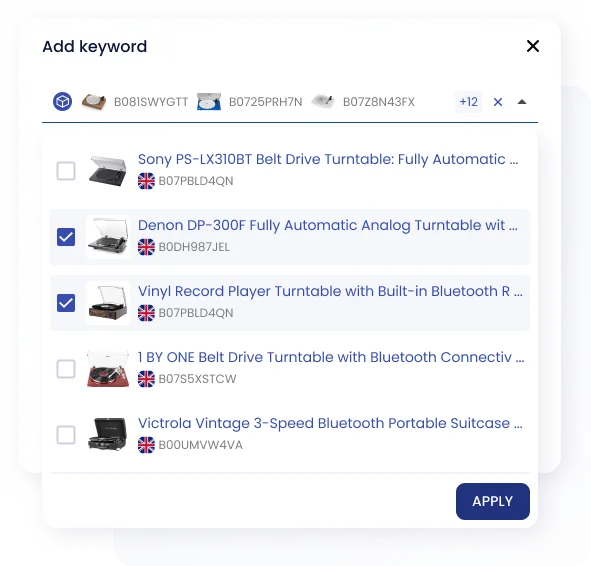 Keep in mind that this feature is fully available only for the American marketplace. For other markets, it's in beta testing as for now.
Fee Calculator: Now in Your Account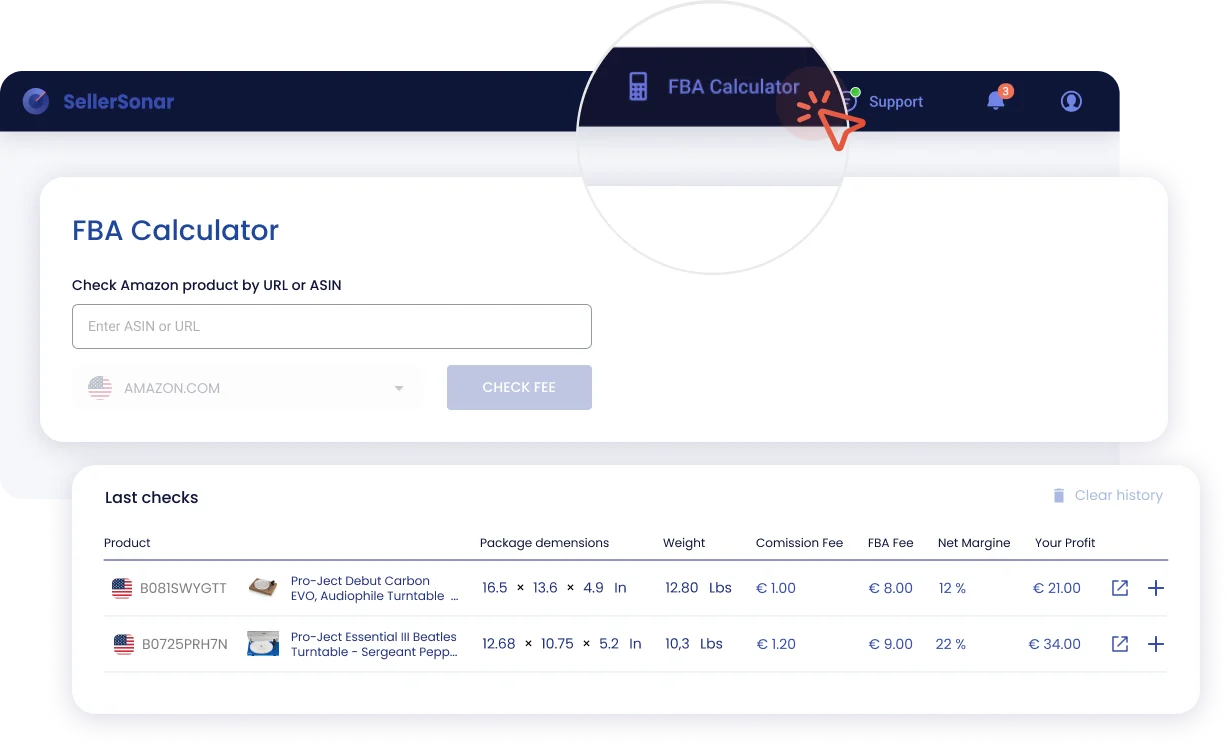 E-commerce success isn't just about sales; it's also about managing your expenses effectively. To gain a deeper understanding of your cost structure, price your products competitively, and maintain a healthy profit margin, you can use SellerSonar's free FBA calculator. Now – access it conveniently from your personal account.  
Unlike a simple cost estimator offered by Amazon, SellerSonar's solution effectively manages expenses and calculates profit margins with greater precision. Consequently, it enables sellers to gain a broader perspective, assess their real profits, and fine-tune their sales strategies. Just a quick recap of how our FBA calculator works:
Find your product by entering the product's ASIN or URL. If you search for items by ASIN, pick a specific AMZ marketplace.

Click on the 'Check fee' button and wait a bit for the AMZ FBA calculator to find the necessary product information. 

SellerSonar's calculator will find the item and show its size and weight. Keep in mind that you can change the size and weight of the product. SellerSonar uses the measurement system depending on the AMZ market (e.g., for the United States – the imperial system, for Europe – the metric one).

On the right, it will display the average price of this item in the marketplace as well as estimated FBA and commission fees. 

Your profit indicates the amount you will receive from each product sold and includes the cost of the product. So, to estimate the net profit, just subtract all additional expenses, if any.
Customizable Notifications: Turn off Alerts You Don't Need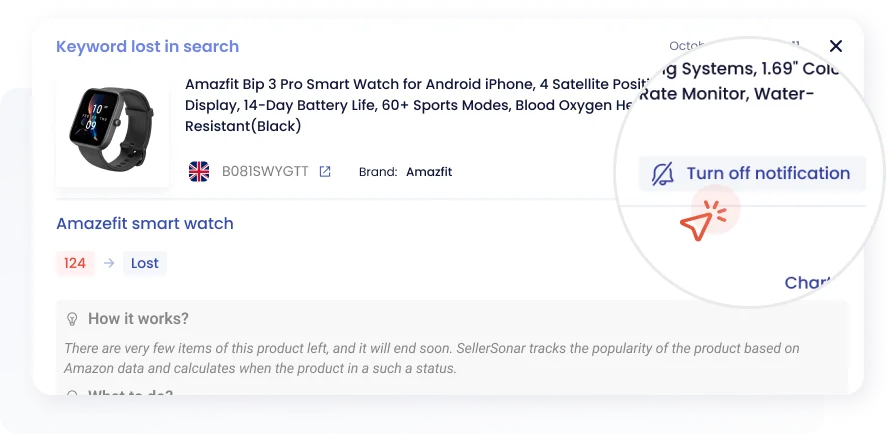 We understand that receiving notifications for every minor change can be overwhelming. That's why we've given you the ability to disable notifications of the same type for products.
This customization option lets you fine-tune your alert preferences to focus on the most critical changes and manage your listing monitoring more effectively.
Ready to experience new features? Log in and don't miss out on the opportunity to be among the first to try our updates!