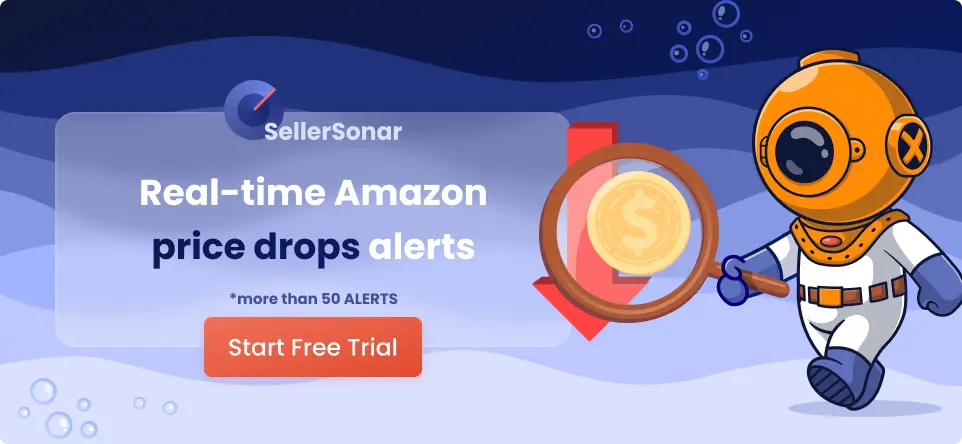 Have you heard that Amazon sells 6500 items every minute? Millions of clients daily turn to the platform to fulfill their shopping needs. The marketplaces ships 1.6 million packages daily. That is more than the population of Iceland and Maldives combined. 
As an eCommerce entrepreneur, running your business in the marketplace is a winning strategy. The competition is harsh; however, standing out is indeed worth it. Thankfully, AMZ has been generous in granting its merchants promotional tools to boost sales and intensify their reach. 
Yes, the Amazon Best Seller badge is probably one of the best marketing solutions the marketplace offers to edge out the competition. This guide will show you how to become an Amazon bestseller and outperform other merchants.
What Does Best Seller Mean on Amazon?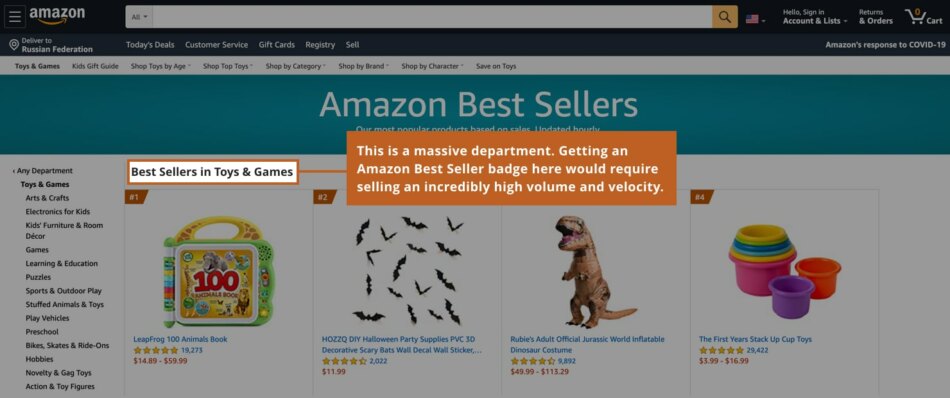 To begin with, the Amazon #1 Best Seller badge is an orange icon on the product listing and search results of the top-performing products in a particular category. This badge aims to tell buyers which items are the most popular. Thus, goods listed as "Amazon #1 Best Seller" have more chances to be viewed by AMZ visitors, which can translate to enormous profits.
Amazon #1 Best Seller vs. Amazon's Choice
Commonly, merchants confuse the Amazon's Choice badge with the Best Seller one. However, there are different requirements for these two features. 
The first one is a badge the platform awards the best item that fulfills a client's search. Nonetheless, unlike the AMZ Best Seller badge, the designation process for AMZ's Choice isn't straightforward. Merchants assume that this award is keyword-related. Besides, it was created initially with Alexa in mind. Customer reviews, Prime eligibility, and low return rates are key factors. 
Contrarily, as mentioned above, the Best Seller badge is given to users with the highest number of sales in a particular product niche. Merchants have better control over this award as there're methods to ensure that your item reaches interested shoppers.
How To Get Amazon Best Seller Badge? 
So how to become an Amazon bestseller? Let's discuss a few ways to grow and sustain your long-term sales.
Step 1. Categorize your goods in a targeted manner.
Think of AMZ product categories as halls in an offline store. For instance, if you place a gallon of juice in the electronics department of a supermarket, no one shopping for juice would ever stop it.
The same is with the platforms' subcategories and categories. If you add your items to the wrong niche, the buyers searching for them might never find them.
Below are a few category options (AMZ calls them "browse nodes") for women's dance shoes:
1: Women's Fashion > Shoes > Athletic > Ballet & Dance
2: Women's Fashion > Shoes
Such two Amazon browse nodes are technically suitable for your dance shoes. However, it will be virtually impossible for sellers to get the Amazon Best Seller badge with the second option. It is because the subcategory "Shoes" is too wide and way too competitive.
Listing your products under the first browse node implies you have less competition. It also means the categorization is much more targeted so that the right customers will discover your items.
Step 2. Optimize your listings.
Before creating a product listing, do thorough AMZ keyword research to determine what search terms visitors use when looking for similar products.
Use such keywords to compose a captivating product title, bullet points, and description.
Pictures are also crucial on Amazon. Thus, paying a professional photographer or graphic designer to assist you in creating great photos is always a sound investment.
And when you participate in the Brand Registry program, adding A+ content to Amazon listings can also influence sales.
Step 3. Keep your prices competitive.
Track your competition, and maintain your pricing competitive. You do not necessarily need to offer the lowest cost, but you should stay within an affordable range for buyers.
If your goods are more expensive than other merchants', be sure to communicate all the reasons in product listings.
Competitive pricing attracts more sales and boosts your seller ranking. It will eventually improve your likelihood of becoming an AMZ Best Seller.
With SellerSonar, you can rack prices of your Amazon competitors and set price drop alerts to get an opportunity to always suggest the best pricing and outperform other sellers.
Step 4. Enhance sales velocity with promos.
Promos are a good way to influence sales velocity, which can assist you in earning the #1 Best Seller badge quickly.
Lightning deals and coupons are two simple examples of AMZ promotions that can impact sales when done correctly.
Step 5. Carry out your Amazon ad strategy.
AMZ pay-per-click advertising campaigns are an excellent way to speed up sales. With PPC, sellers can manually or automatically target search terms and even other sellers' products.
It is best to develop a comprehensive advertising strategy instead of simply turning these ads on and off. That is when you will see the most promising results.
Amazon #1 Best Seller: Bottom Line
Today's consumers have become more perceptive as they avail of more shopping opportunities than ever. And they are willing to go the extra mile to explore their options before buying a product. Contrary to widespread belief, price is not the only aspect buyers consider before purchasing a product. Many different reasons affect their buying decisions. 
The AMZ Best Seller Badge assures shoppers that a product is popular and that other customers have bought this item. It also makes a product appear on the first two pages of the Amazon product search. This difference dramatically accelerates conversion rates. 
In addition, the badge provides clients with a seal of confidence in a specific brand and product. As a result, it can drastically grow sales and enhance a merchant's reputation on the platform. Such things are priceless if you're trying to build a name for your brand in this highly-competitive marketplace. 
Using quality third-party software is an efficient solution to go if you're eager to improve sales and enhance profit margins. And win the Best Seller badge, of course. With SellerSonar's tested listing tracking solutions, you may rest easy knowing you have enough time to expand your business without being bogged down by monitoring product pages and spending too much time optimizing them. Interested? Don't waste your time, and register for a free 29-day trial now.