Have you heard that over 60% of eCommerce purchases in America were made via Amazon last year? The platform's hold over online retail is well established, with millions of active AMZ merchants worldwide and at least  66 thousand orders per day. Newer merchants may be asking how they can utilize Amazon to increase sales in such competitive conditions.
The thing is, they absolutely can, as Amazon's growing market share results in many opportunities. We have compiled this digestible list of quick strategic moves and wins to help you up the game and grow Amazon profits.
How Does the AMZ Algorithm Work? 
To better understand how to get more sales on Amazon, you should know how the marketplace's algorithm functions. Like Google, AMZ considers many rules to determine which merchandise ranks on the top.
However, the platform's search engine differs from Google. The latter wants to deliver the most relevant info, while the AMZ algorithm strives to make as many conversions as possible.
The algorithm on Amazon first scans whether an item is 100% relevant to a specific search term. In case there are five equally relevant items, they mostly take the following aspects into account to define product rankings:
Conversion Rate (CR): It's the relationship between shoppers to visitors.

Click-Through-Rate (CTR): It's the relation of clicks on a product listing compared to impressions.

Client reviews.
It's worth mentioning that your product page will only be indexed for a specific keyword if you add that specific keyword to your AMZ listing.
If you do not mention a search term in your Amazon listing, your item will not get indexed. So firstly, ensure that your page is 100% optimized for popular keywords.
How to Set the Foundations for Increasing Sales on Amazon?
If you wish to boost sales on Amazon or any other online channel, ensure to set the foundations properly. Below are the best recommendations to prepare your store for increasing sales on Amazon:
Create a unique and efficient product listing
Understanding efficient keywords and following general advice is useful when creating an Amazon listing. It is also vital to be sure your page addresses the client's pain points. Besides, spare some time to check if your product listing descriptions and images look professional.
To get the ball rolling with this step, ask yourself some important questions about your AMZ listing:
Are there enough quality photos?

Do you have sufficient details on the product page?

Are there enough details about your company?

Would clients know how the item is helpful to them by looking through your listing? 

How will this item solve their issues? 
By answering such questions, you will understand your client. Thus, your descriptions may better address the customer's pain points mentioned earlier. 
Understand Amazon SEO keywords
Amazon search engine optimization is building an efficient product listing, so it ranks well for relevant keywords. When it works correctly, the platform's search engine perceives your product page as an authority in the selling space. It will help you to rank higher and get free traffic with no need to pay for it. 
Keywords are words or phrases people type into the Amazon search engine to help them find goods. Merchants may add them throughout their AMZ listings to come up among search listings. 
Below are three types of keywords you need to know:
Primary keywords – Such keywords are your main target. You add it once in the listing title and several times throughout the product description.

Secondary keywords – Such keywords are of less importance. You add them throughout the product description. 

Backend keywords – These refer to less important keywords that do not necessarily fit naturally in the description. AMZ has a backend keywords section where you may put these. 
When utilizing keywords, be careful not to stuff them all into your listing. Your page needs to sound well-written and natural. Otherwise, AMZ will penalize the listing.
Price your goods competitively
Competitive pricing is the approach of basing your pricing on your competitors. The most competitive goods in the marketplace may fluctuate by just pennies. Changing your pricing can often result in getting more sales.
Competitive prices have less importance compared to seller feedback and product quality. However, because so many merchants are very close to the quality, your cost is a big deal while you are competing.
To stay competitive, you will need to pay attention to how the ranking changes as other sellers' prices modify. You will have to decide how to act when you drop rankings.
Pro tip: Use the SellerSonar product listing monitoring tool to win the market. With the tool, you can track the prices of products in your niche 24/7, adjust your strategy in time to maintain or boost sales and avoid BSR drops, and offer the best options for your customers.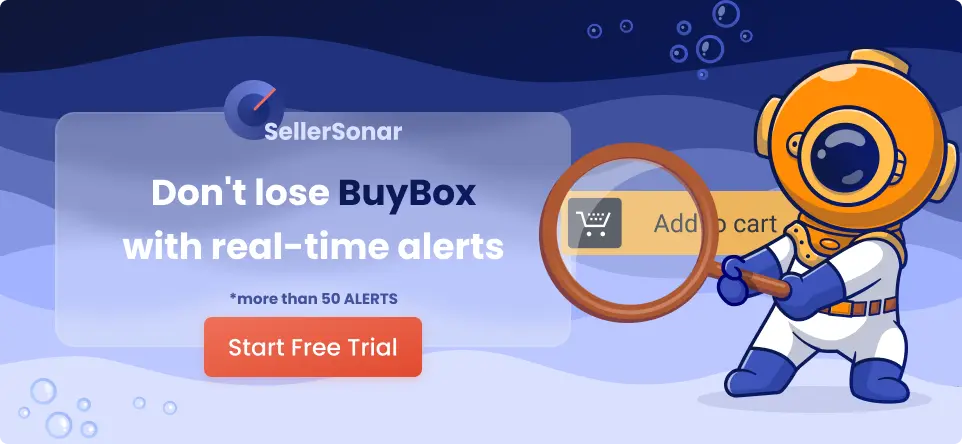 As for actionable responses, it is essential to learn your profits. Having a minimum price threshold will tell you how low you are willing to go before it's too cheap. You'll want to avoid prices that result in a negative profit margin. 
Instead, making your pricing too low also may hurt product perception. For example, you may be perceived as a "cheap provider," which leads to fewer conversions. Otherwise, if you price too high, you may not get any sales.
Get positive and legitimate customer reviews
Clients rely on authentic seller feedback on almost every website they buy from. However, thanks to the AMZ platform, goods sold there usually have many testimonials. Positive and helpful reviews serve as the social proof companies require to get continued consumer confidence.
In gathering reviews, ensure to comply with Amazon's client product reviews policies. 
Encourage buyers to share reviews whenever possible, but do not offer compensation. Besides, keep in mind to follow up on any poor reviews or neutral testimonials that include a concern. It will show prospective clients looking through the reviews that if they face an issue with the purchase, they can expect support.
Pro tip: Use the SageMailer feedback management tool that has all the firepower you require to shoot up your reviews and sales. 
Win the AMZ Buy Box
The fastest way to generate more sales in the marketplace is by ensuring that your goods show up constantly in the AMZ Buy Box (the section in the upper right of a product listing, where buyers can 'Buy Now' or 'Add to Cart'). It's because over 82% of orders happen through this extremely sought-after space.
Even though the exact key to winning the Buy Box remains unknown, there are several critical things. Those metrics prove the merchant is delivering a good client experience. Client reviews play a huge role here. The more favorable testimonials a merchant can get, the chances of winning the Buy Box grow. 
In addition to feedback, something else that is obviously very critical to Amazon buyers is pricing! Using repricing tools, you can automatically set the pricing at the optimal point to win the AMZ Buy Box and grow profit, even if you have enormous stock.
Synchronize your stock 
Stock can become a delicate balancing act. Keep too many products for too long, and you end up paying over the odds to hold them. But keep too little stock, and you lose out on essential sales, or even clients, due to your inability to fulfill orders. The marketplace can also set penalties if your stock performance is not up to standard.
Inventory control is a thing every merchant should understand and have the possibility to manage for good results. Smart stock management is an under-appreciated method to boost your AMZ sales and revenues. 
Explore offering merchandise internationally
In the early stages, it is common for merchants to experience a mix of fear and excitement at the prospect of offering items internationally. Popular concerns such as shipping delays or credit card fraud might seem overwhelming; however, with the proper guidance, merchants can avoid common mistakes and succeed in their global expansion.
The idea of going global is usually driven by a mix of factors related to income, operations, marketing, and merchandising. It might be a lucrative move for some merchants, but not all. Our advice is to hone in on your main goals in going worldwide to determine if it is the best decision for your brand.
Follow Amazon's rules and guidelines
One of the simplest ways to cut orders is to break the platform's rules. Cannot sell if you are shut down or suspended, right? Pursuing the other way indicates you are giving yourself the best odds of success.
Knowing what AMZ requires of merchants means you can add your product listings in the high-quality manner the platform wants, resulting in higher customer trust and an increased opportunity to land more sales.
Increasing Sales on Amazon: Final Thoughts
The task to grow your Amazon store's sales does not need to become an uphill struggle. Many tools are available to AMZ merchants today to help them boost sales on Amazon and get a healthy sales pipeline. 
By monitoring how the platform grows and utilizing the right third-party tools to drive your business, you will continue doing what you do best: developing a great brand, getting shoppers, retaining existing clients, and enhancing your bottom line.
Register for SellerSonar's 29-day free trial to check all the benefits of the service.