Keeping a competitive advantage on Jeff Bezos's platform is hard, especially when you do not keep track of all your competitors. So, in our blog, we will tell you how to be one step ahead and provide a brief checklist for a thorough Amazon competitor analysis.
To succeed in an e-commerce market, for instance, Amazon, you should anticipate and monitor your competitors. You lose out when you do not perform routine competitor analysis on Amazon. Instead, of course, other sellers are already tracking you. 
Rather than wasting your precious time around and trying out free unknown software, it's better to take a free trial of the app that will simplify your work. Below we provide tips and tricks to help you easily identify your competitor. So, let's start!
Is Competition on Amazon Harsh? 
According to the latest Feedvisor report, competition on the Amazon platform grew by 8% compared to 2018 in the United States. As more Amazon sellers fight for a slice of the pie, it is evident that sales might drop slightly. However, the report, at the same time, claims there are some common adverse effects because:
the platform is the critical source of income for almost half of the surveyed sellers;

most companies have up to five employees;

a tiny share of them relies on dedicated consultants.
Most Amazon sellers with an online store say they purchase hot items with low competition making matters worse. Nonetheless, nearly half as many also search for products their competitors sell well. So, they aim to enter into new markets and ultimately wear out old ones. It seems like no one wants to resist the competition. And it is what drops its level to zero on top-selling goods.
Consequently, price wars can emerge quickly. However, there is no clear reason to capitulate when competitors grow and sales decrease. Instead, stand your ground, conduct some research, and do the Amazon market analysis.
Why Perform Amazon Seller Competitor Analysis? 
By carrying out Amazon's competitor analysis steps, there are significant advantages that an online retailer gains. For instance, sellers can make more precise sourcing and scouting decisions for their department store and ensure that their pricing strategy is competitive and robust. In addition, they can adjust their ad campaigns, better handle their advertising spend, and track profitability and performance more efficiently.
How to Carry out Amazon Competitor's Analysis? 
So, how to do competitor analysis? Below are some of the main steps of this process. 
Competitor count
First, learning what you are up against is a good idea. With a few searches of the main keywords on Amazon, you can get a feel for which companies currently dominate your product space. Look at the first pages of results and note any specific patterns you see: the average number of reviews, what product descriptions and the main images look like, and what brands dominate the sponsored advertising. This approach will help you determine the level of competition and give you an idea of how to position yourself. Besides, you can assess the number of variations for a particular item. If it is big enough, we recommend avoiding selling such goods.
Storefront checks
See sellers' shipping terms and conditions info on your Offers page, then click on the name. It takes you to their profile. In this section, you can check the storefront and see the brands your competitors stock and the number of items they offer.
While we are on the topic, don't forget to check whether they have any Stores. This option has personalized Amazon URLs and easy access to traffic and sales data. It shows the brands, their social media platforms, and seasonal best-sellers.
Competitor profiling
Apart from social networks, there are many other available sources of info. At least there should be a website or a company profile online. Try out some of the platform avenues to learn more about your competitors:
Site domain (WHOis.net for the United States)

Business records (for example, Companies House for UK-based entities)

Vacancies posting history (cached or existing Indeed ads)

Manager's story (LinkedIn publications)
Any info you find there can be helpful for Amazon product analysis. Compose a list of their strengths and weaknesses. They will help you realize the landscape you are operating in.
What Things to Include for Competitive Analysis on Amazon? 
Website
Many of your opponents will likely have their websites and sell products on online platforms. You need to examine these marketplaces paying attention to their user interface, design, the types of forms and pop-up windows used to deliver information, provide discounts, request email info, the online website builder they use, etc. 
If you already have a site for your company or are planning on creating one in the future, you may consider the downsides of your competitor's websites and enhance those things on your site. You also need to prepare for incidents and decide which metrics to keep tabs on.
Many rival brands may have accounts on different social media platforms, so you should do the same. It is especially vital if you are targeting a younger demographic that spends a lot of time on such platforms. Social media accounts can be a great source of organic traffic to your AMZ listings. 
When browsing other sellers' social media accounts, you must note the platforms where the profiles are located, the type of info these brands are posting, the frequency with which they publish, and the amount of engagement each publication gets on average.
Keywords
The most crucial step within Amazon's competitive analysis is studying your competitors' keyword strategies. It helps you evaluate particular keywords used by other companies on the product pages and check whether they're using trending or evergreen keywords to boost their product's ranking. With this information, you can adjust the relevant keywords in your product listing page to get better product visibility, optimize conversions, and gain a competitive advantage over other merchants.
Pricing strategy
You don't need to record sellers' prices to understand their pricing strategy. Use SellerSonar to scan any product. Then track competitors' price fluctuations on Amazon with our app. Check for patterns and notice hot-selling items and slow movers. Next, consider how fast your competitors can reprice, sell out, and replenish their stock. Finally, work on your pricing strategy.
Sales
It is where the analysis gets interesting. You will find several Amazon sales estimator tools online. Such tools will show monthly sales based on Amazon BSR and market share. But it is not an exact science. So, you need to take the results with a pinch of salt.
Fulfillment
Are you monitoring other products with competitor metrics? Well done. However, you cannot understand their business model until you order a few. Ask a couple of questions first to see how long it takes them to respond. Then, when you order, experiment with various shipping options to check the couriers and the service they use. Search for clues about the dispatch location and maybe even the cost. Some prepaid labels display the price.  
Promotions
Don't forget to monitor your competitor's advertising campaigns. Look at when they are launched, their scale, and their frequency. It is quickly done with reverse ASIN lookup tools showing the used keywords (short or long-tail). Finally, search volume, competition, cost-per-click, ACoS, and other valuable information are also available.
Descriptions
When it comes to the online marketplace, a competitive analysis starts with listings. Next, check the Product page and sift through photos, videos, titles, and descriptions. Don't forget branding. Tone, design, packaging, and labeling are essential aspects of this.
Reviews
Customer reviews on products reveal lots of new info. But you only need to concentrate on the positives and negatives of the product. Note any product features and customer service reviewers are satisfied with. Also, find out what they do not like about the products and how yours can address the issue.
Learn what SellerSonar can do for your business
That's all, folks. The critical point here is not to let competition on the Amazon platform distract you from your goals. There is no shortage of software for Amazon sellers who wish to stay on top. And performing a thorough Amazon competitive analysis is time well spent. For instance, SellerSonar can become your best friend in competitor tracking.

For a more comprehensive analysis, you can add and track your competitor's products as you own one. Here's our informative video tutorial on seamlessly adding stores and product listings to SellerSonar and keeping a close eye on your competition with real-time monitoring, pricing insights, and immediate alerts. 
Its key features include: 
Monitor changes to your products. Get alerts on changes of product titles, product images, new sellers, Best Sellers Rank (BSR) drops, and much more.

Monitor Buy Box within specific periods to get the complete picture of its prices.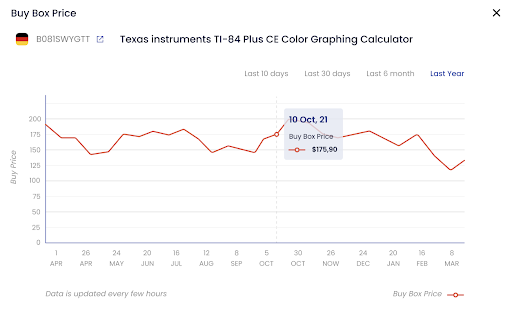 Get Amazon product review alerts on all new reviews. Track star rating changes, history of deleted reviews, and all changes in top reviews. Receive notifications when a critical review gets a new vote.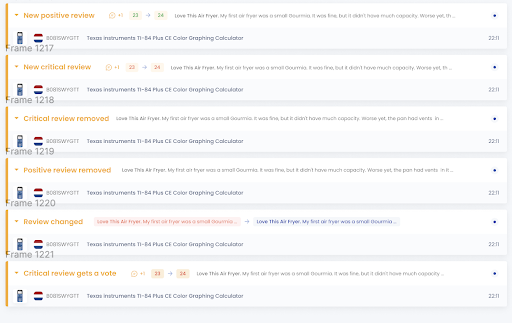 Seeing the big picture gives you a competitive edge—track competitor ratings and prices on similar products that your direct and indirect competitors offer.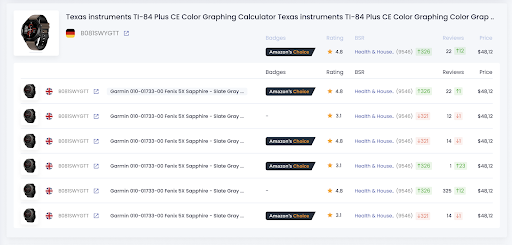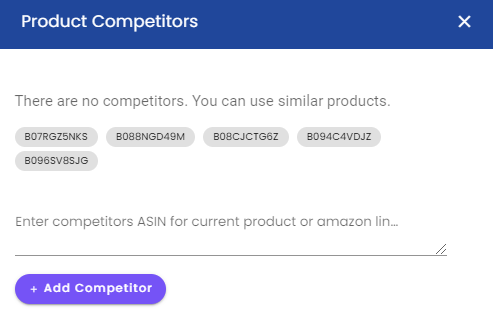 Our Amazon competitor research tool will suggest a few competitors add to the tracking list (see the screenshot above)
Analyze keyword rank history, uncover keywords that drive sales and which ones fall short—monitor competitors' keyword rankings to overperform their strategy.

Whether you're just listing your first product or you are a seasoned pro with a few products selling on Amazon already, we hope you found some valuable tips in this blog on how you can spot your top competitors. Competition can be harsh on Amazon, so it is essential to list your competitors and monitor them.
Image issues 
Hijackers may replace your high-quality product images with low-resolution or poorly captured images. It can make your products appear unappealing and decrease customer confidence in the quality of your offerings. To help you secure your reputation, SellerSonar will continuously monitor product listings for any changes or updates related to images and notify you if any issues are detected. 
Start your competitor analysis on Amazon with SellerSonar. Register for our up to 29-day free trial and try the top Amazon seller software now!
FAQ's
What is the competition like on Amazon, and how fierce is it?
Why is performing competitor analysis on Amazon important for sellers?
How can I conduct competitor analysis on Amazon?
What factors should be included in the competitive analysis on Amazon?