Selling online has been smoother and more rewarding, thanks to SellerSonar's exciting July updates! We're thrilled to unveil these simple yet powerful features designed to enhance your e-commerce journey. Let's dive into what's new. 
Competitors Notifications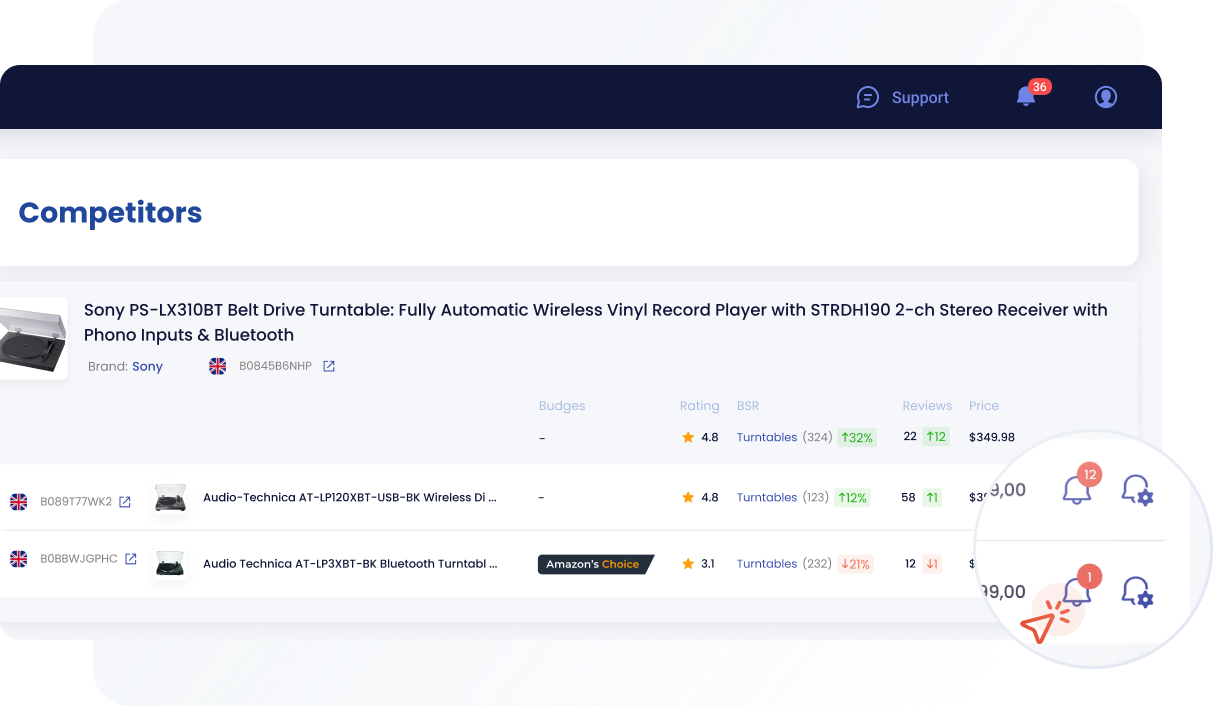 Keep an eye on your competitors' moves effortlessly by clicking on the right bell icon to set your preferences. Get real-time updates on their product listings, helping you make informed decisions to stay ahead in the marketplace. These notifications are conveniently accessible on the Notifications page (left bell) and delivered straight to your inbox, ensuring you never miss a beat. Please note that this feature is available exclusively for Pro and Premium plans. 
Keyword Import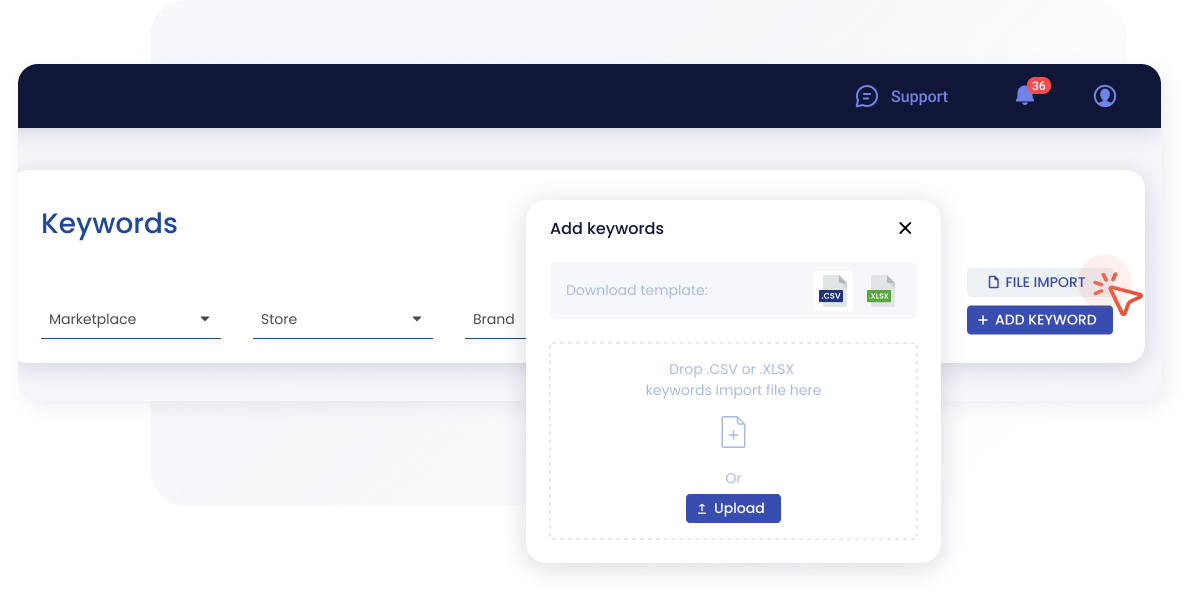 Simplify your keyword management with SellerSonar's keyword import feature. Now, you can easily add keywords to multiple products at once. Download the template file, fill it with your desired keywords, and seamlessly import them into SellerSonar. Say goodbye to manual keyword input and embrace the power of streamlined monitoring for all your products.
Buy Box Winners Chart and Exportable Report
Knowing the Buy Box dynamics is crucial for increasing your product's visibility and sales potential. Our Buy Box Winners chart visually compares top-performing sellers by showing which seller wins the Buy Box during the day and how often as a percentage. 
For your convenience, you can get an exportable report with comprehensive information on products, marketplaces, sellers, and Buy Box win rates. Thus, you can uncover which sellers are winning the Buy Box during the day and how often to analyze their strategies, learn from the best, and improve your own chances of winning that coveted spot.
BSR Position Alerts
Best Sellers Rank is a critical metric for gauging a product's popularity and sales performance. With SellerSonar's latest update, you'll never miss a beat regarding your BSR. We will keep you informed and on top of your game by notifying you whenever your product's BSR position changes by 25% or more. For this, don't forget to turn BSR alerts in your Settings. Also, you can stay focused on what matters most with separate alerts for your main product category and subcategories. This proactive approach helps you stay ahead of market fluctuations, adjust your marketing efforts, and implement strategies to maintain or improve BSR and attract more customers.
Top Phrases Division into Positive and Negative
Understanding customer feedback is crucial for improving products and customer satisfaction. With the division of top phrases into positive and negative categories, you can easily identify recurring themes in reviews. It allows you to pinpoint strengths and weaknesses, address customer concerns, and improve products. Ultimately, it helps to enhance your product's reputation and build better relationships with customers.
Top Phrases Division into Male and Female 
Knowing your audience is essential for effective marketing. With the division of top phrases into gender-based categories, you can gain insights into how your products are perceived by male and female customers differently. Armed with this information, you can tailor your marketing strategies and product offerings to target specific demographics more effectively, increasing customer engagement and conversions.
Summary of Weekly Updates
No more drowning in a sea of notifications! With SellerSonar's weekly summary as emails, you get a clear, concise overview of all alerts received throughout the week. Stay organized and informed without feeling overwhelmed by constant updates and the need to log in to the platform constantly.
Our update highlights the percentage of critical alerts, ensuring you can prioritize and address urgent matters immediately. Keep your business protected and optimized, no matter what challenges arise. It also provides you with a percentage breakdown of alerts across categories. Thus, you can quickly identify the areas demanding your attention, be it changes in product listings, new customer reviews, or potential hijacker issues.
Demo Account and Presentation
With our Demo account, you can dive into the platform's features and functionalities, gaining valuable insights into how SellerSonar can optimize your e-commerce business. Moreover, we invite you to share the link with your friends and fellow sellers, empowering them to benefit from the service as well. Finally, to take your understanding of SellerSonar to the next level, you can schedule a personalized call with one of our expert team members, who will walk you through every feature, answering any questions you might have. Uncover pro tips, receive tailored recommendations, and unlock the full potential of your online business.
Ready to try the SellerSonar updates? Take advantage of the opportunity to be among the first to experience our latest features. Register for a 29-day trial today or log in to your existing profile!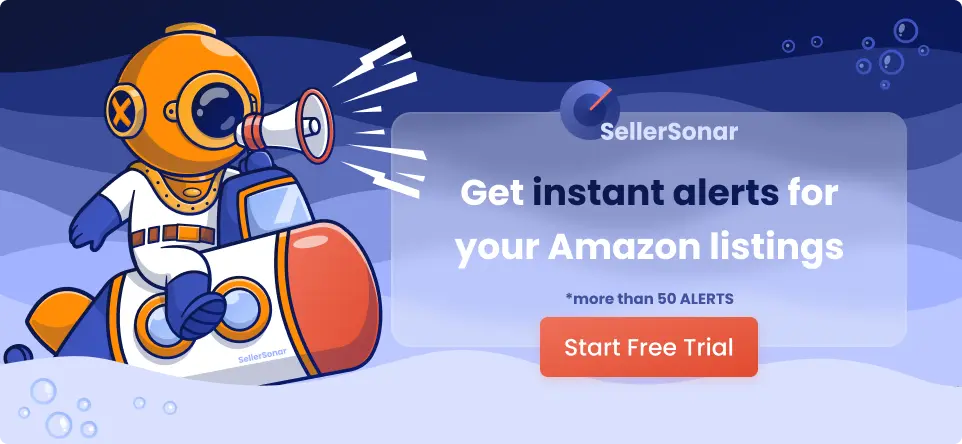 At SellerSonar, we constantly listen to your needs and strive to improve our service. We value your input, and our team is diligently working to bring you even more exciting updates and features in the future.
So, dive into the world of data-driven decision-making, optimize your listings, and elevate your e-commerce success with our service. Your success is our success, and we can't wait to see your business thrive with SellerSonar by your side. Let's grow together!