Every day, every hour, and almost every minute, the Amazon marketplace is changing. To the clients, things look unmoving and static. But, in reality, prices and listings are always in flux. For merchants, the platform can be a jungle. But fortunately, there is software that can tame it.
For instance, SellerSonar ongoing analyzes price history charts and monitors the changes in your competitors' pricing 24/7. Thus, you get an opportunity always to suggest the best prices and outperform other merchants.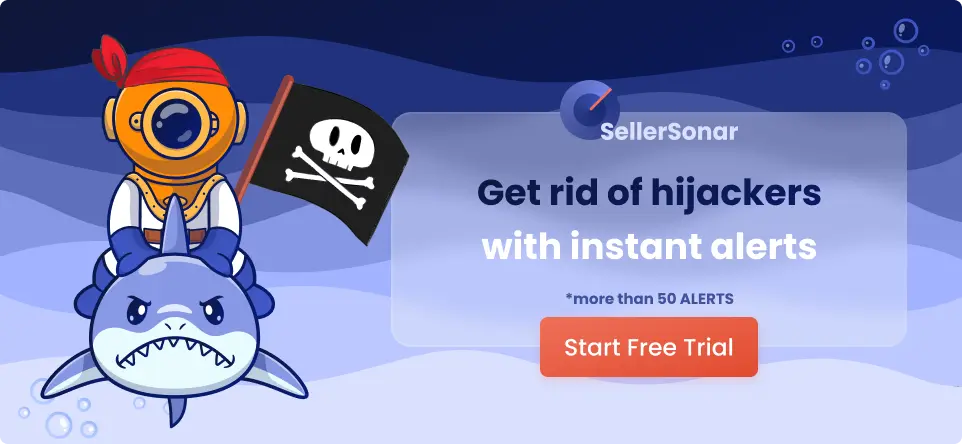 Amazon repricer tools help merchants optimize their pricing in real-time, increasing the likelihood of getting the Buy Box. It is a delicate balance for users since a product price can't be too high or too low, as it damages margins. Different repricing services are designed to find the proper balance for sellers by ensuring high profitability while optimizing the pricing.
As a result, the need for Amazon repricing software in today's competitive shopping ecosystem is more vital than ever. Sellers running their business on the platform do well to apprehend and invest in the proper Amazon FBA repricing software to get maximum potential client reach without compromising profit margins. While repricing is only a key factor in each company's modern multichannel digital strategy, it's essential. This blog post will explain exactly how repricing software works and how it can benefit your brand.
What Is Amazon Repricing?
Simply put: AMZ repricing is the alteration of prices on product listings in the marketplace. Around 2.5 million pricing changes occur daily on the platform, meaning that, on average, price changes on a particular listing every ten minutes. Amazon listing pricing changes so merchants can maintain competitive costs and boost profits.
Most Amazon users will not notice such changes, but subtle pricing tweaks may cause a sales slump or spike for merchants.
What Does a Repricer Tool on Amazon Do?
Using an excellent repricing service is about more than efficiency. It minimizes your level of emotion related to your goods. Merchants can be under great pressure. You know how much you have paid for a product and how much profit you expect to come out on top. The pressure may increase if you are responsible for your team's well-being and have a few plates in the air.
You're never going to keep full control over your items' performance. Of course, you may take steps to optimize it and prepare for the good fight for the AMZ price box. However, as soon as you have done your bit, your emotional and brand health should let it go.
In turn, a repricing tool makes a barrier between you and the goods. Reducing some of that stress may simultaneously boost your and your brand's performance.
Benefits of Amazon Repricer Tools for Your Company
When selling many goods on Amazon, manually adjusting pricing at scale doesn't seem realistic. At least, not for brands looking to get the Buy Box. As platform trends are dynamic, companies need a solution that works in real-time. It's where repricing software adds value for the businesses requiring to optimize prices as the market shifts.
Repricing services are a data-driven method for eCommerce companies to ensure optimal prices to stay competitive and boost their chances of winning the AMZ Buy Box more frequently. Yet, the perks of using FBA repricing tools go beyond improving the odds of getting the Buy Box. If you invest in data-driven solutions, you stand to benefit on several fronts:
Winning Amazon Buy Box
As the Buy Box drives over 80% of sales, winning is the main benefit of getting AMZ reprice software. The brand that gets the Buy Box is chosen by the platform's algorithm, which repricing tools are designed to deliver against. It incorporates sales volume, price, fulfillment type, inventory depth, and feedback scores into its system to deliver the best conditions for AMZ Buy Box.
It also provides ease of use for companies who no longer want to concern themselves with pricing their goods – repricing tools take the guesswork out. It helps brands to grow and maximize their profit margins while staying competitive with clients in the marketplace. It brings us to the next point.
Maximizing profit margins
Although Amazon FBA repricing tools are designed to ease competitive pricing, it does not mean that lowering costs is the only function. So far from it, the service's AI-driven options allow it to compare the brands' pricing. In addition, it ensures that costs follow supply levels so that profit margins are never jeopardized, and chances to raise pricing in times of scarcity are the main priority.
Keeping uniform pricing across all platforms
Usually, most online businesses move products not just on Amazon but across various marketplaces simultaneously. Repricing tools consider this, ensuring that a company's pricing across all venues is uniform. Automating such pricing consistency enhances outcomes analogized to keeping consistent pricing manually on several platforms.
Utilizing Amazon reprice software guarantees businesses will not dent their profit margins by letting consumers find the same goods priced lower on other platforms. Crucially, the merchant will not be punished for keeping lower prices elsewhere by having the product listing suppressed when AMZ spots inconsistencies in item line pricing on other venues.
Scaling in line with your growth
It is never too soon to start using AMZ repricing software as it is created to work with each brand as it ramps up the volume. As businesses grow, it is impossible to manually correct pricing as additional items, ranges, and ASINs are added to different marketplaces online. Smart software streamlines this process, so online merchants can scale fast as they grow.
Making right decisions
One of the most critical factors of AMZ repricing software is its option to provide useful real-time insights. KPIs such as pricing changes over time and other sellers' pricing behavior are all delivered by repricing services – all of which help brands devise a data-led strategy to perform in the marketplace.
Cons of Using a Repricing Tool on Amazon
Compatibility
If you choose a proper repricing tool for Amazon that meets your needs like a glove right off the bat, it's a good thing. Yet, in many cases, various repricing tools have other features and quirks that make them less viable for your business.
Cost
It costs some money to use an Amazon repricing tool, and it is worth the expense if you are a big seller with many products in your AMZ store. However, if you only sell a few items, it might not be worth using one as it will not become cost-effective in the long term.
Lower profit margins
Although using AMZ repricing tools can indeed bring a higher profit margin, the opposite situation is also possible in some cases. You will earn less if you and your competitors hit the minimum value. Finally, it is a customer's market, first and foremost.
Price wars
It may be true that regular pricing fluctuations result in price wars among merchants, but it might also not be accurate. The truth is somewhere in the middle as it depends on the marketplace's actual conditions, as well as customer supply and demand. Nonetheless, in most cases, prices will not be below the minimum value.
How to Pick the Best Amazon Repricer?
Knowing your business is vital when choosing the best Amazon repricing tool. They are all developed to meet specific requirements, and knowing your business means you know your exact needs.
Here is a brief guide on how you can pick the best Amazon repricing software:
Study how pricing has influenced its sales performance, then choose a repricing strategy.

Check out an item's sales rank and pricing history to know how hot it is.

Analyze your inventory, then reprice your products accordingly.

Don't drop your pricing of a particular item without a sound reason.

Consider inventory as a factor in setting pricing rules to avoid running out of stock of a product that has been moving well.

Ensure you have enough saved up to endure a period with a hefty pricing drop.

Examine your seller feedback, seller rating, and shipping destinations. Next, list the competitors most similar to how you operate the business.

Define your competitors and study them carefully. You cannot beat them all, so compete with rival merchants closest to your level.
Repricing Software for Amazon: Look at Your Selling Strategy Holistically
When running a business on Amazon, multiple aspects will contribute to your brand's success. Repricing is a critical factor in many strategic decisions to dominate the market. Thus, it should be regarded as an essential service in a varied toolbox that helps companies perform well in eCommerce.
For brands selling on Amazon, additional factors such as optimizing listings, using proper keywords, and monitoring product pages are all critical considerations for an overall winning strategy. Combined, all such aspects will allow a business to win in this highly competitive marketplace. Luckily, SellerSonar can help you with most of that.
So don't waste your time and register for a free 29-day trial to boost your performance in the marketplace.