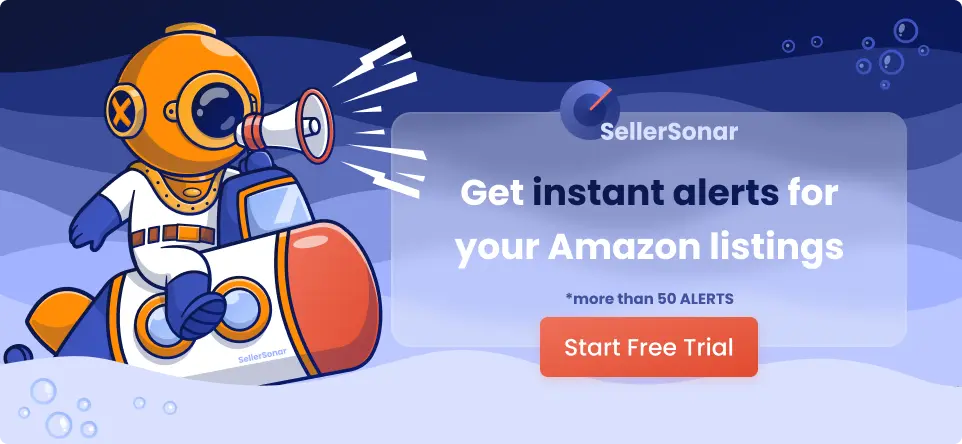 People who are in any way involved with Amazon know that "price is what they pay and value is what they get" (Buffett). Shoppers keep track of the price history to save money. Sellers monitor Amazon's price history to stay on top of the competition. Retailers look for the best prices on the market. As a matter of fact, 9 out of 10 consumers price-check a product they buy on a platform.
On Amazon, to beat your competitors and win the Buy Box, you'll need the right product pricing strategy. At the same time, it can't be static since things change rapidly in the marketplace. New products pop up, while your competitors implement new marketing tricks.
For these reasons and more, you need to constantly reprice your products. As far as you are not the one to give your market share to the competition, you'll need to track Amazon's price history for your inventory. On top of that, you should analyze the results to reprice products.
Obviously, it ain't an easy job if you do it manually. In most cases, to analyze and automate dynamic pricing merchants use Amazon price history trackers.
Proceed reading to discover how to see price history on Amazon and how the Amazon price history tracker can help you grow your sales.
How to Find out Price History on Amazon?
For your buyers, price matters. To stay ahead of the competition and offer enhanced customer services you have to instantly control price fluctuations.
To do that effectively, you need to know your product's price history. On top of that, you have to be aware of the market price history in your category.
Price history is the dynamics of the sales and price drops of any product over time.
Prices can go up and down. For instance, if your competitors are out of stock, it's time for you to increase the price.
Since tracking the prices of many products any minute during a certain period of time manually is close to impossible, you have specialized tools to do that. These tools are price trackers.
They record and analyze the price data. Typically, the tracker displays price history as a chart.
What is a Price Tracker?
A price tracker is a tool to monitor price changes on Amazon. In addition, this tool compares and analyzes product prices.
Importantly, the price tracker helps price check Amazon products. It notifies the seller or shopper if the prices fall down or go up. It also aids in monitoring the product price history. On top of that, some price trackers give you price alerts.
Using a price tracker allows you to set the right price and be in control of the overall market layout.
A price tracker is a tool for buyers and businesses to track prices and make informed pricing decisions. When it comes to B2C and B2B, it is useful for sellers, as well as retailers, wholesalers, and manufacturers.
How does a Price Tracker Work?
A price tracker is a software solution. It scans product listings and websites and analyzes the titles, prices, and stock. On top of that, some price trackers monitor product descriptions, reviews, images, and more.
After that, a tracker stores the data and shows it to the user in the form of a dashboard or a chart. It instantly monitors all pricing info and generates pricing alerts as the case may be.
The data and format of the dashboard depending on your choice of tool.
What are the Benefits of Price Trackers?
In fact, using a price tracker can help both buyers and businesses. Buyers can compare the prices to make the best purchase. At the same time, sellers can track price changes on the market and adjust their own price levels accordingly. Retailers can filter out the best offers. In turn, manufacturers can control their Minimum Advertised Pricing.
Price Tracker Advantages for Sellers
Tracker helps instantly reprice products according to the market levels;
Gives the possibility to select the right price for a product by comparing it with other ones;
Sets the best prices to win a Buy Box;
Ensures that a seller stays on top of the competition by timely modifying price levels;
It enables merchants to rank higher in search engine results.
Price Tracker Benefits for Retailers
It helps sell volumes due to setting the right consumer prices;
Saves time by automatically mapping the market and adjusting price levels;
Grows margins by showing where and when to increase or decrease a price;
Helps monitor competitors' costs, stock, and margins;
Allows finding profitable reselling options.
Price Tracker Use for Manufacturers
Allows to set the right market price for a produced product;
Helps avoid lowering prices for a brand too much;
Provides tools to monitor resellers and establish Minimum Advertised Pricing.
Price Tracker Points of Importance for Buyers
It allows finding the best products at an affordable price range;
Gives the opportunity to select the most discounted products of interest;
Informs about the availability of the goods;
Provides a possibility to follow Amazon price tracker history for shoppers' favorite products.
What to Consider While Selecting a Price Tracker?
Actually, when you're going to select the Price Tracker tool, you should focus on the most essential functionality and convenience.
A good price tracker should have the following features.
Unlimited number of ASINs
With a good price tracker, you should be able to add as many ASINs as you wish to monitor their price history.
Detailed competitor overview
In order to position your product correctly against the competition, your tracker should give you all essential competitors' pricing information.
Long price history
Some of the trackers can show you the price history only for 30 days. This is not enough to carry out an in-depth analysis. The best choice will be the tools that can show you price trends for a year or more.
Easy-to-understand charts
As a rule, price history trackers collect a lot of different information. A chart or a dashboard must present the data in a user-friendly manner. You should be able to easily read and understand what is displayed.
Price alerts and notifications
The tool shall give you an immediate alert of price changes. In that case, you can take action immediately. The slightest price change may affect your product's visibility and the buyers' choice. Without these notifications, you'll have to constantly double-check all orders and details. This is very inconvenient and time-consuming.
Possibility to track any product details on Amazon
The data you get from the price tracker should not be restricted.
‍ Does Amazon Have a Price Tracker?
If you wish to monitor prices the Amazon way, you can use the price-tracking service it offers to sellers. This tracker tool is called Amazon Assistant.
A plus of this software is that it's free and available as a browser extension. However, its major purpose is to compare listed items and prices online.
Amazon check price history tool offers a customized user experience and notifies about Amazon transactions, special offers, and deals. At the same time, it doesn't provide price drop alerts.
How to Get Instant Price Alerts with SellerSonar's Price Tracker?
SellerSonar's tool ongoingly analyzes price history charts and monitors the changes in your competitors' pricing 24/7. You can track the prices of your competitors on Amazon and set price drop alerts always to suggest the best prices.
With SellerSonar, you can
Get immediate Amazon price drop alerts;
Track an unlimited number of ASINs for price fluctuations;
Offer the best pricing to your customers;
Adjust your pricing strategy to boost sales and avoid BSR drops;
Set the right price to win a Buy Box.
Amazon monitoring software is an efficient way to stay on top of your sales. SellerSonar offers instant Amazon alerts to protect your sales. With us, you are aware of all listing changes, Buy Box hijackers, new/deleted reviews, keyword rank history, and product suppressions.
Try SellerSonar now. Register for our up to 22-day trial and boost your incredible journey of running your business on the platform.