When you register to become a seller on Amazon, you agree to a lengthy list of seller terms of use and policies. Over time, the AMZ Terms of Service may become a faraway memory, and as Q4 ramps up, you might search for tactics to speed up your sales. Unfortunately, in the buzz of the 2023 holiday season, it's easy to make a speedy decision that may fall on the bad side of the platform's rules, risking your future sales or even the entire AMZ business.
Nonetheless, we're here to provide a quick refresher on the critical regulations and policies to help maintain your profile safe. We have gathered a rundown of Amazon ToS, including selling policies, prohibited actions, and code of conduct, to jog the memory and help you bypass any questionable techniques.
Why wait? Let's get started!
What Are Amazon Terms and Conditions for Sellers? 
Amazon's Terms of Service, otherwise called the Business Solutions Agreement, includes the conditions and terms that rule your access and usage of seller services on the AMZ platform. It's an agreement between merchants (or the business they represent) and Amazon.
In short, anyone with a seller profile needs to obey the marketplace's terms of service, including:
Private label sellers

Wholesale sellers

Agencies

Brand owners

Retail and online arbitrage sellers

First-party sellers

Resellers
In addition, companies that use the Buyer-Seller Messaging solution should understand what they can or cannot do with the service.
Terms of Service on Amazon: Prohibited Seller Activities and Actions
Amazon prohibits specific actions by merchants to safeguard both merchants themselves and buyers. The website does its best to maintain the playing field level for all users, so anything that brings you an unjust benefit over other sellers isn't permitted. Therefore, high chances are when you're disturbed about whether an approach you are considering using might be against the ToS, it is likely to be so. Below is a brief overview of the most common prohibited tactics:
Diverting Amazon traffic
Merchants cannot utilize any web links or language that move traffic away from the platform. It applies to any special offers, calls to action, or advertisements encouraging customers to leave the marketplace.
Unauthorized brand names
All company names should accurately identify the merchant, not mislead clients, and should be a name that merchants can use. For example, it can't be a trademarked name or brand you don't have proper permission to use. Company names cannot include an email suffix (i.e., .biz, .com, .net).
Inappropriate communication via email
Merchants can't send unsolicited messages to clients other than those required for customer service or order fulfillment. Advertising emails to clients are not allowed.
Improper usage of client phone numbers
Client phone numbers are given to merchants who fulfill the orders so they can provide carrier label requirements. Therefore, AMZ's customer personal info policy must handle such phone numbers, which one can find in the Seller Agreement.
Multiple selling accounts
Merchants are not allowed to maintain and operate multiple selling accounts. However, you can ask for an exception by contacting Amazon support. Remember that you must prove your need for numerous profiles in your submission.
Misusage of the AMZ seller service
Merchants that repeatedly add an excessive amount of data or use the service excessively or unreasonably might face blocked or restricted access to products or any other service they misuse. The marketplace decides what this misuse means at its discretion.
Misusage of ratings, feedback, and reviews
Merchants are strictly prohibited from committing any actions that might manipulate feedback, reviews, and ratings. It applies to providing incentives to clients for their ratings or reviews, publishing feedback to your profile, etc. You can ask for feedback neutrally, but you aren't allowed to request positive reviews. Merchants must also follow AMZ Community Guidelines when handling customer reviews.
To simplify the process, use the SageMailer feedback management tool. It can automate the Amazon Request a Review button to send review and feedback requests. These are official AMZ requests sent to customers on your behalf that are 100% compliant with all of the platform's policies.
Misusage of sales rank
Merchants are not allowed to engage in actions that abuse sales rank. For example, it refers to knowingly accepting or soliciting fake orders, making orders for the goods, or supplying compensation to buyers for purchasing your items. 
Misusage of search and browse
Any endeavor to manipulate the search and browsing customer experience is restricted. It applies to artificially boosting customer traffic via internet bots, sharing misleading product information in catalogs, or adding item identifiers to hidden search terms attributes. Instead, pursue Amazon's manual to properly optimize product listings in compliance with its rules.
Did you know that hijackers can modify your listings, ruining your reputation and resulting in listing suspension? Unfortunately, tracking AMZ hijacking manually is almost impossible, especially if you have a lot of listings. However, SellerSonar offers the opportunity to get automated notifications and act quickly in response to them.
With SellerSonar, you may monitor hijacking attempts and track price changes, keyword rankings, suppressed listings, and new reviews.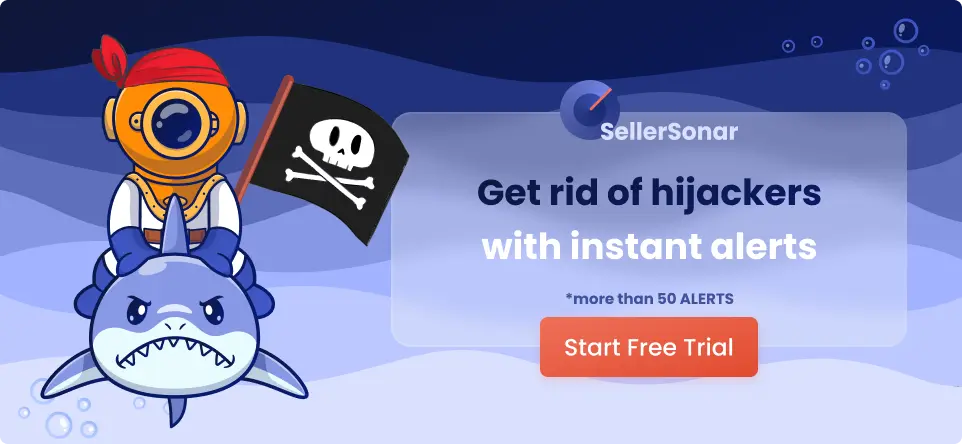 What Happens If You Violate Amazon Seller Rules?
The marketplace established such guidelines to safeguard both sellers and customers. It is not only AMZ's responsibility to follow these guidelines and principles, but it is the responsibility of the merchants to comply with them as well. If the platform discovers that you violate its ToS, you may face one or a few of the below charges:
The marketplace may block your products and business 

It will hold the payment

AMZ could decide to suspend your account from selling in the marketplace 

Amazon can delete reviews from a certain product (which does not meet the ToS)

It can impose legal action against you or further
Customer Service Missteps to Avoid for Staying Amazon Seller Policy Compliant
Spamming your client – something to always keep in mind as an AMZ seller: your clients belong to AMZ. Likewise, AMZ has final management client service strategies and queries within its platform. Considering that one of AMZ's primary objectives is to deliver the best buying experience, you will quickly get into hot water with the platform's rules when you send shoppers numerous emails that might be perceived as spam.
Trying to bypass AMZ return system – Due to the stance mentioned above (clients belong to AMZ, not the seller), the platform doesn't like merchants to ask clients to conduct returns outside of the marketplace as it may result in incentivizing clients to provide false reviews on products.  
Trying to give incentives for feedback – AMZ has come down hard on merchants trying to incentivize clients to share false positive reviews or leave a testimonial at all. Incentives for clients include discounts on goods, free items, money, or promos to share a bad review with a competitor's ASIN. The marketplace wants to make sure that all feedback on Amazon is real and show what clients who have bought the item genuinely think about the goods.
Amazon Terms of Service: Final Thoughts
It has been a quick rundown of the AMZ code of conduct and related selling policies. Keep in mind that it is not a complete list of all the rules you must adhere to as an AMZ seller — it was merely our intent to provide you with a one-stop place where you may review the ABCs of the platform's TOS.
Of course, we recommend bookmarking the Seller Code of Conduct Page and Selling Policies and referring back to them often to ensure you still comply and that Amazon has not made any updates or changes to the pages. It is all about creating a safe, seamless, and excellent customer experience.
And if you desire to boost your Amazon business even more, try SellerSonar, the ultimate product tracking software. Stay aware of all listing changes, Buybox hijackers, reviews, keyword rank history, and product suppressions with smart Amazon notifications. Start for free with a 29-day trial. 
 Happy selling!