E-commerce faced a significant surge in 2020 as customers shifted from purchasing in-store to digital shops. In 2022, online purchases are an absolute mainstay: nearly 50% of clients shop on Amazon.com at least once a week, and 61% of buyers state they opt for products with the best rankings and reviews on Amazon. So, how do AMZ reviews work, and how to buy Amazon testimonials? 
We know feedback is the main influencer in client decision-making, so sellers' value is especially high. However, 57% of merchants claim that getting testimonials on the platform is a challenge. That's why we have prepared some pieces of advice on how you can make more money for your AMZ business in 2022 by generating reviews.
Product feedback can make or break a novice Amazon FBA seller. According to a recent Heinz Marketing and G2 study, more than 90% of clients are more inclined to buy a product after reading a good review.
If you launch some item this year, you must know how to get reviews on Amazon and do it quickly and legally.
How to increase AMZ reviews? How long does it take Amazon to approve a review? Apart from answers to these questions, this blog will cover the ten most efficient ways to generate product testimonials on Amazon from your target audience. The list includes AMZ features, helpful tools, and seller strategies outside the marketplace that third-party merchants can use to pursue and buy reviews for Amazon.
What is the Difference Between Product Ratings, Seller Feedback, and Product Reviews?
As we discuss this topic, it is essential to distinguish between Product Ratings, Seller Feedback, and Product Reviews. Reviews are more at a product level. It might be seen by scrolling any product listing page. They include text and even photos or videos. Thus, product reviews are testimonials left on the product detail page that pertain to a particular item.
Product Ratings are similar to reviews and operate at the product level as well. These are the customer's star ratings of the item out of 5 stars. However, they don't require the buyer to leave a text response; buyers can share a rating without writing a review.
On the other hand, Seller Feedback relates to your account level. It is for your actual selling profile rather than a real item. This feedback is displayed on your seller information page, which clients can access if they click on the blue "Your Selling Name" button in the Buy Box on any product listing. Such type of feedback mainly relates to customer service or merchant fulfillment interactions. If you leverage FBA exclusivity, most poor Seller Feedback will be mitigated, as AMZ will remove any feedback about FBA shipment problems. 
How to Get More Reviews on Amazon in 2023? 
Here are ten proven and safe methods to get reviews from your Amazon customers. These are all legitimate methods, which do not go against TOS, and which you can be confident will lead to reviews that don't get removed.
Try SageMailer – the simple yet effective Amazon feedback software 
Using SageMailer is the most effortless way to request customer reviews from your Amazon clients. SageMailer's feedback automation tool helps to put earning product reviews on auto-pilot.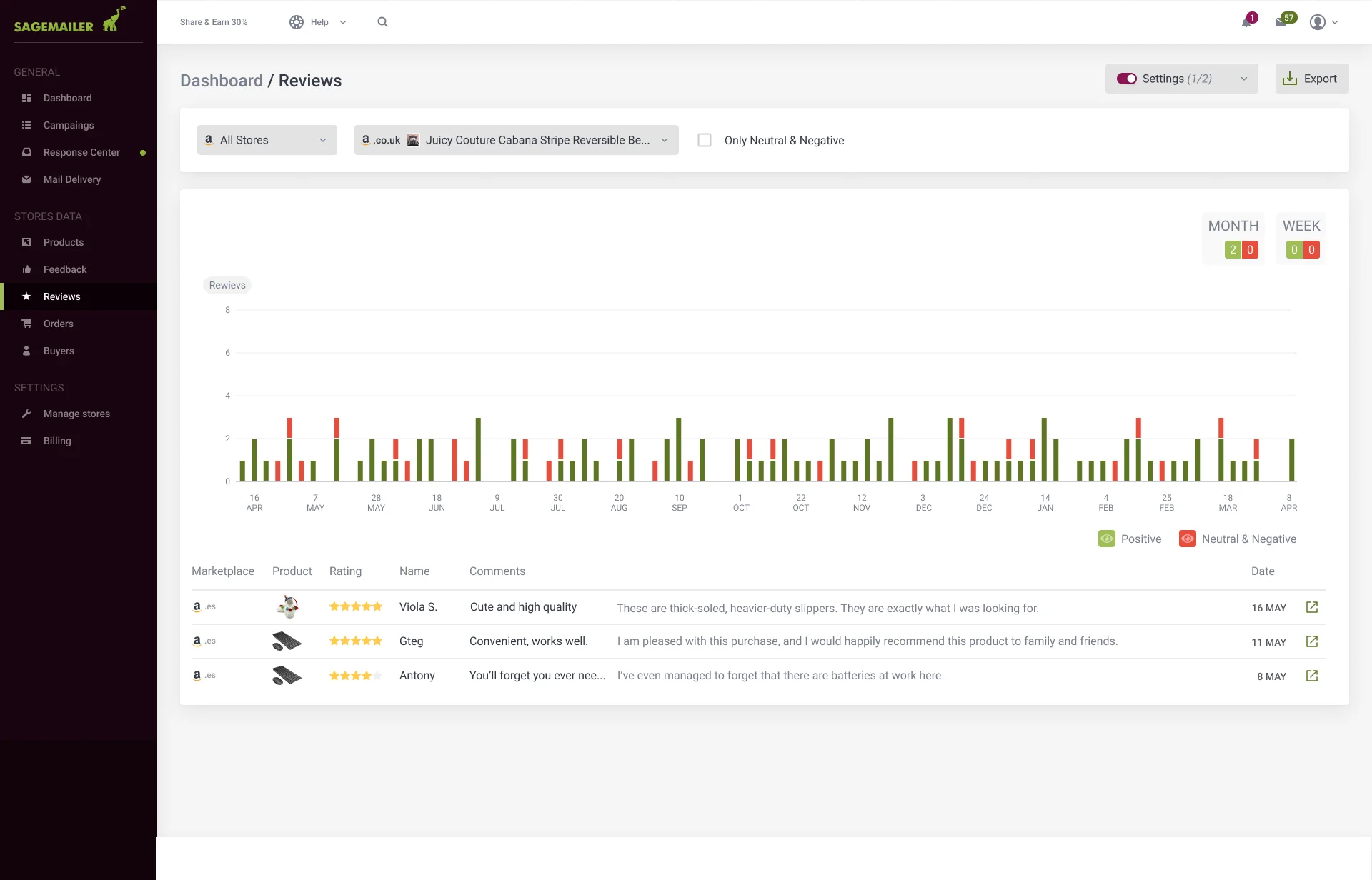 This unique Amazon ToS-approved software sends automated feedback requests to clients who have bought your item. While you may manually request testimonials in bulk with this software, it simplifies the process by automating it. In addition, it releases you from the tedious job of soliciting feedback from a customer in your Seller Central profile so you can spare time and focus on business tasks.
You can easily check the status of feedback requests on your review automation dashboard. So why miss a chance to get a positive review? Just turn on the software, and you are good to go. As you can see in the screenshot, the interface is user-friendly. You can launch a new campaign in just a few clicks, and the system will walk you through the process.
SageMailer lets you choose from a list of existing templates or develop your one by adding a new email to your campaign. The seller can insert HTML, call-to-action buttons, images, and additional styles using the built-in editor.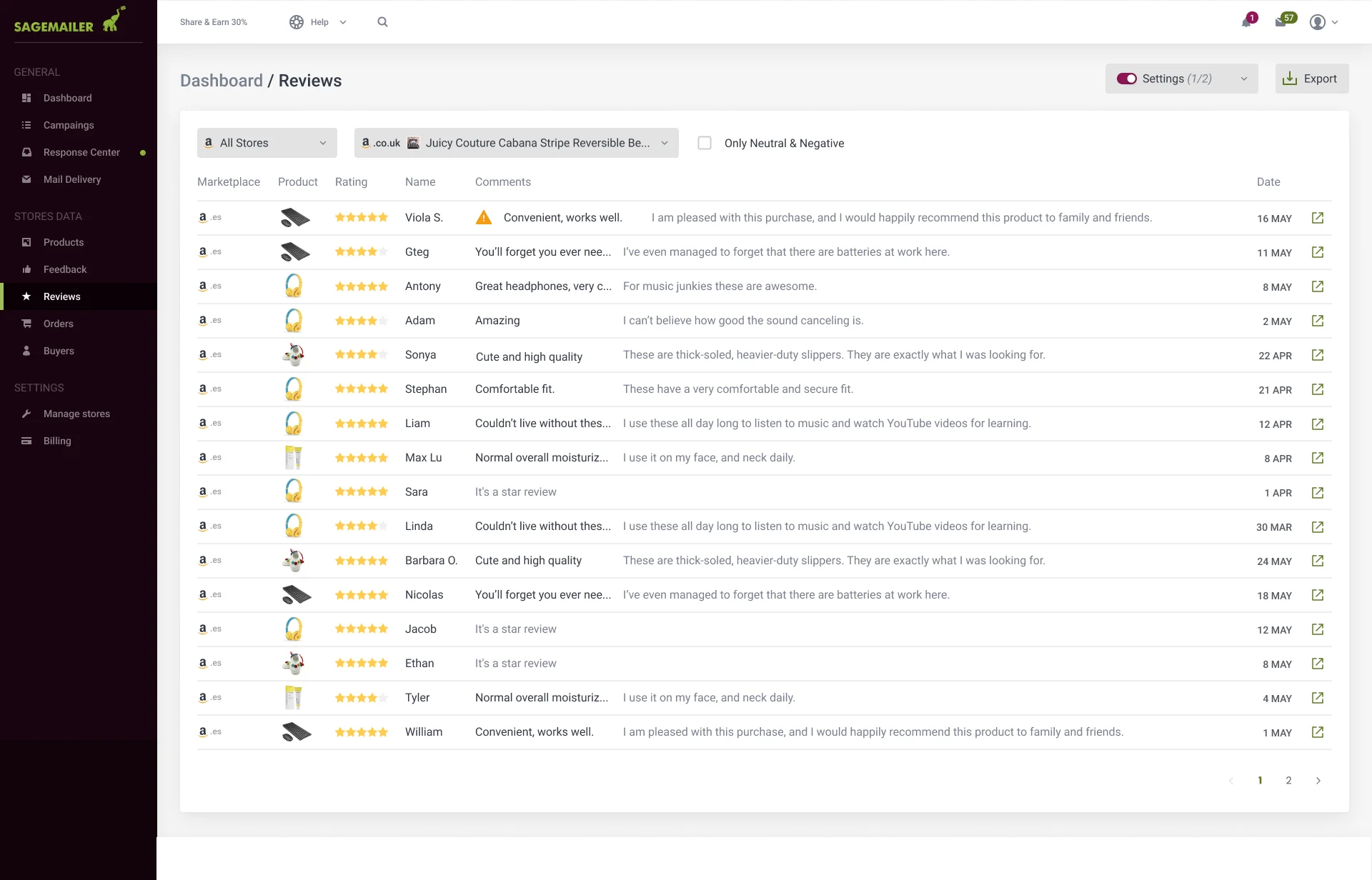 And don't forget about review monitoring. It's probably an essential part of the software, as it allows you to track the satisfaction of your customers. SageMailer monitors seller feedback and product reviews for an unlimited number of your ASINs and submits instant notifications whenever a client leaves a review. In addition, you can set up to send negative and neutral feedback email notifications only.
In 2019, Amazon rolled out its Request a Review button. According to our research, this feature leads to a 10% to 25% growth in the feedback rate. Enhancing the probability that existing clients share a review is the most vital thing you might do to boost your number of reviews. By the way, with the help of SageMailer, mentioned above, you can easily automate such requests.

Enroll in Amazon Vine
Amazon's Vine Program is available to merchants with Amazon brand-registered goods and fewer than 30 testimonials. In this program, an Amazon seller provides 30 units of Amazon products. Vine reviewers then get the items for free, test them out, and compose a review. 
Amazon Vine seems close to some incentivized feedback programs banned by the platform at the end of 2016. The main difference is that Amazon.com is vetting the reviewers in the program.
What percent of Amazon buyers leave reviews? Industry experts say only around 3 percent of clients typically share a review or rating for goods bought online.
How long does it take a review to post? According to the marketplace, 25% of reviews are obtained within five days of receiving an order. Furthermore, 99% of testimonials are obtained within a month. Therefore, this program becomes a game-changer, as it helps newly registered goods get feedback fast.
Ensure a top-notch product
If you want to get more reviews, the most important thing is your products. Even the best promotion strategies will not make any difference if your items are unreviewable and boring. 
Additionally, if the goods are low-quality or unremarkable, any feedback you do receive is unlikely to be a five-star rating.
It is vital to sell products that shoppers naturally wish to review. It will help achieve results much easier when you ask for feedback. You will also get more organic verified reviews without asking.
Before launching an item, look for competitors' testimonials and analyze common negative issues or complaints. Then, fix them with your goods, and you will see many positive testimonials from clients searching for the solution you've provided.
Combine it with engaging and high-quality product images to develop a positive feeling for your buyers well before it is time to ask for reviews on Amazon, which will significantly boost your chances of success.
Employ external automated email responders
How to increase reviews on Amazon? Besides Amazon's automated messengers, many merchants use third-party services to send emails via the platform's seller messaging system. 
However, it's crucial to note that Amazon.com limits the quantity and types of emails one can send via its Seller Messaging System. As a result, permitted emails don't include any of the message kinds below (in many cases, they're already emailing clients with this info on the seller's behalf):
Shipping or order confirmation;

Emails that say only "Thank you" or that you're here to assist if customers have any issues;

Promotional or marketing messaging, including discount coupons

A language that persuades or incentivizes the shopper to share positive seller feedback or product reviews, including by providing money, compensation, discounted or free products, gift cards, refunds, reimbursements or rebates, or some future benefits;

A language that asks to remove or update the existing customer review;

That asks for a product review only if shoppers have had a positive experience with the goods;

A repeat request for seller feedback or product reviews.
Sellers can only send permitted emails to ask for review/feedback or where personal contact is necessary. Instead, they can no longer submit thanks for ordering, shipment updates, etc.
Develop a contact list with emails
As the buyer-seller messaging system and third-party automated services have become limited, you must look for other ways to get in touch with your clients.
Remember that they are Amazon's clients as long as they buy your goods via Amazon. So to get past the hurdle, you need to develop your brand off Amazon, and one of the most efficient ways to do that is by making your email list.
Fortunately, there are several options to come up with a mailing list. For example, you can make one through social media or create a blog that requests shoppers to subscribe. Another common way is to add extra inserts into existing items, encouraging customers to join your list.
Once you have an email list, you can ask for reviews from those who have bought goods from you. 
Don't forget about product inserts
Product inserts might be helpful when reminding clients to share a review. However, you should be careful not to give any if/then statements in your text on the insert. For instance, when AMZ customers leave reviews, some will get a lifetime extended warranty.
​​Launch items with promotions
Many merchants launch new goods with promos or use certain websites with coupons. And thanks to the money-saving options offered by these platforms, some buyers feel obligated to share positive reviews with Amazon.com sellers.
However, remember that an Amazon promotional platform can't request clients' feedback in exchange for an item. 
Check out the Early Reviewer Program on Amazon
2022 follow-up: the Early Reviewer service has been removed by Amazon and closed completely in April 2021. We will share the description below to give you an idea of this program. However, it's unfortunately no longer a possible way to buy testimonials on Amazon.
Amazon Early Reviewer is a feature set up by the marketplace to help new goods get their first reviews.
If sellers have a Brand Registry, they could enroll items without feedback yet for $60 per item. Again, this was a platform-approved way how to get paid reviews on Amazon.
AMZ then contacted shoppers of those products and asked them to write feedback, with a request for a tiny gift card (worth a couple of dollars) if they shared a review.
Any feedback from this service had a small badge with the "Early Reviewer Rewards" text. 
Alleviate negative feedback
You can proactively decrease poor feedback on your goods by ensuring that your items are top-notch and worthy of a praiseworthy analysis. Then, reactively, you may address any client service issues.
Besides, using a tool like SageMailer, you might be notified whenever you get a negative review. However, please note that Amazon.com is removing the option to allow merchants to comment on testimonials.
Why Do Reviews for Amazon Matter?
Customer feedback is everywhere, from Google to Facebook to Amazon and beyond, and for a good reason. Studies prove that 84% of customers trust online reviews as much as a recommendation from friends and relatives, and 91% of buyers regularly or occasionally check online reviews. Why? In this case, clients are more willing to purchase because feedback from others adds trust and transparency to the shopping experience.
Customers who read testimonials are often not familiar with the brand and/or the certain product and lack the confidence to buy goods. These buyers need social proof to see they are getting what they are paying for. It's especially true for high-end products (like luxury goods or tech items), functional products ( electronics, appliances, tools, etc.), and clothes.
The best of most product testimonials is that they give customers second opinions on an item sans the sales spin they have come to expect from many companies. Instead, clients who read feedback collect information, like whether or not an item is true-to-size, if it's comfortable, good quality, and functional. These details help them make a more reasonable purchase.
While product feedback is essential for clients, it's also vital for brands. Reviews directly influence your brand reputation (for worse or better) and decrease or increase conversions. 
They might be the final incentive that either converts a client or convinces them never to give your products a second thought. In addition, the number of product reviews you have affects your SEO, as online testimonials are factored into search results.
While the Amazon search algorithm gives shoppers options, testimonials and ratings push clients from consideration to purchase. As there is so much customer feedback available and so less being studied before clients make a purchasing decision, it is easy to understand why you should be running to collect positive reviews and reply to negative feedback on Amazon.
Paid Amazon Reviews: Do's and Don'ts
Below are some additional points on what sellers should or should not do to get more Amazon testimonials (especially if you strive for positive feedback).
Do
Concentrate on making clients happy. Product feedback is all about your clients' happiness. If they are happy, they will share positive comments. So with every part of your buyer's journey, from purchasing the goods to receiving and opening them, request reviews with client satisfaction in mind.
Stay consistent. Generating feedback is all about constant. You will not receive a response all the time you request a review. However, since an average merchant only gets 2-3 testimonials per 100 sales, you only have to succeed a couple of times to be somewhere in the middle.
Write clear product descriptions. Most negative testimonials and unhappy clients come when your product isn't as wanted. Set proper expectations, and write accurate and detailed information about your goods to avoid negative reviews.
Fix problems in negative reviews. Are you getting multiple negative comments about the same issue? There is most likely something wrong with the items that you can fix. Listen to your clients, and solve any common issues that arise.
Don't 
Buy Amazon reviews. Can you buy Amazon reviews? Yes, but don't trust any third-party service that states they can get paid Amazon reviews. The platform eventually tracks users getting paid for fraud reviews and will delete any testimonials made by the customer (not just the faux reviews).
Incentivize feedback. Same thing. Incentivizing feedback (free items for feedback, explicitly proving a discount or refund in exchange for a product review) will reach a zero-tolerance reaction from the marketplace, even if they are not fake reviews. But, again, this is a black-hat tactic, and if you used it before, you're risking getting suspended.
Ask customers to modify their reviews. New updates to the platform's guidelines explicitly state you cannot ask someone to alter their review. You should get in touch with people who left negative feedback and try to make up for the situation. But do not ask them to change the review. If they decide to, that is only up to them.
Get friends or family to share feedback. Amazon.com is great at catching on to feedback left by friends, family, or anyone related to you. Do not risk this, as your account or listing might be banned quickly.
Go overboard. Request only once or twice (and only once per communication channel). That is it. If you repeatedly ask clients, they will get fed up and leave a negative review.
Summary: How to Get Your First Reviews on Amazon in 2023
We hope that the tips in our article have given you some ideas for how to get reviews on Amazon in 2023. As a baseline, try Amazon's features, as they are free of any "gray fields." And always follow Amazon's rules. Remember that a few additional sales generated using a black hat technique aren't worth putting your entire seller account at risk.
The best strategy when working on Amazon is to have many touchpoints, a robust product, and nothing that violates Amazon's guidelines. Combining awesome client experience, top-quality goods, and convenient feedback software, you'll get Amazon feedback without even trying. 
Register for SageMailer's free 30-day trial and boost your customer reviews management. Learn how to get Amazon reviews fast –  in a matter of clicks!