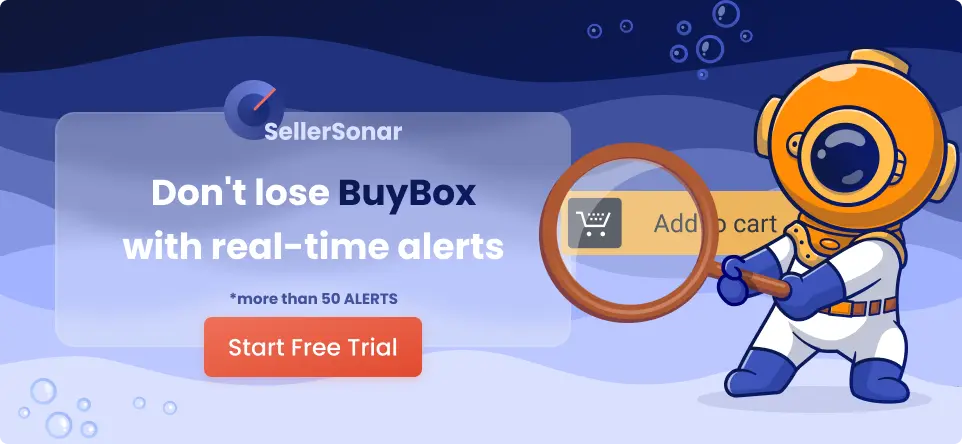 Those who already sell on Amazon are aware of how important it is to accurately calculate all seller fees. On the other hand, those who start selling and don't know it yet, are strongly recommended to do the same.
Apart from subscription, sales, and fulfillment fees, Amazon deducts from sellers a lot of 'unexpected' charges. Therefore, your estimations should be as accurate as possible. Especially, if your projected profit margin is not high.
On top of that, it's important to remember, that Amazon changes some categories of fees on yearly basis. To clarify, this primarily concerns referral and FBA fulfillment fees.
In addition, Amazon offers sellers a lot of useful features, tools, and programs allowing them to simplify the sales process. However, a lot of these benefits come with a cost, and you need to be aware of that.
To help you understand how Amazon seller fees are structured and all details about the fees to sell on Amazon, we prepared a complete guide for Amazon sellers. It'll tell you how much it costs to sell on Amazon.
What are the Selling Fees on Amazon?
To start with, there are generally applicable fees Amazon charges all sellers pay and other types of costs depending on your product category and fulfillment method.
In a general case, merchants pay Amazon seller monthly fees and sales-related fees. If you are an FBA seller and Amazon handles product fulfillment on your behalf, you are subject to numerous FBA fees. If you are an FBM seller, you'll pay for product storage and shipment yourself. In such instances, Amazon charges shipping rates based on the product category and shipping service selected by the customer. Then they pass the amount on to the FBM seller in the form of a shipping credit.
Types of Amazon Fees
Amazon Selling Plans;
Sales fees;
Fulfillment costs;
Miscellaneous expenses.
Amazon Selling Plans
On Amazon, there are two types of selling plans — professional and individual. Professional sellers pay a monthly subscription fee of $39.99. On the other hand, individual sellers pay $0.99 for each item they sell plus additional selling fees.
Professional vs Individual plan on Amazon
Use a Professional plan if you:
Consider selling regularly;
Want to sell more than 40 units a month;
Plan to promote your products;
Aim at winning the Buy Box;
Target to rank high on the Amazon search engine result page;
Intend to use extensive marketing and reporting tools;
Think about adding multiple users to your account.
Use an Individual plan if you:
Start to sell and want to grow business at a small cost;
Not going to sell more than 40 units a month;
Have in view selling occasionally;
Are not sure yet what exactly to sell;
Don't focus on advertising.
Amazon Selling Fees
Besides Amazon account fees, Amazon charges you for every unit you sell. These fees come up as a percentage of the total price. The latter is calculated as a sum of the unit's price, shipping cost, and gift-wrapping charges.
Sales Amazon fees depend on your unit's category and selling price.
As a matter of fact, there are three types of selling on Amazon fees – referral fees, minimum referral fees, and additional sales fees.
Referral Fees
Whatever product you sell on Amazon, they'll charge a referral fee. This is because the marketplace introduces you to its customer base. Referral fees depend on the product category and can range from 6% to 45%. Therefore, it's a good idea to check the exact fee for your product on Amazon's table.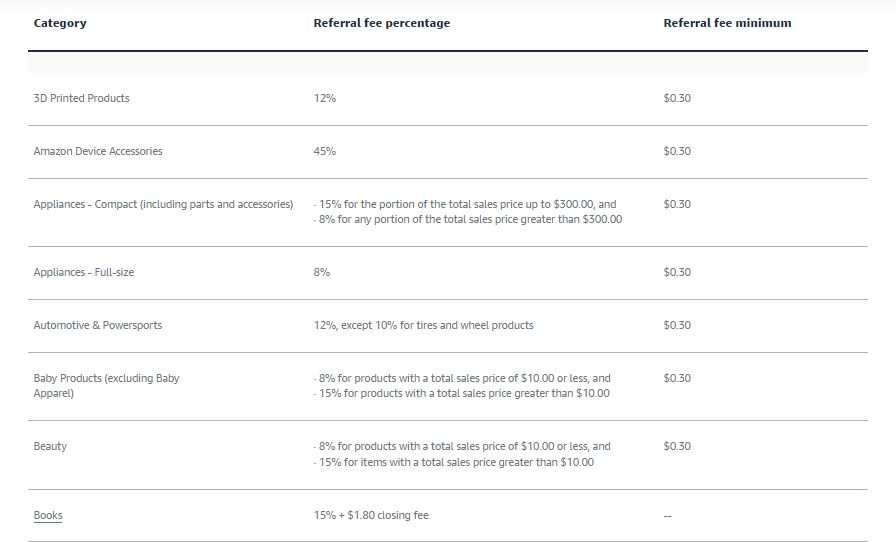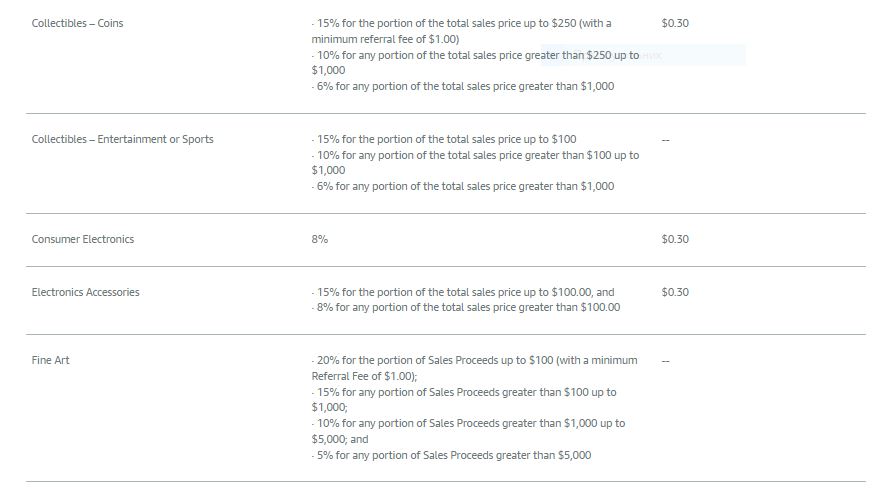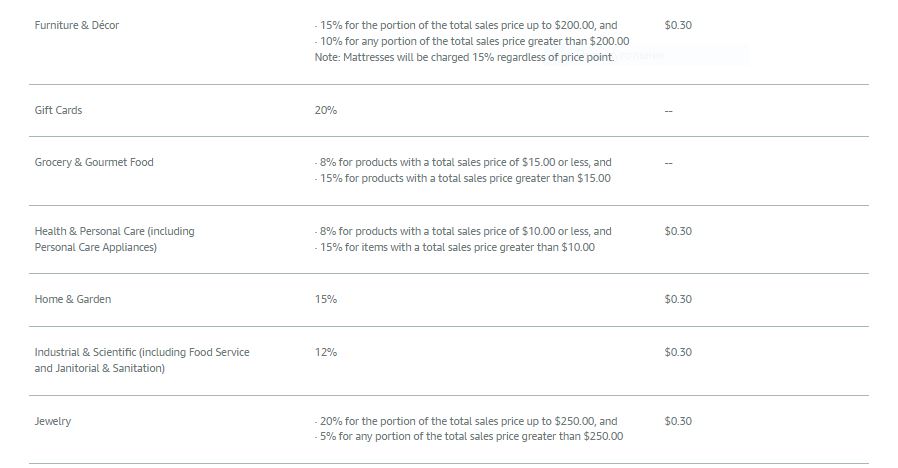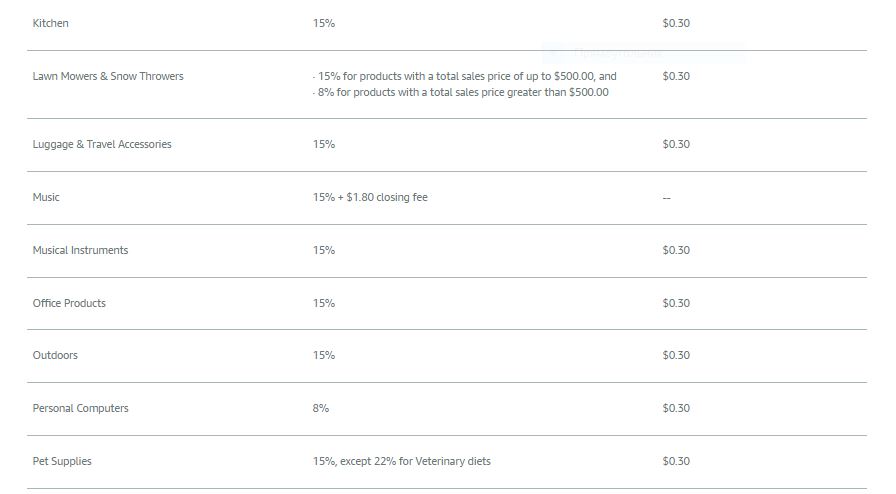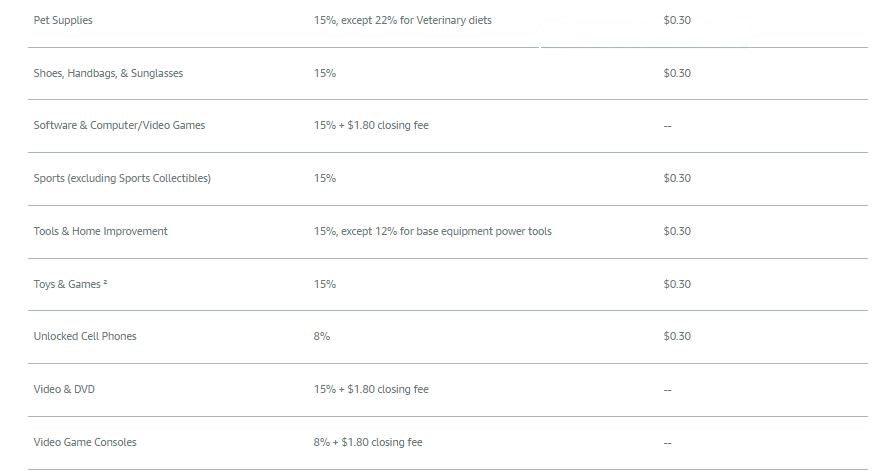 Typically, referral fees make up 6% to 20%. The average referral fee is around 15%. Jewelry, gift cards, and fine art fall under the 20% rate, and the majority of other categories have referral fees of around 15%. However, when we talk about the accessories for Amazon's devices, the referral fee is as high as 45%.
Minimum Referral Fees
In particular product categories, Amazon has set a Referral Fee Minimum. When you sell a unit in such a category, Amazon will deduct either the amount of a referral fee based on your unit's selling price or the per-item minimum referral fee, whichever is greater.
In fact, the minimum referral fee across the majority of categories is $0.30. On the other hand, there is no minimum referral fee for media products. This is because these products are subject to extra charges.
Additional Sales Fees
Additional fees include closing fees, high-volume fees, refund administration, and rental book fees.
Closing Fees
For all products you sell in media categories, there are extra Amazon seller fees — closing fees. Merchants will pay a flat $1.80 closing fee for each media item.
Media categories subject to a closing fee:
Books;
DVD;
Music;
Software and computer/video games;
Video;
Video game consoles.
Refund Administration Fee
There are cases when you refund a shopper's order for which you have received payment. If that happens, Amazon refunds you the referral fee you paid for the unit. However, they deduct the refund administration fee. This will cost you either $5.00 or 20% of the referral fee, whichever is less.
High-volume Fee
For high-volume SKU businesses, Amazon applies a listing fee. As far as merchants do not need to pay this fee until they reach their first 1.5 million SKUs in the marketplace, this is not a widespread expense. The fee is $0.001 per eligible SKU.
Rental Book Fees
For textbook rentals, merchants pay a rental book service fee. It amounts to $5.
Fulfillment Costs
In point of fact, when it comes to fulfillment, Amazon charges vary greatly depending on its type. This is because if you are an FBA seller, Amazon takes care of the whole fulfillment process. The process includes storing your products in Amazon's fulfillment centers; picking, packing, and shipping them. It also covers certain customer services, for example, returns management. For all of the above, Amazon charges FBA fees.
On the other hand, if you are an FBM seller and handle your inventory fulfillment on your own, Amazon may charge you FBM fees.
Fulfillment by Amazon Fees
Amazon charges FBA fees for the extensive fulfillment services it provides to the sellers. Since storage and shipping offered by Amazon are cost-efficient and remove a lot of headaches from the sellers, nearly all of them (92%) use FBA. There are many advantages to it, like fast shipping and Amazon Prime, customer services, return and refund management, and more.
However, as the case may be, your own fulfillment channels may appear more profitable. Then, obviously, you'll use FBM. As a matter of fact, a lot of merchants on Amazon combine both fulfillment methods in their stores.
Amazon charges its FBA fees on a per-unit basis. They vary depending on an item's category, size, and weight.
Values applied to calculate FBA fees:
Product size tiers;
Shipping weight;
Dimensional weight;
Fee category.
The types of FBA fees:
FBA Fulfillment Fees;
Monthly Inventory Storage Fees;
Long-Term Storage Fees;
Removal Fees;
Disposal Fees.
Some of these fees are avoidable. If you manage your inventory efficiently, you can escape some of them.
FBA Fulfillment Fees
You pay them if you ask Amazon to take care of your logistics and provide Prime shipping to your customers. The fees depend on the unit size of your product. The tariffs for standard-size and oversize items differ.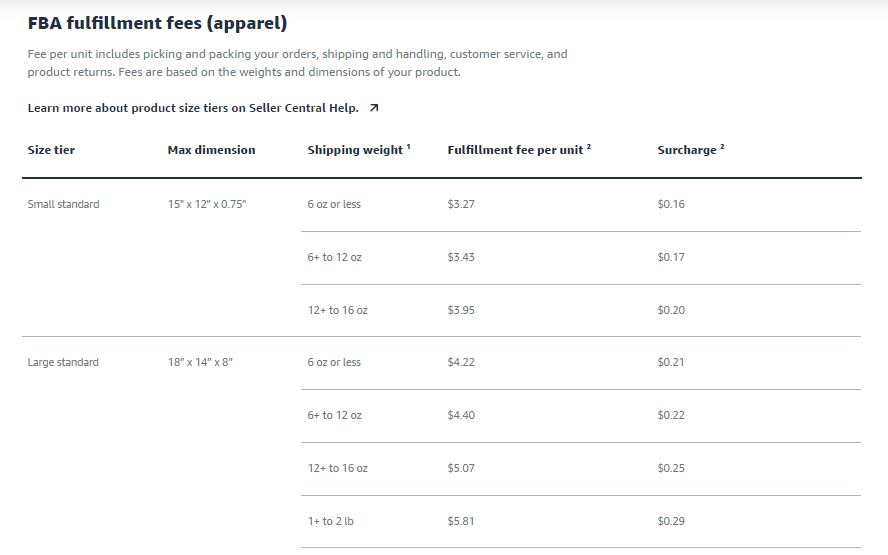 Standard-sized products must weigh less than 20 pounds and not exceed 18″x14″x8″. Oversized products are items over 20 pounds and/or exceeding 18″x14″x8″.
With Amazon's Small and Light offer you can reduce fulfillment costs on small items.
The full list of the Fulfillment fees is here.
Note: In 2022, Amazon introduces a number of changes in FBA fees. On top of that, starting April 28, 2022, Amazon plans to impose a 5% fuel and inflation surcharge to FBA fulfillment fees.
FBA storage fees
Amazon charges storage fees for the inventory they keep in their fulfillment centers. There are two types of FBA storage fees – monthly and long-term.
Monthly Inventory Storage Fee
Sellers pay these fees to Amazon on a monthly basis for inventory storage in the Amazon fulfillment centers. The price is based on the daily average volume of space inventory occupies.
Optional FBA Fees
Long-Term Storage Fees
If Amazon keeps your product in the fulfillment center for more than 365 days, there is a fee for that. If you don't want to pay these fees to Amazon, take care of such inventory three to five months in advance. Offer discounts, promo campaigns, and more.
Removal Fees
These fees occur when you ask Amazon to ship a unit back to you. Among the reasons, there may be issues with the item's quality, rebranding, and more. If you want to avoid long-term storage fees, remove it.
Disposal Fees
You will pay a disposal fee if you don't want to keep an item in the fulfillment center or remove it. In such a case, ask Amazon to destroy your product.
How to Calculate FBA Fees?
Certainly, there are numerous fees you should pay to Amazon. Therefore, it's important to calculate them correctly to estimate your profit.
To help you out, we have developed a free Amazon FBA profit calculator. With this tool, you can check actual FBA fees and your profit.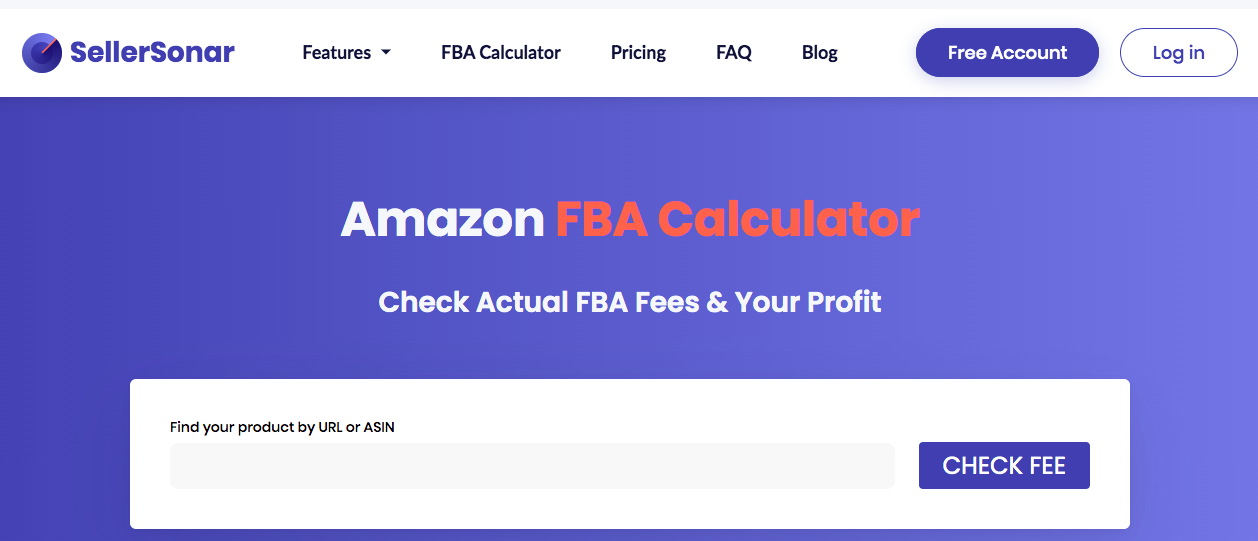 Fulfillment by Merchant Selling Fees
In the case of self-fulfilled orders, Amazon charges shipping rates. They depend on the product category and shipping service selected by the shopper. Amazon then passes the respective amount to the FBM seller in the form of a shipping credit.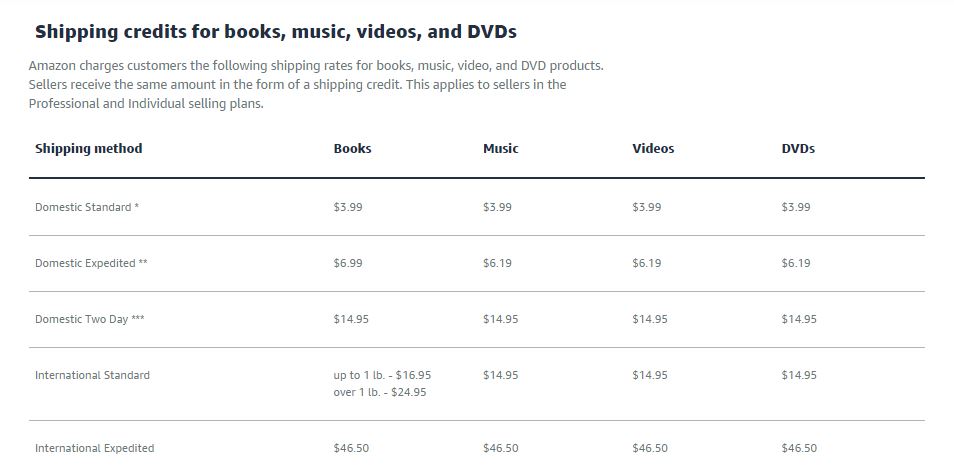 Shipping rates apply to media products (books, music, video, DVD, software, and video games) that professional sellers deal and to all products that individual merchants sell.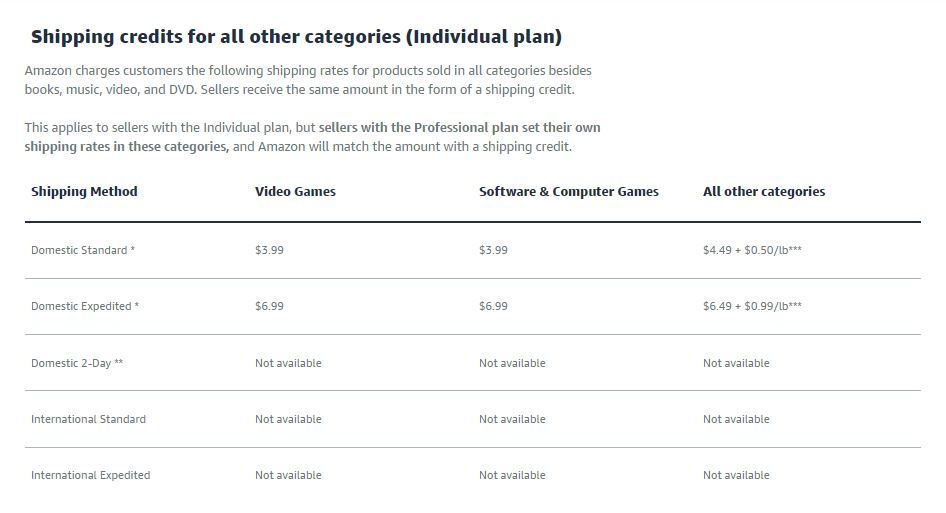 Amazon monitoring software is an efficient way to stay on top of your sales. SellerSonar offers instant Amazon alerts to protect your sales. With us, you are aware of all listing changes, Buy Box hijackers, new/deleted reviews, keyword rank history, and product suppressions.
Try SellerSonar now. Register for our 29-day trial and boost your incredible journey of running your business on the platform.