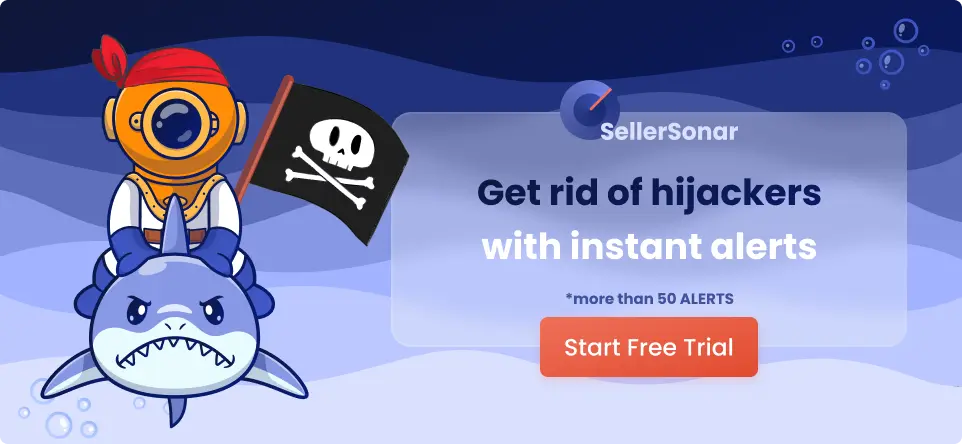 If you are a successful Amazon seller, that means you've created a profitable business with a healthy account, optimized business metrics, and efficient sales processes. Such a business generates essential profits and is also an asset.
Nowadays, buying and selling Amazon accounts has become trendy. This is because if you manage to sell it right, your exit can bring you good money. You can raise 4 times EBITDA over a period of one year and more.
However, not every Amazon business is sellable. There are also right and wrong times for selling your business. Meaning that you can get more or less cash for your business depending on how well it's prepared for sale.
Think of it as if you're selling an apartment. If you don't clean it, the roof leaks and the heating is not working – no one will buy it, or the price will be low. The same works for your Amazon store. If you don't have accurate financials, an account in good standing, and sales go down, you won't find a buyer for such a business.
Moreover, aggregators prefer to purchase Amazon stores with dominating private label products. They are easier to scale with fewer headaches. On the other hand, if you own, for instance, a wholesale business, you might encounter certain problems selling it. However, a lot depends on the buyer.
Often, sellers who made up their minds to sell their Amazon business have a general knowledge of how this process works and can make very typical mistakes. They range from overestimating their business value to poor takeover prep resulting in low exit prices.
Suppose you are unsure how to sell a Fulfillment by Amazon business. In that case, it's a good idea to contact professional brokers who will help you with your store valuation, find reliable buyers, and guide you through the deal process.
Please, continue reading to find out what criteria rollups apply to evaluate your Amazon store, how brokers can help you sell it, and how to choose the right broker.
Taking the Decision to Sell Amazon Business
The first thing you need to do before entering the sales process is to make sure that you really want to exit.
To do so, think over a number of questions:
What's the store value you are ready to accept?
When would you like to sell it?
What's the reason for an exit?
What will you do after you sell your company?
How are you going to sell your account – do it yourself, and list it on a marketplace. Hire the brokerage company, …?
Once done, and if you're still positive about selling, go to the next step. Prepare your business for sale.
How to Prepare My Amazon Store for Sale?
Whether or not you're going to hire a broker to help you sell, you must understand the merger and acquisition criteria rollups apply when looking at your store. Generally, they will look at your company from such an angle – it must generate big profit with the least effort.
What are the valuation drivers for Amazon company?
When we talk about valuation drivers for Amazon business sales, that means there are specific criteria that help increase the value of your store. When you prepare an Amazon account for sale, consider improving cash flows, reducing risks, and streamlining sales operations.
If you hire a broker, they'll typically help you with your business audit and tell you what's worth improving.
Criteria for Amazon business valuation
Business model
As a rule, rollups prioritize private label FBA businesses. This is because PL brands, trademarks, designs, and product patents are assets having added value. Businesses that combine PL and wholesale products are also considered attractive.
The most attractive are PL and FBA; the least attractive are wholesale only.
Product category
The best candidates are 'evergreen' items that generate consistent, preferably recurring sales. Trendy or seasonal products are not really good in such a case.
The most popular categories are:
Home and Garden;
Pet Supplies;
Baby Products;
Outdoors;
Health and Personal Care.
The least interesting categories are:
Apparel;
Electronics;
Supplements;
Food;
Jewelry;
Fashion product.
Sales history
Typically, the operating history should be 1 year or more. This timeframe allows for tracking growth trends and analyzing the company's sustainability.
Annual sales volumes
The most popular Amazon companies aggregators purchase generate over $1 M in annual sales.
Business metrics
annual growth – 10 to 40%;
SDE / EBITDA / Margin on average 15-18%;
Cost of Goods Sold (COGS) – as low as possible;
Customer Retention Rate – high;
marketing and PPC campaigns – ACoS 15-20%;
manufacturing, procurement, and logistics – reliable and efficient;
product parameters – optimized listing, A+ content; 20+ 4-star reviews;
no risk score factors (review cheating rate, duplicate ASINs, risks of account ban and suspension, availability of trademarks, required certificates, Food and Drug Administration (FDA) permits, product patents).
Preparing Your Amazon Store for Sale
To maximize the value of your exit, you must consider many factors influencing the price of a deal when you sell Amazon's FBA business. Among them are the operations history and consistency; net profit; the type of Amazon business; the level of your involvement, etc. Professional valuation made by Amazon FBA business brokers can show the bottlenecks of your business. Improving them will grow the selling price.
Tips to prepare your account for sale
Scaling potential
When an aggregator looks into buying your account, they will consider essential net profit, but not only. They analyze how much it is possible to grow the business. That means your products should show growth in sales and upwards trends demonstrating positive tendencies and growth potential of your Amazon store.
Therefore, you must eliminate the items that don't generate profits. You must review your inventory and stop selling items that are not performing. Old inventory freezes the money you can invest in more efficient products. It also shows poor inventory management. Sell them at a discount.
Having a number of solid PL brands in your portfolio will be a plus.
Clean financials and easy due diligence for a buyer
Healthy financials include clean bookkeeping and having your documentation in order. That is always important to have proof of your purchase for tax purposes and more. Also, if a customer files any claim regarding your product to Amazon, you will be able to prove the product's origin.
Ensure you have clean P&Ls, pay your bills, and have clean tax returns to prove the business's profitability. Keep up with documentation to prove your product manufacturing costs.
Not less important is to constantly monitor your main sales metrics and product KPIs. Your business's consistency and smooth operations are added value to the aggregator. The most essential metrics are net profit, inventory turnover level, PPC spending (ACoS / TACoS), and COGS margins. You should also look closely at profitability, expenses, and Amazon fees.
Optimized management
When buying your store, the aggregator estimates the efficiency of your operations, how well it's organized, and the way your employees and virtual assistants are incorporated into your sales processes.
Also, they will look at the level of your personal involvement matters and the number of hours you spend operating your company. If you spend too much time on sales, they will think it is not effectively organized.
You can reduce the time you spend on your operations in two ways – outsource certain tasks to professionals and use seller tools to automate the sales processes.
Efficient supply chain
Your manufacturer and supply channels must be reliable and operate smoothly. Good relationships with the manufacturers that you can transfer to the buyer may also be considered a plus. Logistics must be optimized as well.
How Does the Selling Process of Your Amazon Business Looks Like?
Generally, you must prepare your store and find a buyer. They will verify your account, give you an offer, you'll sign legal docs, and the buyer will transfer money. Easier said than done. It involves a lot of job and professional knowledge.
Therefore, hiring Amazon business brokers to help you fairly evaluate and sell your business may be a good idea.
The major steps to selling your store with the Amazon broker
Step 1. Business audit
Amazon FBA broker evaluates your business metrics analytics and helps you pinpoint its bottlenecks. They offer ways to improve sales metrics to maximize the company's value.
Step 2. Going to market
The brokerage company creates a sales prospectus. It should include your deal description, highlight its benefits for the aggregator, and all information showing its attractiveness for M&A.
Step 3. LOIs and negotiation
Typically, a broker will find for you several buyers that will provide an offer. As a rule, this is done as a letter of intent. This non-binding legal document confirms the buyer's intention to purchase your account and offers conditions subject to due diligence.
The broker should help you assess the LOIs, select the best offer, and involve legal counsel.
Step 4. Due diligence
Once an LOI is signed, you set a period (usually 30-45 days) during which you agree not to sell the business to anyone else. During this time, the buyer conducts due diligence.
The aggregator analyzes the key Amazon business indicators, manufacturer base, marketing metrics, and risk factors.
Step 5. Deal closing and fund transfer
When the exclusivity period is over, and if due diligence has gone well, the buyer aggregator should file a formal offer to purchase your business.
Together with the Amazon business brokers and your legal counsel, you review the offer and ensure it's fair and reasonable from the point of view of its value and legal terms.
After that, the deal is completed, and funds are transferred to your account.
The typical deal closing time is about 2 months.
How Can a Business Broker Help You?
An e-commerce business broker is a person or a company is an intermediary that helps sell your business.
A broker typically charges a percentage of the final sale. As a rule, that is between 5 to 15%.
What should a broker do?
help make audit and evaluate your account;
develop the sales prospectus;
market your company and find buyers;
assist in negotiating the terms of the sale;
help assess the final offer;
finalize the sale and arrange for legal support;
provide after-sales support and ensure a smooth business transition from the seller to the buyer.
How to Select a Good a Broker?
Selecting the right broker is vital because they help you at each sales stage.
What to do to find a good broker?
carefully study the broker's credentials, track record, and client reviews;
select a broker who prioritizes personalized approach and your sales goals;
choose a candidate with a strong sales strategy and who will undertake to protect your privacy.
Wrap Up
It has become trendy to buy and sell in Amazon stores. If you manage to sell it right, your exit can bring you good money. However, sellers who decide to sell Amazon accounts very often have a very vague understanding of how this process works and can make very typical mistakes. These mistakes range from overestimating its value to poor takeover prep resulting in low exit prices.
If you are unsure how to sell your Amazon store, it's a good idea to contact professional brokers who will help you with its valuation, find reliable buyers, and guide you through the deal process.
A broker assists in making audits and evaluating your business. They will create the sales prospectus, market your store and find buyers. Also, they'll help negotiate the terms of the sale and help assess the final offer. In addition, they will finalize the sale and arrange for legal support and provide after-sales support.
To select a good broker, carefully study the broker's credentials, track record, and client reviews. Choose a broker who prioritizes your sales goals, has a strong sales strategy, and has a clear privacy policy.
If you want to maximize your company value, you should constantly keep track of your sales metrics. Amazon monitoring software is an efficient way to stay on top of your sales. SellerSonar offers instant Amazon alerts to protect your sales. You are aware of listing changes, Buy Box hijackers, new/deleted reviews, keyword rank history, and product suppressions with us.
Try SellerSonar now. Register for our 29-day trial and boost your incredible journey of running your business on the platform.