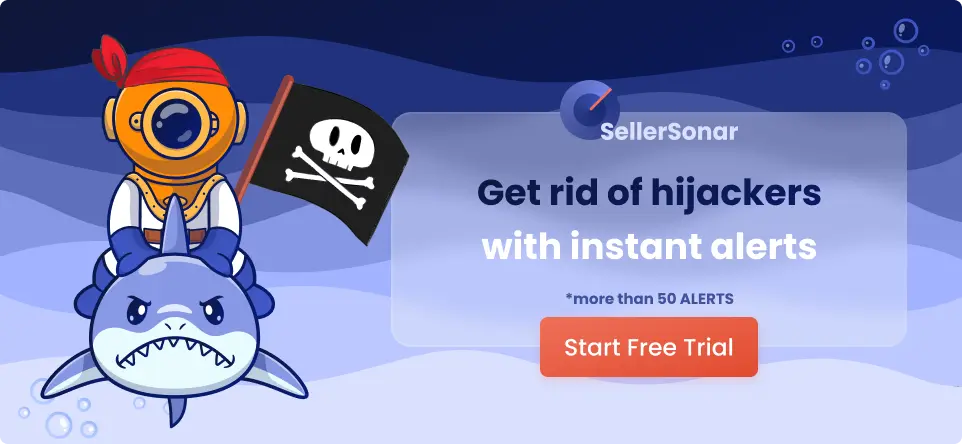 Perhaps the greatest challenge for any Amazon merchant is determining which product niche to focus on. If you run an eCommerce seller business, the first and most important question you should ask yourself is: What do I sell? This blog post gives an overview of the product categories on Amazon with the purpose of helping you determine which one is right for you and your brand.
Amazon Categories List: What Products Can You Sell? 
One can sell in more than 25 thousand sub-categories and categories on Amazon. So in case you expected to see the full Amazon niche list here, it might be pretty overwhelming. However, we have compiled some of the most popular product categories to look through. 
Amazon's top product categories list 
Most merchants' most lucrative Amazon product categories are where they can sell the most. Although these look most attractive, you need to consider profit margins and other information before making your final decision.
Digital music 

Video games

Household and health items 

Sports, fitness, and outdoor supplies 

Outdoor and garden items 

Patio, garden, and lawn

Books 

Home and kitchen items 

Tools and home improvement products

Pet supplies 

Clothing, shoes, and jewelry

Personal care and beauty

Games and toys

Fine arts and collectibles 

Computers, electronics, and accessories 

Cell phone accessories 

Office products

Major appliances

Grocery and gourmet food 

Kitchen and dining products

Industrial and scientific goods 

Musical instruments 

Kindle store purchases 

Other
How Do You Pick the Proper Niche to Sell In?
A lot of merchants ask this question. The thing is, you should not be worried about what niche you sell in. It does not important how many orders a category brings but rather how many orders your item brings.
There are no bad categories on Amazon. Nevertheless, there are some niches easier to enter than others. Keep the following points in mind when choosing a category:
Some niches are gated, indicating you have to get approval to sell in them.

Some niches sell more than others.

Some niches have higher referral costs.
You may find successful merchants in every category, and selecting one with more benefits will make it more manageable for you to develop your business. However, to find such advantages, you should know how to search for the best products. 
Compile a list of criteria for the ideal product and then look for products that meet such requirements. For example, if you find data stating an item sells about 300 units per month, it does not matter what niche it is listed under. You have found a profitable product, and when you promote it with the right keywords, you are sure to find success.
Do not go looking for the proper category. Look for the proper product. In addition, you can sell in multiple niches, which will give you some variation.
How Do Amazon Product Categories Differ? 
Profitability
Which categories on Amazon are most profitable to sell in? Profit margins differ wildly based on how much goods cost you to buy or manufacture and how much you will sell them for. Luckily, for most AMZ merchants, average profit margins vary between 15-25% based on the category. What goods have high-profit margins? Handmade items (which still can cost a lot in time and raw materials), followed by some high-ticket products, including appliances, instruments, and computers. Profitability is a main consideration when running the business on AMZ, but keep an open mind to spot the best opportunity.
Beauty & Personal Care and Home & Kitchen are among the main categories among merchants, but both have many subcategories that aren't profitable because of harsh competition, direct competition from AMZ, higher PPC costs, price wars, etc.

Some niches might be more profitable than others. However, each category has lucrative subcategories within it.

Less popular niches might be more profitable than saturated categories. For instance, Handmade vs. Home & Kitchen. Only 5% of merchants have 51%-100% net profit in the Home & Kitchen category, whereas 10% enjoy 51%-100% net profit in the Handmade niche. 
You still need to locate the proper opportunity that is in high demand and with low competition — so do not get too hung up on niches.
Sales
What are the estimated monthly sales for AMZ product categories? Amazon merchants across nearly every niche have an average monthly income of $1,000-25,000. Some niches stand out as bringing noticeably lower monthly sales (under $1,000): Handmade, Cell Phones and Accessories, and Books. And others face much higher monthly earnings ($50,000+): Industrial and Scientific, Computers, and Musical Instruments.
Experience requirements
Which product niches need a decent level of experience?
Musical Instruments (50% of merchants state they have advanced selling experience)

Industrial and Scientific

Tools and Home Improvement

Apps and Games

Automotive Parts & Accessories
Fulfillment method
FBA – Fulfillment by Amazon – is popular for almost every product niche. However, FBM – Fulfillment by Merchant – dominates in the Cell Phones and Accessories, Computers, Apps, Games, CDs, Vinyl, and Handmade categories. 
Business/sales model
Private label (creating your product/ to sell in the marketplace) is famous across nearly each product category, except for Video Games and Books
Retail arbitrage refers to the procedure of finding a discount or low-cost goods in brick-and-mortar retail shops in order to resell online. Most popular: Games and Apps. Least popular: Industrial and Scientific, Home & Kitchen
Online arbitrage is finding a discount or low-cost products on one site or online platform to resell on another. Most popular: Video Games, Apps & Games. Least popular: Sports and Outdoors, Home & Kitchen
Wholesale is the process of buying discounted or low-cost goods in bulk to sell them as individual units on a retail platform. Most popular: Grocery and Gourmet Food, Musical Instruments. Least popular: CDs and Vinyl, Books
Dropshipping indicates a selling model where an AMZ merchant doesn't keep their product stock but transfers their client's orders right to the supplier or manufacturer. Most popular: Electronics, Computers, Collectibles and Fine Art. Least popular: Luggage and Travel Gear, Grocery and Gourmet Food
Handmade merchants are people who create their goods to sell on the AMZ marketplace.  Most popular: Collectibles and Fine Art, Handmade or Handcrafted Products. Least popular: Personal Care and Beauty, Pet Supplies
How to Choose a Less Competitive Niche on Amazon?
Ideally, you need to find an item in high demand but with low competition. And if everything you have scrolled seems too high in competition, then it's time to conduct some extra research to discover merchandise that many customers want but not many merchants offer. Here we list a few ways to identify best-selling Amazon categories with a low supply and a high demand.
Assess consumer interest
It is important when selling a product that you're aware of consumer tendencies so that you can utilize them to your benefit. Sellers should know what their target audience wants and will look for. You need to consider the shopping behaviors of the average client and employ this as inspiration. You need to uncover something not already oversaturated with thousands of other merchants.
Monitoring client trends might be easier said than done, and predicting is not always simple. But you must keep apprised of client demands in the eCommerce industry to benefit yourself when searching for a great item to sell.
Use Google Trends
Google Trends is a great tool that helps sellers keep tabs on what is favored now and learn what keywords and topics are trending in different regions. Such data has been collected by Google (the globe's leading search engine), so it's very trustworthy. It's significant because a popular product will eventually increase customer demand. 
The Google Trends platform gives you a graph when you search for an item and shows its trending pattern from the previous year. You may explore the patterns from various countries as well. You are shown a product score, and the higher this score is, the more in demand your product is. We recommend checking Google Trends once weekly to find selling prospects for your company.
Evaluate keyword difficulty
Assess the keyword difficulty for your niche. Use tools like Ahrefs, SEMrush, or Moz to check the competition level of your target keywords. If the keywords are highly competitive, it will be difficult to rank your products on the first page of Amazon search results. Look for niches with lower keyword difficulty, which indicates less competition and a greater chance of success.
Leverage SellerSonar for Your Product Research 
You can find many product analysis services available to use online. Such tools allow sellers to examine specific products to check if they are worth selling. It may help to maximize your likelihood of finding an exceptional item.
SellerSonar, for instance, can give you info on product listings and helps you track your competition. It is essential as it can help you discover how crowded the market is for a specific product so you can promptly assess whether an item is reasonable as a selling opportunity. 

With the tool, you can check key metrics for both your and up to 5 of your competitors' products, like price, rank, number of reviews, and more over time on a convenient graph. It allows you to understand the product's competitive landscape and inform your decision better. 
Final Thoughts
This list of the top-selling categories on Amazon may get changed in the coming years. However, the potential for profit will remain. So carry out proper product research before choosing a best-selling category. It might feel like a tedious task at first. But picking a category or item after research will bring you fruitful returns in the future. 
For more useful tips about selling in the marketplace, check our blog and register for a 29-day free trial of SellerSonar product listing monitoring!